With all eyes on the gowns and dresses during the Emmy Awards, it can be easy for the shoes to get overlooked. But, no worries. We've got you covered.
We rounded up the best footwear at the Television Academy 69th Emmy Performer Nominees cocktail reception held at the Wallis Annenberg Center for the Performing Arts in Beverly Hills, California.
The first-time Emmy winner has been catching our attention recently with her red carpet style. The actress kept our style radar on alert as she arrived at the nominees party in a quirky red-and-black Scanlan Theodore dress.
Alexis paired the Scanlan Theodore dress with front tie Jimmy Choo sandals. We love how the bows complement the embroidered florals on her dress.
The actress finished her look with a Christian Louboutin clutch.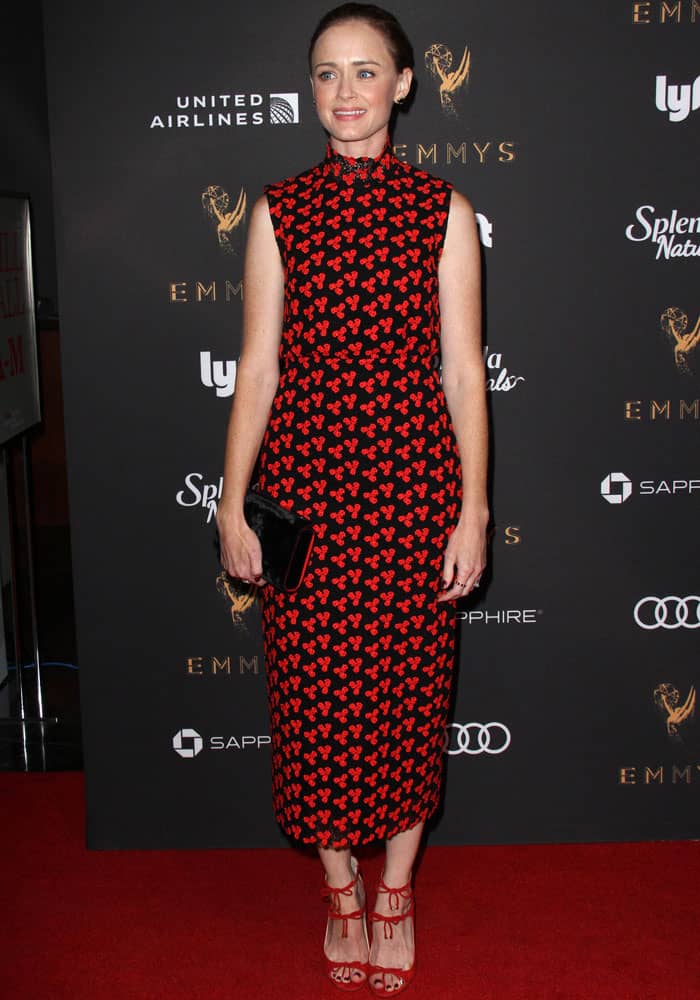 Alexis turns heads in a Scanlan Theodore creation.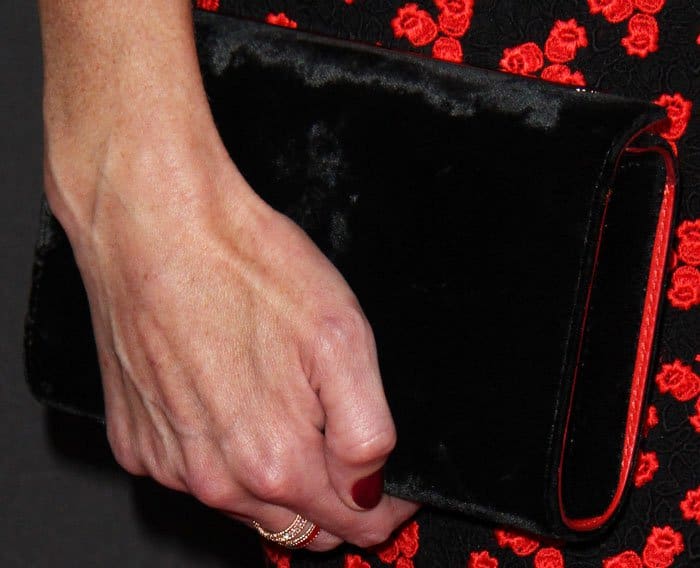 Velvety goodness: Alexis complements her dress with a Christian Louboutin clutch.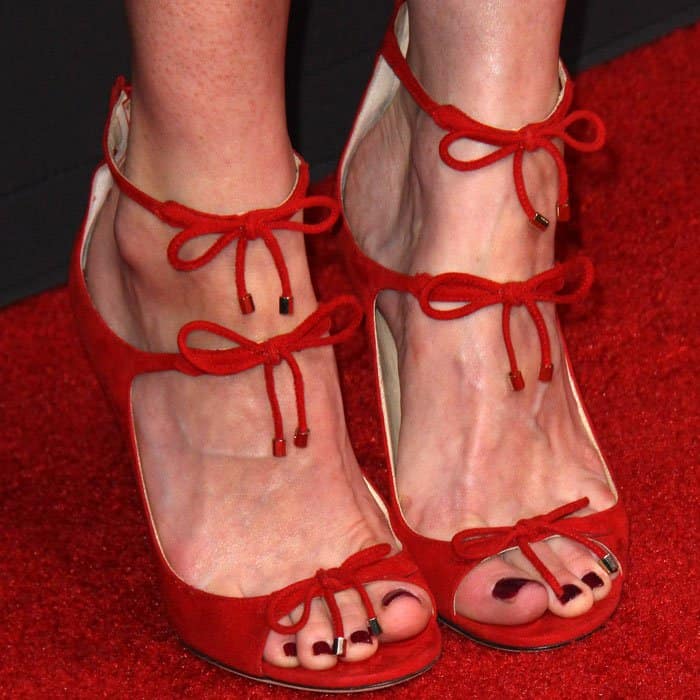 Alexis softens her look with a pair of Jimmy Choo front tie sandals.
2. Amanda Brugel in Zimmermann
Canadian actress Amanda Brugel may have missed out on an Emmy win, but we think her footwear pick was worthy of an award. Following closely after her "The Handmaid's Tale" co-star Alexis Bledel, Amanda put her best foot forward on the red carpet in a sexy pair of Aldo sandals.
Amanda's classic lace-up sandals were made even more interesting with a simple PVC band at the toes.
While we're not huge fans of her Zimmermann dress, her shoe pick was more than enough reason to forgive her.
Amanda Brugel arrives at the nominees party in a Zimmermann dress.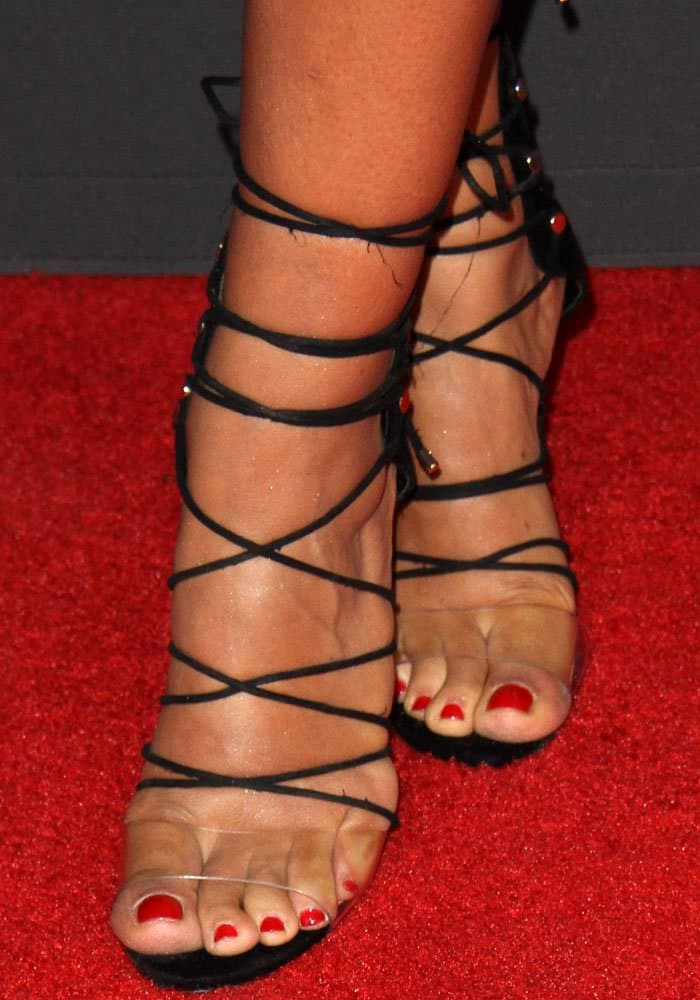 Amanda's Aldo shoes mixes the classic lace-up sandals with the trendy PVC band.
3. Kelsey Scott in C/Meo Collective
In theory, Kelsey Scott's outfit would have been gorgeous. In reality, it wasn't. The actress just looked as though she was getting swallowed alive by the ruffles all over her body.
We're huge fans of C/Meo Collective, so admitting that we just didn't like this particular piece was hard. We love Siham Elmawey's amazing capability to create the most beautiful ruffled dresses, but the one on Kelsey just fell short. The awkward proportions leave us with little to talk about.
We love a good criss-cross sandal, though, so we give our thumbs up to Kelsey's. Another thing we loved about this look was her Hayward House NY clutch.
Kelsey finished her look with jewelry from Effy.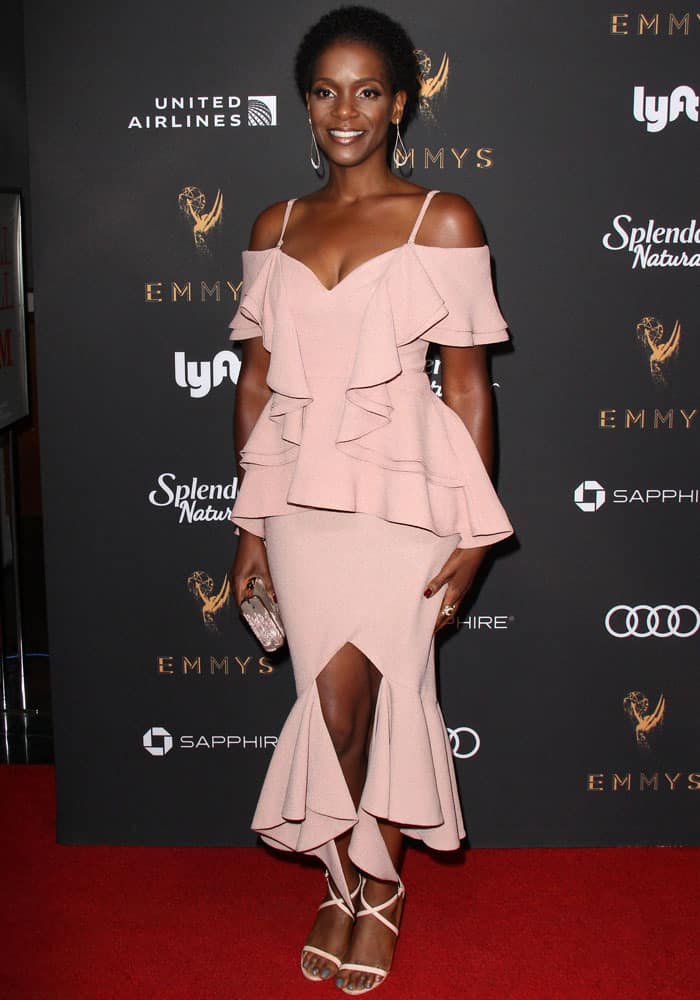 Kelsey gets swallowed up by her C/Meo Collective dress.
Saving grace: Kelsey picks out a beautiful Hayward House NY clutch.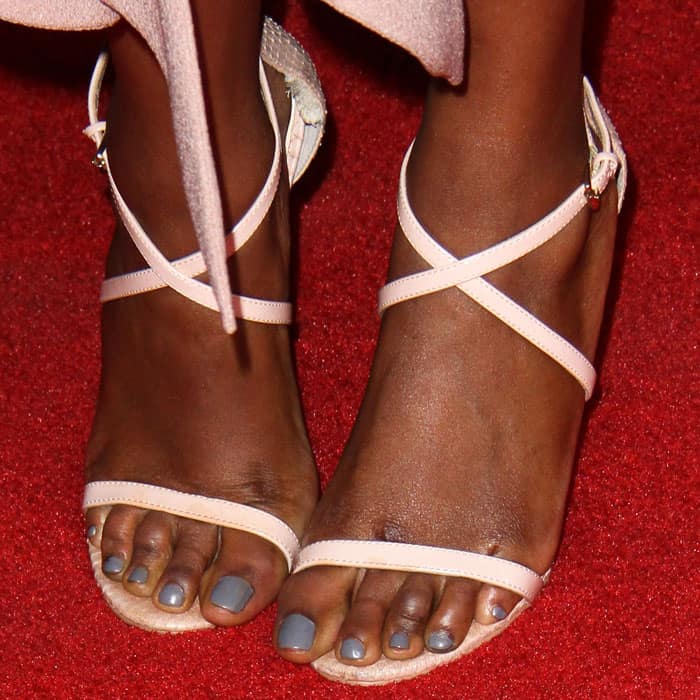 Kelsey wears a pair of criss-cross leather sandals.
4. Mishel Prada in Lace Dress
Sometimes, we just need a break from the Stuart Weitzman "Nudist" sandals of the world. So, when we see women who are courageous in their choice of footwear, we are drawn to them.
Mishel Prada's vintage shoes looked like they were stolen straight from a museum exhibit, but we think she wore them well. Her cream-colored shoes were retro, but also bridged perfectly to 2017.
As for the rest of her outfit, we have two words: strapless bra.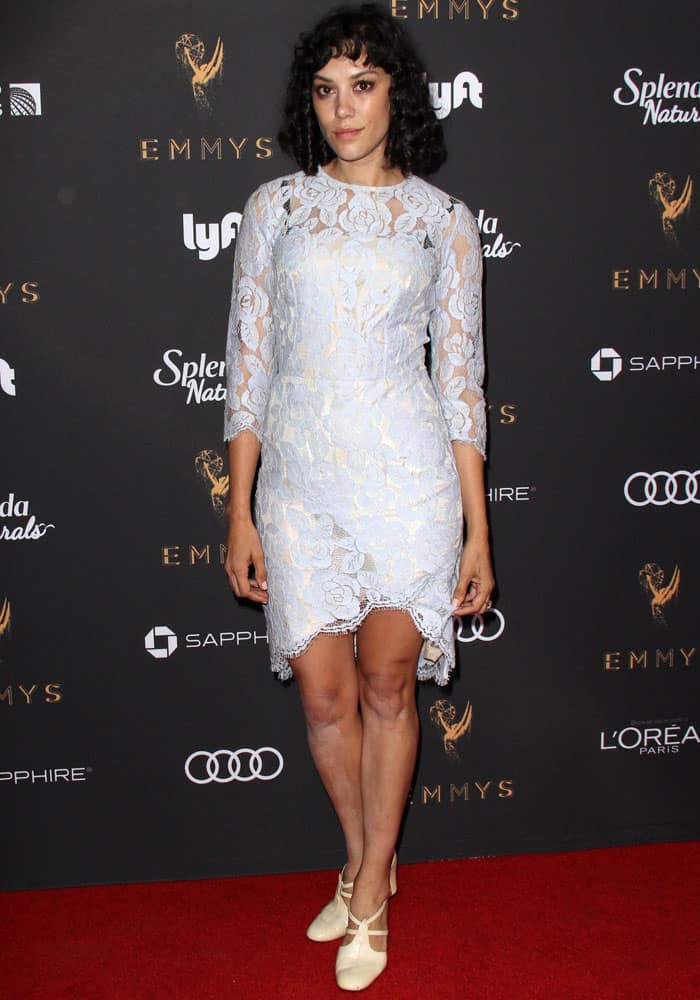 Mishel Prada poses for the cameras in a lace dress.
Mishel wears a quirky pair of heels.
5. Alison Wright in Tadashi Shoji
We love a bright pop of color as much as the next shoe lover, and Alison Wright satiated our wants.
The actress from "The Americans" boldly wore a pair of magenta suede pumps from Barollo Italy to the red carpet. We don't get to see that color at the Emmys much.
Our problem with this look was the rest of it: Alison's Tadashi Shoji dress gave her tummy rolls and basically looked like cheap drapery. Her magenta Tyler Ellis clutch made the look a bit too matchy-matchy for our taste.
Alison finished the look with jewelry from Rachel Katz and Effy.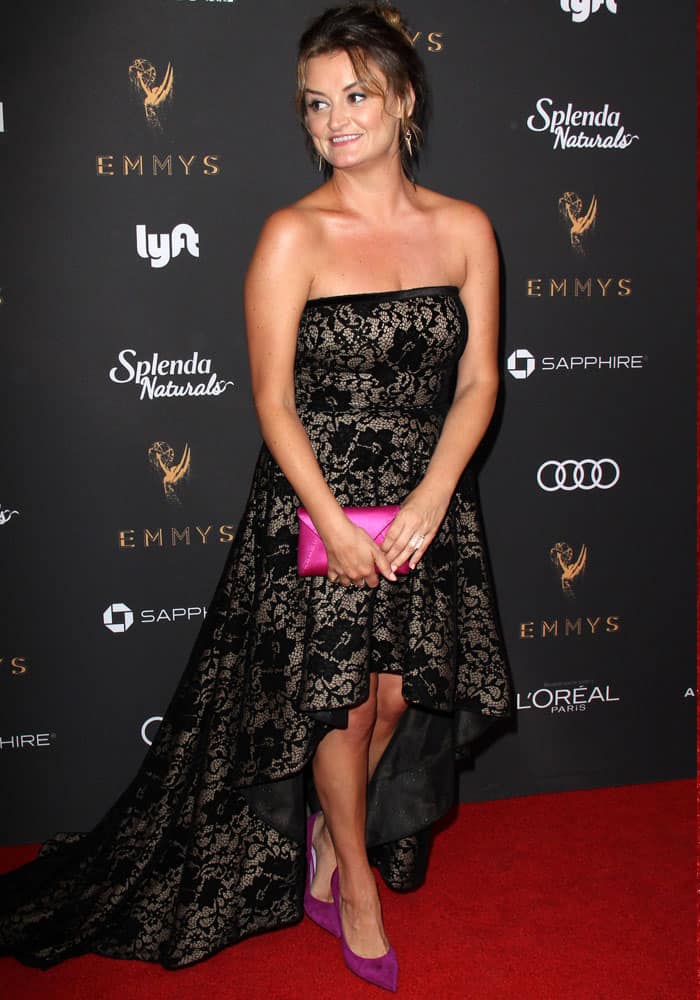 Alison Wright wears a lace Tadashi Shoji to the red carpet.
The actress mismatches with a silk Tyler Ellis clutch.
Alison pairs her clutch with magenta pumps from Barollo Italy.
6. Anna Chlumsky in Mint Blue Dress
Smoky eyes and a bright lip with a minty blue dress? What?
Anna Chlumsky's horrible Emmy nominee look — complete with a nonchalant gold choker, drop down earrings and messily combed back hair — just did not do it for us at all.
However, we do really love her shoe pick. The actress wore a pair of gold glitter sandals to the carpet. The shoes can stay, but the rest of this outfit should have went.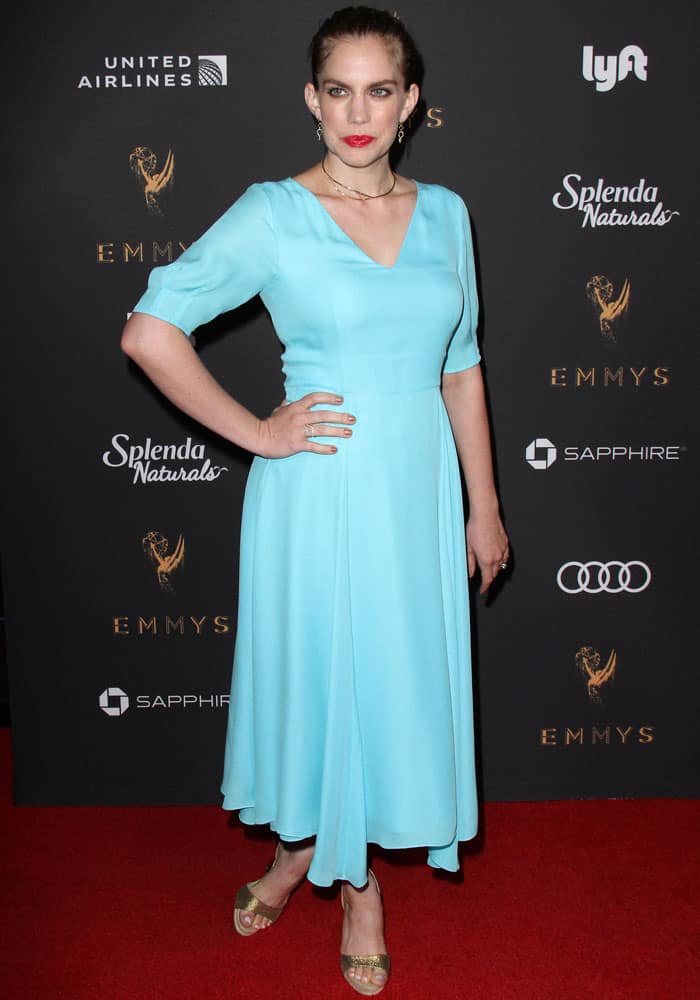 Anna Chlumsky wears a mint blue dress.
The actress wears a decent pair of gold glitter sandals.
7. Neve Campbell in Long-Sleeved LBD
You can never go wrong with black, and it looks like Neve Campbell got that memo.
The actress exuded chic in simplicity with a long-sleeved LBD made unique with a little bit of fringe detailing at the skirt hem. If you look closely, you will notice that the fringe actually runs all the way up to the piece's bodice.
Neve's shoes weren't exactly groundbreaking, but they were a perfect example of how footwear can make or break an entire outfit.
Also, we love the tiny contrast she brought into the look with a woven turquoise clutch.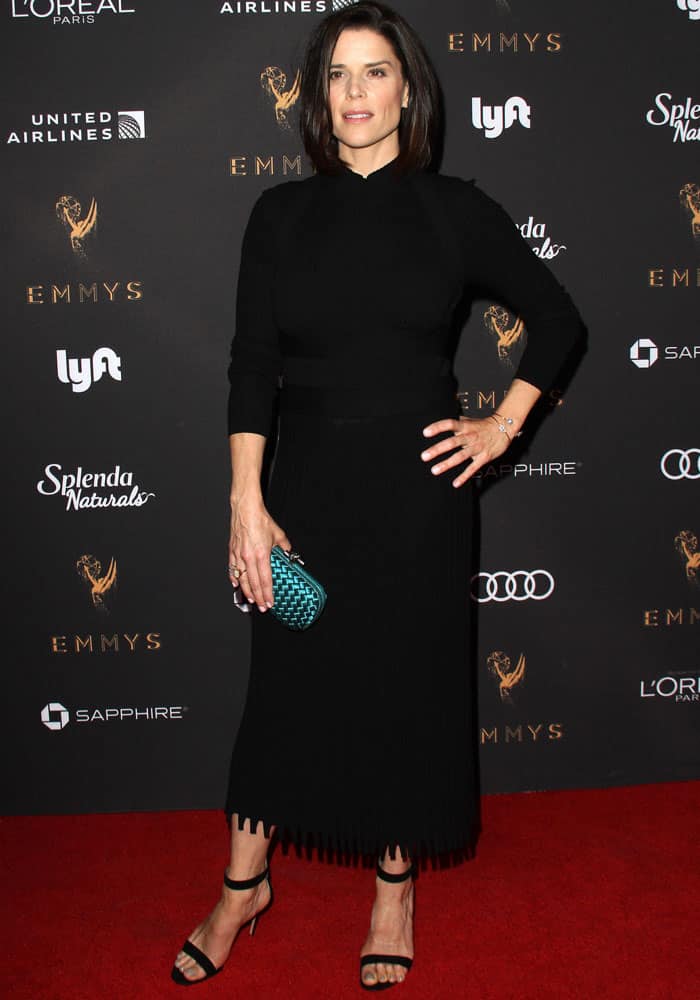 Neve Campbell goes for the infallible LBD.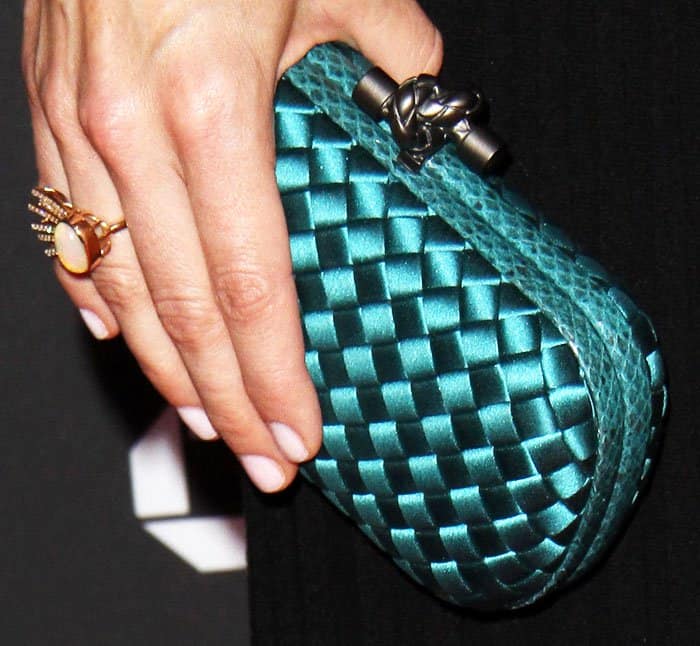 Neve inserts a little personality into her classic look with a woven turquoise clutch.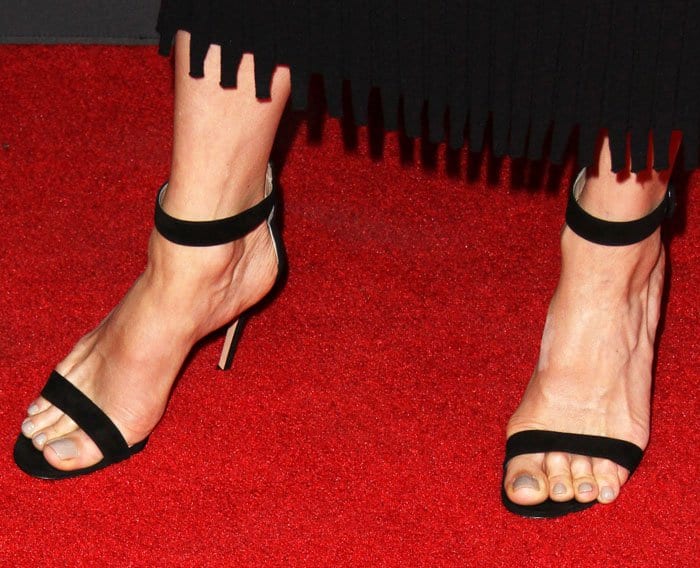 Neve wears a classic pair of suede ankle strap sandals.
8. Samira Wiley in Embroidered Dress
Our final pick goes to Samira Wiley for her beautiful embellished sandals. The actress embodied the glitz and glamour of the Emmys with a pair of bronze sandals adorned with black stones.
While we love her choice of footwear, the rest of her look is just meh. Her dress looks like something we've seen in our mother's closet. Her hairstyle makes her entire look seem like Cleopatra getting lost in the '50s.
Overall, forgivable, thanks to the choice of footwear.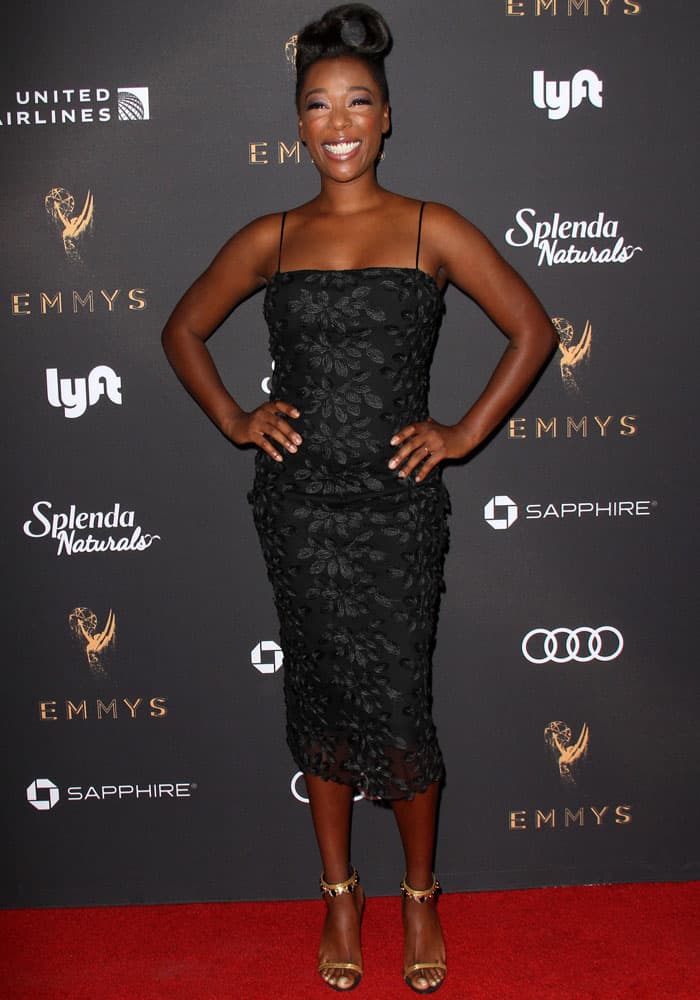 Samira Wiley wears a tacky embroidered dress.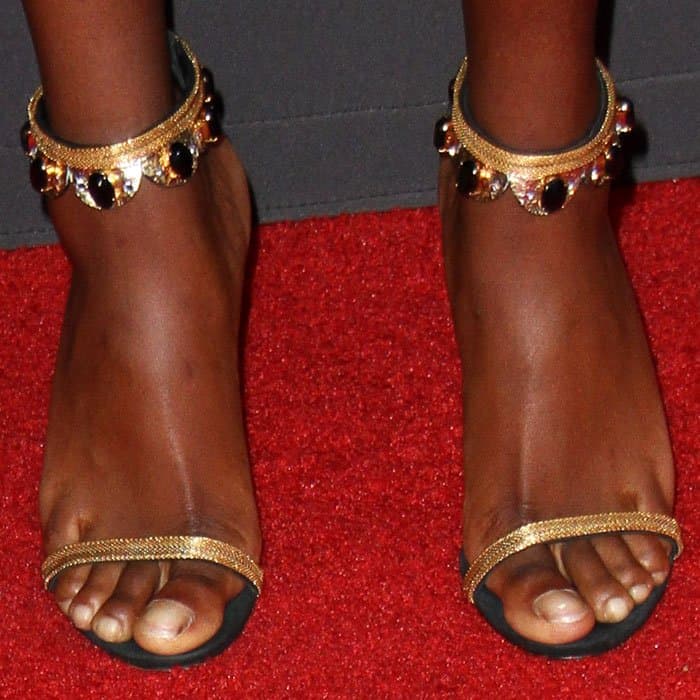 Hey, Cleopatra: the actress wears a pair of bronze sandals embellished with black stones.
Despite the numerous outfit misses, we enjoyed the gorgeous parade of footwear.
Which one was your favorite?
Credit: Adriana M. Barraza / WENN