Her career hasn't slowed down since bursting onto the scene with her breakout roles in Testament of Youth, Ex Machina, and The Danish Girl.
Aside from starring in blockbuster movies, Alicia Vikander has also made a name for herself in the fashion world— something she thought was nothing more than a pipe dream.
In a 2019 interview with Harper's Bazaar, Alicia revealed that she only dreamed of owning clothes from luxury brands.
"My mom was an actress, and we never had the money for things that weren't purely functional."
She added: "I remember when I bought my first magazine; it was a window into a world that seemed very far away from mine."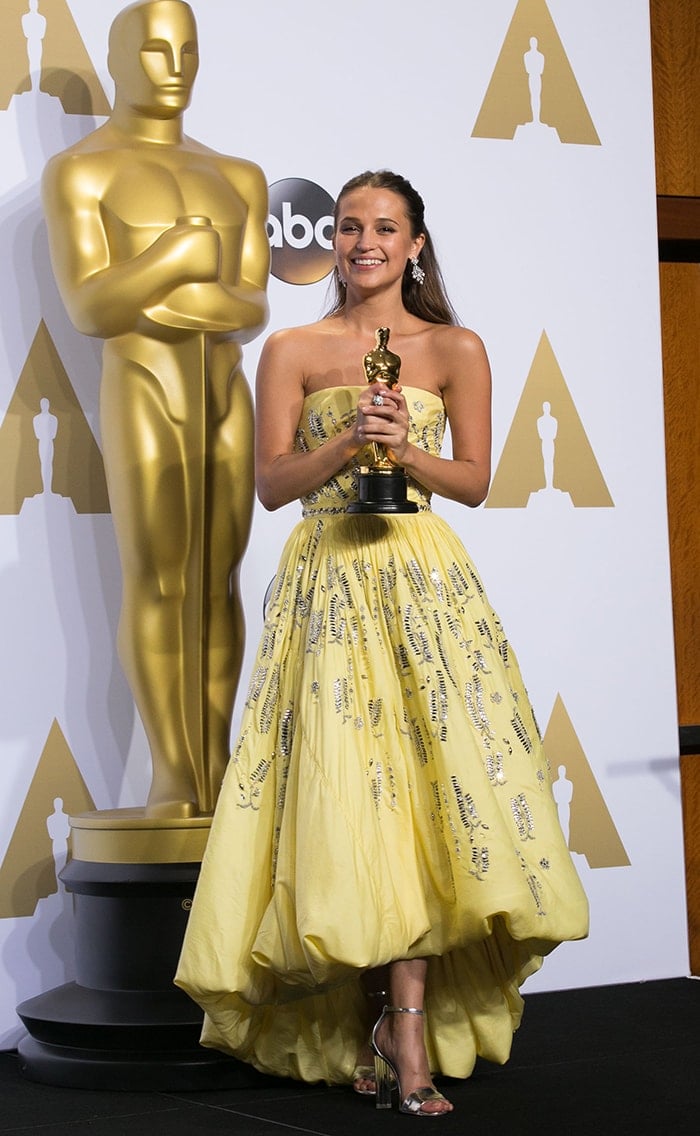 Alicia Vikander wins Academy Awards for Best Supporting Actress for The Danish Girl on February 28, 2016
In 2015, when she was 27, Alicia has finally achieved her high fashion dream after she was tapped to become the new face of Louis Vuitton.
The 32-year-old actress has since become a front-row staple at the French luxury giant's fashion shows.
In April, Alicia joined Emma Stone and Léa Seydoux in the campaign for the New Classics, which is Louis Vuitton's collection of contemporary leather goods.
Recently, she starred in Louis Vuitton's LV Volt campaign, showcasing the fashion house's 36-piece jewelry collection.
On Tuesday, Alicia led the fashion pack at Louis Vuitton's Paris Fashion Week Spring/Summer 2021 presentation.
Naturally, the Tomb Raider star wore pieces from Louis Vuitton. She stunned in a trendy yellow utility jacket with a white ruffled collar from Louis Vuitton's Resort 2021 collection.
Highlighting her slender legs, she teamed the look with black-and-white striped leggings, also from the same collection.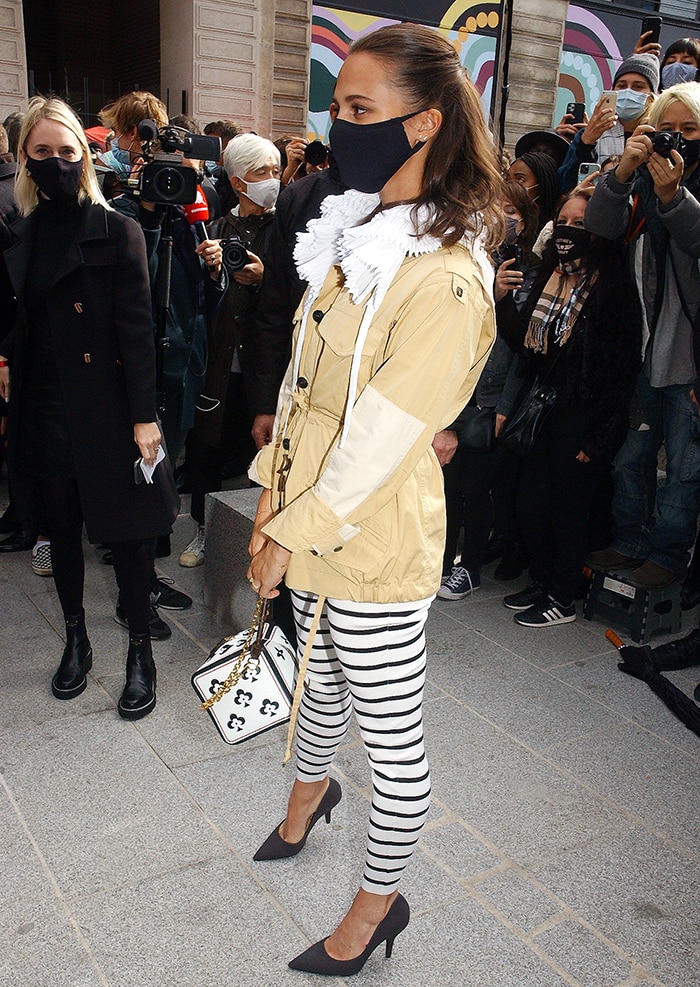 Alicia Vikander at the Louis Vuitton Spring/Summer 2021 during Paris Fashion Week on October 6, 2020
Michael Fassbender's wife wore her tresses in a half-up, half-down style, and drew attention to her eyes with mascara and eyeshadow.
For her accessories, she wore several diamond stud earrings, dainty gold bracelets, and a black face mask from Louis Vuitton.
Adding some quirky detail to her look, Alicia carried a black-and-white square handbag with a gold chain strap and a leather handle.
Alicia Vikander wears a Louis Vuitton Resort 2021 utility jacket with a white ruffled collar and a black face mask
Allowing her outfit to take center stage, Alicia finished off her look with a pair of classic black suede pumps.
Alicia Vikander shows off her feet in classic black pumps
Alicia Vikander on Tomb Raider Movie Sequel
In 2018, Alicia portrayed Lara Croft in the Tomb Raider movie reboot.
Following its release, a sequel was announced and was scheduled to be released on March 19, 2021. However, because of the COVID-19 pandemic, production has been put on hold.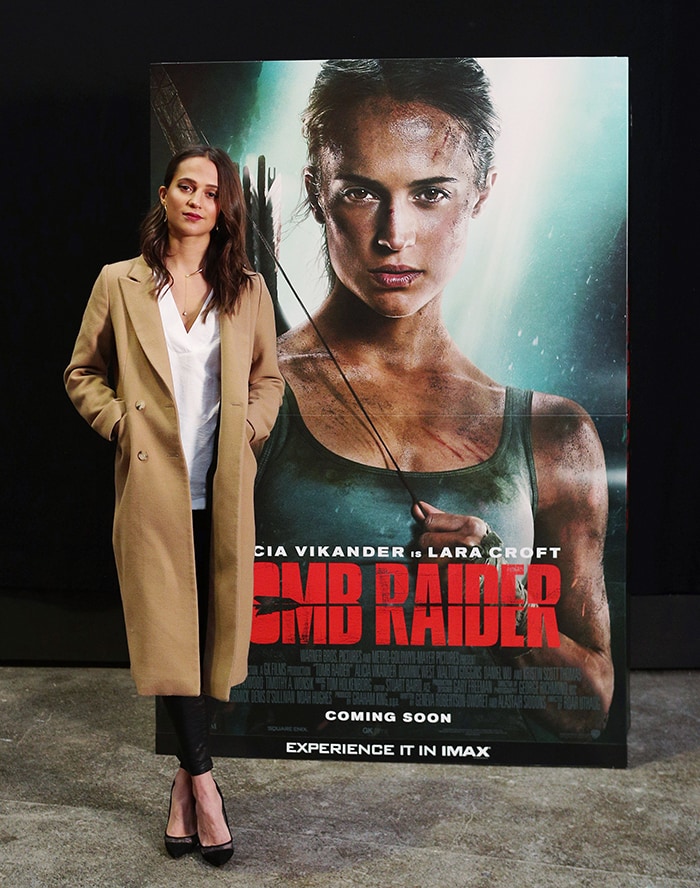 Alicia Vikander as Lara Croft in the Tomb Raider movie reboot released in March 2018
In her recent appearance on Good Morning America for her new Amazon film, The Glorias, Alicia gave an update about the status of the Tomb Raider sequel.
"The plan was for us to start making one this year, of course, due to the situation, that's now very different. We're still in discussions about it, so I hope that we can probably get to it next year."
Credit: Joe Pepler / PinPep / Brian To / WENN