The ever-gorgeous Anne Hathaway made a breathtaking comeback to the Met Gala Monday after a five-year hiatus from the event.
This year's dress code paid tribute to Karl Lagerfeld, the late German designer and iconic Chanel creative director, whose six-decade-long career has shaped modern luxury fashion.
And for her part, the Interstellar actress chose to honor the legendary fashion designer by drawing inspiration from some of his favorite muses, the supermodels of the 1990s.
Hathaway turned to Lagerfeld's close friend Donatella Versace for her evening look, which combined Versace's 1990s form-fitting, slashed silhouette and Chanel's classic French tweed construction.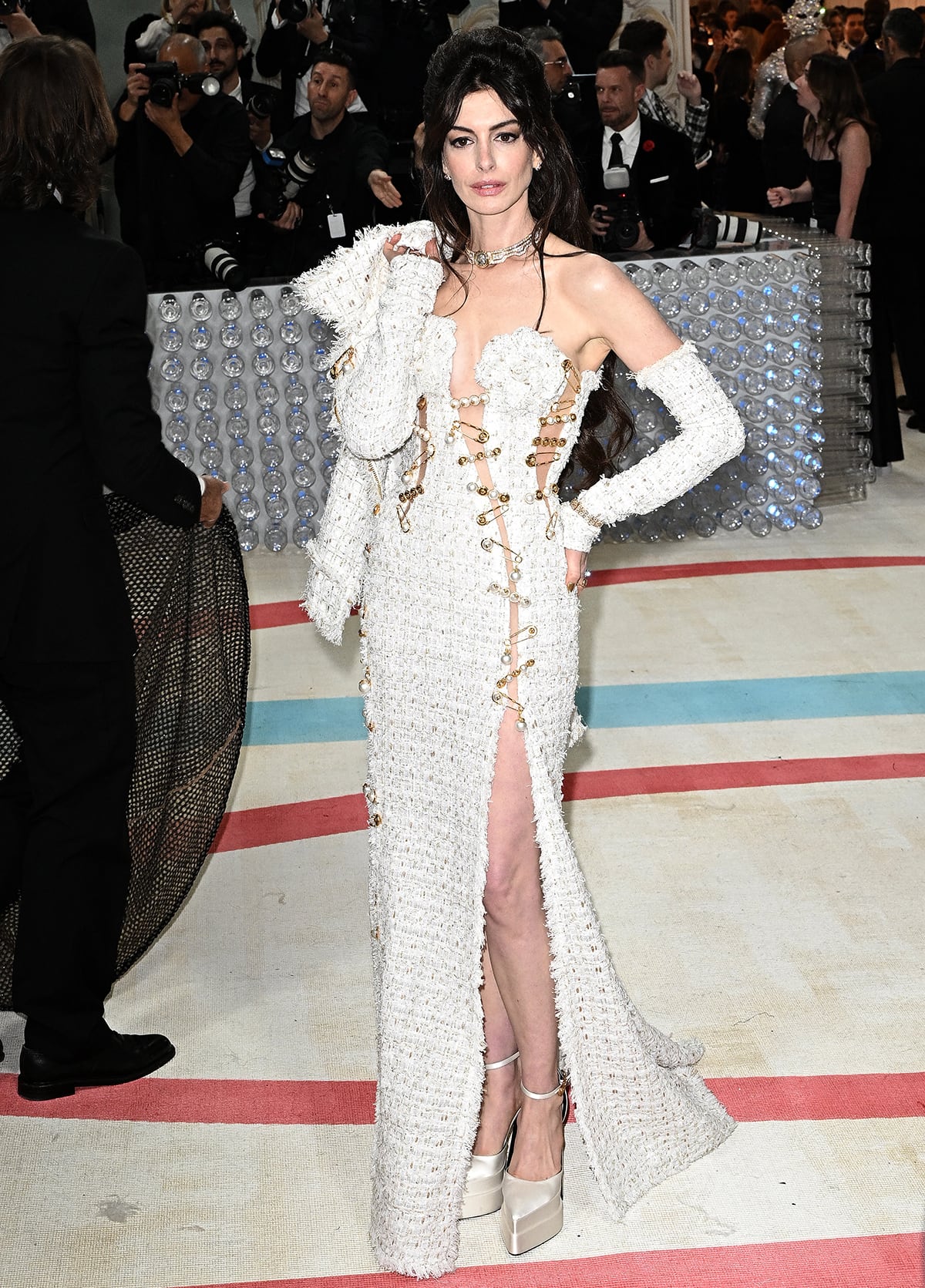 Anne Hathaway makes a stunning return to the Met Gala steps after a five-year hiatus on May 1, 2023 (Credit: Abaca Press / INSTARimages)
In a red-carpet interview with Vogue, the Les Miserables star said her gown "was meant to be a marriage between Versace and Chanel."
Sexy yet sophisticated, the new face of Versace wore a fitted gown in luxurious gold-threaded white tweed with daring slashes on the bodice—one of which ran down to her leg, creating a revealing thigh-high slit.
The sultry cutouts were held together by pearl and gold-tone Medusa safety pins similar to the iconic "That Dress" dress worn by Elizabeth Hurley at the premiere of Four Weddings and a Funeral in 1994.
"There's just something about this dress that makes you kind of want to hit it," Hathaway added while demonstrating how to pose in the Versace creation. "Get a little Rosalía going on in your head and live in the fantasy."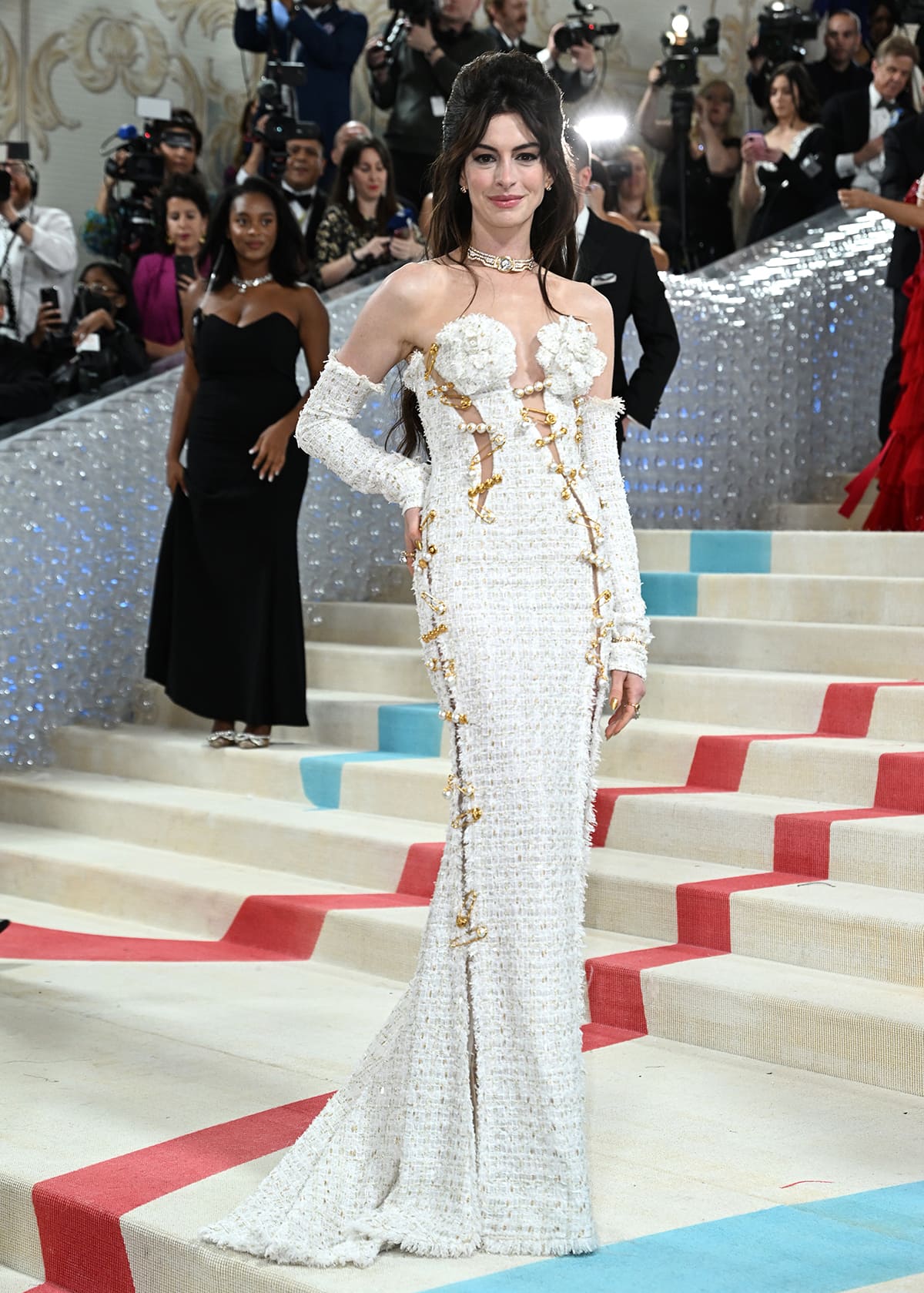 Anne Hathaway honors Karl Lagerfeld by channeling the '90s supermodels in a Versace tweed bridal gown at the 2023 Met Gala (Credit: Doug Peters / PA Images / INSTARimages)
Chanel's signature Camellia flowers adorned the cleavage-baring bust while degradé ton-sur-ton paillette and Swarovski crystals are scattered all throughout the gorgeous bridal-style gown.
The brilliant creation, which took the atelier more than 450 hours to handcraft and 15 meters of fabric to finish, included a matching tweed motorcycle jacket and fingerless tweed opera gloves.
Although her heels were barely visible from underneath her gown, Hathaway kept her look coordinated with white satin "Aevitas" platform pumps by Versace.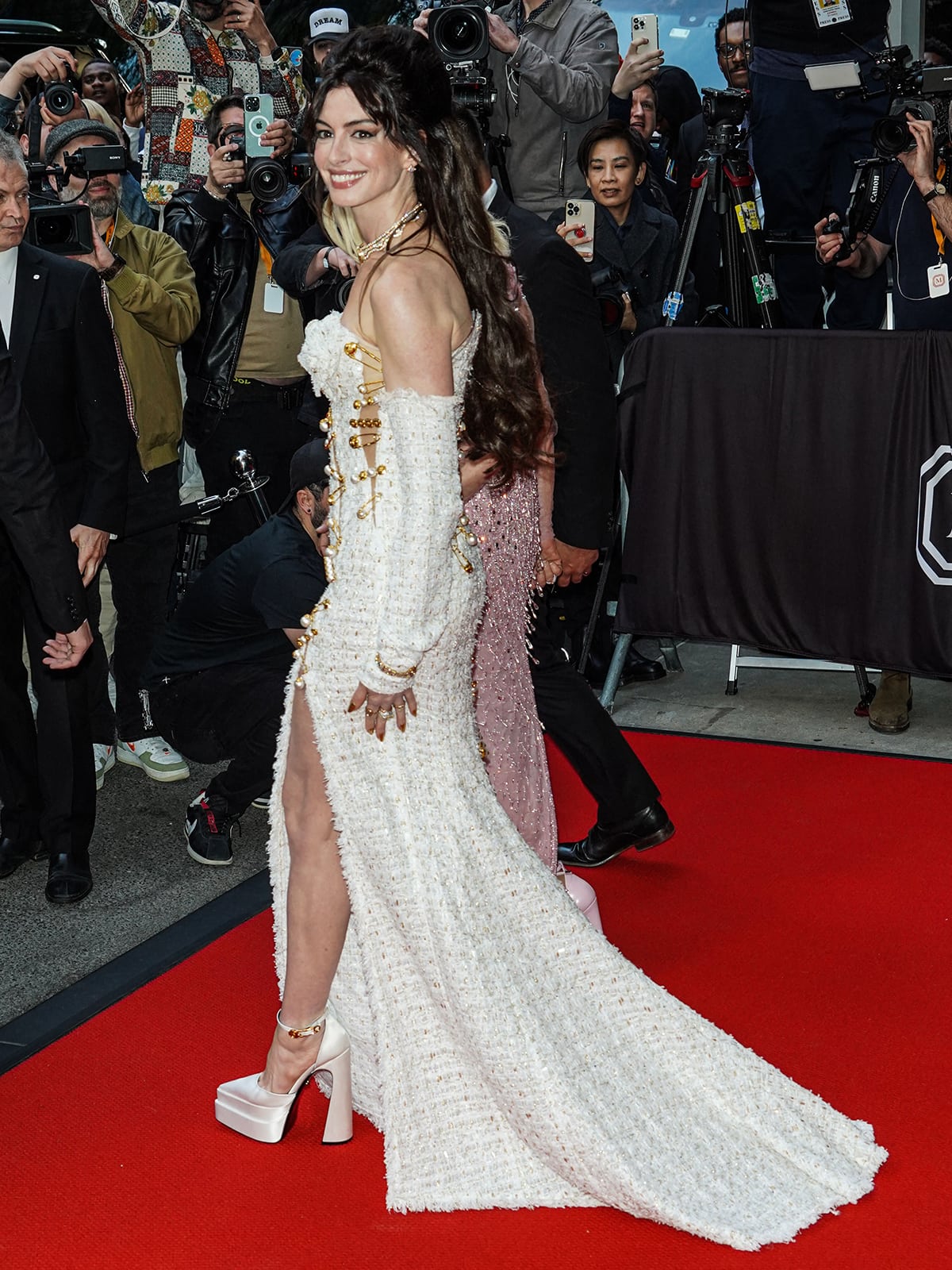 Anne Hathaway pairs her slashed, embellished safety pin tweed gown with white satin Versace Aevitas pumps (Credit: Abaca Press / INSTARimages)
Donatella Versace told Vogue that she "wanted to create a gown to celebrate a conversation between Karl and Versace."
"I remember listening to Gianni and Karl talking and laughing over dinner one evening, and this dress reminds me of that moment. Karl celebrated women and craftsmanship. I learned so much from his work."
"The dress is a tribute to our shared '90s experience—tweed, pearls, and camellias mixed with safety pins, slashes, and a corset. Anne looks powerful, feminine, stunning, and of course, iconic. Exactly like Karl made women feel in his dresses."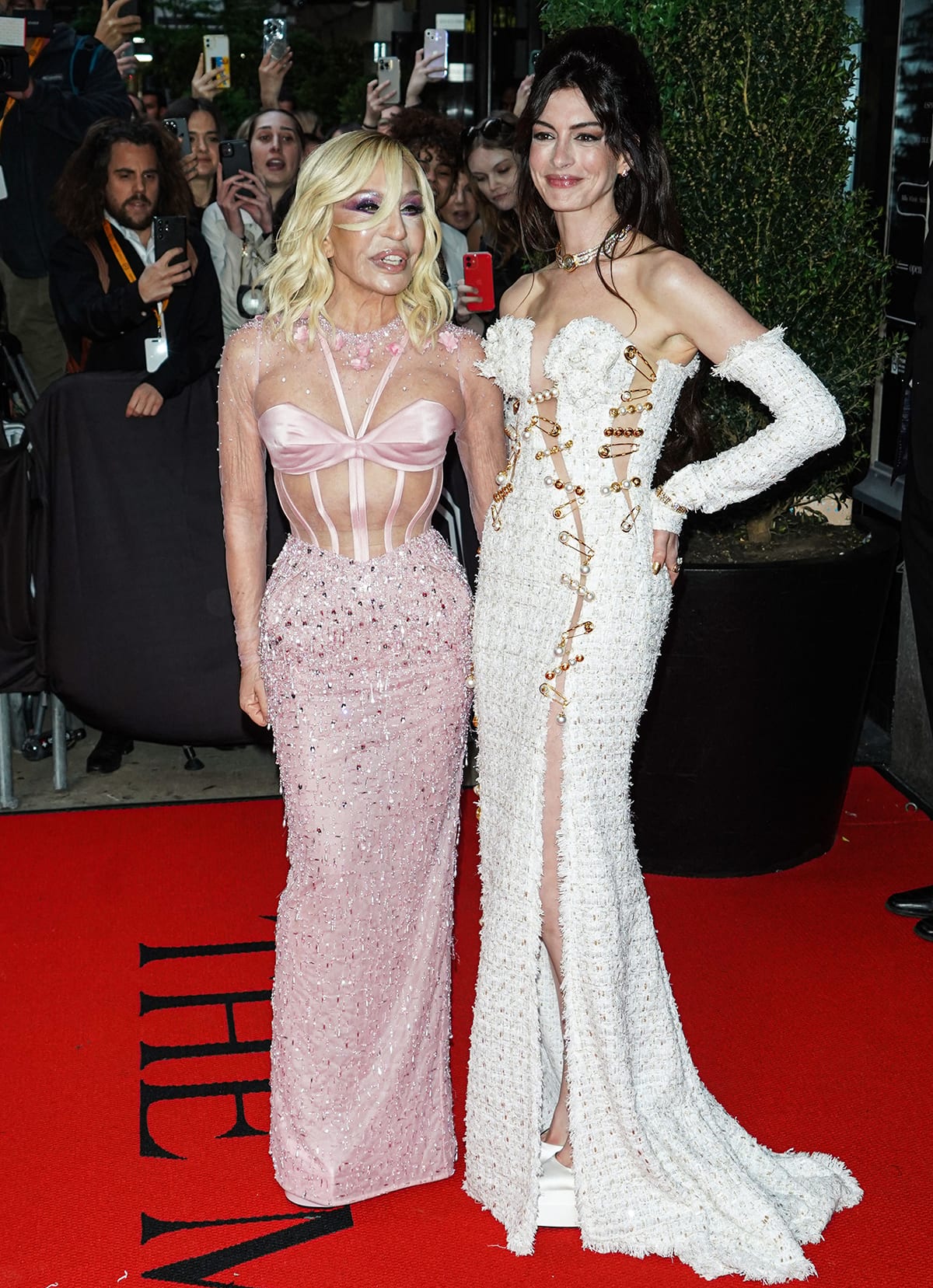 Donatella Versace poses with Anne Hathaway in a custom embellished pink gown by Atelier Versace inspired by the Chanel Spring 2018 collection (Credit: Abaca Press / INSTARimages)
Hathaway credited her trusted stylist Erin Walsh for her Met Gala comeback look, styled with jewelry by Bulgari, for which she is an ambassador.
She wore pieces from the Monete collection that included a sculptural yellow gold choker necklace with pave diamonds and an ancient silver coin. She paired the exquisite piece with a matching yellow gold Monete bracelet, several gold and diamond rings, and a tiny pair of gold earrings.
In keeping the '90s supermodels vibe of the look, Anne wore a voluminous retro half-updo created by Orlando Pita, who added a camellia flower from the 1990s Versace show to her hairstyle.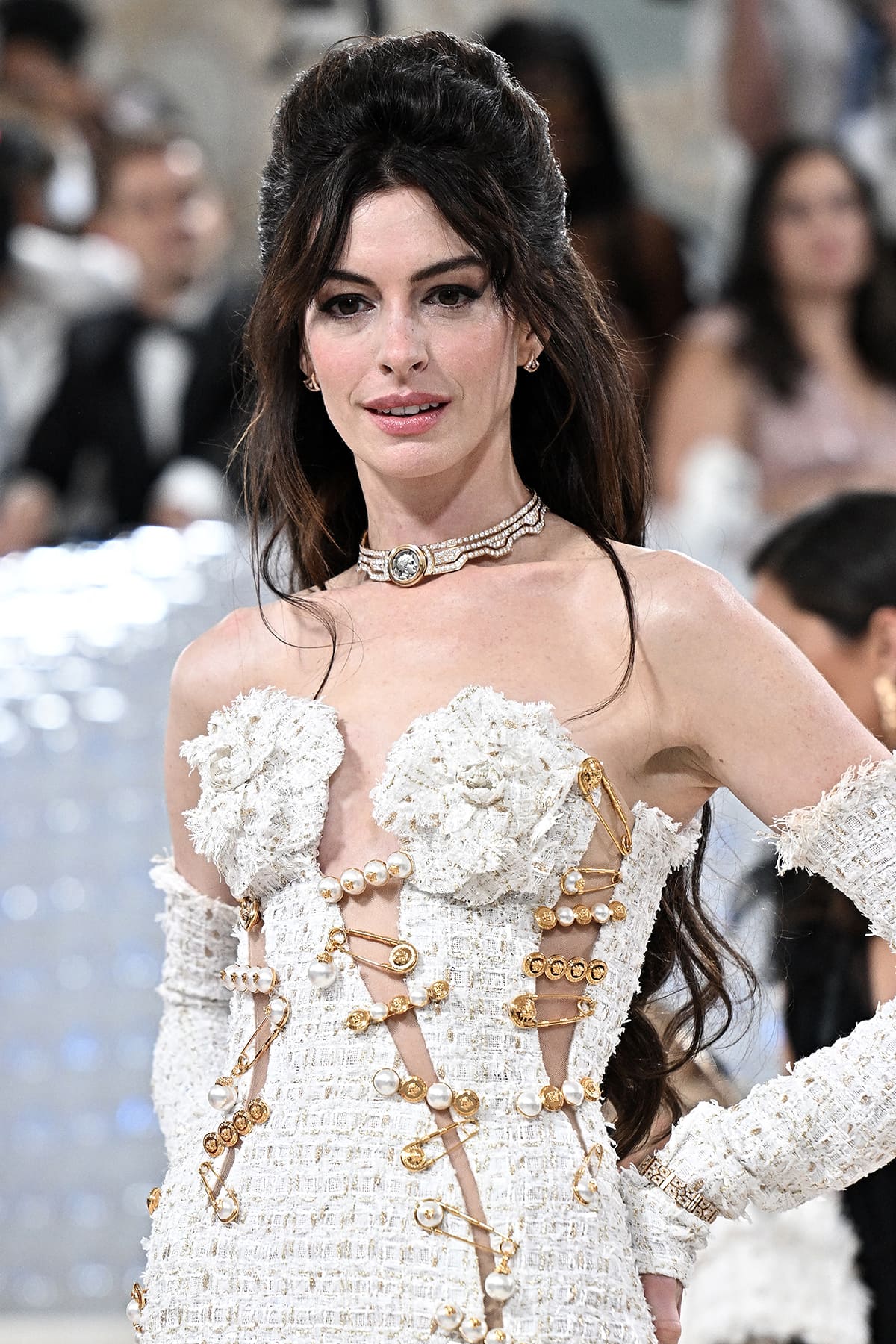 Anne Hathaway styles her sexy but elegant tweed dress with jewelry from the Bulgari Monete collection (Credit: Abaca Press / INSTARimages)
Meanwhile, makeup artist Gucci Westman took inspiration from the "'90s supermodel glam through the lens of 2023 Versace" to create Hathaway's evening look.
She used Westman Atelier's Complexion Drops in Atelier 0.5 as a base with the Vital Skin Foundation in Atelier N as concealer before contouring her cheeks with the Face Trace Contour Stick in Biscuit and applying a hint of Super Loaded Tinted Highlight in Peau de Peche and finishing with Vital Skincare Pressed Powder in Translucent.
Using The Eye Love You Edition, American make-up artist Gucci Westman gave the actress a modern cat-eye and darkened her eyebrows with the Bonne Brow Pencil in Slate.
She then completed the striking beauty look with the Baby Cheeks Blush Stick in Minette + Petal, Lip Suede Les Nudes, and Squeaky Clean Liquid Lip Balm in Nou Nou.
Anne Hathaway completes her vintage look with a voluminous half-updo and peachy pink makeup (Credit: Abaca Press / INSTARimages)