Getting cold and wet can put a damper on outdoor activities. Fortunately, there are many incredible rain jackets on the market that can keep you warm and dry – even when caught in a torrential downpour!
Arc'teryx is notorious for high-quality rain jackets, although selecting one isn't as easy as it sounds. Their biggest competitors include The North Face, Patagonia, Outdoor Research, Macpac, Helly Hansen, Columbia, and VAUDE.
How do I choose a rain jacket?
With a large selection filtered by activity, temperature, and weather, it can feel overwhelming searching for the perfect Arc'teryz rain jacket. To start, you need to consider where you will be wearing the jacket the most.
Arc'teryx categorizes their jackets by use. For example, every day (essentials), hiking and trekking, skiing and snowboarding, and running and trail running.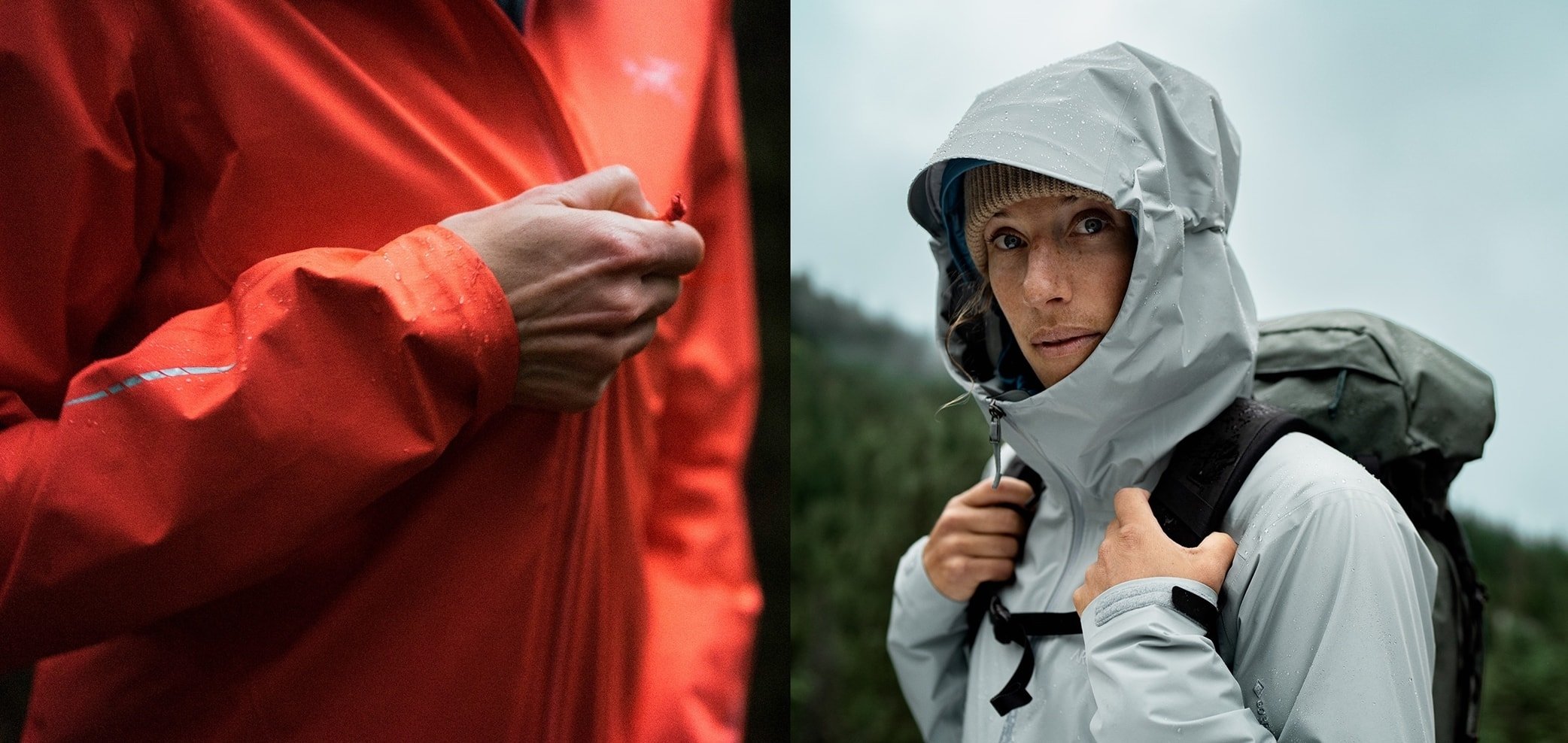 Arc'teryx's waterproof rain jackets will help you stay dry and comfortable
Many of these rain jackets are very versatile and will take you from a walk on the street to climbing a mountain.
Next, you need to decide on the weather you will be encountering. Obviously, if you live in Alaska, the weather will be quite different from Florida. Consider the climate where you are.
The multi-use jackets are further categorized by the weather. This includes extreme cold, variable temperature, mild temperature, severe weather, variable weather, mild weather, severe weather, and extreme cold.
Not surprisingly, a rain jacket made for extreme cold will have a lot more insulation than a jacket made for mild temperatures.
When Arc'teryx refers to the "weather", they are referring to the amount of rain and wind. For example, a rain jacket for severe weather (SV) will have maximum water and wind protection.
On the other hand, a jacket made for mild weather is best suited for light precipitation and wind.
Additionally, like many other outerwear retailers, Arc'teryx has a layering system. As layering is the most effective way to keep you warm and dry, you can layer many of their rain jackets with other items.
Look for these descriptors, or use the filter feature to find a rain jacket that will best fit your needs. Alternatively, take a look at the following list to see the rain jackets we consider to be the best!
Most Popular Men's Arc'teryx Rain Jackets
1. Fission SV Jacket, $775 at Arc'teryx (Great for extreme cold and severe weather)
If you'll be in severe weather (SV) and extreme cold, this jacket is guaranteed to keep you warm and dry. The Fission SV is Arc'teryx's warmest, fully waterproof jacket that features an insulated weatherproof shell.
The waterproof insulated outer layer (GORE-TEX) is lightweight and windproof. Made from durable material, it will withstand prolonged exposure to harsh weather.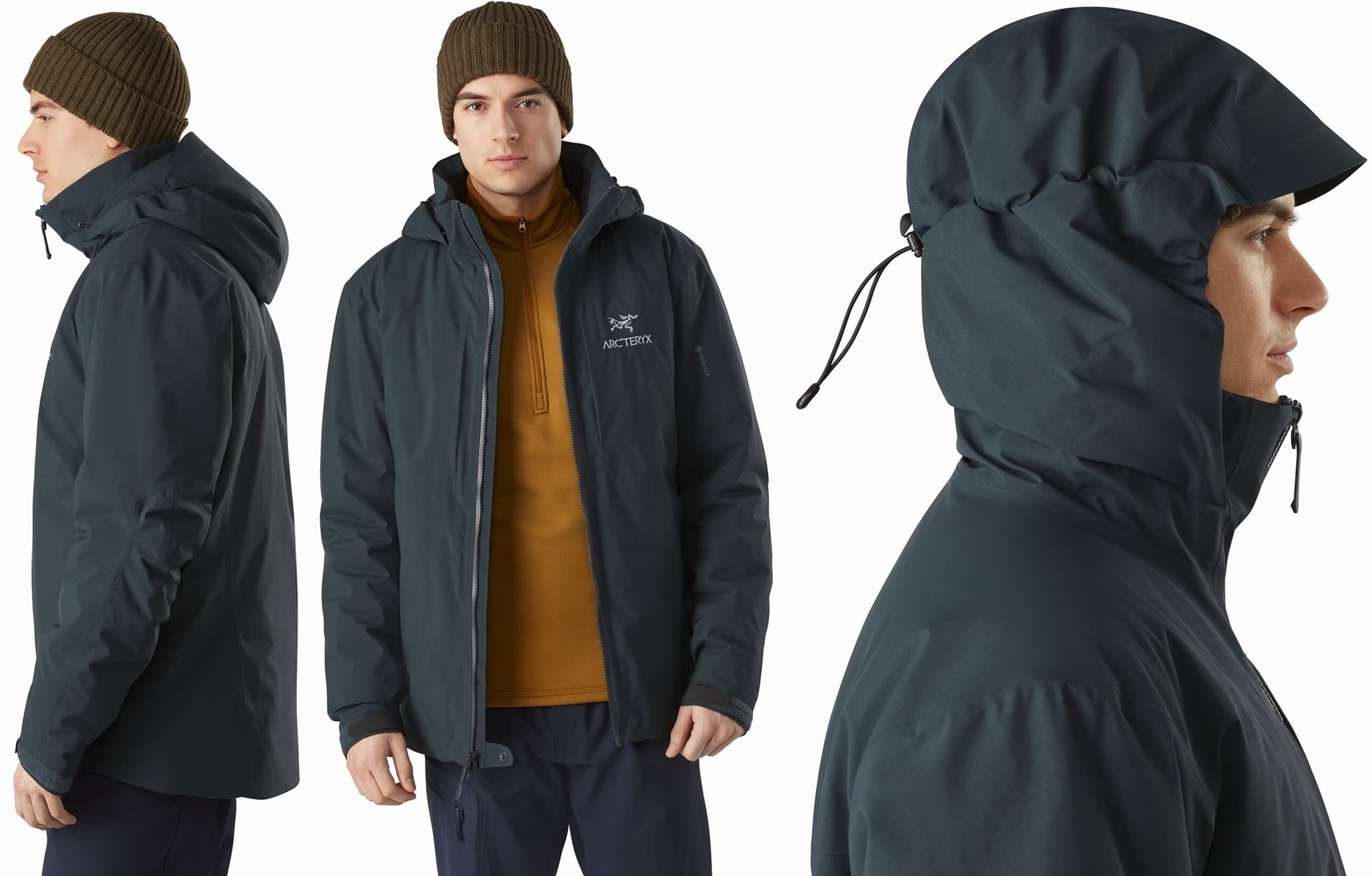 The warmest fully waterproof rain jacket in the Arc'teryx Essentials collection
To protect you from severe weather and cold temperatures it is constructed with thermally efficient synthetic insulation with an air-permeable liner that allows vapor to reach the GORE-TEX membrane.
This means the jacket will keep you warm and dry while still being breathable and comfortable. There is also an insulated DropHood and collar for added protection.
2. Beta SV Jacket, $675 at Arc'teryx (Great for outdoor adventures in severe weather)
For an all-around rain jacket that's also suitable for extreme outdoor sports, this Beta SV jacket is highly versatile with high-performance technology.
It has a GORE-TEX outer shell that is waterproof, windproof, and breathable to protect you from the elements.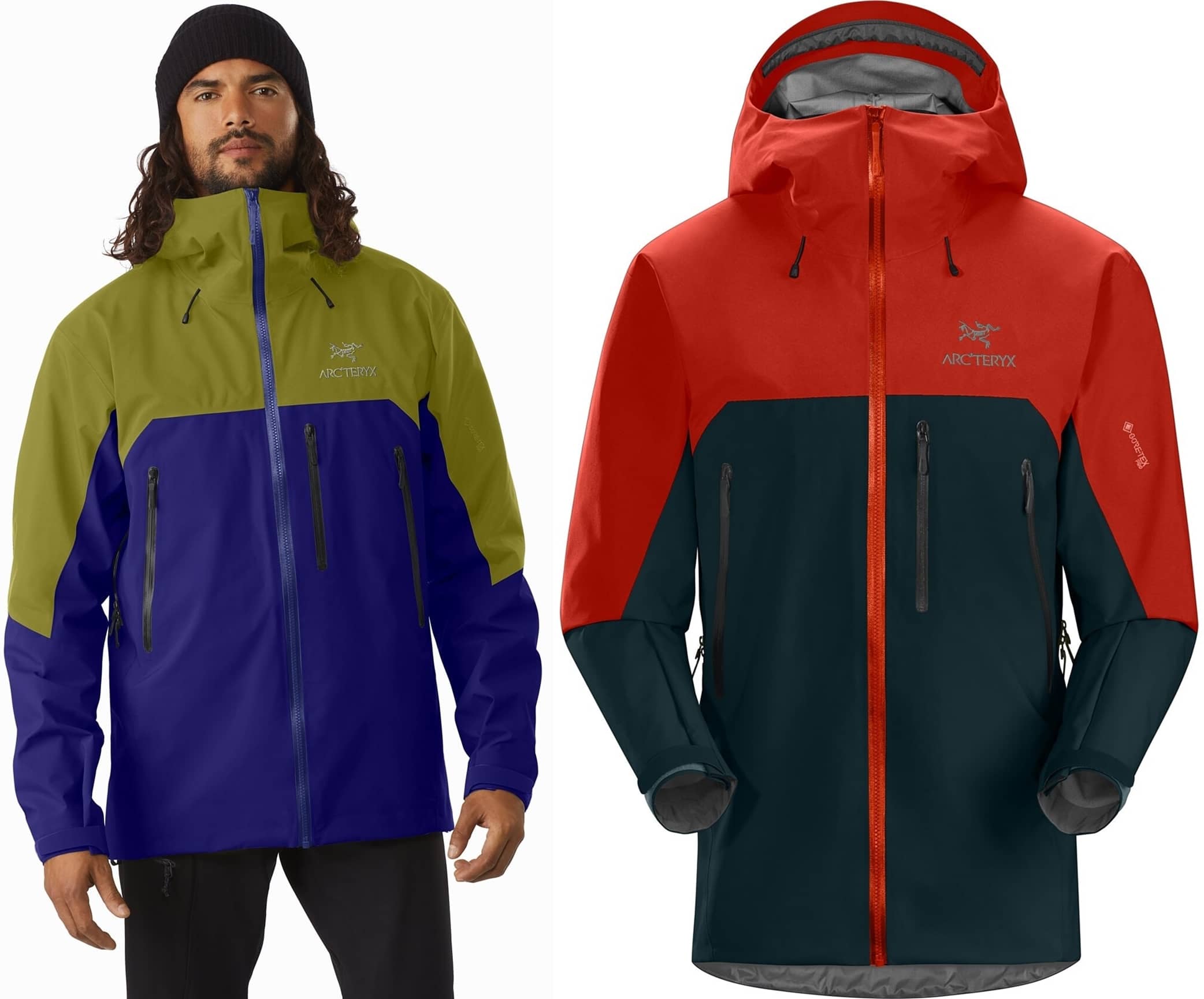 Durable, highly versatile GORE-TEX PRO jacket for severe alpine conditions
This jacket also features rugged technology for hardcore alpine activities, including pit zips ventilation, articulated elbows, helmet-compatible hood, and embedded reflectors. Its high-tech design with micro-seams makes this jacket both lightweight and durable.
3. Norvan SL Hoody, $325 at Arc'teryx (Great for trail running and hiking)
This is the lightest and most breathable Arc'teryx rain jacket. It will keep you dry on the inside and out, even when working up a sweat.
It is waterproof and windproof, utilizing GORE-TEX and SHAKEDRY technology. This unique material combination makes this jacket super lightweight, weighing just 4.4 oz!
The lightest, most breathable Arc'teryx GORE-TEX trail running jacket
This rain jacket is better suited for more mild temperatures as it does not offer much insulation. That said, because it is super light, it can comfortably be layered and worn as an outer shell.
4. Keppel Trench Coat, $499 at Arc'teryx (Great for city living)
Trench coats are super stylish, but not all of the trenches are waterproof and windproof. The Keppel trench coat is super sleek while still acting as a protective shelter.
Made from GORE-TEX, it is waterproof, windproof, and breathable. This trench is great for bike riders, too, thanks to its bike-commute features.
A waterproof, breathable GORE-TEX trench coat for bike commutes and city living
There is a two-way zipper in the front and back vent to allow more freedom when cycling. It's important to note; this rain jacket does not have a hood, so it's not ideal for a lot of rain but will do the job on misty days.
5. Gamma MX Hoody, $349 at Arc'teryx (Great for mixed weather and your everyday commute)
This rain jacket is perfect for mixed-weather and scattered showers. The mid and outer layers are weather resistant. It will keep you warm and dry when it starts to rain and will still be comfortable when the sun's out.
Warm, weather-resistant, exceptionally durable softshell hoody
Because of its high-performance design, this jacket is great for a diverse number of activities. The material is breathable, so moisture can escape, regulating temperature and keeping you comfortable.
The StormHood is helmet-compatible and will protect you from rain and wind without impeding your peripheral vision.
6. Atom LT Hoody, $259 at Arc'teryx (Great for wet and windy summer days)
This jacket can be used as a layer or on its own. The outer face fabric is moisture-resistant, wind-resistant, and lightweight and is also treated with Durable Water Repellent (DWR).
Not only will this rain jacket keep you dry on dreary days, but it will keep you warm when the temperature drops. The insulation has quick dry times and will retain warmth even when damp.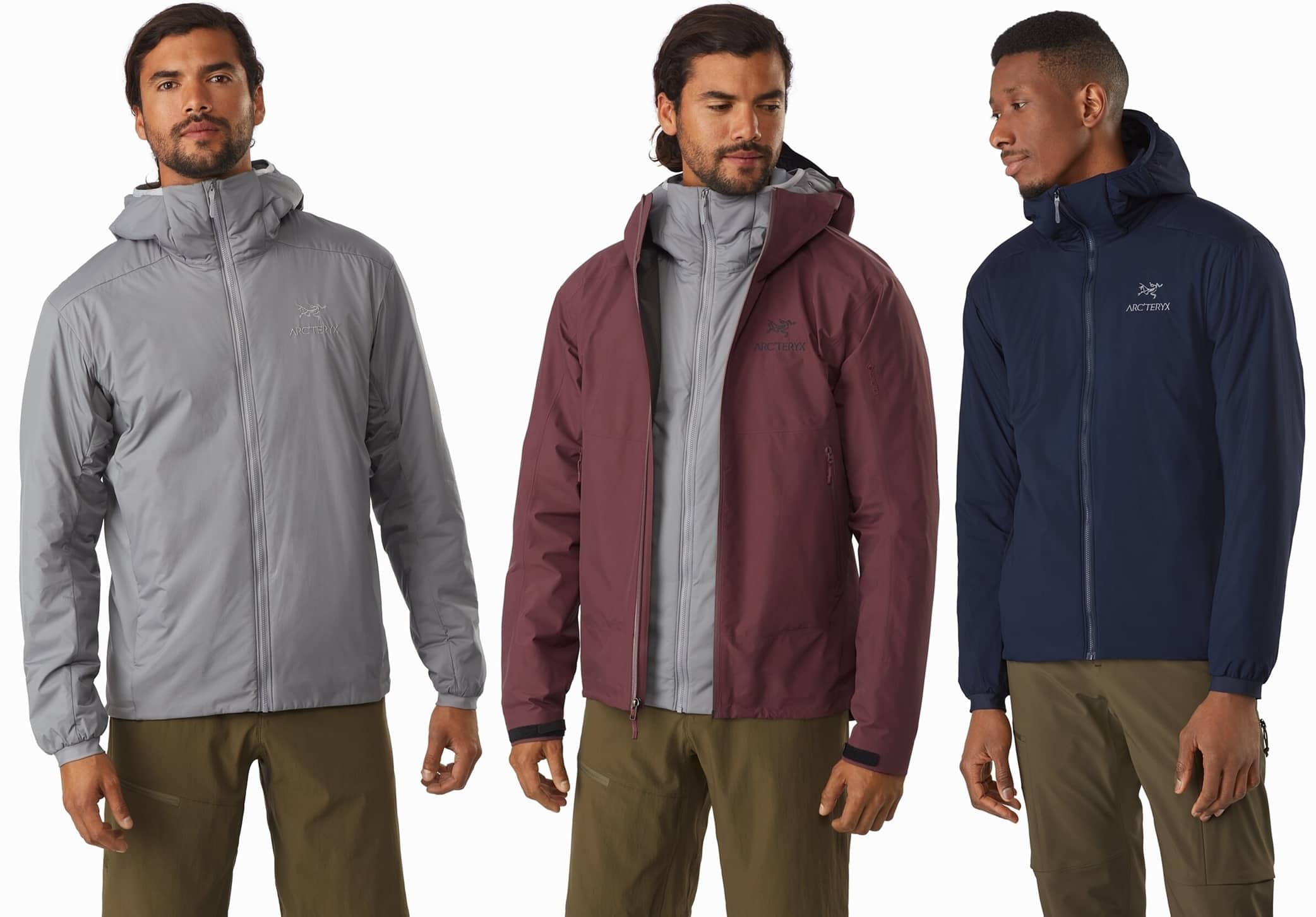 Light, versatile synthetically insulated hoody works as a midlayer and standalone
This jacket is great for outdoor adventures like hiking, biking, or mountain climbing as it has articulated elbows, gusseted underarms, StormHood with a brim, and performance stretch fleece side panels that allow for greater flexibility and ventilation.
Most Popular Women's Arc'teryx Rain Jackets
7. Mistaya Coat, $475 at Arc'teryx (Great for urban environments and city storms)
As one of the longest coats in the women's collection, this coat will keep you warm and dry during inclement city weather. Made from GORE-TEX, this rain jacket is waterproof, windproof, and breathable.
This long women's GORE-TEX raincoat is trim fitting and designed for inclement weather in urban environments
The canvas-like material is impervious to water molecules, keeping you 100% dry. There is also an adjustable hood and large collar. The two-way zipper and adjustable snap cuffs will keep out cold, windy weather.
There is also an internal zippered pocket to keep items secure. This rain jacket is both functional and fashionable and is available in two different colors.
8. Beta AR Jacket, $599 at Arc'teryx (Great for outdoor adventures in rainy weather)
This jacket was designed for diverse activities and conditions. It is also made from GORE-TEX and is very durable. This jacket will keep you dry and warm as it is both waterproof and windproof.
It has taped micro-seams and is extremely lightweight. For this reason, it's considered packable – easy to pack in a backpack in the event you encounter bad weather.
Light, packable, highly versatile GORE-TEX PRO shell with hybrid construction
This rain jacket also features a DropHood that's helmet-compatible, laminated brim and micro suede chin guard for added comfort.
For more adventurous types, this jacket also has embedded reflectors, reinforcements and is treated with Durable Water Repellent (DWR) to repel moisture.
9. Gamma SL Hoody, $225 at Arc'teryx (Great for mild temperatures)
This versatile, superlight shell is the perfect rain jacket to layer. This jacket provides advanced performance with a minimalistic style. It is made from Fortius 1.0 double weave, which is both extremely light and strong.
Versatile, superlight softshell for hiking and a range of active mountain adventures
This jacket is wind and water-resistant and has a four-way stretch, allowing you to engage in many outdoor adventures.
In addition to unrestricted mobility, it has gusseted underarms that don't lift when raising your arms overhead. For extra protection, the Gamma SL has an adjustable low profile StormHood, elasticized bottom hem, and cuffs.
10. Beta SV Jacket Rebird, $675 at Arc'teryx (Great for prolonged exposure to severe rain and wind)
This jacket is similar to the Beta AR; however, it is made for more severe weather – so severe that it can handle intense alpine conditions! The GORE-TEX material is waterproof, windproof, and breathable.
Durable, highly versatile GORE-TEX PRO jacket for severe alpine conditions
Built with performance in mind, it has a helmet-compatible hood, pit zips speed ventilation, reflectors and is articulated for flexible movement.
What makes this jacket extra special is that it is made with reclaimed raw materials. The "rebird" is a nod to the fabric saved from waste.
11. Andra LT IS, $499 at Arc'teryx (Great for everyday wear in cooler temperatures)
For an everyday coat, that'll keep you dry in rainy weather, the Andra LT IS provides both warmth and protection!
Due to the GORE-TEX material, it's also waterproof and windproof. For brisk spring and fall days, the insulated gasket at the collar will help keep out cool winds, and the StormHood will keep your head dry.
GORE-TEX protection and lightweight warmth in a coat with everyday city style
Although slightly more form-fitting, this jacket allows for a lot of flexibility and movement. This rain jacket falls to just above the knees, so it isn't the best option for packing in a backpack and is more suitable for commuting to work or school.
12. Atom SL Anorak, $209 at Arc'teryx (Great for cool summer days)
The Atom SL Anorak is designed for those less-than-ideal summer days when temperatures drop, and the wind picks up. It has a light amount of insulation that will keep you comfortable.
This insulation (Coreloft) is strategically placed at the chest and back, making this jacket very lightweight and easy to pack in a bag.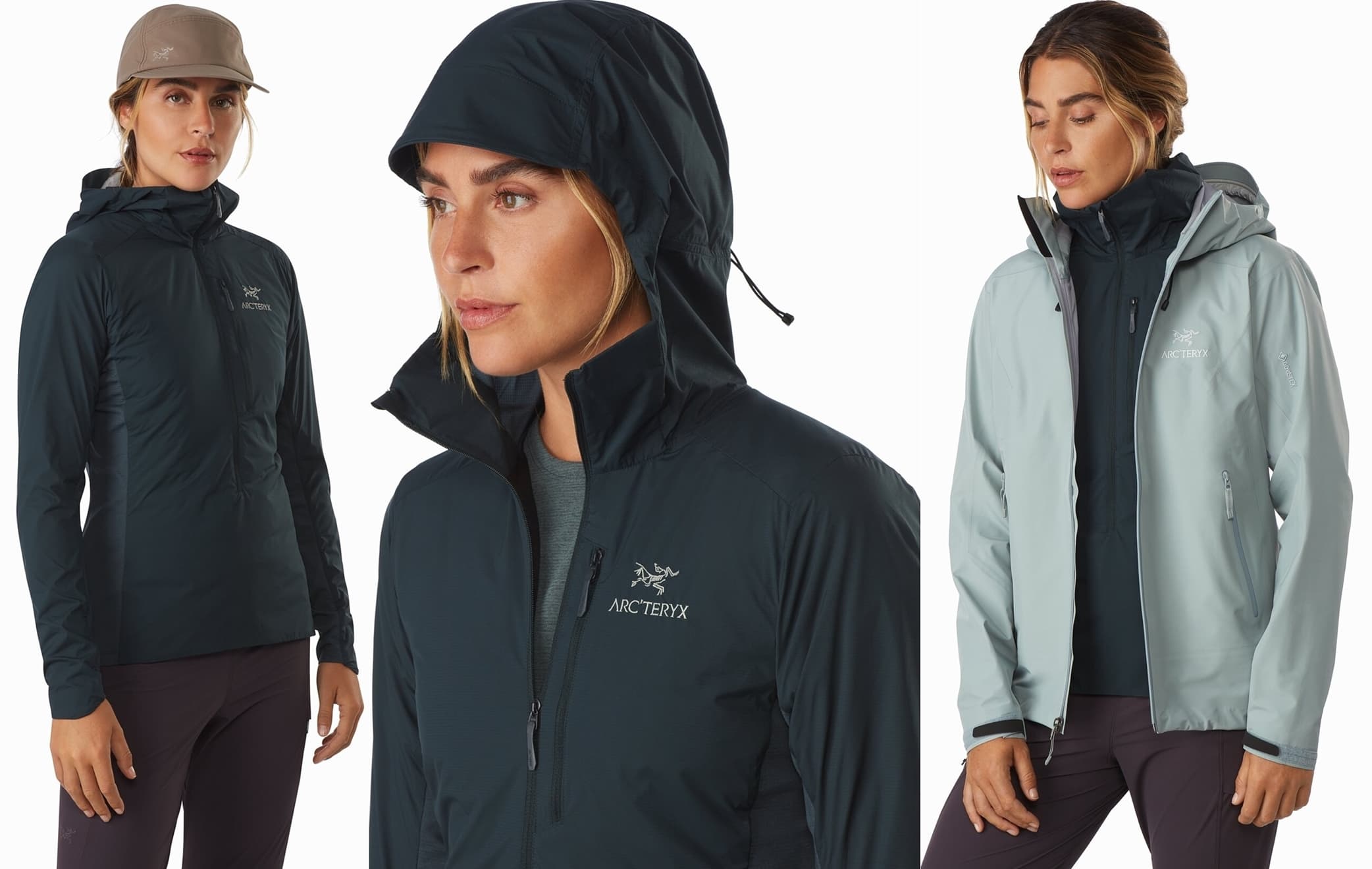 Superlight, packable Coreloft insulated anorak for milder conditions
It has the Tyono 20 outer shell, treated with DWR so that it will protect you from both wind and rain. For added comfort, this rain jacket also has stretch fleece side panels and an uninsulated hood for additional protection.