Welcome to the age of comfortable fashion.
In the wake of the pandemic, athleisure is on the rise. Thanks to Generation Z canceling skinny jeans, we can go out in our yoga pants (flared trousers if you ask Gen Z!) and a cozy fleece jacket.
Whether you're a runner or someone who likes to bundle up from the cold, a fleece jacket is a closet staple. It's lightweight enough to wear all year round and easy to layer up with during the winter.
You can throw it over your activewear or wear it to keep warm while working from home.
Kaia Gerber (L) and Lucy Hale show two great ways to style fleece jackets with leggings and sneakers (Credit: Mega / WENN)
If you're looking to give your everyday closet a refresh, we've rounded up 11 fleece jackets for you to choose from.
You're spoilt for choice with different fleece jackets to choose from. You can find styles from activewear brands like Lululemon and Sweaty Betty and more established fashion labels like Ralph Lauren.
Our list of the 11 best fleece jackets offers something for every budget and price point, whether you want to splurge or get the look on a budget.
What makes a good fleece jacket?
You'll want to keep in mind the fabric and the fit while buying your fleece jacket. Most of them are designed to have a slightly oversized fit, so you may want to size up or down depending on how you want it to look.
The material will usually contribute to the price. If you want a fleece jacket you can wear in any season, look for a lighter fabric like polyester.
Another thing to note is whether the fleece jacket is a pullover, half-zip, or full zip. This feature will depend on how easy it'll be to style with pieces other than activewear and loungewear.
Here are our top 11 picks for women's fleece jackets:
1. Nantucket Fleece Half-Zip Pullover, $98 at Free People
If you're building a capsule wardrobe or want a minimalistic look, this option from Free People is perfect for you. It's available in ten colors, from pink orchid through to toasted coconut and army green.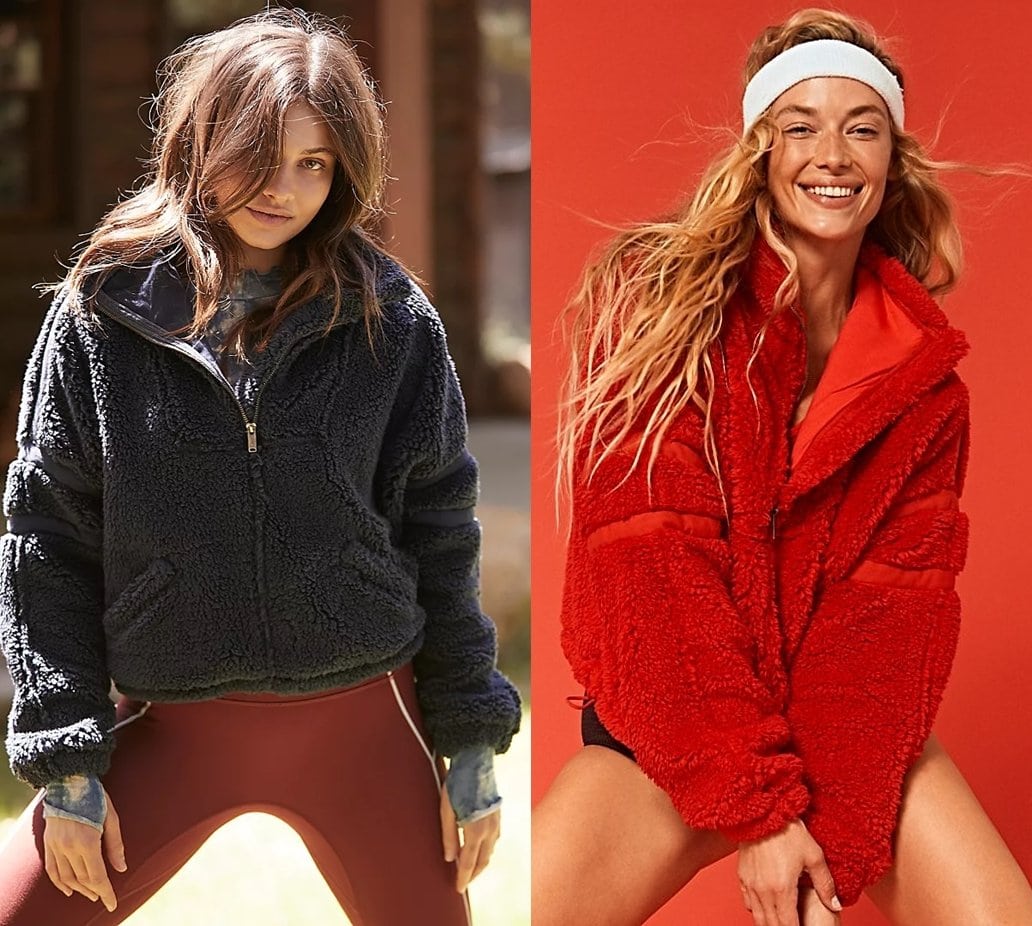 This half-zip pullover is featured in a plush and fluffy design with a high neckline and an oversized fit
You're guaranteed to find a shade that works with your color palette. This fleece has a plush design with a high neckline and an oversized fit. You have a drawcord waistband that allows you to create a more fitted silhouette.
There's a large front hip pocket that you can use to store your phone and essentials for when you're out and about. This 10o% polyester piece is part of the Free People FP Movement collection, the brand's activewear range that focuses on promoting "the life well-lived".
2. Kiel James Patrick The Adirondack Moose Fleece, $178 at KJP
KJP is an up-and-coming preppy New England aesthetic brand with an Instagram account that makes us all long for the simple things in life.
This fleece jacket is one of the coziest on our list, and you wear it over anything from their a-line dresses to your activewear. This jacket feels like velvet and is inspired by the Great Moose of the Narragansett tribe.
Deep pile sherpa fleece exterior unisex jackets from Kiel James Patrick
The deep pile Sherpa fleece exterior will keep you warm all year long, along with the 100% cotton lining in the brand's signature house tartan flannel print. It features a 100% genuine top-grain leather trim for an elevated finish.
KJP's fleece is unisex, giving you a range of sizing options. They recommend that you should size down one size for a more tailored fit for women.
3. Oh So Sherpa Full Zip, $168 at Lululemon
For an athleisure option, consider everyone's favorite yoga leggings brand, Lululemon. This fleece jacket comes in a Valentine's Day red that will see you through every season.
This plush soft jacket with breathable sherpa fleece is the ultimate cozy layer for transitional comfort
It features a front zippered pocket so you can keep your phone and keys on hand, along with a locker loop so you can hang it up while you're at your spin class. This piece is from the Lululemon 'designed for on the move' collection.
4. The ReNew Teddy Bomber, $78 at Everlane
If streetwear is your game, this teddy fleece from Everlane gives you more styling options than the athleisure look. The bomber jacket silhouette is easy to wear over dresses and loungewear.
This jacket has a relaxed cropped fit and wide collar, making it ideal for snuggling up during fall and winter.
This fleece fabric bomber jacket features a relaxed cropped fit, a wide collar, and two side pockets
As a sustainable fashion brand, Everlane makes this fleece jacket using their 100% recycled polyester material so you can look good while knowing you're helping the environment.
It's also dyed with bluesign®-approved dyes, safer for workers and better for the environment.
5. Wanderer Sherpa Jacket, $188 at Sweaty Betty
For an 80s athleisure-inspired look, try this fleece jacket by the British activewear brand Sweaty Betty.
They make this thermal piece using breathable fabric with a full-zip detailing. You can wear this jacket whether you're sitting at home or exploring the great outdoors.
This sherpa jacket with insulating and breathable fleece is perfect for hiking and more
The contrasting front zip pocket and trim help make this fleece pop with a Tiffany blue-inspired shade.
6. Leather-Trim Fleece Zip Jacket, $298 at Ralph Lauren
If you have a little more cash to spare and want a high-fashion option, this fleece by Polo Ralph Lauren is an elevated look. It has a relaxed fit and sits at the hip area.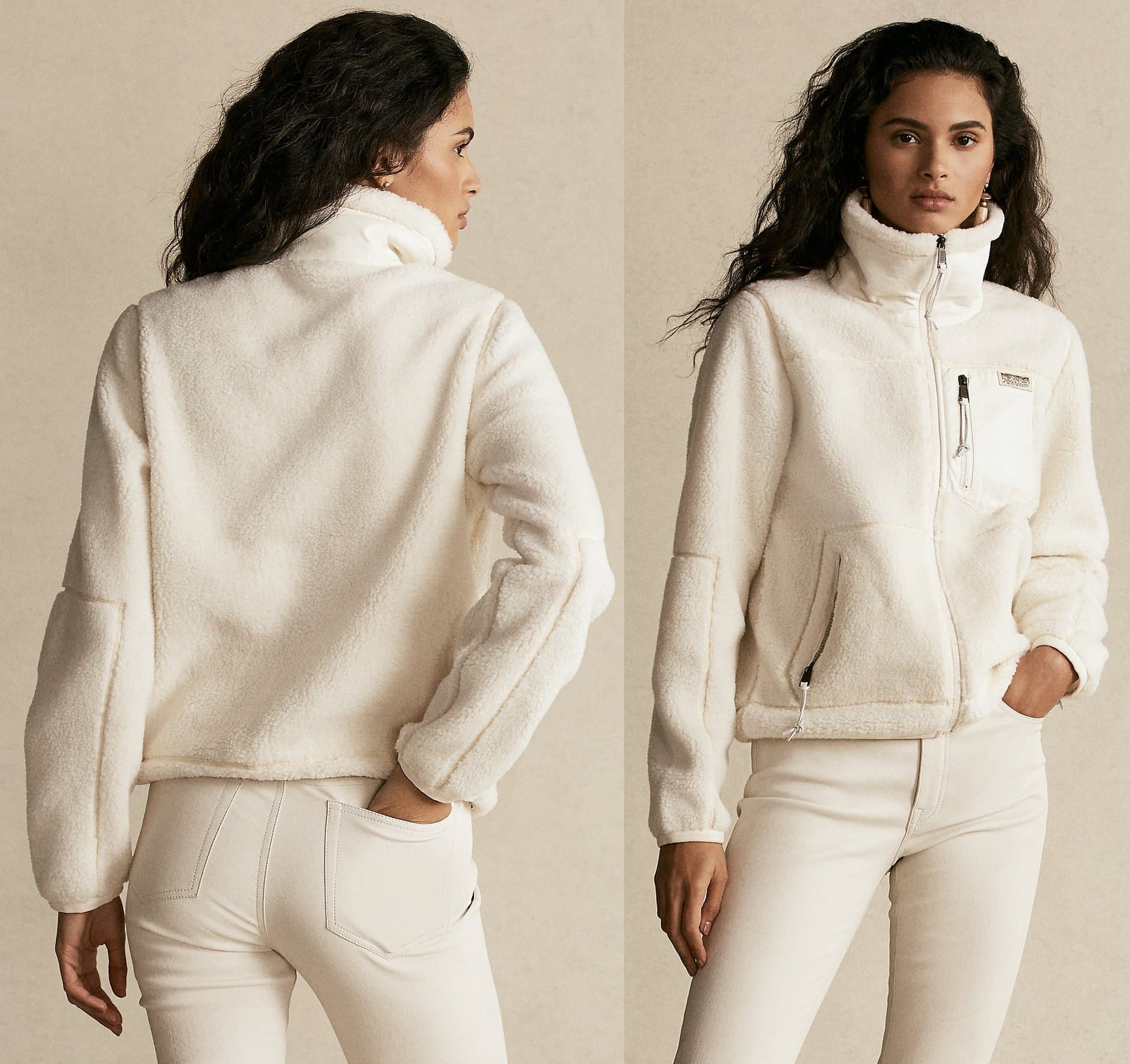 Supple sheepskin details the collar and pocketing of this full-zip jacket, which is crafted from plush fleece for premium softness and warmth
The funnel neck has a sheepskin undercollar and a full-zip front. You'll find elastic cuffs at the sleeves, perfect for wearing with your smartwatch or showing off your arm candy.
The elasticated hem gives you added comfort, with a 'Polo R.L & Co' patch on the left chest zip pocket.
7. Women's Cragmont Fleece Jacket, $149 at The North Face
This North Face fleece jacket looks more like a jumper and gives you extra versatility. We love this bleached sand and Hawthorne khaki color for a year-round neutral shade.
The North Face is one of the most popular outdoor clothing brands, made all the more appealing by their recent collaboration with Gucci.
Merging classic, cozy materials with a modern crop, this relaxed-fit fleece jacket is a perfect balance of comfort and style
Also available at Nordstrom, this heritage-inspired piece has a relaxed fit and Sherpa fleece fabric.
It will keep you comfortable whether you're hiking or sipping coffee. It has a front snap closure, with a left chest drop-in pocket and a 'The North Face' logo patch on the left hem.
8. Daisy Street Trucker Jacket with Pocket Detail in Teddy Fleece, $60 at Asos
If you want a budget-friendly option, consider this jacket by Daisy Street on Asos. It's a layering piece with a spread collar and drop shoulders for a relaxed fit and slouchy cut.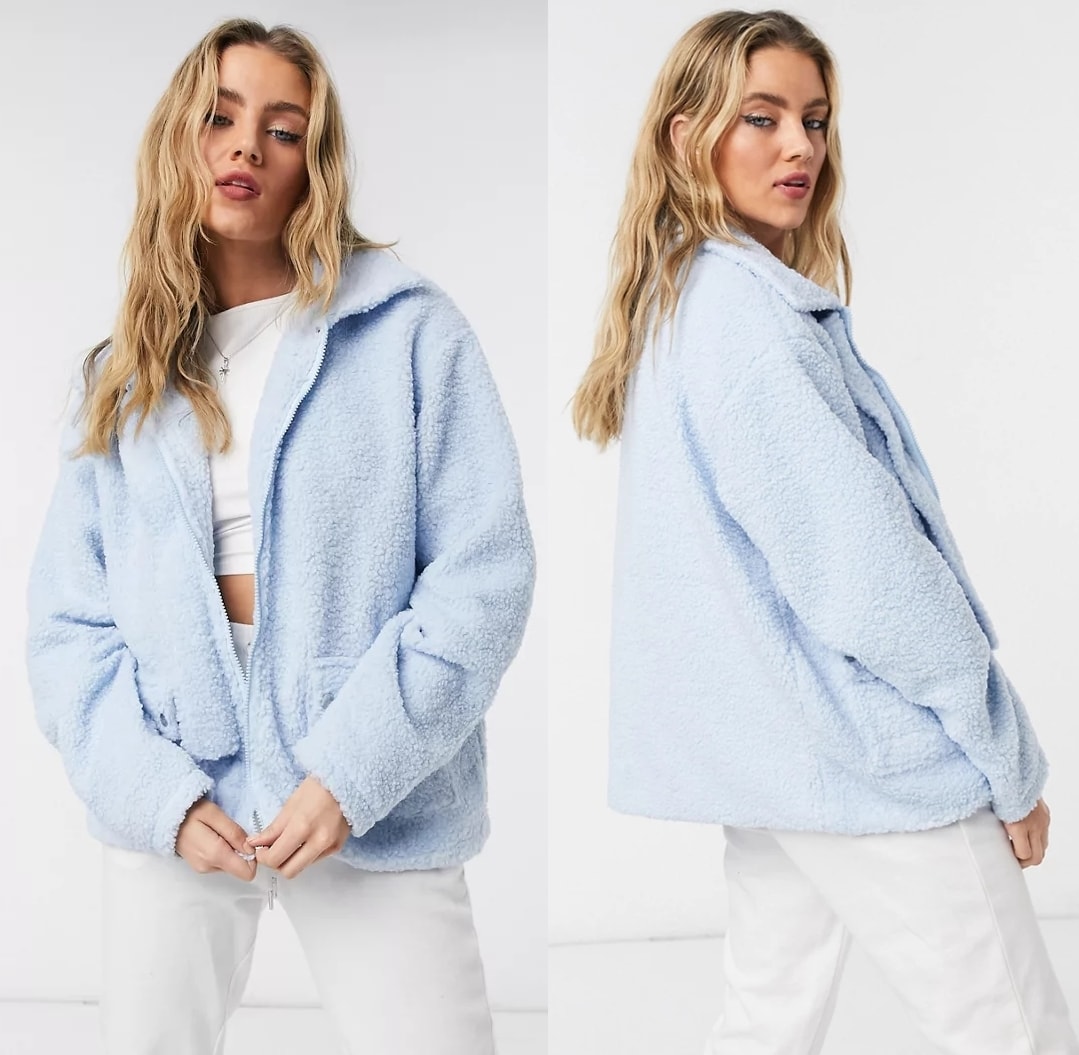 Light blue jacket with pocket detail in teddy fleece
This fleece is the perfect brand for you if you like the Y2K aesthetic or if you want a younger streetwear look.
9. Ugg Augusta Sherpa Baseball Jacket, $298 at Nordstrom
We often think of Ugg as synonymous with their boots and slippers, but they've been upping their fashion game. This investment piece is a unique fleece jacket and available in icy blue and Spanish red.
You'll love cozying up in this plush color-blocked jacket boasting an oversized silhouette accented with slouchy balloon sleeves and elongated rib-knit trim
The balloon sleeves make it a streetwear staple, with its oversized collar and rib-knit cuffs, and functional thumb holes.
Ugg has taken the tried-and-tested baseball jacket and given it the fleece treatment with fluffy faux fur and logo-embellished quilted nylon for contrasting textures. If you've got cold hands, you can slip them into the fleece-lined pockets to warm you up again.
10. Tory Sport Sherpa Fleece Jacket, $298 at Tory Burch
For a minimalistic style, look at this option from Tory Burch's activewear 'Tory Sport' range. This sherpa fleece jacket acts as a versatile full-zip layer that you can add to any outfit.
Jersey-backed high-pile fleece and lightly insulated quilted performance satin combine to make this jacket extra cozy (and stylish)
It's lightweight and warm, meaning you'll want to keep it at the front of your closet. It has a high, zippered neck and a front chest pocket for extra functionality. The hand pockets have a snap closure, while the relaxed fit jacket has a logo puller.
11. Vineyard Vines Boucle Bomber Jacket, $168 at Nordstrom
Another preppy style option is from the brand Vineyard Vines, which is famous for its fleece jackets. This bomber-style is casual chic, with a plus knit and easy-to-wear silhouette.
You can adjust the high standing collar to fit your look, and the 100% polyester fabric makes it easy to layer. It runs true to size with a relaxed fit and two patch pockets.
A go-to jacket for Saturdays on the sidelines feels wonderfully cozy inside and out in high-pile fleece with a split kangaroo pocket to keep hands warm
Like the other Vineyard Vines pieces, it has a logo box patch on the chest and is easy to care for. This fleece jacket is one that you'll want to throw into your carry-on case or gym bag.
What do you think about fleece jackets? Is it a closet staple for you? Which one of these options is your favorite?