If you're a fan of outdoor living, the name Patagonia is one that you'll be familiar with. The American brand is famous for its outdoor apparel and has grown from its human roots in California to become an internationally acclaimed brand.
They are synonymous with their jackets, which are a must-have for anyone who is an outdoor enthusiast and spends their free-time hiking and exploring nature.
We're going to cover everything you need to know about the brand, from its origins to its most popular jackets through to its main competitors.
About Patagonia
Patagonia has humble roots. It started in 1973 when Yvon Chouinard took his love for climbing and turned it into a business.
Before Patagonia, Chouinard worked with his friend Tom Frost to create Chouinard Equipment, which revolutionized the world of climbing equipment in the late 60s. The brand quickly became the largest supplier of climbing gear in the US.
In 1970, Chouinard visited Scotland, where he saw the rugby shirts that locals were wearing for climbing. This rugby shirt would eventually inspire an entire collection of clothing that could withstand the alpine conditions.
The Patagonia logo is a stylistic version of Monte Fitz Roy (also known as Cerro Chaltén, Cerro Fitz Roy, or simply Mount Fitz Roy), a mountain in Patagonia, on the border between Argentina and Chile
Their clothing was designed to be insulated against the rain while drying within minutes so that climbers wouldn't have to carry excess clothes.
The brand continued to focus on innovative outdoor apparel, launching its insulated underlays that were designed with polypropylene. The brand switched its focus to educating its audience.
Their catalogs featured articles on how to layer for different climates, the first outdoor company to focus on sharing knowledge with their customers.
In the coming years, Patagonia began to develop its own materials. These include its patented Synchilla fabric and Capilene polyester, which became its primary design material.
An "Activist Company"
Patagonia refers to itself as an "activist company" that puts customer and employee care, along with environmental awareness, above profits.
One percent of profits go to One Percent for the Planet, an international organization of which Patagonia's owner was an original member.
Not afraid to make a bold statement, the brand took it to the next level in 2016.
Patagonia donated 100% of its sales from Black Friday, notoriously the top-selling day of the year, to environmentally-focused organizations. Their Black Friday donation totaled over $10 million.
Patagonia's Black Friday sales hit $10 million in 2016, and 100% was donated to charity
"We're humbled to report the response was beyond expectations… Patagonia reached a record-breaking $10 million in sales," the company said in a statement. "The enormous love our customers showed to the planet on Black Friday enables us to give every penny to hundreds of grassroots environmental organizations working around the world."
Every two years, Patagonia hosts a Tools for Grassroots Activists Conference, which brings together experts in the environmental industry, including non-profits. These conferences would later inspire the company to publish its own book on the lessons covered during the program. You can check it out on Amazon.
Throughout Patagonia's expansions, Chouinard's family and friends have been actively involved in the day-to-day business, making it no surprise that the company was one of the first to offer an on-site childcare center. In 2015, the company was recognized by President Obama for its commitment to working families.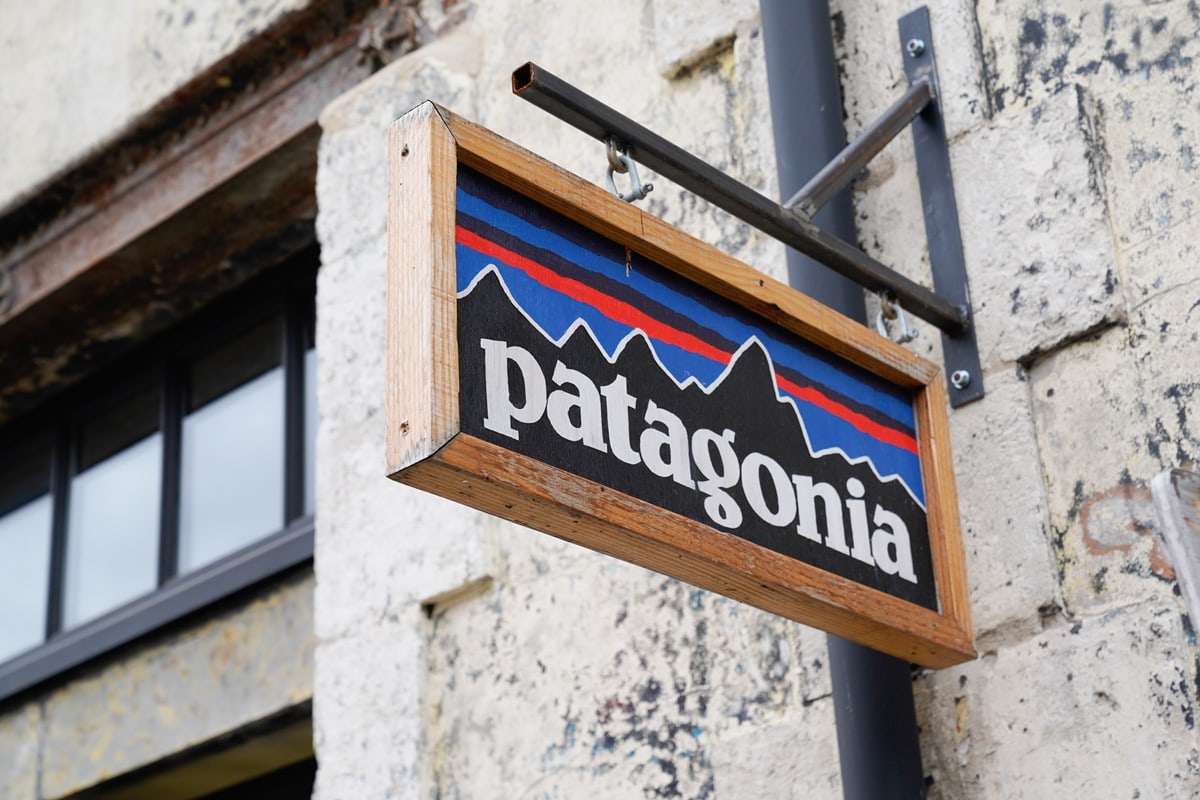 In September 2022, Patagonia's founder, Yvon Chouinard, announced that ownership of his company would be donated to a trust to ensure that profits are used to address climate change and protect undeveloped land around the world (Credit: Sylv1rob1 / Shutterstock)
It would be impossible to list all of Patagonia's environmental work in one article, but you should know that in 2012 they became a Certified B Corporation.
This legal qualification is for businesses that have an explicit social or environmental mission. It creates a responsibility on the part of the business, which has to maintain in order to keep this status.
In September 2020, the brand announced that Ryan Gellert is its new Chief Executive Officer. In 2022, Patagonia founder Yvon Chouinard, his spouse, and their two adult children gave away their ownership in Patagonia. They dedicated all profits from the company to projects and organizations that will protect wild land and biodiversity and fight the climate crisis.
What To Know About Patagonia Jackets
As an environmentally-conscious brand, Patagonia is transparent about its production line. Patagonia has been making clothes that carry the Fair Trade label since 2014, and they offer more styles that have the 'Fair Trade Certified' branding than any competing apparel brand.
Their Fair Trade program means that they pay a premium on their manufacturing to support over 66,000 workers in 10 countries. Patagonia is one of the few outdoor apparel companies that are Fair Trade.
The 'Worn Wear' program allows you to extend the life of your Patagonia piece by repairing it. The company also offers recycling options for your used Patagonia items if they're beyond repair.
Patagonia's materials list includes regenerative organic certification pilot cotton, NetPlus recycled fishing nets, and Yulex natural rubber. The brand also utilizes recycled polyester, nylon, and cashmere, amongst other materials.
They have strict environmental and animal welfare responsibility programs, with 68% of their products using recycled materials and 100% organically grown cotton.
Patagonia's Top 10 Most Popular Jackets
For our top 10 jackets by Patagonia, don't be put off by the gender specification. In practical terms, the jackets are all unisex, and you can find the same colors and styles available for both men and women.
1. Women's Insulated Snowbelle Jacket, $329 at Backcountry
If you're a runner or cyclist, look no further than this jacket.
Designed with mobility and versatility in mind, the Snowbelle is perfect for runners
The versatile 'Snowbelle' jacket is made with mobility in mind, using the brand's trademarked H2No Performance Standard 2-layer shell that keeps you protected from the wind and rain while still letting your body breathe.
This jacket contains a smooth taffeta liner to help with layering and uses 100% polyester (of which 90% is recycled) for insulation.
Features breathable, waterproof, and windproof H2No Performance Standard 2-layer shell with smooth taffeta liner
The 'Snowbelle' features a two-way adjustable hood with a low-profile visor that makes it easy to wear a helmet or baseball cap underneath.
This jacket is ideal for running as it has heat-venting pit zips to help reduce sweat and improve your arm mobility. 'Snowbelle' features a built-in RECCO reflector, meaning that emergency services can find you in the event of an emergency.
2. Men's Down Sweater Hoody, $279 at Backcountry
This men's jacket is designed as a multi-purpose garment that you can wear for anything. It's lightweight and windproof, making it the perfect choice for anyone that commutes to work in a colder climate.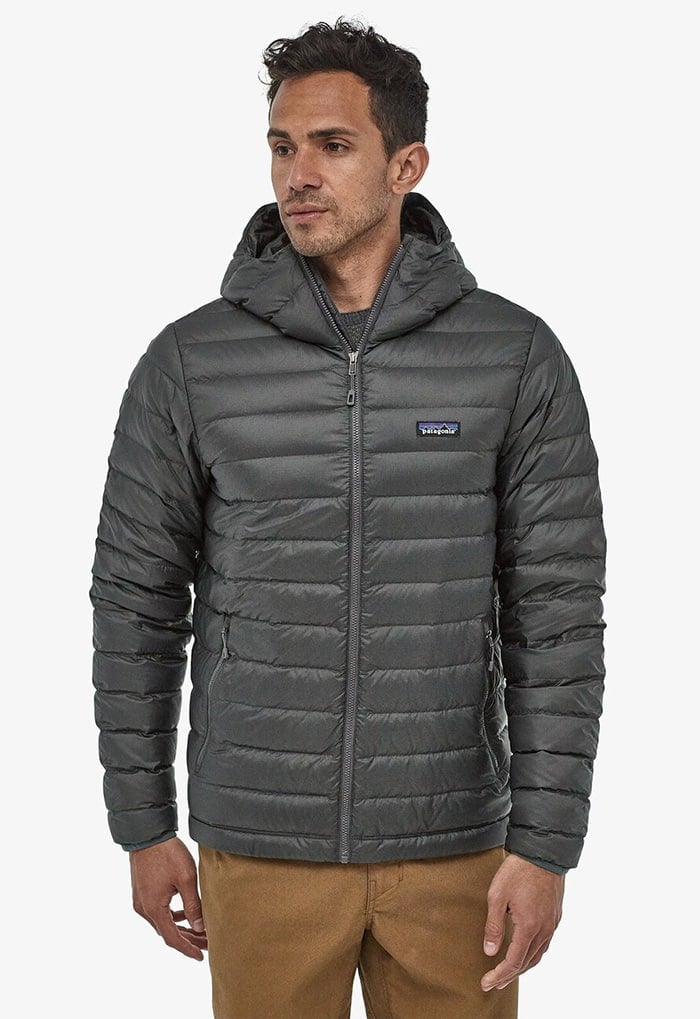 The Down Sweater Hoody provides warmth without the bulk with its lightweight, windproof material
This jacket uses a 100% recycled polyester ripstop shell and 800-fill power Advanced Global Traceable Down. The goose down is certified, which allows Patagonia to trace the material to ensure animal welfare standards.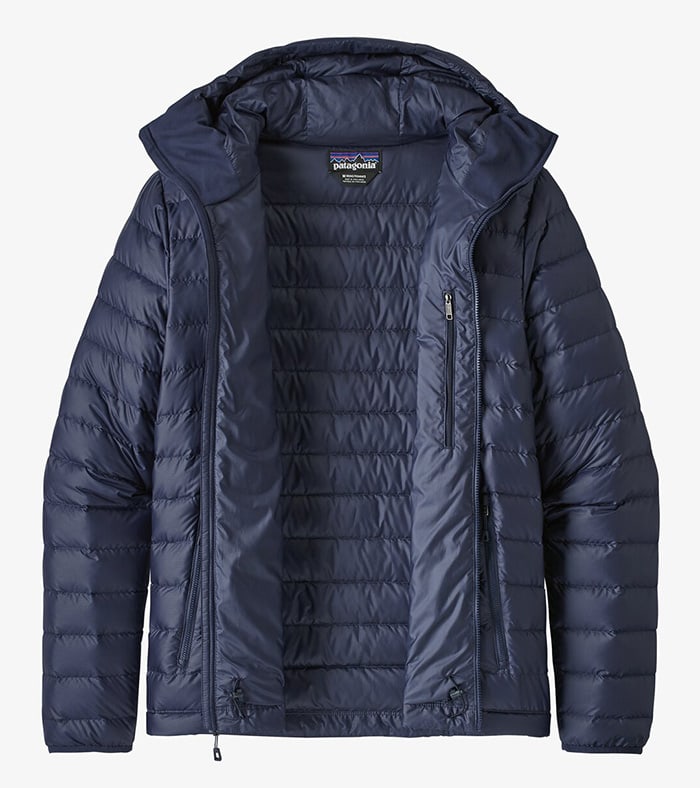 Features 100% recycled polyester ripstop shell with 800-fill power Advanced Global Traceable goose down
The 'Down Sweater Hoody' features a single-pull adjustable hood with a center-front Vislon zipper that makes it easy to layer up when the temperature drops.
The jacket has an internal zippered chest pocket that you can use to carry your essentials. Comfort is at the forefront of this design, which utilizes a pulling cord located in the pockets that allows you to adjust the hem.
3. Women's Micro Puff Jacket, $249 at Backcountry
If you're someone who prefers a lightweight coat, the 'Micro Puff Jacket' is ultralightweight without compromising on warmth.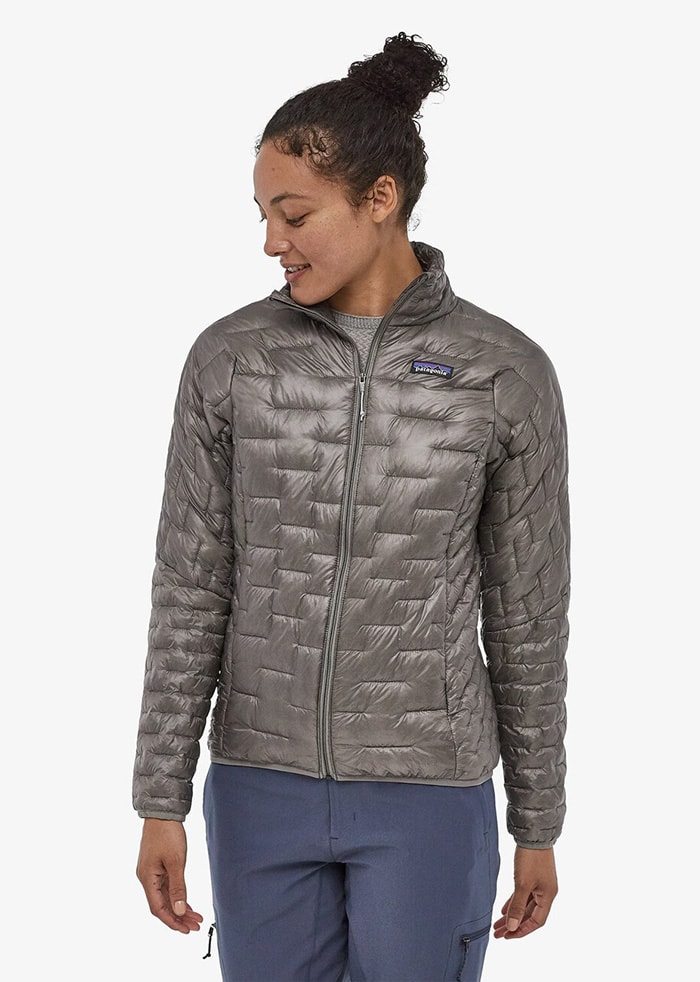 An ultra-lightweight and water-resistant jacket that doesn't sacrifice warmth and comfort
It's water-resistant and uses PlumaFill synthetic insulation, which is an alternative to down. The Pertex Quantum shell on this jacket is windproof with a water-repellent finish.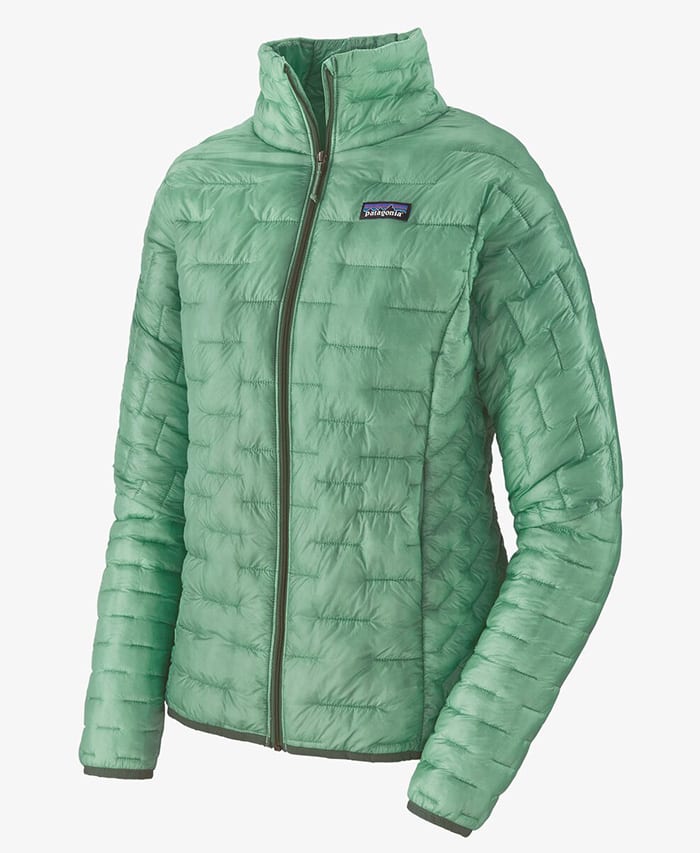 Instead of using down, the Micro Puff uses PlumaFill synthetic insulation, which is a revolutionary featherlight down alternative
The 'Micro Puff' is ideal if you want to keep a winter jacket in your workbag or if you are someone who is always on the go.
4. Men's SnowDrifter Jacket, $399 at Backcountry
Hitting the slopes? You'll want to pick up this jacket before you jet off. The SnowDrifter was designed with uphill performance in mind and to protect your body against the snow and freezing temperatures.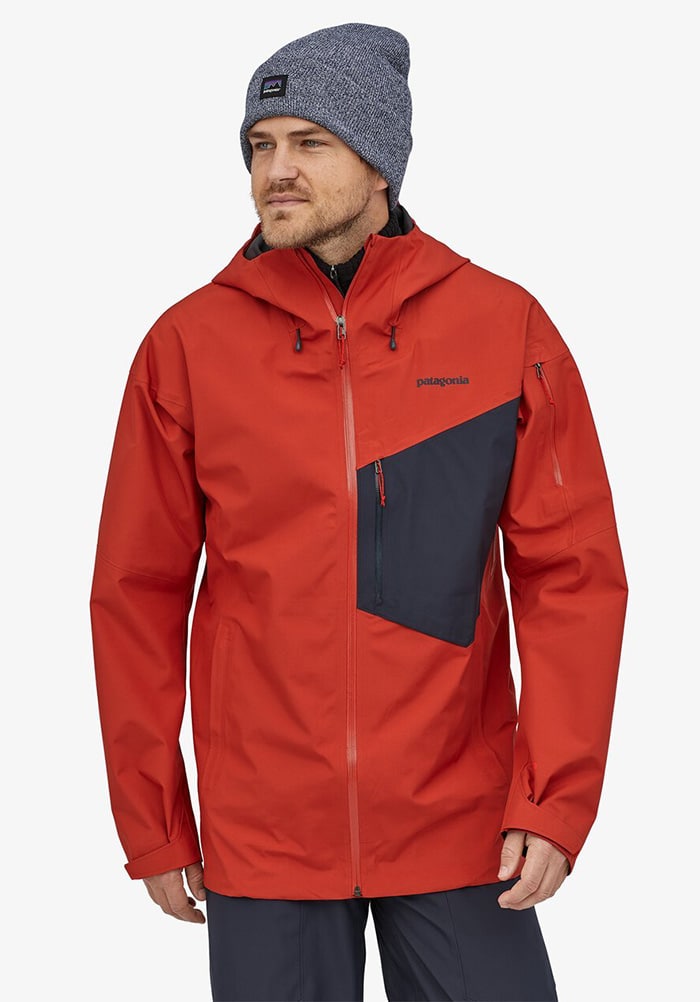 A jacket designed for backcountry adventures, featuring a stretchy fabric with three layers of protection
It'll keep you dry and warm no matter what the weather forecast says. This jacket provides you with three layers of protection thanks to its 70% recycled fabric.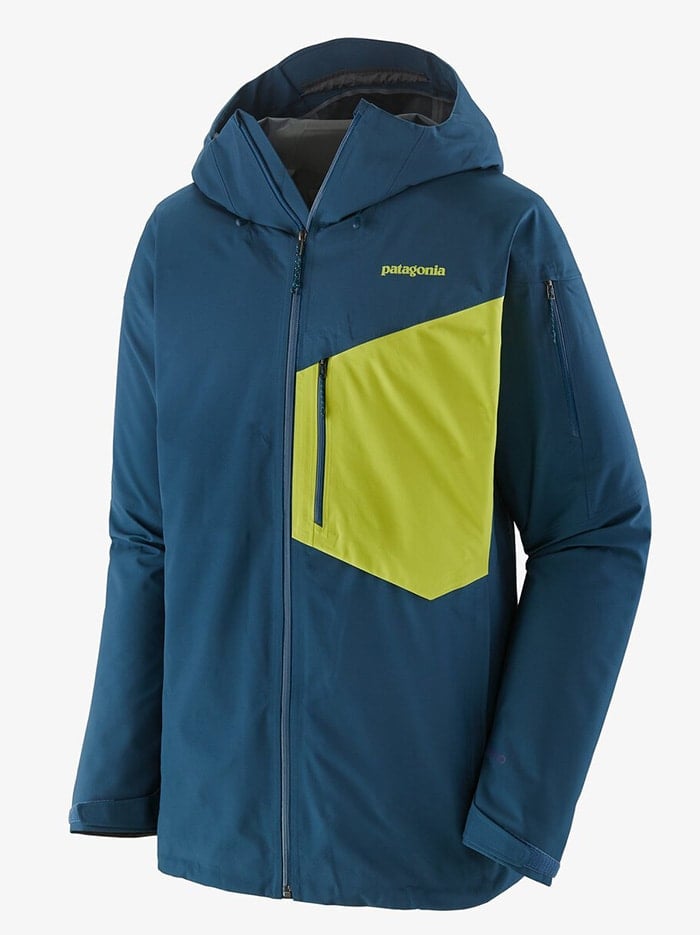 The Snowdrifter will keep you dry and comfortable in all weather conditions
The SnowDrifter won the 2020-2021 Whitelines Choice Award for Best Backcountry Snowboard Outerwear.
5. Women's Tres 3-in-1 Parka, $599 at Backcountry
Are you more of a minimalist? Would you prefer to have a versatile coat that can tackle any weather? This 3-in-1 jacket comes with a removable parka that you can take off to leave you with the quilted jacket underneath.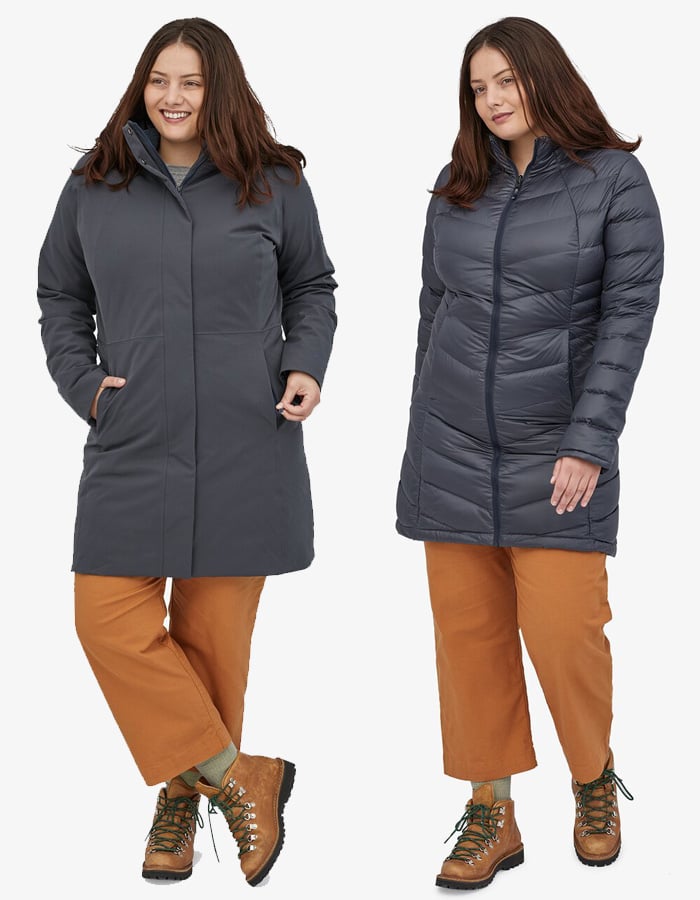 Minimalist but chic, the Tres parka is versatile outerwear designed for the wettest and coldest climates
It's designed to see you through the wettest days of the year and comes in the brand's H2No Performance Standard waterproof polyester.
You can bundle up with the removable parka or take it off to reveal the quilted jacket underneath
The two-way full-zip has a storm flat to let you bundle up against even the coldest of storm fronts. The Tres 3-in-1 Parka has versatility in mind, which is why you can snap on and off the hood and utilize the internal chest pocket to hold your essentials.
6. Men's Pack In Pullover Hoody, $189 at Backcountry
Depending on the climate you live in and the outdoor activities that you like, a hoody might be preferable to a full-length multi-layered jacket.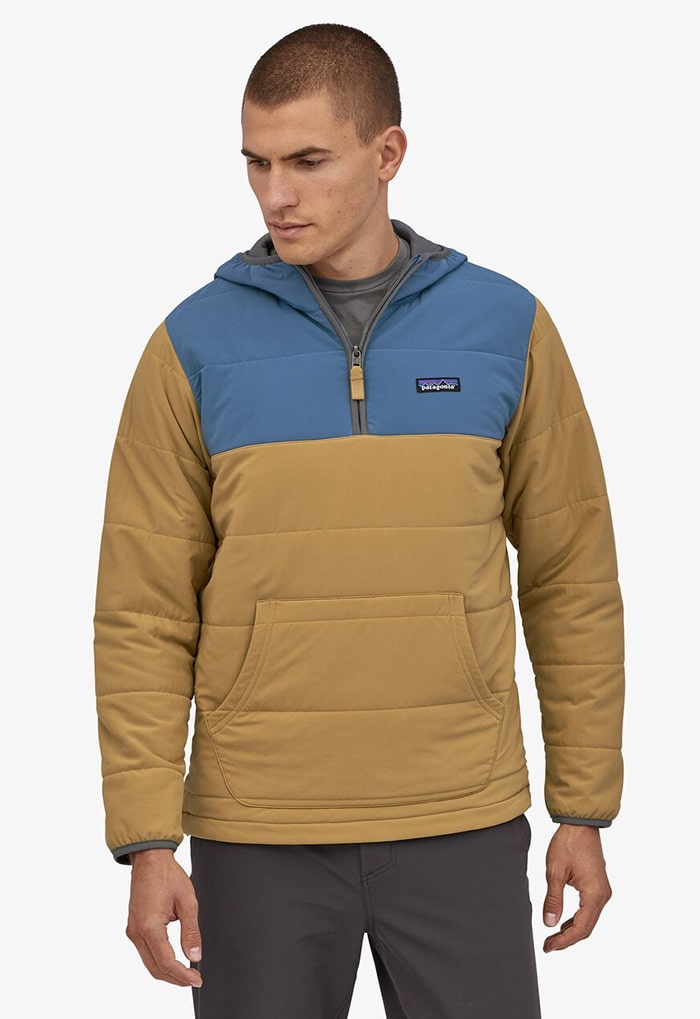 The Pack In Pullover hoodie can be worn all-year-round thanks to its lightweight and breathable material
The Pack In Pullover Hoody is lightweight and breathable so that you can wear it all year round. It's weather-resistant and uses a recycled polyester stretch shell.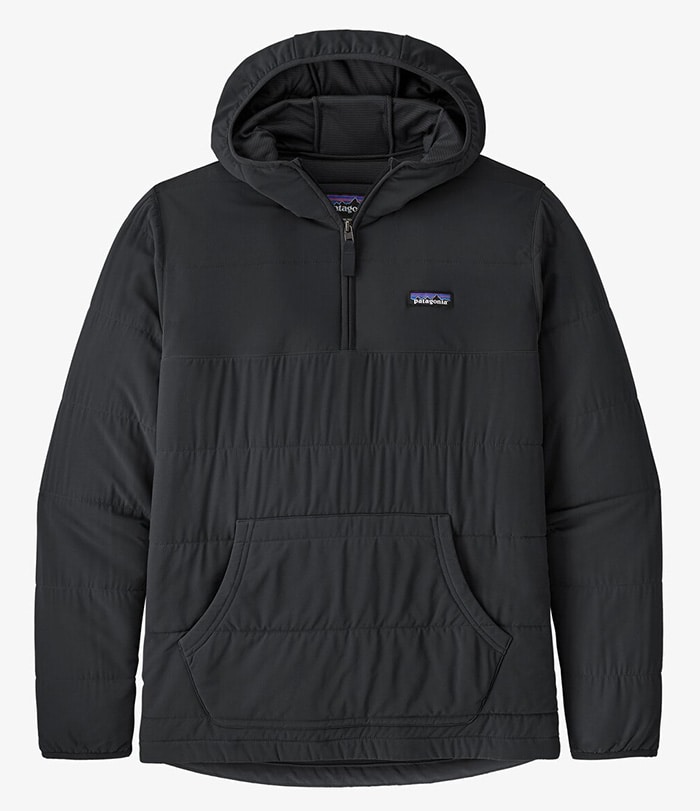 A collegiate-inspired hoodie that has a kangaroo pocket
This jacket stays true to the traditional college hoodie as it features a kangaroo pocket, as well as a hidden on-seam zippered pocket at the lower back to store your valuables.
7. Women's Nano Puff Hoody, $249 at Backcountry
If you want something more elevated than a pullover hoody, then the Nano Puff is the perfect alternative. It's lightweight and uses a 100% recycled polyester shell and lining.
Chicer than a pullover, the Nano Puff hoodie is lightweight but can provide warmth and comfort wherever you go
The jacket features an under-the-helmet hood design and has an internal zipped chest pocket that doubles as a bag for taking your jacket on the go.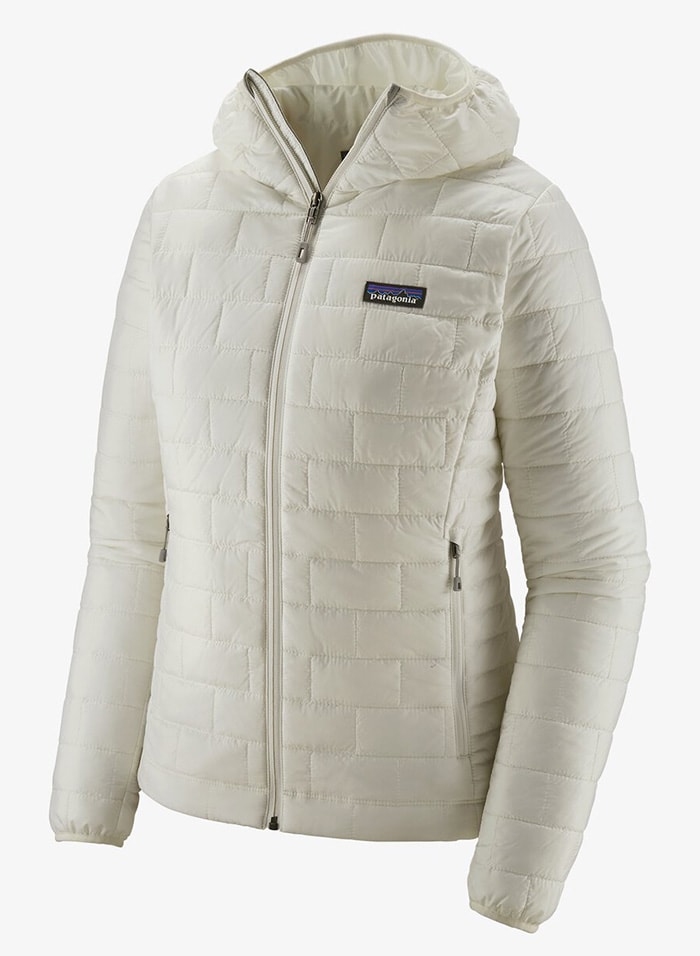 It uses highly-compressible 60g PrimaLoft Gold Insulation Eco wrapped in a 100% recycled polyester shell and lining
Patagonia has recently started transitioning the Nano Puff to the 100% post-consumer recycled polyester insulation that is made with P.U.R.E technology.
This manufacturing technology reduces carbon emissions while still creating a fabric that will keep you warm and insulated even in wet weather conditions.
8. Men's Ascensionist Jacket, $499 at Backcountry
They designed this jacket with mountain hikes in mind. The shell utilizes 3-layer GORE-TEX Active fabric that is breathable, waterproof, and lightweight to help you move faster.
Featuring a highly breathable alpine shell with Gore-Tex Active suitable for fast and light mountain pursuits
The hood is specifically designed for you to wear a helmet underneath and is two-way adjustable to improve your vision in poor weather.
The Ascensionist has enough ventilation that's perfect for long-distance treks
The Ascensionist jacket is for long treks, with upper-body ventilation from the two watertight zips that are easy to reach. It also contains the concealed RECCO reflector that makes it possible to locate you in an emergency.
9. Women's Calcite Jacket, $249 at Backcountry
Do you want something understated and fuss-free? The 'Calcite' jacket is lightweight and packable, featuring 100% recycled face fabric.
Understated but packed with technologies that can keep you armed and dry all year round
You can utilize it all year round to stay dry in summer showers and warm in winter storms.
The Calcite features a light yet durable and packable Gore-Tex shell that's integrated with Paclite Plus technology
This jacket uses the Patagonia GORE-TEX Paclite Plus fabric and has a textured backer for added comfort. The alpine helmet-compatible hood is made with visibility in mind, while the dual-adjusting drawcords on the hem keep you warm no matter what the temperature.
10. Men's Ultralight Packable Jacket, $249 at Nordstrom
This jacket is for the man who is jumping from a plane to a train and from the mountains to the city.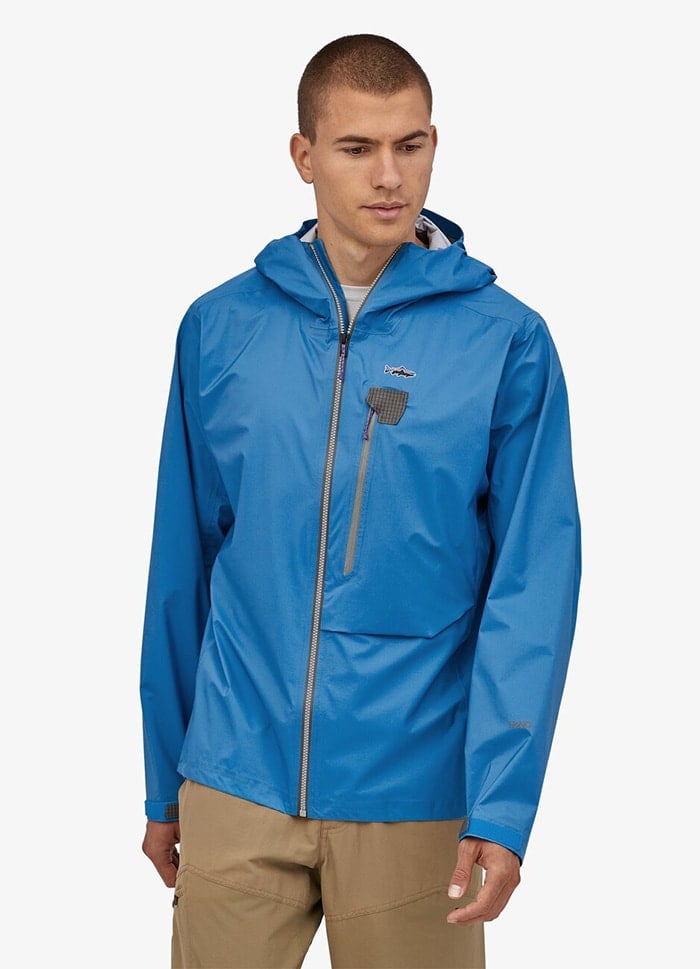 The Ultralight Packable jacket packs into a tennis ball-sized stuff sack so you can take it anywhere with you
You can take it with you everywhere, and the jacket packs away inside its stuff sack to be the same size as a tennis ball.
You'll be able to store it in your carry-on or backpack without any issues. It features a fly-box pocket, brimmed hood, and angler-inspired detailing.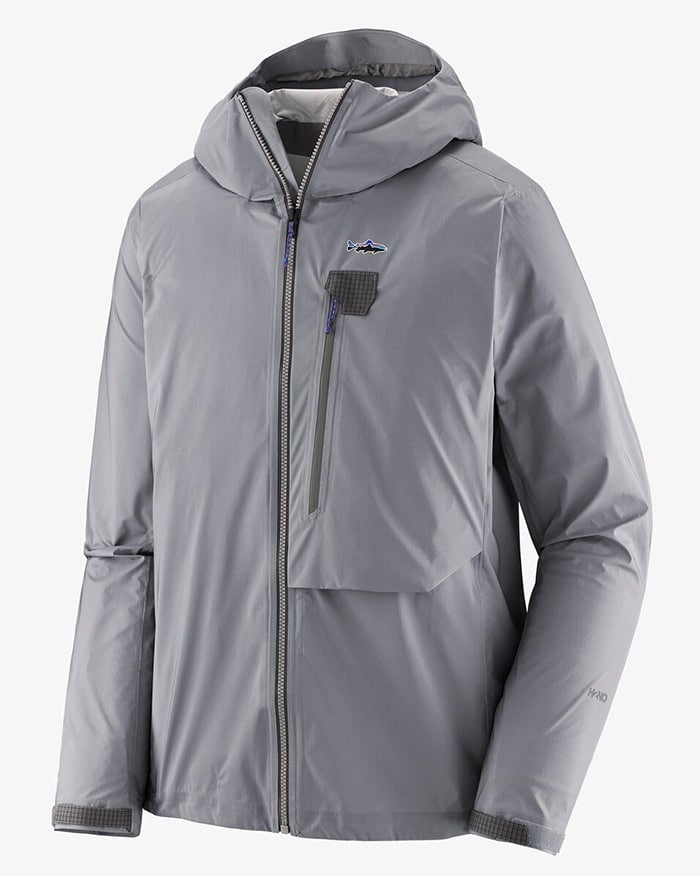 Waterproof, breathable, and lightweight, this jacket features a fly-box pocket, a brimmed hood, and angler-inspired detailing
The arms are designed to give you a full range of motion, which is ideal if you're out fishing and it has no-snag cuffs that mean you don't have to worry about catching the line on your jacket.
Where Are the Best Places to Buy Patagonia?
Now that you've had a rundown of the brand and are familiar with a few of their best-sellers, you might be itching to buy a Patagonia jacket for yourself.
The first places that you should look for Patagonia jackets are their official website and REI.
These websites offer everything you would ever want to know about their products, and they include articles detailing their work, expansion plans, and production line.
You'll find their full range of products, and they regularly run free shipping promos at a price point that works on any of their jackets.
If you prefer to shop around and look for a deal, most stores that specialize in outdoor apparel are official stockists of Patagonia.
For those based in the UK, you can purchase Patagonia from Cotswold Outdoor. The brand is also stocked by Backcountry, which offers international shipping, so you can access the brand from whatever country you live in.
Since Walmart purchased Moosejaw in 2017, Patagonia is refusing to sell its products to Moosejaw.
If You Like Patagonia…
Patagonia is not alone in the world of outdoor apparel. While it's one of the leading brands and has revolutionized the industry, it has several major competitors that you can also check out.
The first brand that jumps to mind is The North Face, which has recently launched a capsule collection in collaboration with Gucci. Columbia is another classic American brand that predates Patagonia. Canada Goose is also famous for its warm winter jackets.
It's a globally recognized lifestyle brand that offers everything you need for outdoor living. If you're looking for a European alternative, check out Fjällräven, the Swedish brand made famous for its backpacks and that also offers jackets.
Where Are Patagonia Products Made?
In 2021, Patagonia worked with 45 suppliers worldwide. The company doesn't own farms, mills, or factories.
In addition to nine factories located in the United States, Patagonia products are made in a number of different countries. In some of these locations, including Vietnam and China, independent labor unions are outlawed.
Other countries with Patagonia factories include Mexico, India, Japan, Thailand, Sri Lanka, The Philippines, and Colombia.