She has been using her platform and lending her influence to combat racial discrimination and speak out against anti-Asian hate crimes.
Just recently, Olivia Munn shared on her Instagram story a news headline from Complex about the senate passing a new bill denouncing hate and violent attacks against the Asian community in the US.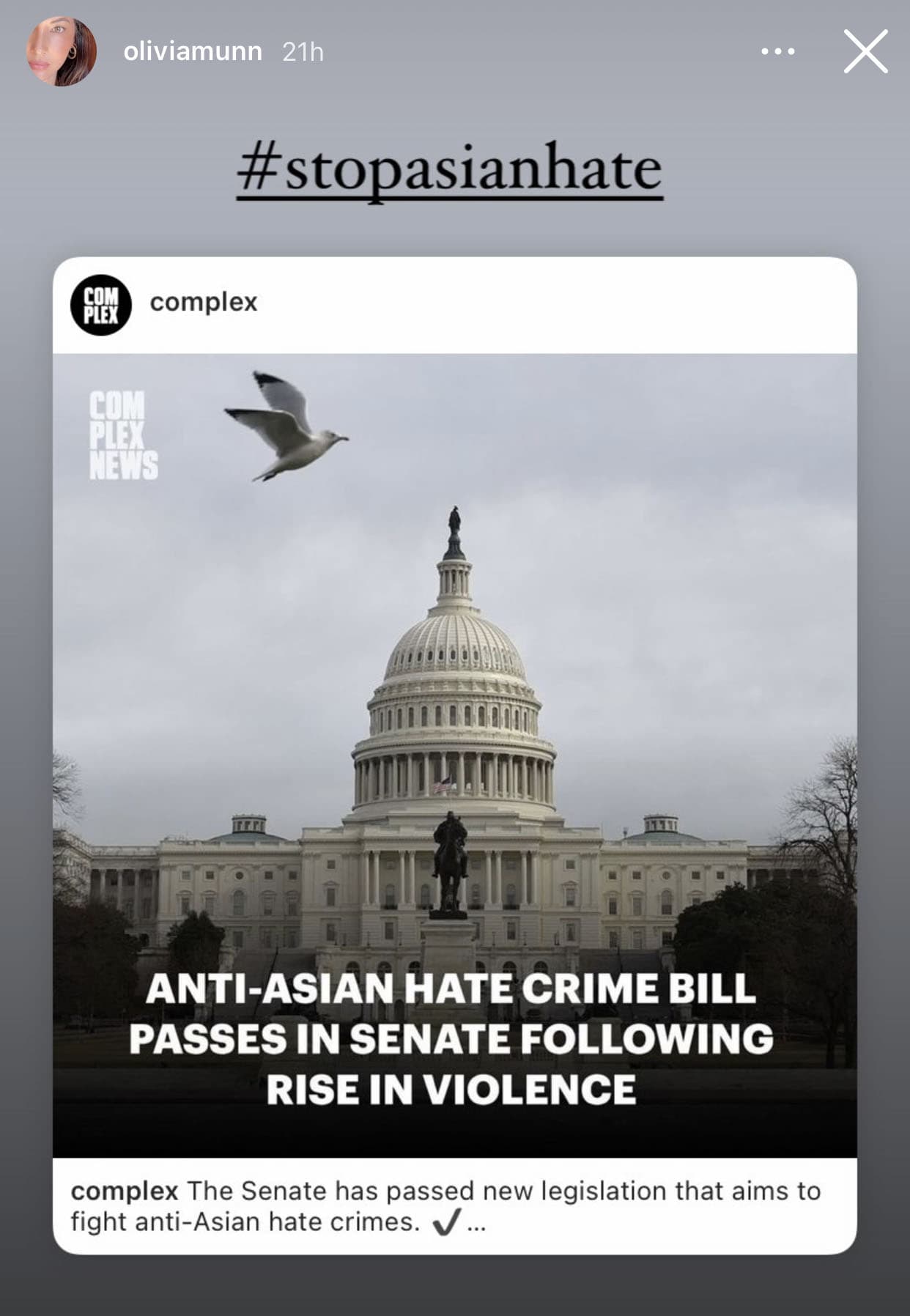 Olivia Munn uses her platform to help combat racial discrimination (Credit: Olivia Munn Instagram)
Olivia was born in Oklahoma but was raised in Tokyo, where her Air Force military officer stepfather was stationed. Her mom is of Chinese descent but was born and raised in Vietnam.
Aside from being an advocate for anti-racism, the 40-year-old actress is also an advocate for mental health.
Olivia Munn on Struggles with Depression
Following the suicide deaths of Anthony Bourdain and Kate Spade in June 2018, Olivia took to Instagram to reveal that she, too, struggled with depression, anxiety, and suicidal thoughts.
"I have lived with anxiety and sporadic bouts of depression for most of my adult life," she wrote.
"Ten years ago, I tackled it, learned to fully understand it and haven't felt the dark depths of depression in about a decade. But before that, thoughts of suicide crossed my mind more than a few times," she added.
Olivia Munn goes to Pilates class in a baggy white sweater with black leggings (Credit: Instar / WENN)
She also explained that depression does not mean wanting to die.
"For those who don't understand depression, when someone is in that place it's not because they want to die… it's because the ongoing, relentless darkness is too painful to endure anymore."
"You don't have to suffer from anxiety and depression to feel that low. Something very sad or traumatic can happen to you just once to bring about that feeling of despair," the Dark Phoneix actress added.
Olivia then urged her followers to seek help if they are also struggling with suicidal thoughts.
"Please listen to me – from someone who is telling you that she's been where you are-when I say that SUICIDE IS NOT THE RIGHT CHOICE. With suicide, there's no do-overs. Please try every single option you can before making a choice that cannot be undone."
To better take care of herself and her well-being, Olivia has been working out regularly.
Olivia Munn signs autographs as she leaves Pilates class in Los Angeles on April 22, 2021 (Credit: Instar / WENN)
On Thursday, the TV host signed a few autographs while leaving a Pilates class in West Hollywood dressed in a black-and-white athleisure.
She looked relaxed in an oversized white sweatshirt paired with black leggings that highlighted her toned legs.
Calling out racism through fashion, Olivia carried a statement-making fanny pack across her body. Made from 600 denier polyester, the $25-EVR fanny pack has the text "Everybody Vs. Racism" printed on the front.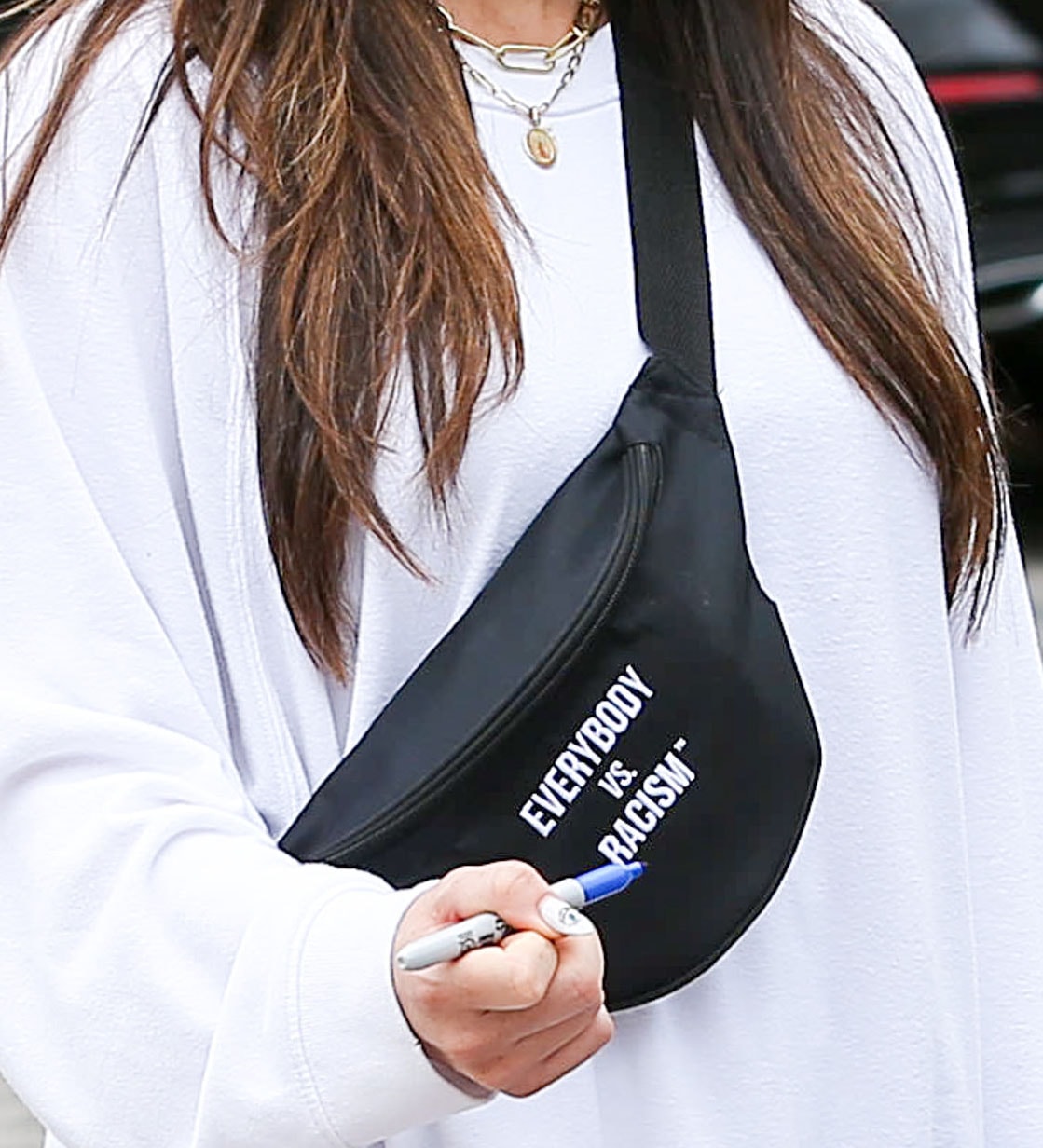 Olivia Munn speaks out about racism with a statement fanny pack (Credit: Instar / WENN)
Tucker Roberts' ex-girlfriend wore her long hair loose and styled her casual outfit with layered chain necklaces.
She then stayed safe with a black face mask and hid her eyes underneath a pair of Smith Cavalier tortoiseshell sunglasses, which you can buy for $179 at Amazon.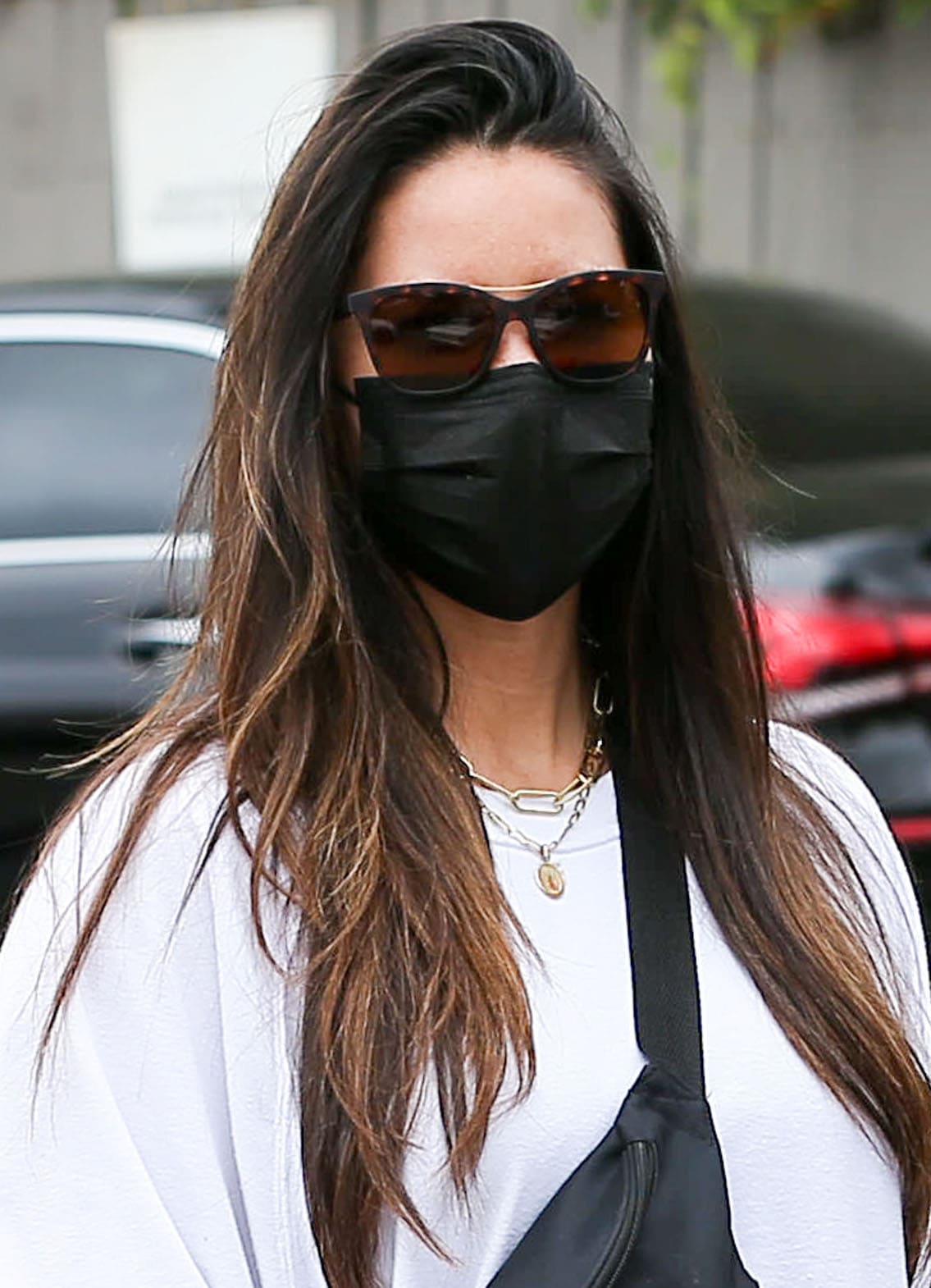 Olivia Munn wears a side-swept hairstyle and covers her eyes with Smith tortoiseshell sunglasses (Credit: Instar / WENN)
To complete her black-and-white look, Olivia slipped into a pair of "Infinity Glide" sneakers from the Los Angeles-based, female-founded brand Avre.
The eco-friendly label used melted PET plastics that were formulated and spun into yarn to create these shoes.
Offering a sock-like fit, these sneakers feature a flexible stretch knit upper, an infinity lace detail, a cushioned segmented sole, and moisture-wicking properties.
Olivia Munn completes a black-and-white athleisure with Avre Infinity Glide shoes (Credit: Instar / WENN)
Avre 'Infinity Glide' White and Black Sneakers, $145 at Avre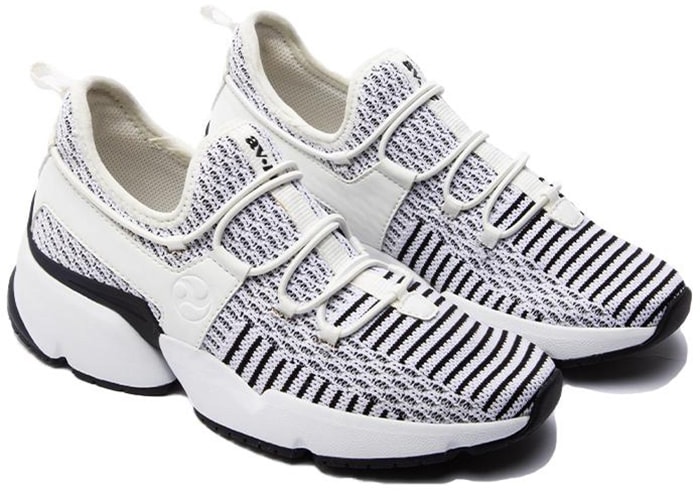 The Avre Infinity Glide is made from melted recycled plastics spun into yarn
Last week, the Newsroom actress attended a workout session at a gym in Los Angeles.
Olivia gave a glimpse of her toned midriff as she dressed in a black crop top and matching skintight leggings. Rumored to have had plastic surgery, she covered up with an unbuttoned blue plaid flannel that gave a pop of color to her look.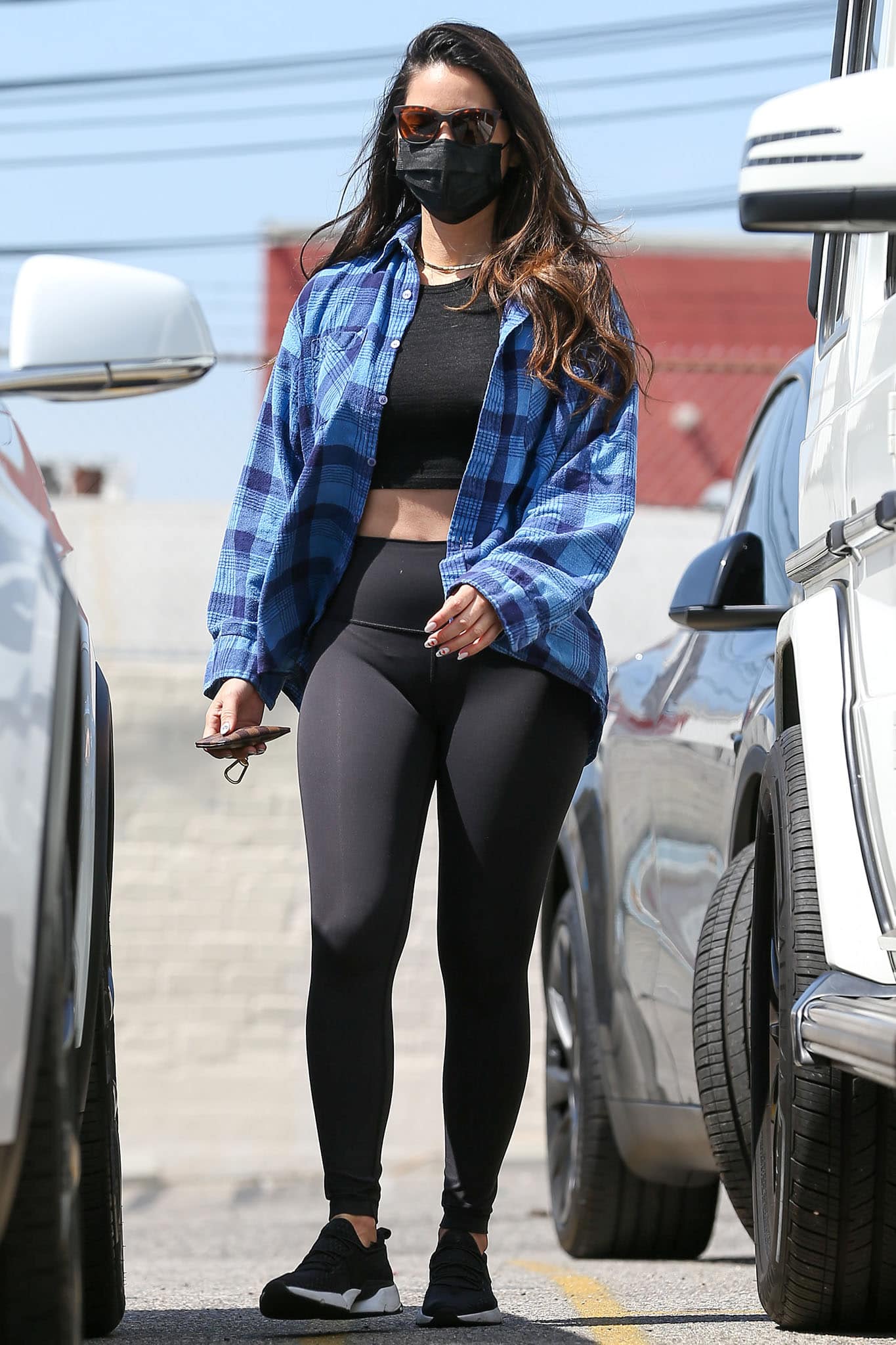 Olivia Munn shows off her midriff in a black crop top and leggings with blue plaid flannel on April 15, 2021 (Credit: Instar / WENN)
For her accessories, Olivia styled with layered gold necklaces and kept a low profile with tortoiseshell Smith sunglasses and a black face mask.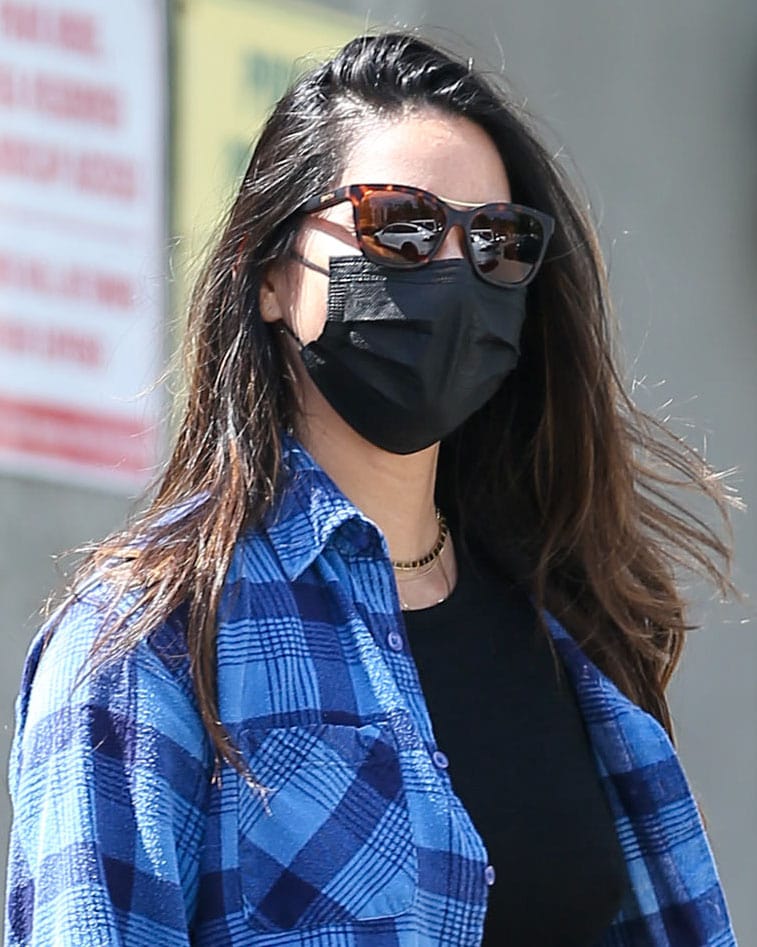 Olivia Munn keeps a low profile with Smith sunnies and a black face mask (Credit: Instar / WENN)
With her side-swept long brunette down, Olivia finished off her workout look with a different colorway of the Avre Infinity Glide.
This time, she opted for the dominant solid black upper with white soles, which you can also get at Avre.
Olivia Munn slips into a pair of dominant black Avre Infinity Glide shoes (Credit: Instar / WENN)
Avre 'Infinity Glide' Black and White Sneakers, $145
These sustainable Avre shoes feature a sock-like fit with flexible stretch knit uppers and an infinite lacing system