Brooklyn Beckham (23) and American actress Nicola Peltz (27) married on April 9th at a black-tie wedding. The event took place at the Peltz family's ocean-facing residence in Palm Beach, Florida.
Brooklyn Beckham and Nicola Peltz first met at Coachella in 2017 and went public with their relationship in January 2020 (Credit: BauerGriffin / INSTARimages)
It's reported that a staggering $3 million has been spent on the Beckham-Peltz wedding. Famous guests attending the ceremony included the Williams sisters, Eva Longoria, and Mel B.
View this post on Instagram
American rapper Snoop Dogg is a long-time family friend of the Beckhams, and he attended to DJ the event!
Brooklyn and Nicola became engaged in July 2020, when Brooklyn proposed in a sunny lavender field with an emerald-cut diamond ring.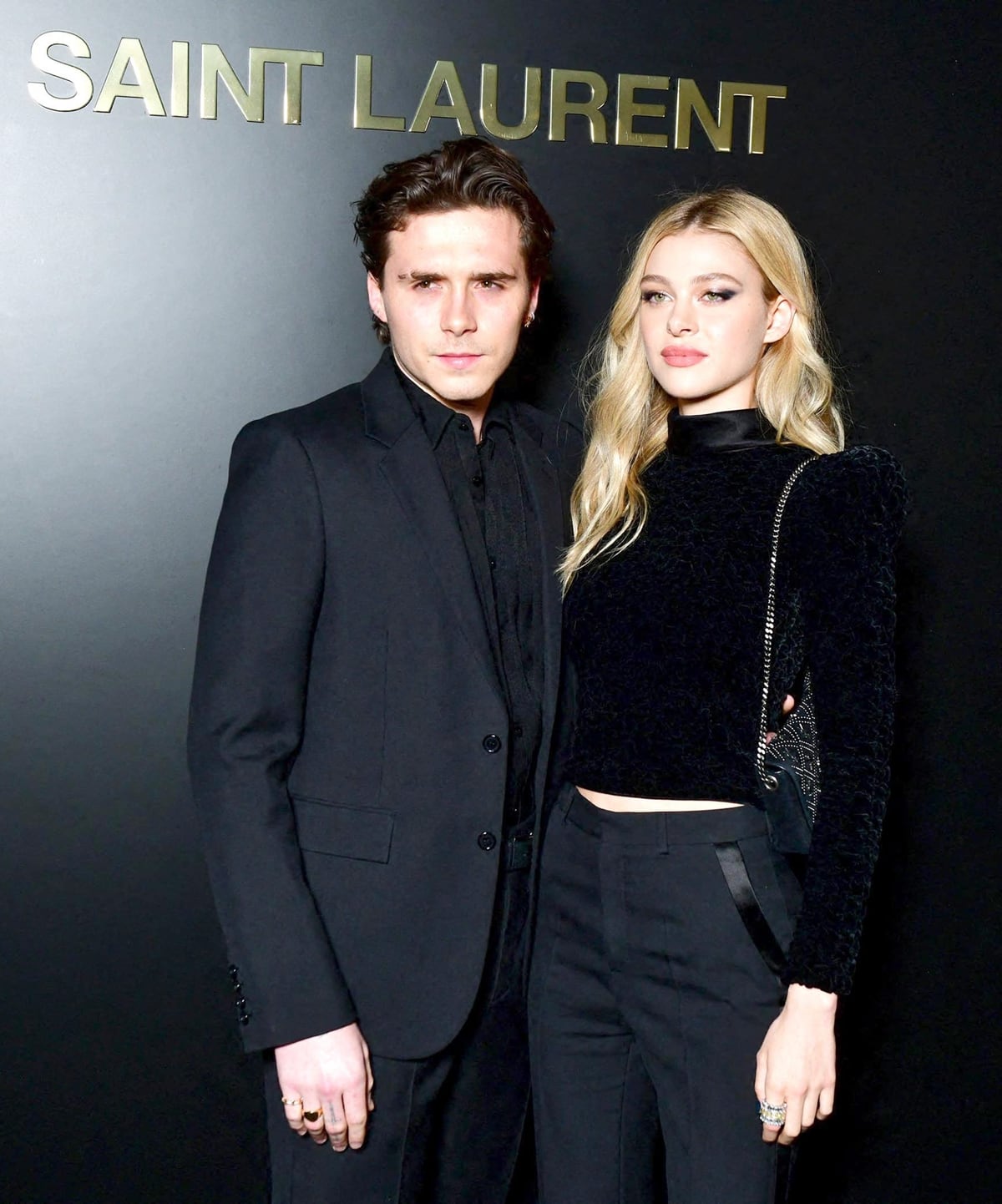 Brooklyn Beckham and Nicola Peltz got engaged in July 2020 (Credit: Laurent Zabulon / ABACA / INSTARimages)
"I proposed in the countryside in New York in Bedford," the eldest son of English former footballer David Beckham and English singer-turned-fashion designer Victoria Beckham shared on The Late Late Show with James Corden in February 2022.
"I filled [a gazebo] with a bunch of flowers—her favorite flower is peonies—a bunch of peonies flowers, candles, her favorite wine, some caviar. I had the ring up there it was hiding behind some flowers."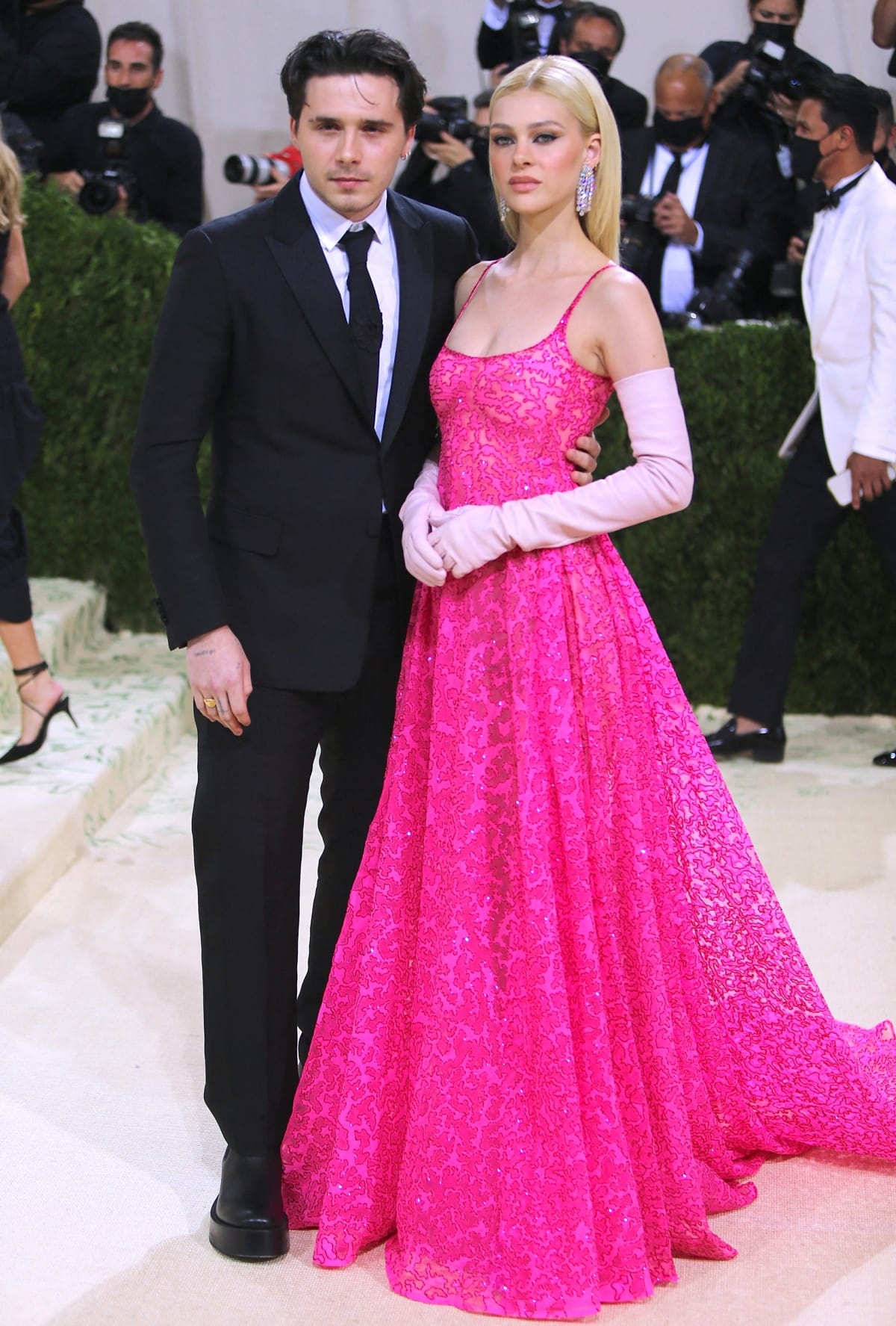 Brooklyn Beckham in a black Valentino suit and Nicola Peltz in a sparkling pink Valentino gown at the 2021 Met Gala benefit "In America: A Lexicon of Fashion" at Metropolitan Museum of Art on September 13, 2021, in New York City (Credit: ABACA USA / INSTARimages)
"We walked all the way up this huge hill. There was this amazing view of this huge river."
"After 10 minutes, I finally opened it, poured her a glass, and then I got on my knees," he said about struggling to open up a wine bottle. "She didn't know what I was doing … I always tell her how much I love her. I love doing that stuff all the time."
The pair first started dating in October 2019 after they were sighted getting dinner after Leonardo DiCaprio's Halloween party. They first met at the Coachella music festival in 2017, but they didn't start dating until 2 years later.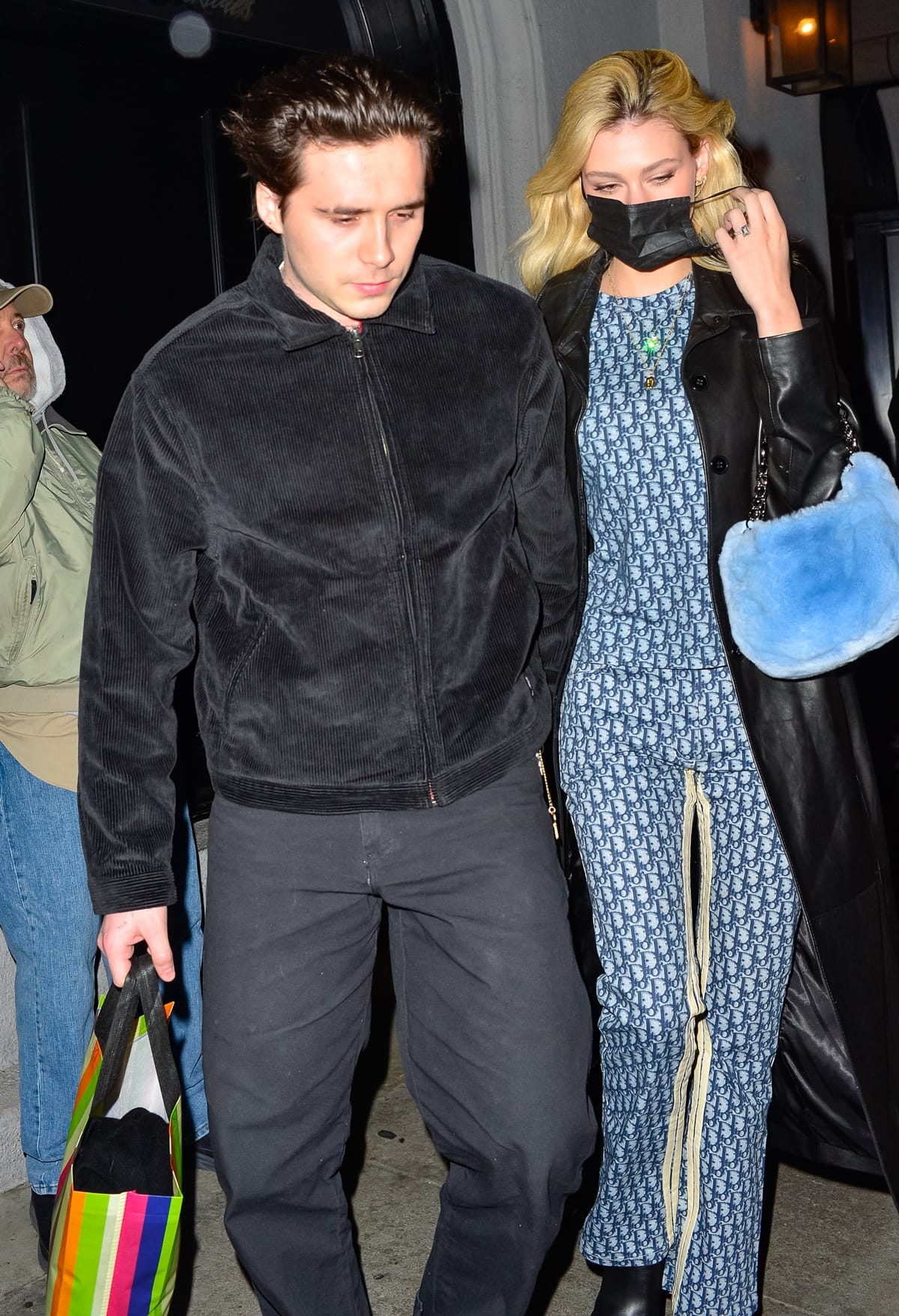 Brooklyn Beckham and Nicola Peltz married on April 9, 2022, in a tent that was constructed by the beach outside the home of her parents in Palm Beach, Florida (Credit: BauerGriffin / INSTARimages)
"We knew of each other. We ran into each other multiple times," Beckham said in their "Couple's Quiz" video for GQ.
"I was actually friends with two of her brothers, Diesel and Brad. And she did not like me."
He added, "Then when we started hanging out, which was about three Halloweens ago, which was where we had our first kiss … We started hanging out every night, and we drove around till, like, 7-8 in the morning … All we did was drive around LA, and, you know, I showed that I could be—that I am a gentleman. And she fell in love with me."
Ahead of the big day, the couple signed what has been named "the mother of all prenups" which will protect the Beckhams assets ($498 million), as well as the Peltz assets ($1.7 billion).
In 2021, they purchased a $10.5 million mansion in Beverly Hills.
View this post on Instagram
Nicola Peltz is the daughter of billionaire Nelson Peltz and model Claudia Heffner. She reportedly married in a custom Valentino Haute Couture gown featuring a show-stopping train and a floral-print lace veil.
View this post on Instagram
In March 2013, Nicola Peltz and Emmalyn Estrada were both on hand at the premiere of the American psychological horror drama television series Bates Motel held at Soho House in Los Angeles.
Actress Nicola Peltz wears a Christopher Kane dress at A&E's "Bates Motel" Premiere Party on March 12, 2013, in West Hollywood, California (Credit: Apega / Curtis Sabir / Travis Wade / WENN)
The then 18-year-old Nicola Peltz, who starred as Tessa Yeager in Transformers: Age of Extinction, showed her creative side by wearing a painted-like dress and a pair of purple/orange sandals from Nicholas Kirkwood.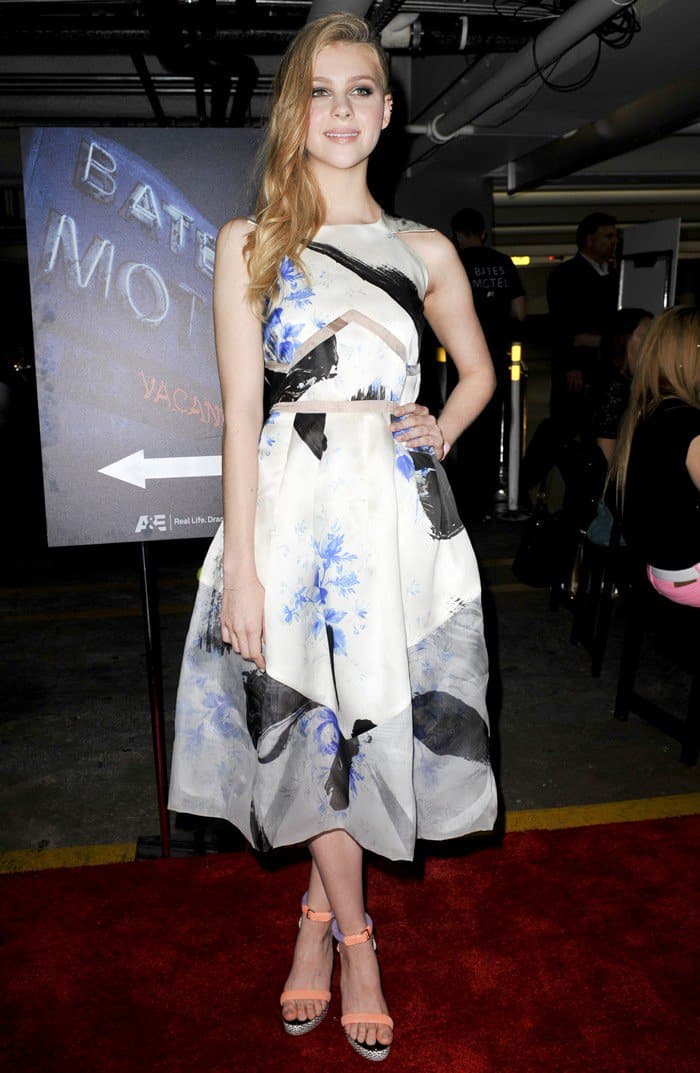 Nicola Peltz paired her bold painterly print dress with Nicholas Kirkwood's 'Blue Pois' sandals (Credit: WENN)
Also worn by Brandy Norwood, her frock is from the Christopher Kane Resort 2013 collection.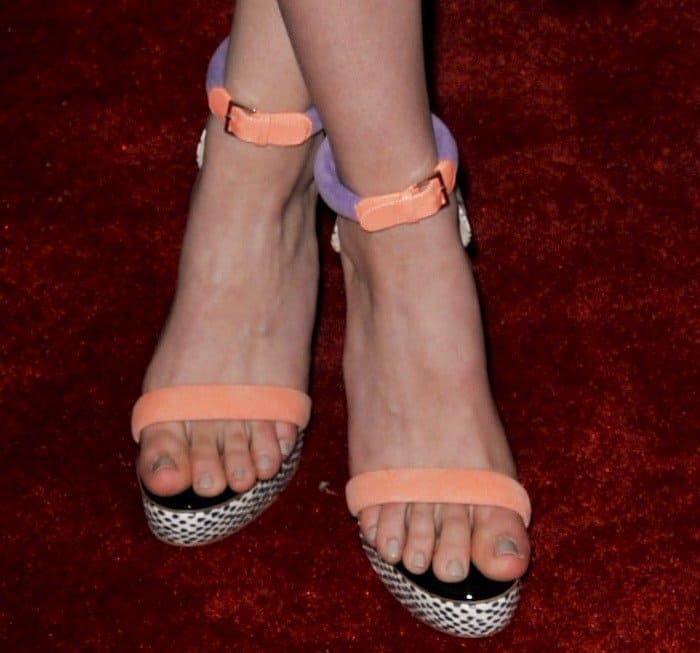 Nicola Peltz shows off her feet in Nicholas Kirkwood high heels (Credit: WENN)
On the other hand, the then 20-year-old Emmalyn Estrada wore a not-so-classic little black dress featuring peplum detail and a window boob design.
Emmalyn Estrada in a black dress at the premiere of 'Bates Motel' at Soho House in West Hollywood on March 12, 2013 (Credit: Apega / Curtis Sabir / Travis Wade / WENN)
Known professionally as Emmalyn, the Canadian singer of Filipino descent added some color to her dress by wearing a pair of bright yellow sandals.
Emmalyn Estrada shows how to style a black dress with yellow sandals (Credit: WENN)
I say both Nicola's and Emmalyn's sandals are perfect for spring, don't you agree?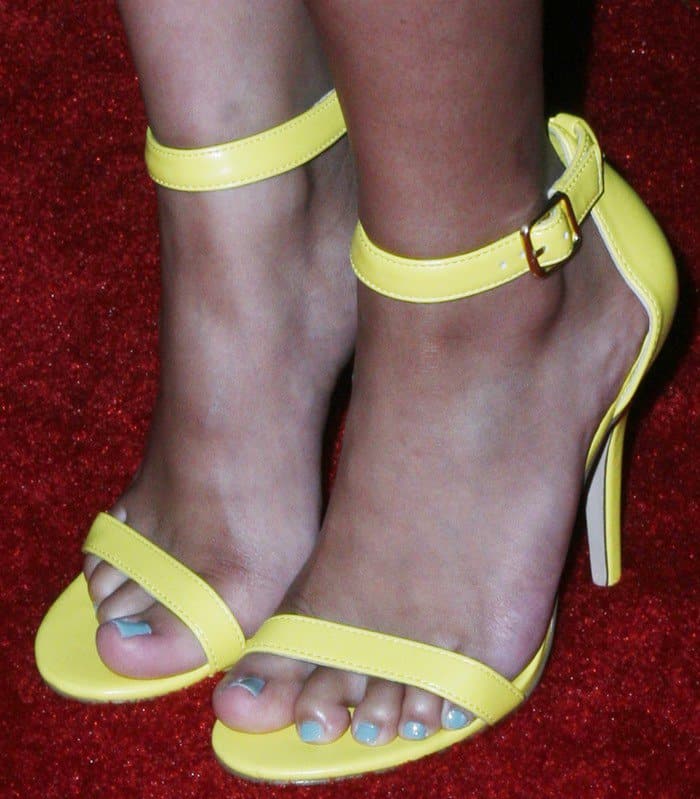 Emmalyn Estrada displays her pretty feet in yellow high heels (Credit: WENN)