She became a fur parent after adopting her toy golden poodle mix, Oliver Sprinkles, in July last year.
On Tuesday last week, Olivia Culpo took her beloved pup out on a date at The Bowery Hotel's Italian Trattoria, Gemma.
Olivia Culpo lunches with Oliver Sprinkles at Gemma in New York City on June 15, 2021 (Credit: Mega / WENN)
The former Miss Universe turned heads as she flaunted her toned legs in a beige leather shirt dress, but Oliver Sprinkles clearly stole her thunder with his cuteness.
Olivia's buttery leather mini dress features a collar with buttons down the front, styled with a coordinating belt to add a little extra shape to the look.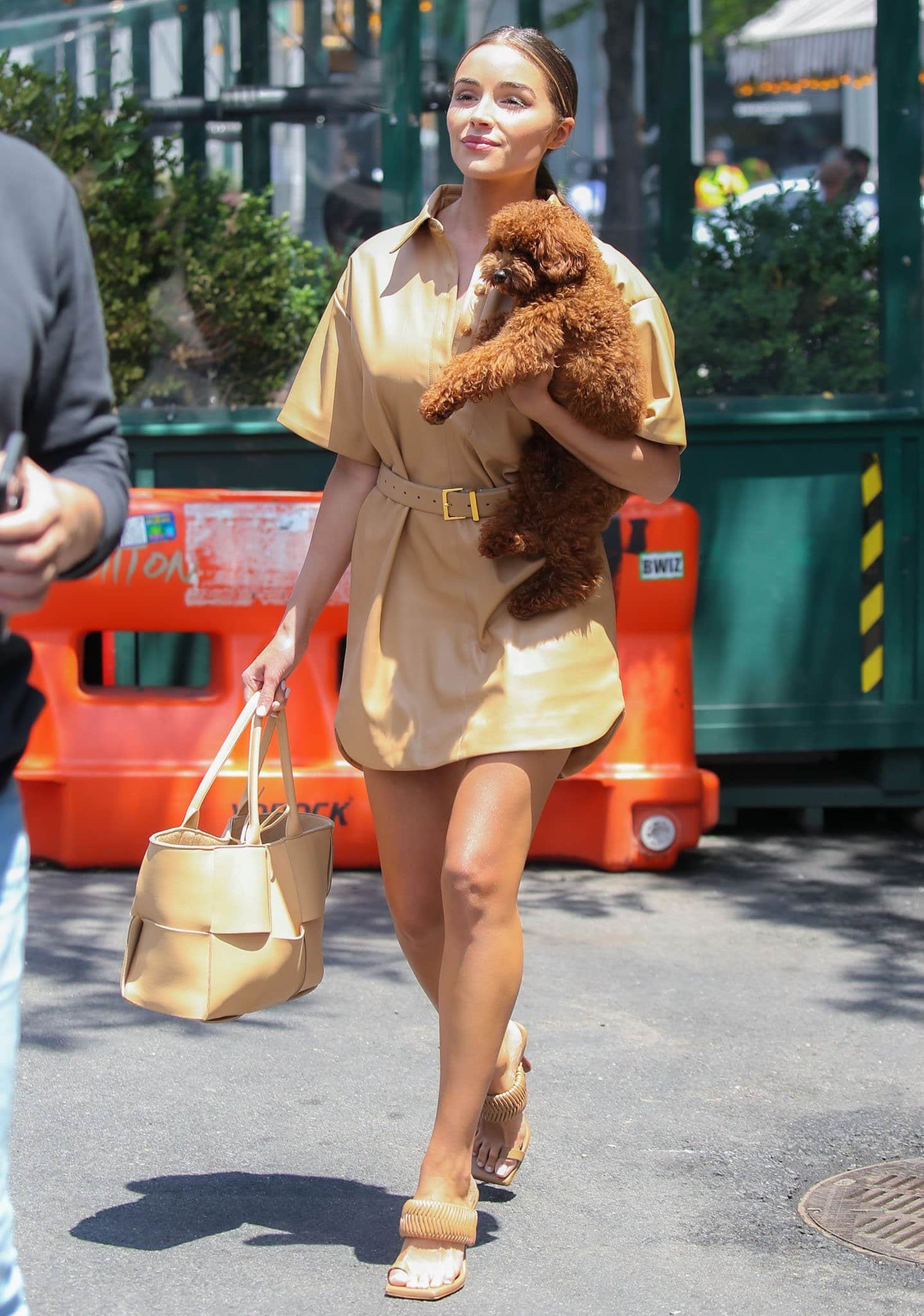 Olivia Culpo flaunts her toned legs in a beige leather mini dress (Credit: Mega / WENN)
Continuing with the monochrome theme of her outfit, Christian McCaffrey's girlfriend carried a Bottega Veneta "Arco" tote in almond nappa leather.
Available for $2,450 at Mytheresa, this bag features exaggerated Intrecciato weaving, an open-top, and short top handles.
She skipped the jewelry and allowed her natural beauty to shine by wearing neutral makeup with a hint of pink lipstick and pulling her tresses back into a center-parted low ponytail.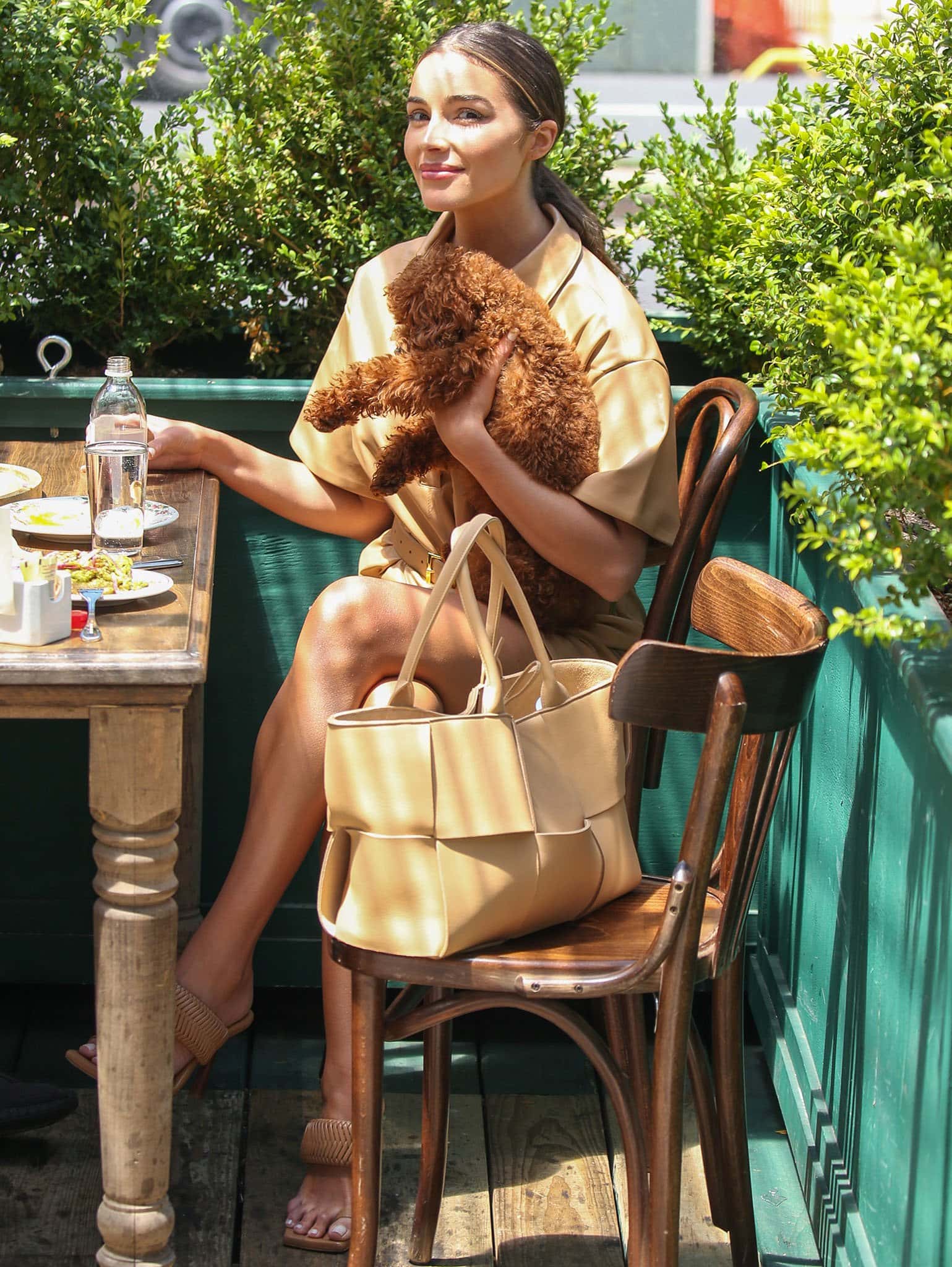 Olivia Culpo wears neutral makeup with a center-parted low ponytail (Credit: Mega / WENN)
Olivia completed her head-to-toe beige look with a pair of toe-ring slide sandals designed by Rosie Huntington-Whiteley in collaboration with Gia Couture.
Released in March, these sandals resemble Bottega Veneta's signature woven design with square toes. They have a thick interwoven strap across the foot and a single toe loop set on a sleek high structured heel.
Olivia Culpo completes her head-to-toe beige look with a Bottega Veneta Arco tote and Gia Couture x Rosie Huntington-Whiteley sandals (Credit: Mega / WENN)
Gia Couture Rosie 1 100m Sandal, $727 at Farfetch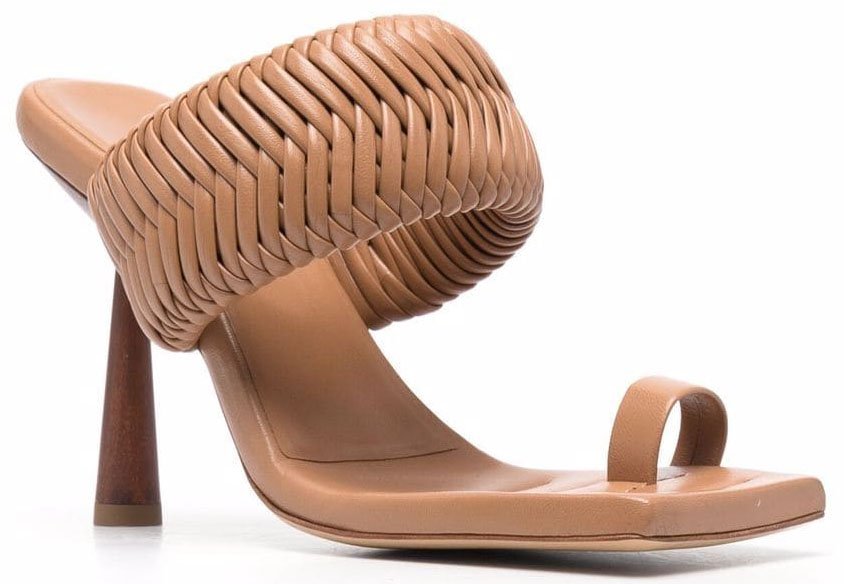 Rosie Huntington-Whiteley designed these Balenciaga-like woven square-toed sandals for Gia Couture
That same day, Olivia re-emerged in New York City to burn some extra calories.
She traded her mini frock for a black-and-white sporty outfit, which included an ab-baring white long-sleeved cropped top and a pair of black sweatpants.
Olivia Culpo re-emerges in New York City in a sporty black-and-white athleisure on June 15, 2021 (Credit: Mega / WENN)
The Rhode Island native styled the look with a black sweatshirt, which she tied diagonally across her chest.
A pair of Nike Blazer Mid shoes with mesh-detailed tongues rounded out her gym outfit.
Olivia Culpo completes her sporty gym look with Nike Blazer Mid sneakers with black and neon green mesh tongues (Credit: Mega / WENN)
Aside from being a beauty queen, a social media personality, and a fashion influencer, Olivia Culpo also has some experience in acting.
Her latest film, Venus as a Boy, recently premiered at the Tribeca Film Festival. She was cast as the female lead in the romantic drama alongside multi-hyphenate Ty Hodges, who also wrote and directed the movie.
Olivia wowed in an all-black Louis Vuitton outfit as she posed alongside Ty at the festival held in Manhattan last week.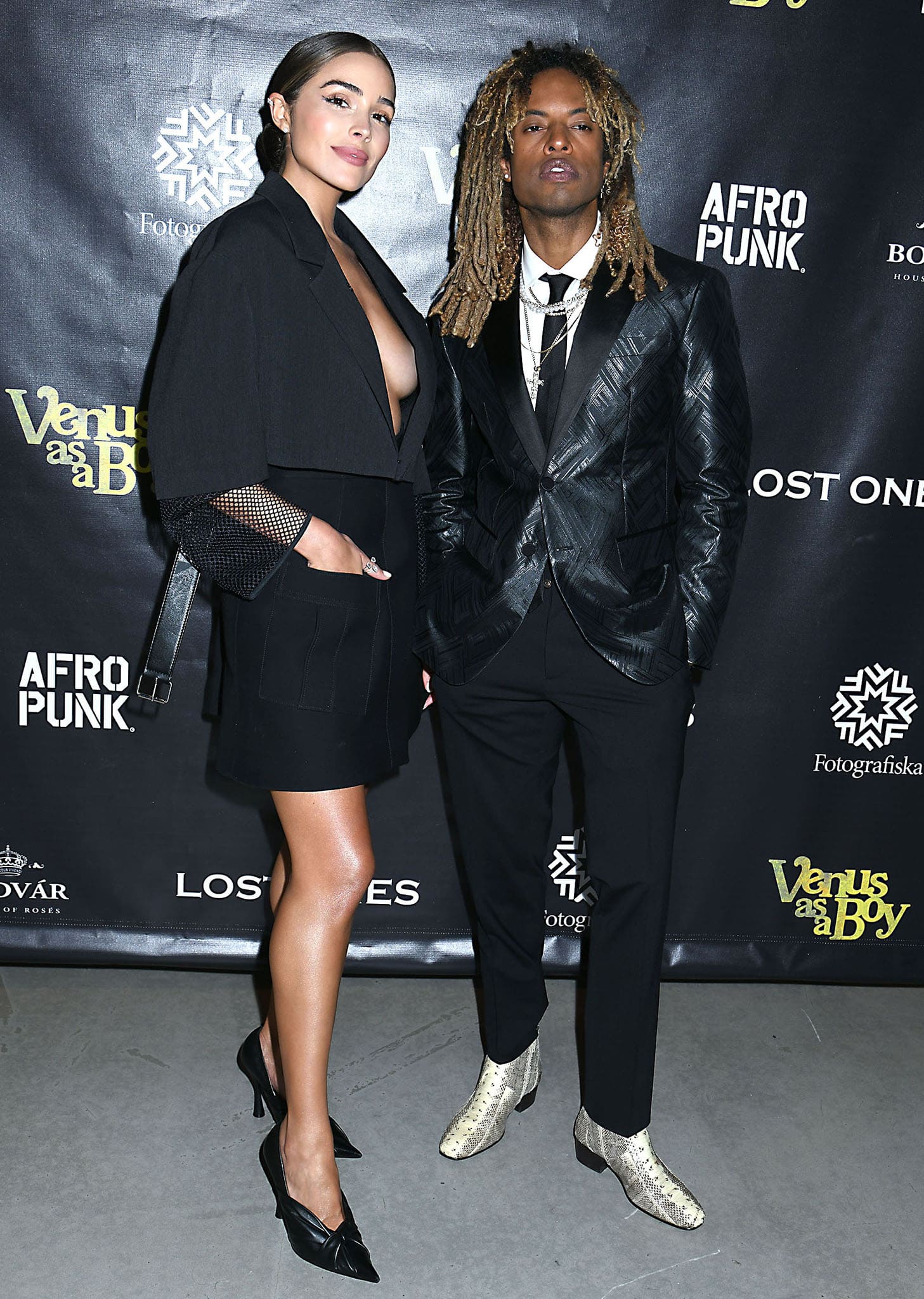 Olivia Culpo poses with Ty Hodges at the premiere of their movie, Venus As A Boy, at the Tribeca Film Festival 2021 on June 14, 2021 (Credit: Avalon / WENN)
She opted to wear nothing underneath her cropped tailored jacket, which she teamed with a high-waisted A-line wrapped mini skirt.
Her $3,880 LV jacket is crafted from wool ottoman with textured fishnets on the sleeves.
Olivia Culpo wears nothing underneath her Louis Vuitton cropped tailored jacket (Credit: Avalon / WENN)
Glamming up for her red-carpet look, Olivia styled her tresses in a sleek bun with a center parting, accentuating her beauty with a full face of makeup.
She kept the look elegant with minimal jewelry, including a Messika My Twin Trilogy Diamond ring and Messika My Twin Trio Diamond earrings.
Olivia Culpo accentuates her beauty with bold brows, peachy eyeshadow and blush, and nude lipstick (Credit: Jeff Grossman / WENN)
For her footwear, Olivia slipped into a pair of Balenciaga Knife ruched black leather pumps with knotted vamps and pointed toes.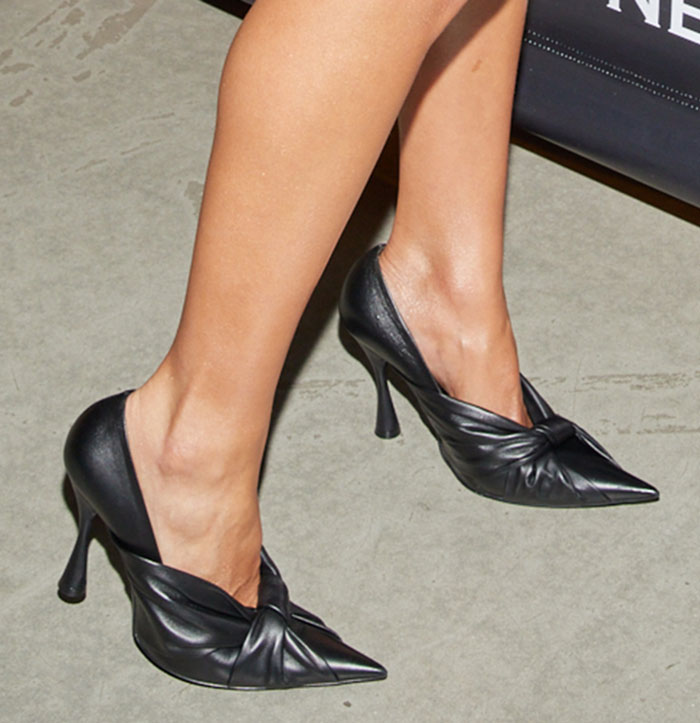 Olivia Culpo shows off her feet in Balenciaga Knife ruched knotted pumps (Credit: Jeff Grossman / WENN)