Bella Thorne has recently come under fire for her behavior on, and public statements about, the popular website, OnlyFans.
Bella Thorne joined OnlyFans in August 2020 and made $1 million on her first day and $2 million in her first week on the platform (Credit: OnlyFans)
While she has been in the spotlight since she was a child, only recently has Bella taken more of a dive into the world of adult pictures, film, and content.
Who is Bella Thorne?
Annabella Avery Thorne, known professionally as Bella Thorne, is an American actress, singer, and model, originally from Florida.
She has a diverse ethnic background, with her heritage tracing back to Cubans, Italians, Germans, and the Irish. Bella's first language is Spanish and she was bullied growing up for her dyslexia.
Actress Bella Thorne in a strapless Topshop pink floral-print dress at the Los Angeles premiere of "Spring Breakers" at ArcLight Hollywood on March 14, 2013, in Hollywood, California (Credit: Daniel Tanner / WENN)
Bella began acting as a child, initially, to help support her very poor family. Her father passed away in a traffic accident and her mother was raising four children on her own.
She has shared that her desire to help provide for her struggling family is the reason she aggressively pursued her career in entertainment.
Zendaya's less successful friend is also a survivor of sexual abuse and has shared that she was abused from a young age until the age of 14
Bella Thorne's Career
This young woman has earned some accolades along the way, like the Imagen Award, a Teen Choice Award, multiple Young Artist awards, and a Shorty Award.
As early as six weeks old, Bella was a baby model for Parents Magazine. Since then, she has been on numerous catalog covers and advertised for Candie's, Gap, Diesel, Guess Jeans, and Tommy Hilfiger.
She has also graced the covers of CosmoGirl, Teen Vogue, Seventeen, and Shape. She has also appeared in many music videos and commercials for big names like Neutrogena.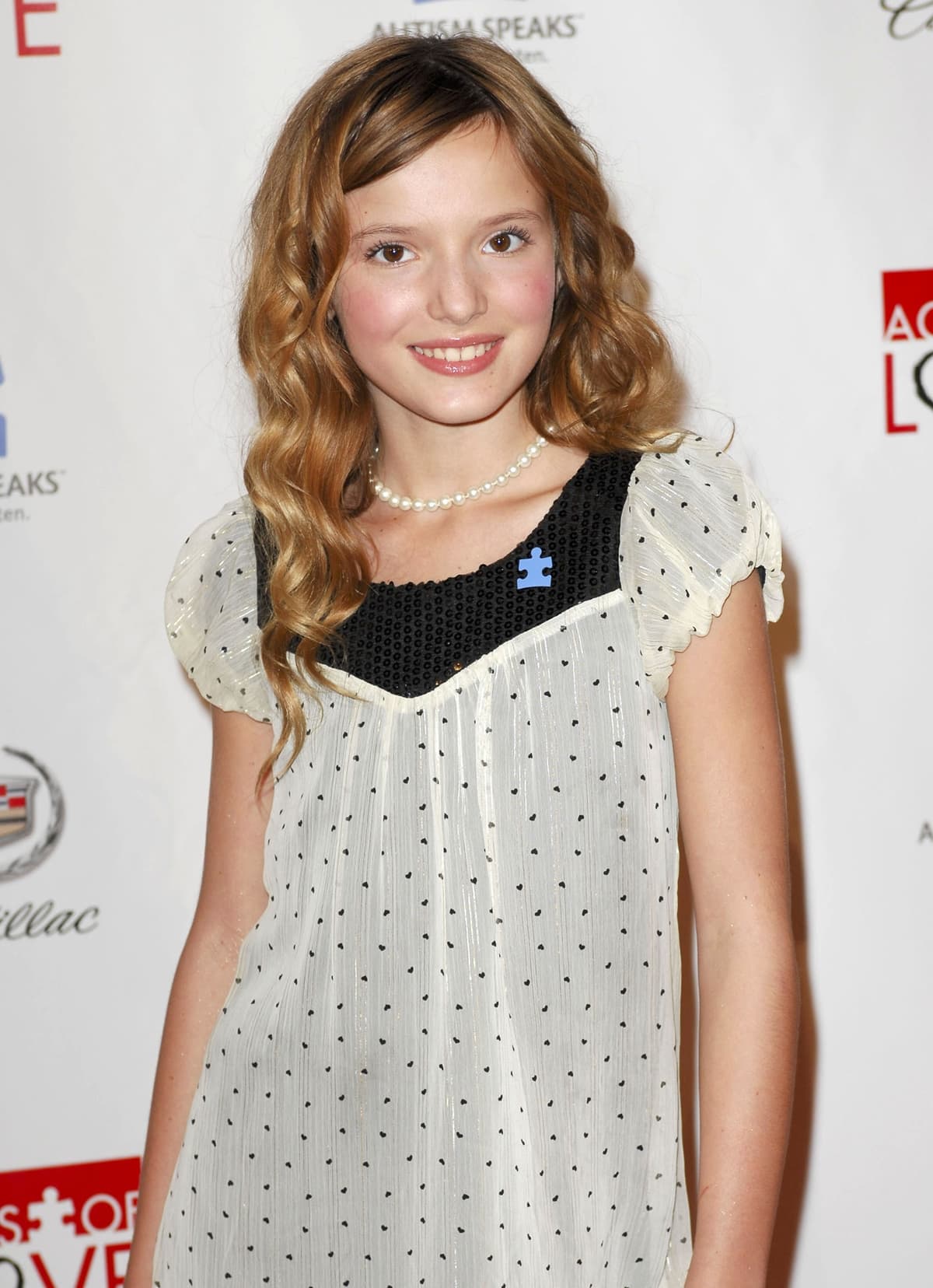 Bella Thorne attends the Autism Speaks Sixth Annual Acts of Love Celebration at The Geffen Playhouse on November 10, 2008, in Westwood, California (Credit: Apega / WENN)
She appeared in minor roles on Entourage and The O.C. and then secured a recurring role on Dirty Sexy Money as Margaux Darling. Bella credits her next role, alongside Taylor Lautner and Christian Slater, in My Own Worst Enemy, as her breakthrough.
Slowly, Bella began to get more roles and gain more fame. She appeared on Season 4 of Big Love on HBO and then earned a role on the Disney Channel sitcom Shake It Up.
Bella starred opposite Zendaya in this buddy comedy that centered around a teen dance show. The show lasted for three seasons before its cancellation.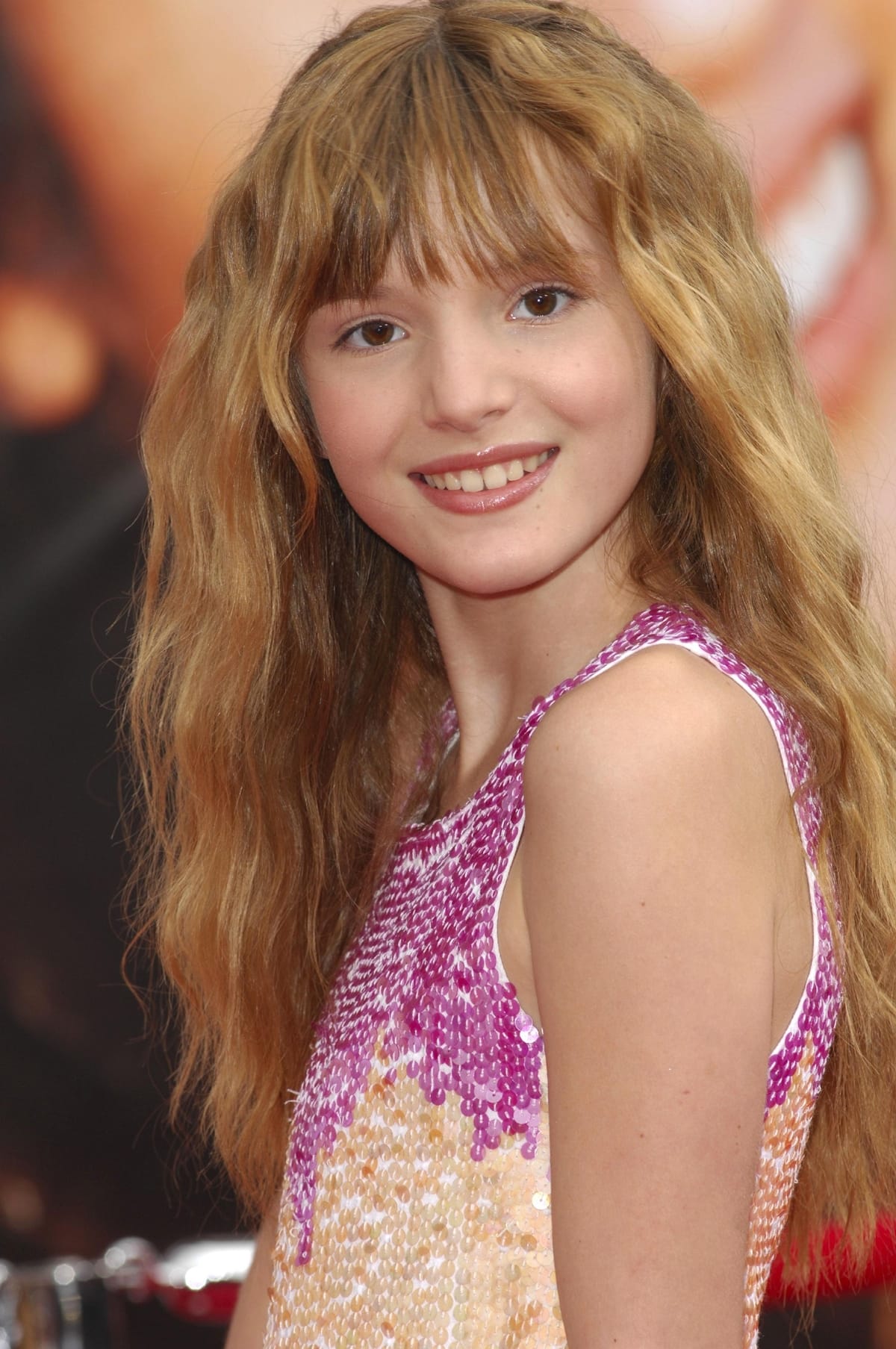 Bella Thorne arrives at the Los Angeles premiere of "Hannah Montana The Movie" at the El Capitan Theatre on April 2, 2009, in Hollywood, California (Credit: Apega / WENN)
Not only an actress, Bella is also a talented musician. She released her first single "Watch Me" in June of 2011 with Zendaya. Bella has credited Destiny's Child, Britney Spears, and Kesha as her influences and prides herself on pulling inspiration from many different genres.
Today, Bella is estimated to be worth $12 million.
Bella Thorne Joins OnlyFans
OnlyFans is a website where individuals can share NSFW content with their fans. This content can be free or monetized based on a subscription payment model. Popular celebrity stars on the platform include Corinna Kopf and Sonja Morgan.
Bella launched her OnlyFans account in August of 2020 and temporarily crashed the website that day.
She reportedly earned $1 million in her first 24 hours on the platform, and $2 million in her first week. Nobody before Bella had made that much money on the OnlyFans subscription service.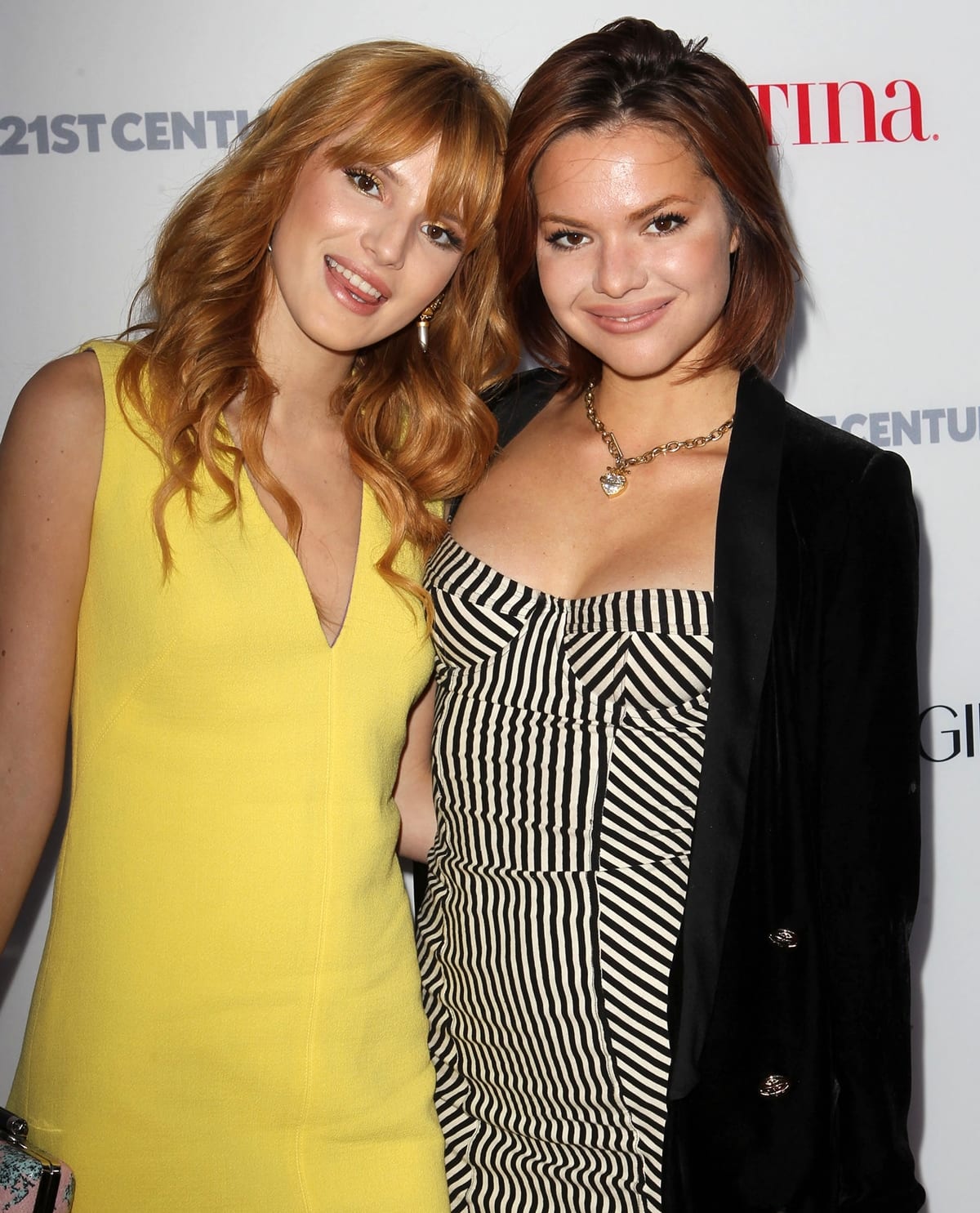 Bella Thorne (L) and her older sister Kaili Thorne both joined OnlyFans in 2020 (Credit: FayesVision / WENN)
Today, Bella is one of the top three highest-earning celebrities on OnlyFans. She has earned over $10 million in just over one year on the platform. Just days after Bella, her older sister Kaili Thorne has also joined OnlyFans.
OnlyFans is not Bella's first step into the adult film world. She made her directorial debut on the film Her & Him for Pornhub in August 2019. She won a Vision Award at the second annual Pornhub Awards in Los Angeles for her work.
Bella identifies as pansexual and has been in polyamorous relationships in the past.
Bella Under Fire
OnlyFans changed their terms of service, adding a cap and holds on payments, and sex workers and content creators on the OnlyFans platform blame Bella Thorne for this.
The changes took place after a number of users asked for refunds when Bella Thorne sold them "naked" photos for $200, but the photos were not actually nude.
According to Bella, these nude photo offers were fake. After this event, OnlyFans imposed $50 payment caps on pay-per-view posts and they implemented holds on payments, forcing some international creators to wait 30 days to receive their funds.
Bella Thorne has been accused of gentrifying OnlyFans and for making it more difficult for sex workers to make money on the platform (Credit: MEGA / WENN)
OnlyFans denies that the changes are a result of Bella, "Transaction limits are set to help prevent overspending and to allow our users to continue to use the site safely. We value all of the feedback received since this change was implemented and we will continue to review these limits."
Bella issued an apology, saying she only wanted to normalize sex work and that she will speak with OnlyFans about their new policies.
Bella tweeted on August 29, 2020, "I wanted to bring attention to the site, the more people on the site the more likely of a chance to normalize the stigmas, And in trying to do this I hurt you. I have risked my career a few times to remove the stigma behind sex work, porn, and the natural hatred people spew…"
Bella Thorne apologized on Twitter after receiving OnlyFans backlash (Credit: Twitter)
Many users on the site did not buy her "support." The users dragged Bella on social media, saying that she made light of online sex work and made it into a publicity stunt for herself.
These users don't understand why Bella, with millions in the bank already, needs to use this platform. Users who used to get paid weekly, now receive a monthly paycheck. That negative financial impact trickles to 450,000 content creators on the website.
Not only did the pay frequency change, but OnlyFans changed its caps for payment limits. With a previous tip and paid post cap of $200, now reduced to $100, creators are simply making less money than before.
Bella Thorne and her boyfriend Benjamin Mascolo announced their engagement on March 21, 2021 (Credit: KIKA / WENN)
Creators feel like they are being "ripped off." And whether Bella Thorne is to blame or not, the young actress has definitely come under fire for the timing of her involvement with the introduction of these new policies that seem to hurt, rather than help, many creators on the OnlyFans platform.
After playing a real, live human being in the animated "Alvin & the Chipmunks: The Road Chip," in 2016 Bella Thorne finally got to lend her voice to an animated character: Cora Veralux of "Ratchet & Clank."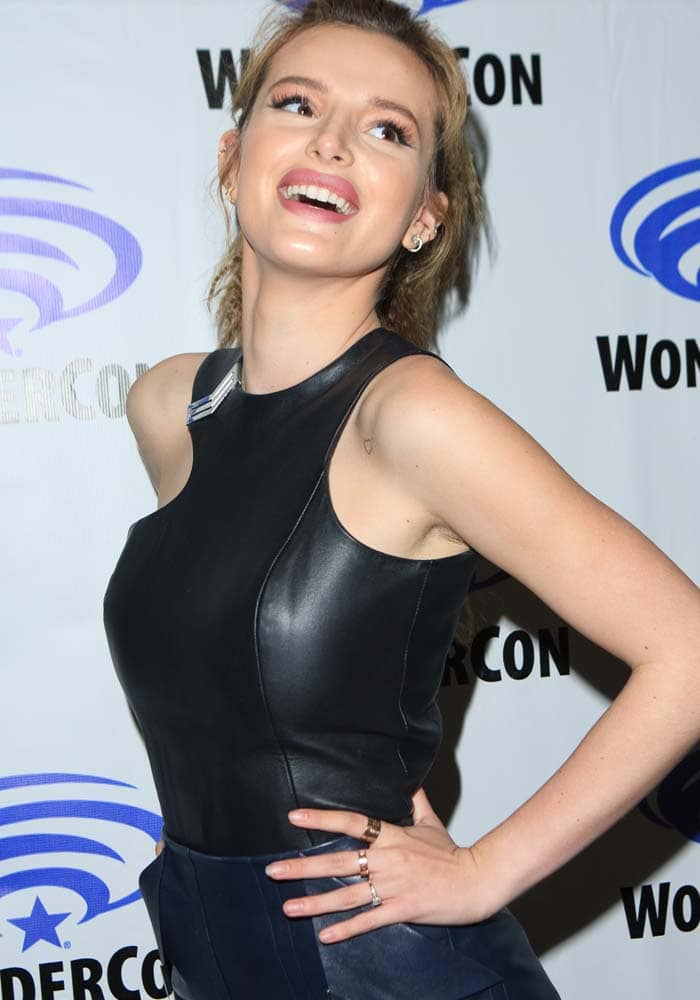 Bella Thorne crimps her hair to promote "Ratchet and Clank" on Day 1 of WonderCon held at Los Angeles Convention Center on March 25, 2016, in Los Angeles, California (Credit: Tony Forte / WENN)
The then 18-year-old made an appearance at the 2016 WonderCon to promote "Ratchet & Clank" and took a minute to talk about what she loved most about working on the computer-animated science-fiction comedy film.
Bella showed up in a full leather outfit. She paired a black leather halter top with a navy Mugler mini skirt.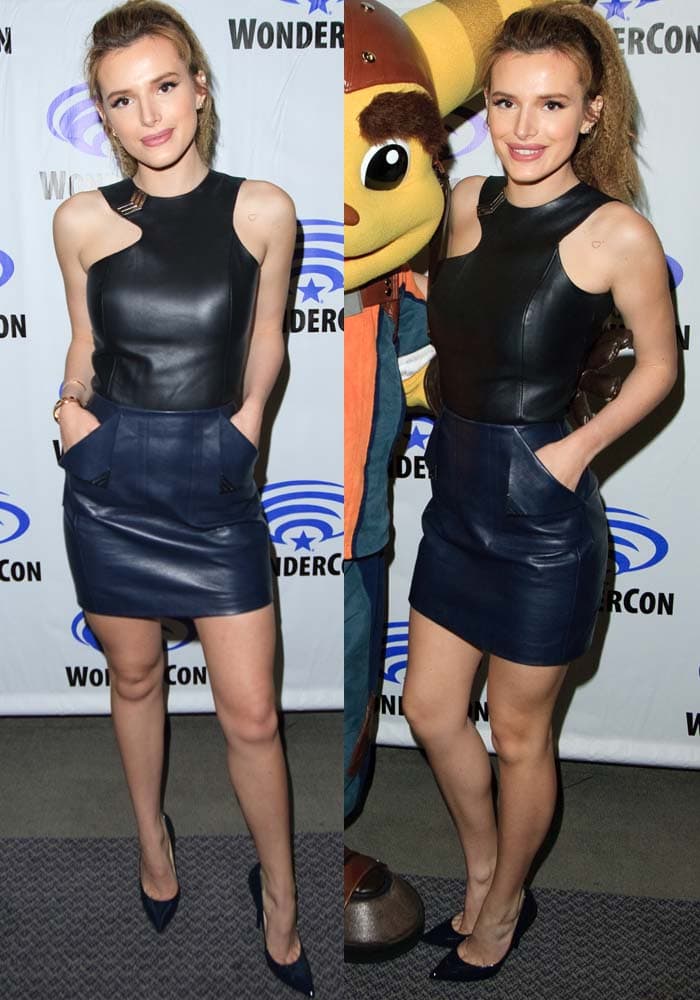 Bella Thorne wears a black leather halter top with a navy leather Mugler mini skirt (Credit: Tony Forte / WENN)
The teenager capped off her outfit with a navy pair of Jimmy Choo "Abel" pumps.
Bella Thorne's feet in navy Jimmy Choo pumps (Credit: Tony Forte / WENN)
Bella also seemed to sport a brand new tattoo: A tiny heart located on the front of her shoulder, just under her collar bone.
The 5′ 8″ actress said her favorite part about playing Cora was the opportunity to act as a tough character since she doesn't get to play too many tough roles.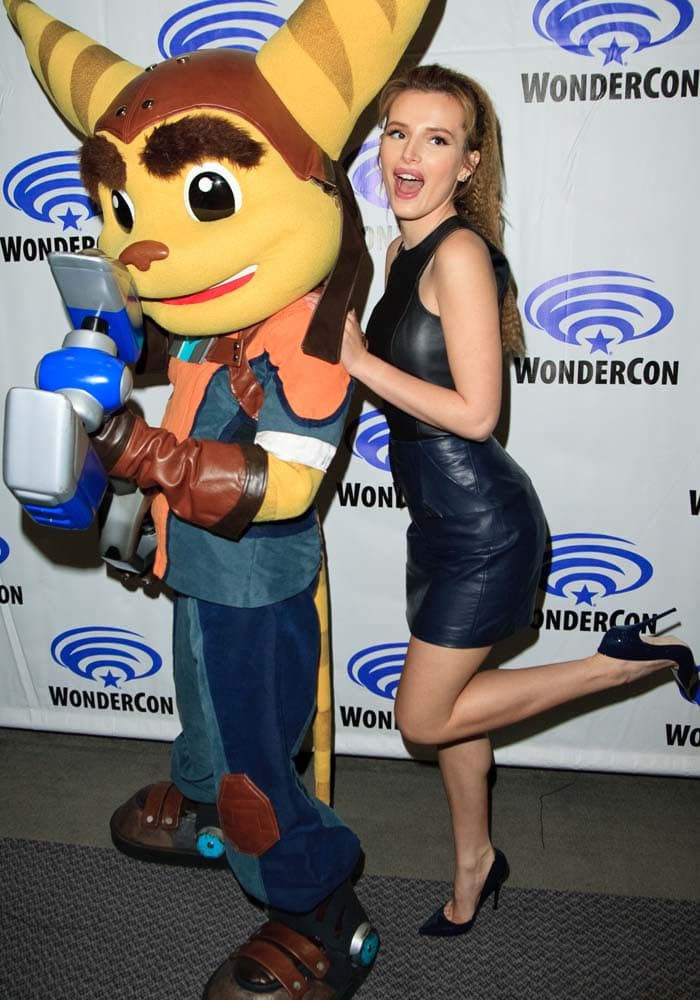 Bella Thorne poses with a Ratchet mascot as she promotes her latest animated film, "Ratchet & Clank" (Credit: Tony Forte / WENN)
While Bella isn't much of a tomboy, the actress said she enjoyed tapping into her masculine side for the film.
Navy blue is the new black. You can order the Abel pumps from the popular women's shoe designer in patent navy blue at Mytheresa.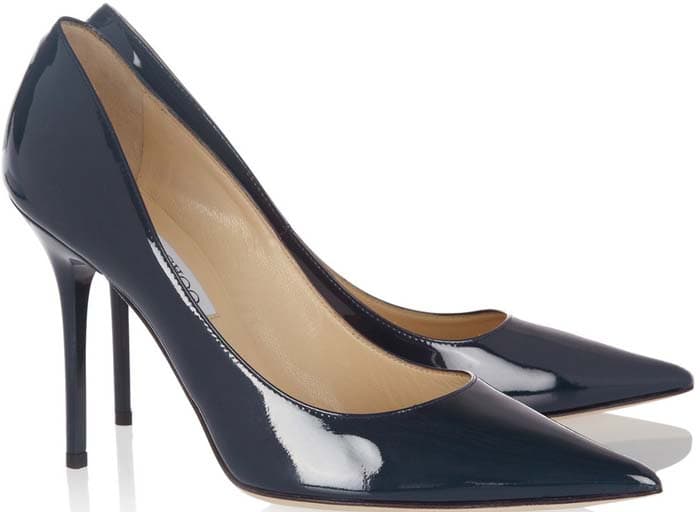 Jimmy Choo "Abel" Patent Leather Pumps in Navy, $595