You'll be happy to know that you're spoilt for choice for Chelsea boots. You can find them everywhere from the runways in Milan to your local high street shop.
They are one style that has withstood the test of time, and that comes back every season. We're rounding up a few of our favorite styles that would be at home in anyone's closet.
1. The Square Toe Chelsea Boots at Everlane
We're starting this list with a classic. If you want to invest in one style of Chelsea boots, then let it be a classic pair of black leather shoes with a low stack heel.
Made of premium Italian leather, the square toe Chelsea boot has a leather heel tab, a low stacked heel, and elastic panels on the sides and front for pull-on ease
The Everlane boots are made using 100% Italian leather, meaning that they will last you a lifetime. The square toe on these shoes makes them comfortable to wear all day long, meaning you can walk for miles.
The timeless Chelsea boot—with a cool square toe
These Everlane boots have a shine that gives them a smart appearance, so you can style them with jeans or suit trousers.
If black isn't your preference, you can pick up these Chelsea boots in a biscuit, peanut, and chocolate colors.
2. Chunky Leather Chelsea Boots at & Other Stories
If street-style is your game, then you need to try these Chelsea boots by & Other Stories. These boots are available in both black and light beige, with a chunky rubber platform sole with a round toe.
If you want a pair of shoes that can double as hiking boots, then these are a perfect choice.
Classic leather Chelsea boots with chunky perforated rubber soles, elasticated side-tabs, and a pull tab at the back
The beige option provides a classic contrast between the color of the shaft and the platform sole, meaning you don't have to worry about ruining the soles.
3. Doc Martens 2976 Smooth Leather Chelsea Boots at Dr. Martens
One brand that is synonymous with Chelsea boots is Dr. Martens. This style is one of their 'original icons' and is a unisex model that works for both men and women.
If you're looking for a pair of Chelsea boots that embodies the '60s mod era, then these are the shoes that you need.
The 2976 boots first appeared in the early '70s and have been a staple for the brand ever since. Shopbop has styled them below with A.P.C. leopard jeans.
A classic Chelsea boot, done Doc Martens style with the brand's instantly recognizable contrast stitching
These Chelsea boots feature all the hallmark designs of the brand. Their yellow stitching, air-cushioned soles, and heel-loops.
You can style these Doc Martens with everything from a maxi dress to a pair of jeans and a white t-shirt.
4. Alexander McQueen Leather Chelsea Boots at Farfetch
When it comes to statement shoes, Alexander McQueen never disappoints. These boots combine comfort and fashion to give you a pair of boots that wouldn't look out of place on King's Road in Chelsea.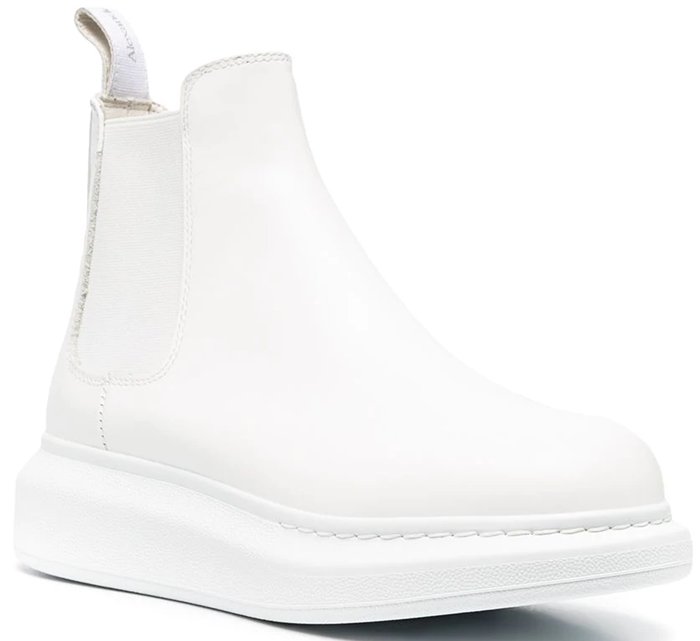 Set on bouncy rubber soles, Alexander McQueen's ankle boots have stretchy side panels and a handy pull tab to make them easily slip on and off
They have a bouncy rubber sole that sees you from day to night, along with stretchy side panels for added comfort.
These boots are entirely white, from the shaft to the pull-tab, with the outer fabric and lining being 100% leather, with a rubber sole.
5. Love Moschino Studded Chelsea Boots at Farfetch
Are you looking for a pair of Chelsea Boots with an edge? Do you want a pair of statement boots that will help you stand out from the crowd?
These Love Moschino boots are a modern interpretation of the classic '80's rock chick boots. They also incorporate the monochrome trend on the pull-tab that goes from the sole to the top of the tape.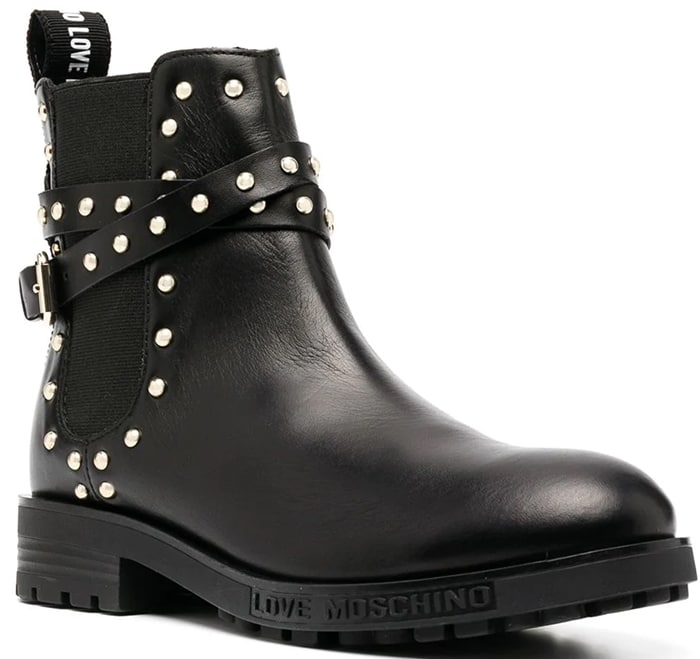 Love Moschino studded Chelsea boots with gold-tone stud detailing
Along with the traditional elasticated side panels, these Chelsea boots have a functional side buckle that you can adjust for a comfortable fit.
6. Church's Suede Chelsea Boots at Farfetch
If you're a man on the hunt for a pair of smart-casual boots, then we have just the pair. While Doc Martens is a brand famous for its street-style boots, Church's are more tailored and professional.
These brown suede Chelsea boots by Church's feature a classic design and a rigid rubber sole
These suede Chelsea boots can take you from a day at the office to drinks with friends at the pub.
Along with the suede exterior and leather lining, these Chelsea boots have a rubber sole so that you can wear them all year round.
7. Thom Browne Chelsea Boots at Farfetch
For those looking to invest in a pair of luxury boots, these Thom Browne Chelsea boots have low block heel that makes them appropriate for formal occasions.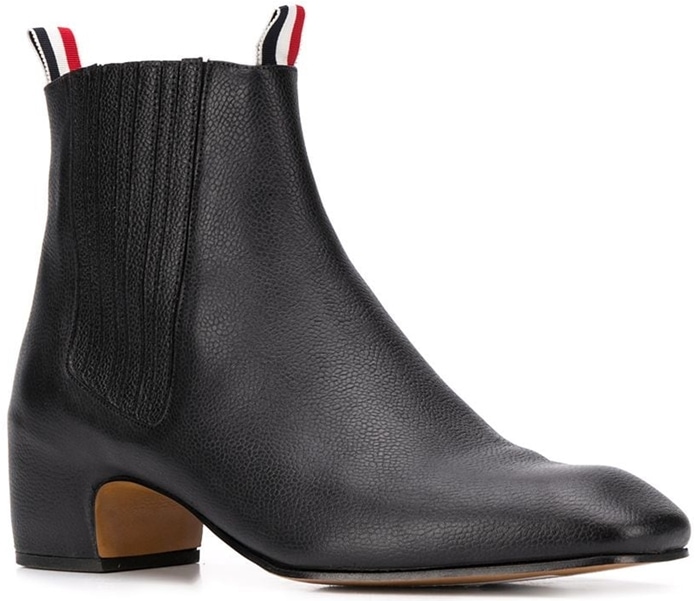 Boasting the iconic three-stripe detailing and a unique block heel, these black calf leather Thom Browne Chelsea boots are distinctive in their design and add a little bit of height to your ensemble
The brand's avant-garde aesthetic comes through with their three-stripe detailing on the front and back pull tabs. These Thom Browne boots have a distinctive silhouette, with calf leather and a square toe.
8. Gucci Matelasse Chelsea Boots at Nordstrom
Are you looking for a pair of understated designer shoes? Unlike other Gucci shoes, these Chelsea Boots are minimalistic with the 'GG' logo blending into the leather. The 'Matelasse' is one of the most popular collections from Gucci.
It appears on everything from small leather goods to handbags and is instantly recognizable. The signature zig-zag pattern appears on the leather, with the logo stitched into the side.
These Chelsea boots would be ideal for styling with a midi dress or a pair of jogging bottoms.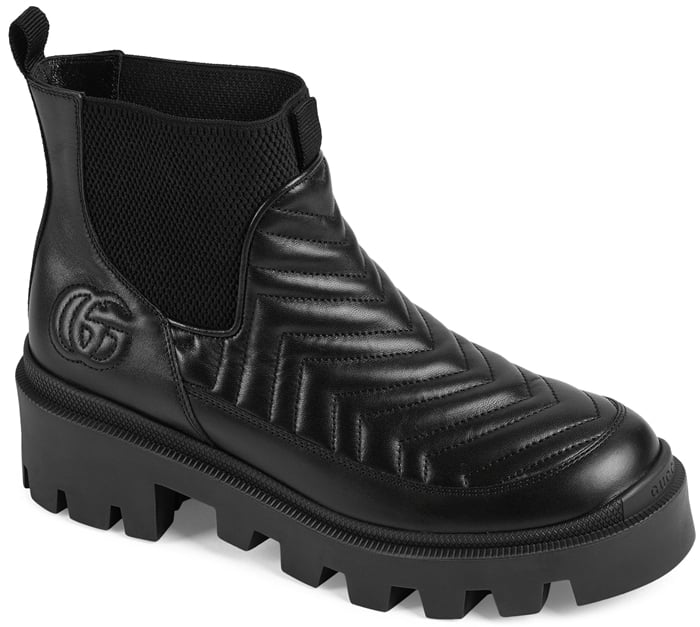 Signature matelassé chevrons and a double-G logo add striking dimension to a leather Chelsea boot eased by elastic gores and a webbed pull tab
Whatever pair you choose, you'll be safe knowing that Chelsea boots will never go out of style. They'll come a long way from their origins as shoes designed to grace the feet of a Queen.
The '70s saw these boots break into the mainstream and they have been a fashion staple ever since. They are one of the few styles of shoes that complements both men and women, making them an ideal investment in your closet.
Wherever your life takes you, a pair of Chelsea boots will see you through anything!