In June 2016, The Age of Adaline actress Blake Lively continued her impressive maternity style streak as she promoted the American survival horror film The Shallows in New York City.
Blake Lively was 27 years old when The Age of Adaline premiered in New York City on April 19, 2015, and she turned 28 on August 25, 2015.
Principal photography took place in Vancouver from March 5 to May 5, 2014, when Lively was 26.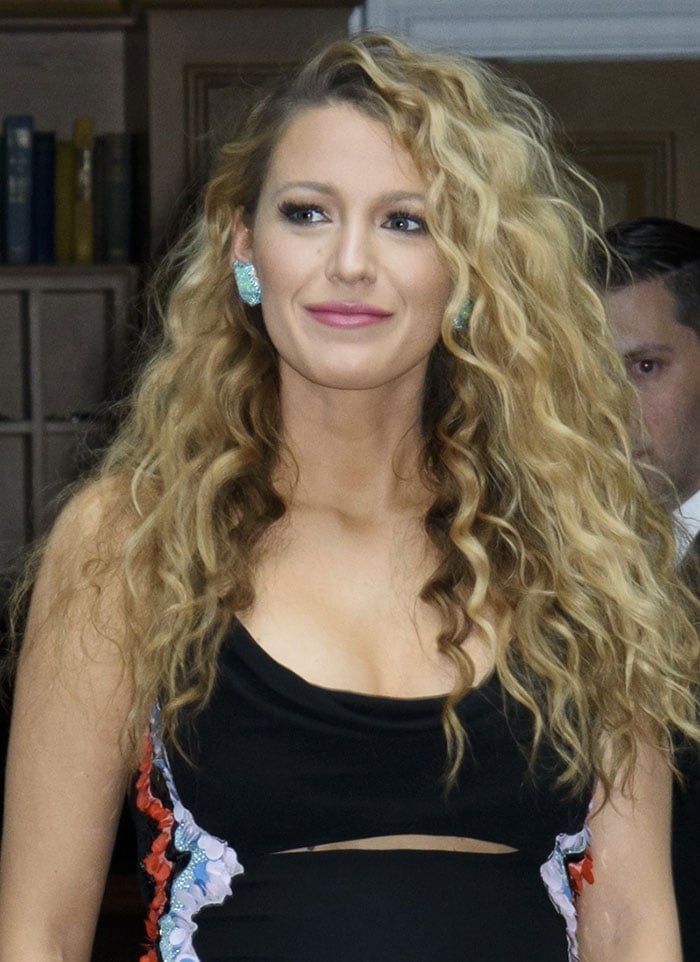 Blake Lively debuts wild curls in her blonde hair as she leaves New York City's Crosby Hotel on June 22, 2016 (Credit: C.Smith / WENN)
Katherine Heigl was initially cast as the lead character, Adaline, and Angela Lansbury was cast to play Adaline's daughter.
However, Heigl withdrew from the project, and rumors circulated that she had been fired, though both Lakeshore and Heigl denied the allegations. The Roswell actress later explained that her departure was due to the recent adoption of her daughter.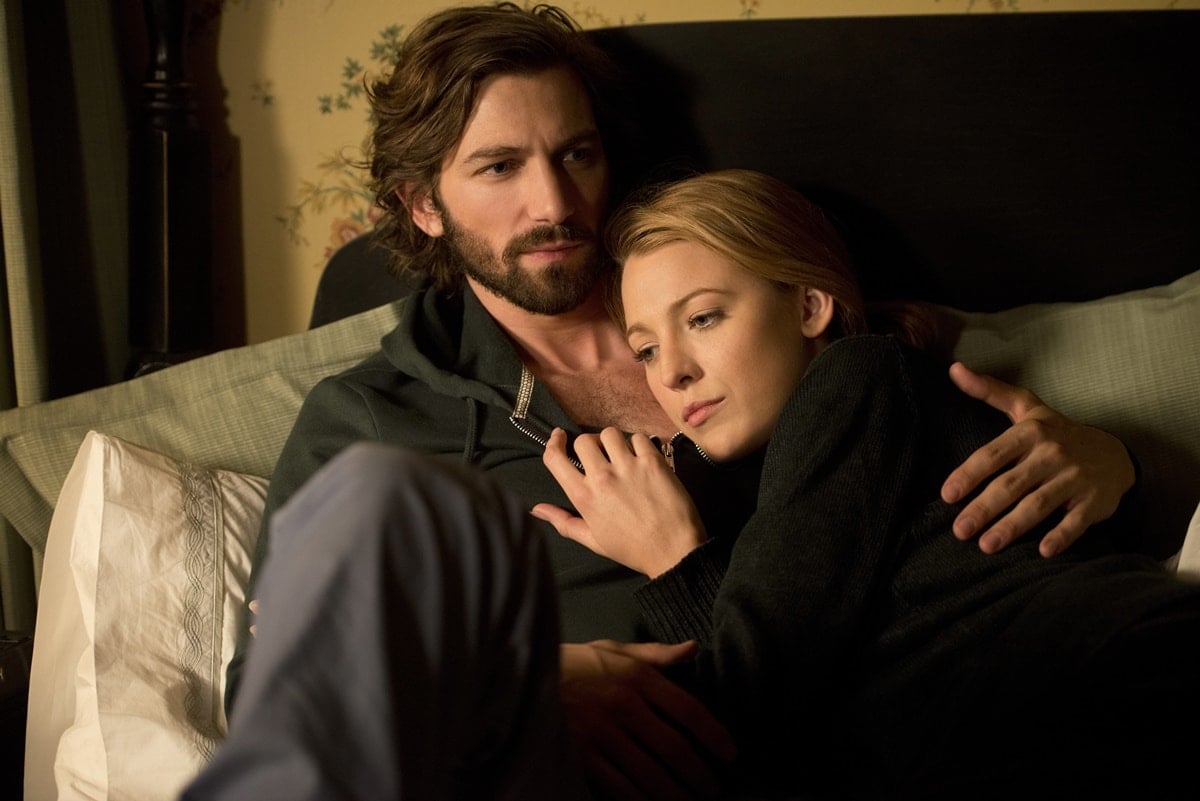 Blake Lively as Adaline Marie Bowman and Michiel Huisman as Ellis Jones in the 2015 American romantic fantasy film The Age of Adaline (Credit: Lionsgate)
After Heigl's departure, Natalie Portman was offered the lead role, but she declined the offer.
Harrison Ford did not provide the voice for his character's younger self in "The Age of Adaline".
Harrison Ford did not voice his younger self in The Age of Adaline (Credit: Lionsgate)
Instead, director Lee Toland Krieger discovered Anthony Ingruber's impression of Ford on YouTube and approached him for the role.
The American film director and screenwriter, who is also known for the films The Vicious Kind (2009) and Celeste and Jesse Forever (2012), had been imitating Ford since he was 15 years old.
Blake Lively waves to fans as she exits her hotel and heads to an appearance on NBC's "Late Night with Seth Meyers" (Credit: C.Smith / WENN)
The then-28-year-old actress stepped out of the Crosby Hotel before her appearance on NBC's "Late Night with Seth Meyers."
She looked hot in a skin-tight black dress, which showcased her burgeoning baby bump.
Blake picked a festive-looking midi dress from Versace's Fall 2016 collection.It featured cutouts and sheer panels down the sides with shimmering paillette sequins in blue, red, and white colors. The slinky frock also had a revealing plunging neckline and a strategically placed slit below the chest.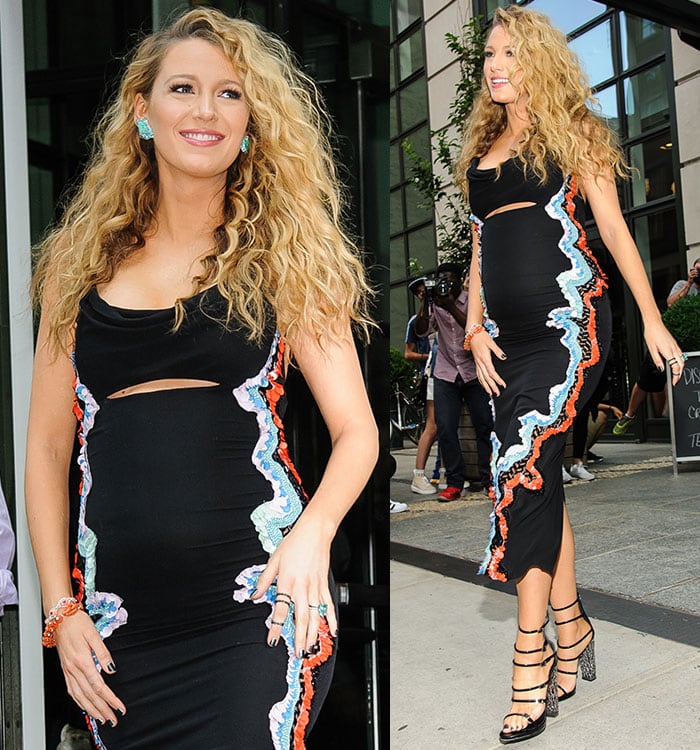 Blake Lively shows off her growing baby bump in a black sequined Versace dress (Credit: C.Smith / WENN)
"I met Obama and I had my whole speech planned," Blake told Seth Meyers about embarrassing herself in front of President Barack Obama at a dinner.
"He was introducing himself to everyone and they were talking about the way that they were gonna change the world. He came to me and I was just like 'I… Hope!' It was just like me summoning hope for myself, it was awful."
"The only thing I could think of was that he'd left my husband a voicemail when he was running for president. So I said, 'You left my husband a voicemail!' And he was like, '…Cool!' And I said, 'And he deleted it!' It was just like, why did I say that?"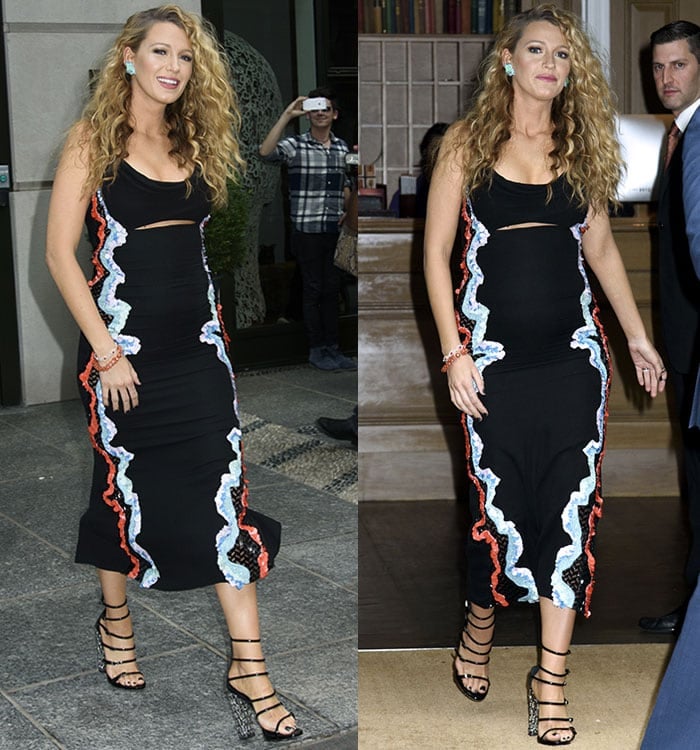 Blake Lively wears a colorful sequined Versace dress while leaving her New York hotel (Credit: C.Smith / WENN)
Blake brought additional color to her ensemble by accessorizing with teal earrings, beaded bracelets, and a couple of statement rings.
Taylor Swift's good friend wore her long tresses in voluminous curls and completed the look with dark mascara, eyeliner, and pink lipstick.
Aside from a series of stunning designer dresses, Blake has also been giving us serious shoe envy. This time, she strutted her stuff in a pair of Giuseppe Zanotti "Lauren" sandals.
Blake Lively's feet in strappy Giuseppe Zanotti sandals (Credit: C.Smith / WENN)
These caged sandals are made of black patent leather and feature six buckled straps.
Most noteworthy were the 4.7-inch caged chunky heels, designed from twisted wires with steel stiletto heels inside.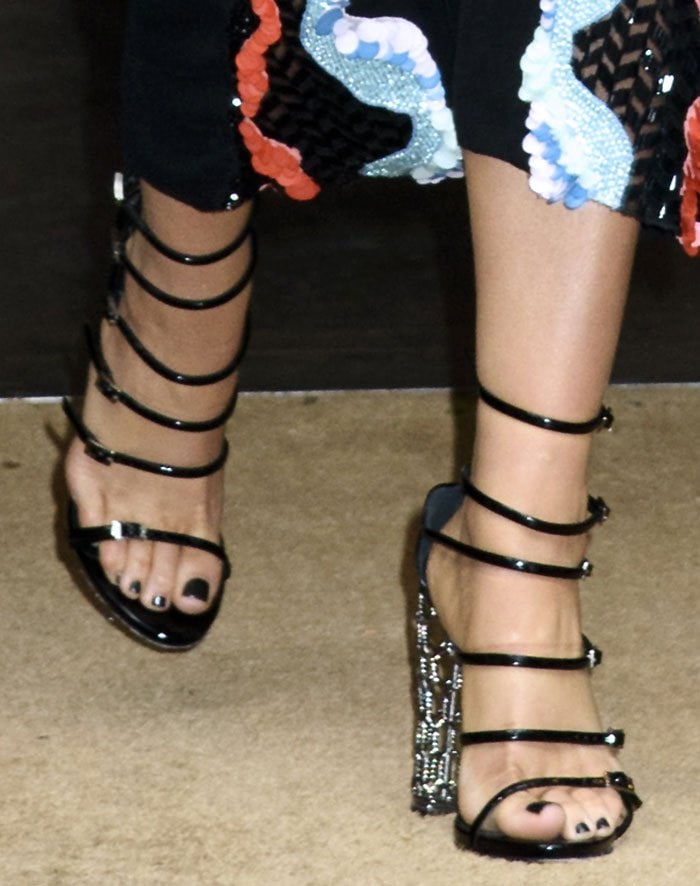 Blake Lively's feet in black patent leather wire-heeled "Lauren" sandals (Credit: C.Smith / WENN)
You can order these hot heels at Farfetch.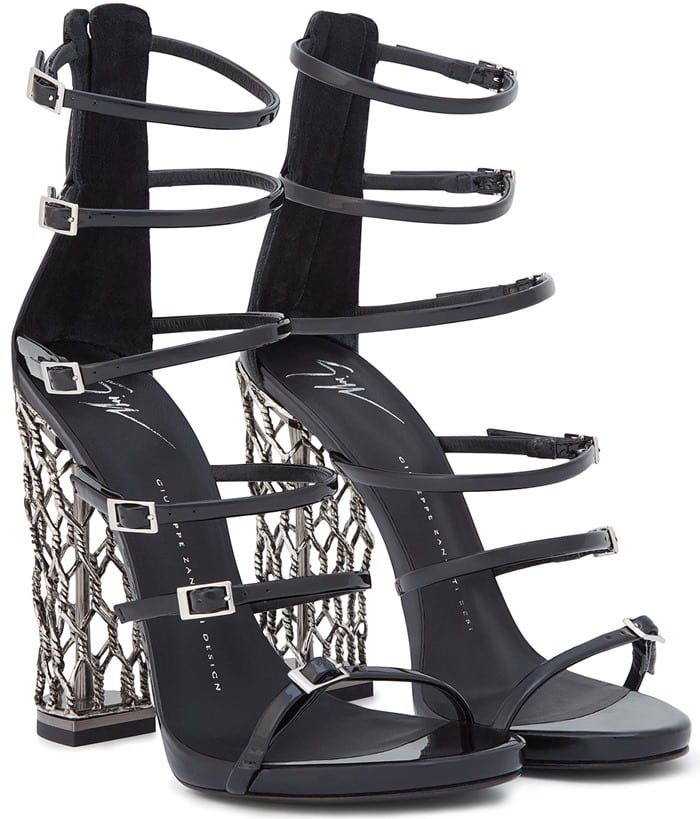 Giuseppe Zanotti "Lauren" Sandals, $1,995