Walt Disney's Jungle Cruise movie just had its world premiere at the happiest place on earth on Saturday.
Inspired by one of Disneyland's original attractions as well as the 1951 movie The African Queen, Jungle Cruise follows the journey of scientist Dr. Lily Houghton (Emily Blunt) and skipper Frank Wolff (Dwayne Johnson) on their thrill-ride down the Amazon in search of the mythical Tree of Life, which is believed to possess healing powers.
The big-budget fantasy adventure film is directed by Jaume Collet-Serra and is scheduled to be released on Friday, July 30.
Before hitting the red carpet at Disneyland in Anaheim, Emily Blunt rode the classic 1955 Jungle Cruise riverboat attraction for the first time with her co-star Dwayne Johnson.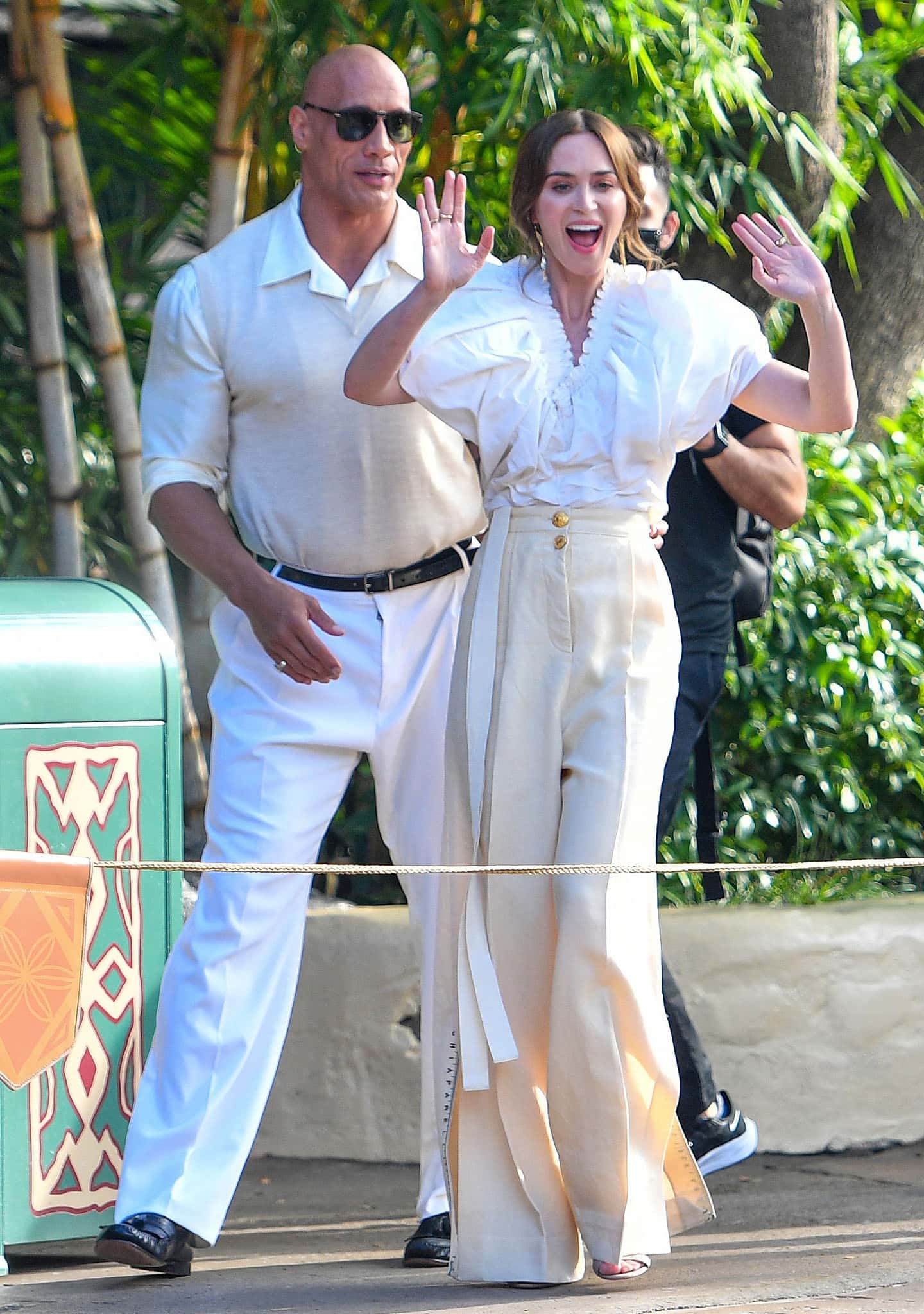 Dwayne Johnson and Emily Blunt ride the Jungle Cruise attraction at Disneyland in Anaheim, California on July 24, 2021 (Credit: Mega / WENN)
Arriving at the premiere, the Sicario star told Hollywood Reporter: "It was beautiful and nostalgic and magical and whimsical and fun, and it was surreal riding it knowing that we're in the movie of it. It was weird for me, it was kind of mad."
"This one, you can't get him off a Jungle Cruise ride. Fifty times he's been on it. Loves a pun and loves the ride," she said of Dwayne.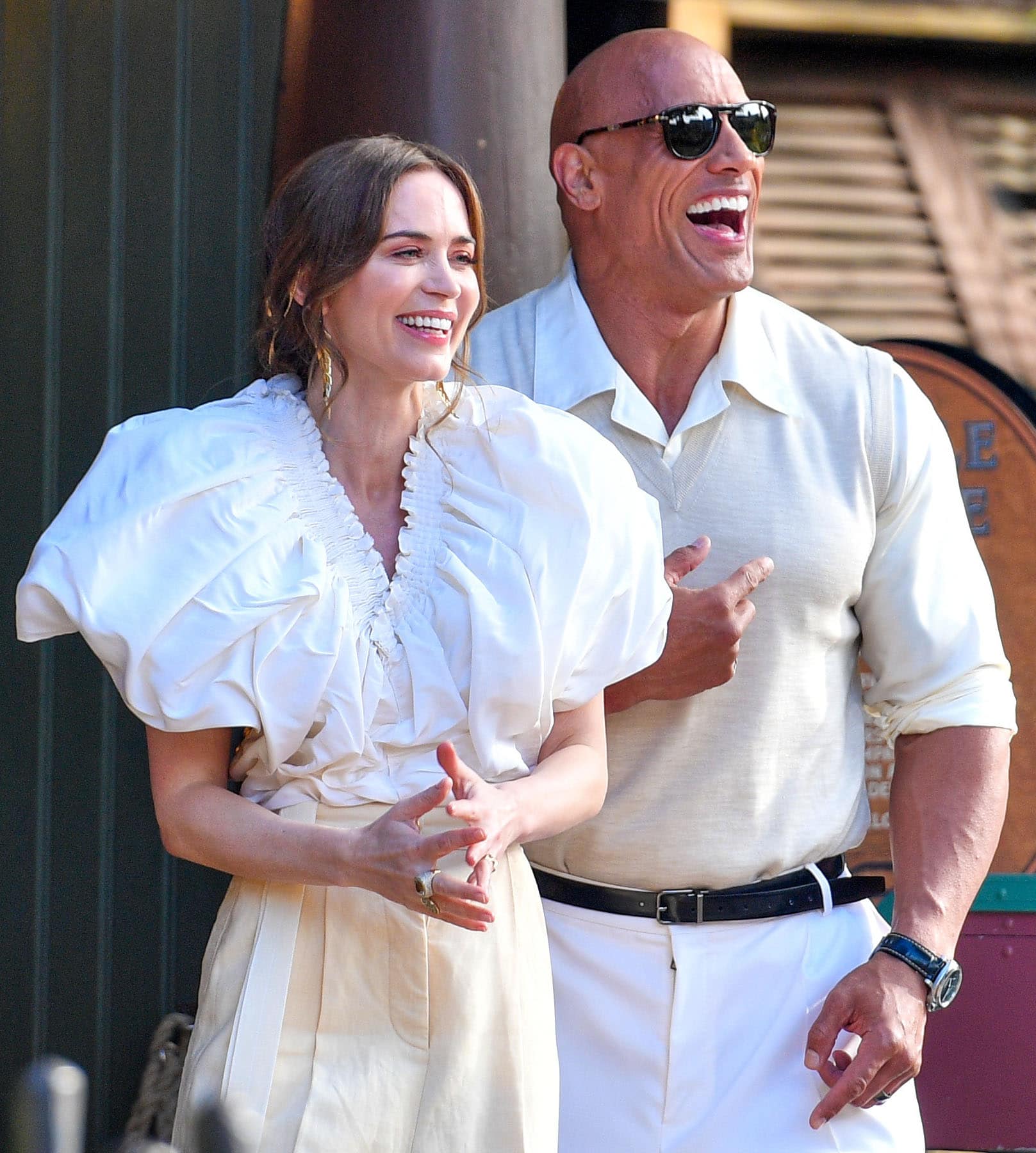 Emily Blunt reveals it's her first time riding the Jungle Cruise during the premiere of her namesake movie (Credit: Mega / WENN)
While she admitted she didn't do any "research" about the ride, Dwayne thought "it was actually the best thing."
"Now when you look back on this perspective, we made the movie and the movie is epic and adventurous and dynamic, but then for her to ride the ride for the very first time—and the ride is really a distilled-down, charming version of the movie—so I loved sitting next to her in the boat watching her watch all of these elements of Jungle Cruise that are so rudimentary," Dwayne said.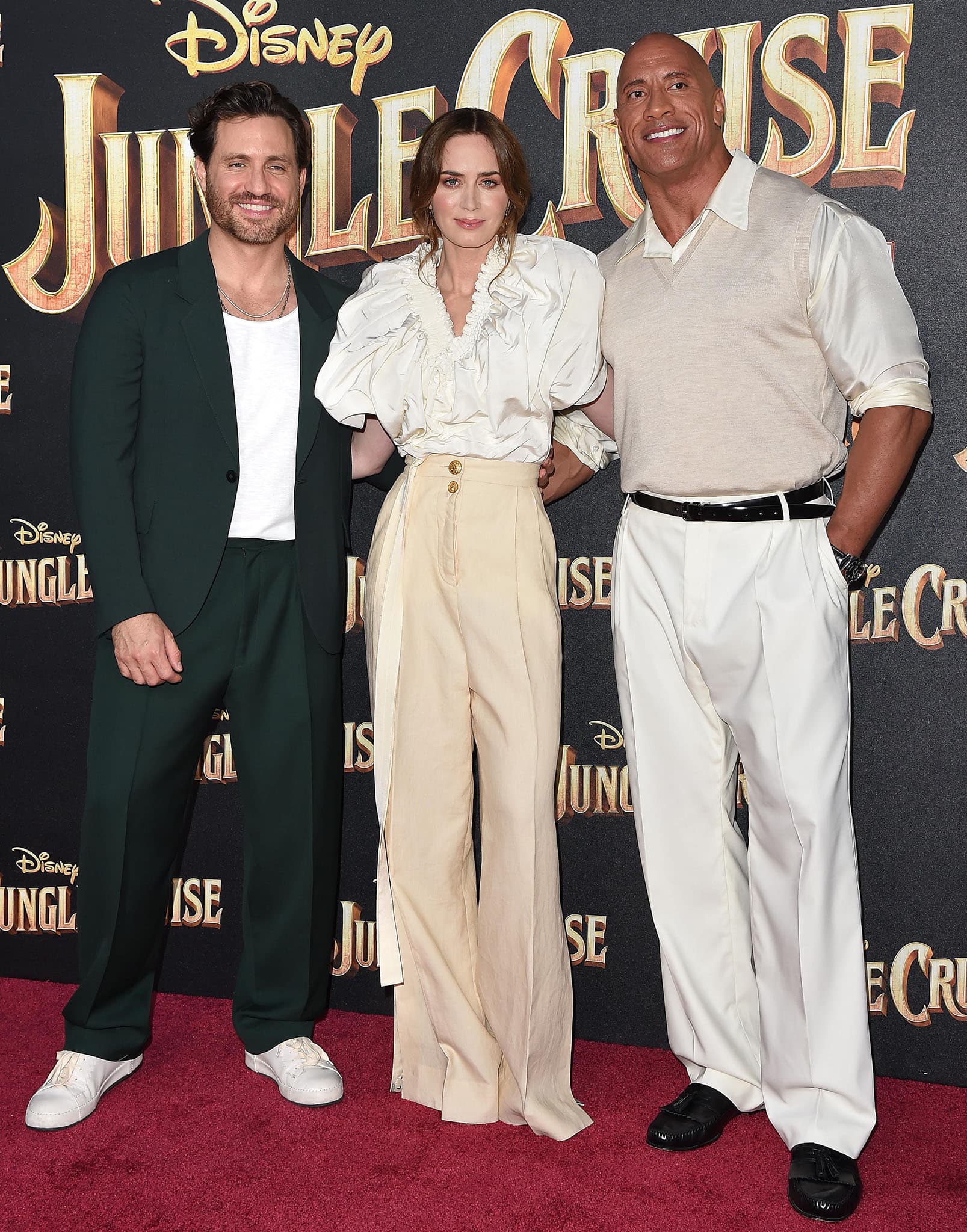 Edgar Ramirez, Emily Blunt, and Dwayne Johnson at the red carpet premiere of Jungle Cruise movie at Disneyland's Fantasyland Theater (Credit: Mega / WENN)
Later that day, the 38-year-old actress brought soft glamour to the red carpet, wearing a full look from Schiaparelli Spring/Summer 2021 collection while posing with Dwayne and Edgar Ramirez.
Is Dwayne Johnson a good kisser?
"Listen, the thing you're missing out on, you know that feeling you get right after you brush your teeth?" Emily told E! News about kissing Dwayne Johnson in Jungle Cruise.
"And it kind of feels fresh and it's really nice? That's not what you're going to get."
Styled by Jessica Paster, Emily wowed in a voluminous puffy blouse with oversized puff sleeves and a ruffled v-neckline. She tucked her cream-colored top into a pair of high-waisted trousers with gold buttons, highlighting her tiny waist.
While on stage at the park's Fantasyland Theater, Emily told the audience: "It's beautiful to be here because the film was made in the spirit of this whimsical, magical place. It's so beautiful for us to finally be bringing the film out."
Emily Blunt wows in her Schiaparelli voluminous puffy blouse and high-waist pants (Credit: Mega / WENN)
The A Quiet Place star kept her jewelry to a minimum with dangling earrings and a couple of statement rings.
Beauty-wise, the mom-of-two wore warm dewy makeup, care of makeup artist Jenn Streicher. She applied Westman Atelier Les Jours eye pods over her eyelid and lower lash line before adding chocolate pod in the crease and deep bronze gold over the entire lid.
Not related to James Blunt, the British actress highlighted her cheekbones with a bronzer and added a hint of light blush and a swipe of pink lip gloss.
To complement the texture on her blouse, hairstylist Laini Reeves styled Emily's hair into a chic updo held in place by gold clips and beaded strands. She also pulled a few curled tendrils in front to frame her face.
Emily Blunt wears a chic updo with face-framing tendrils and accentuates her eyes with Westman Atelier eye pods (Credit: Mega / WENN)
John Krasinski's wife rounded out her red-carpet outfit with a pair of glittery Christian Louboutin sandals, which were hidden underneath her floor-sweeping loose pants.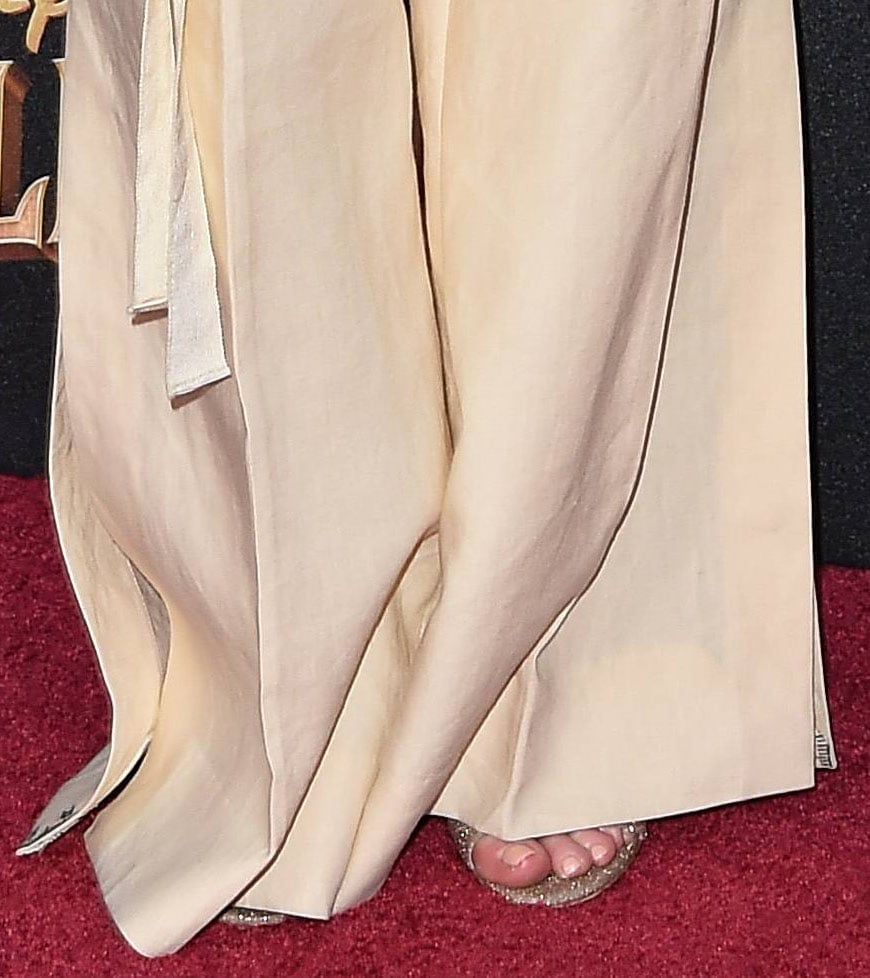 Emily Blunt pairs her loose-fitting pants with Christian Louboutin glittery open-toe sandals (Credit: Mega / WENN)
Meanwhile, The Rock opted for an ivory sleeveless vest worn over a white button-down shirt and tucked into a pair of belted white trousers.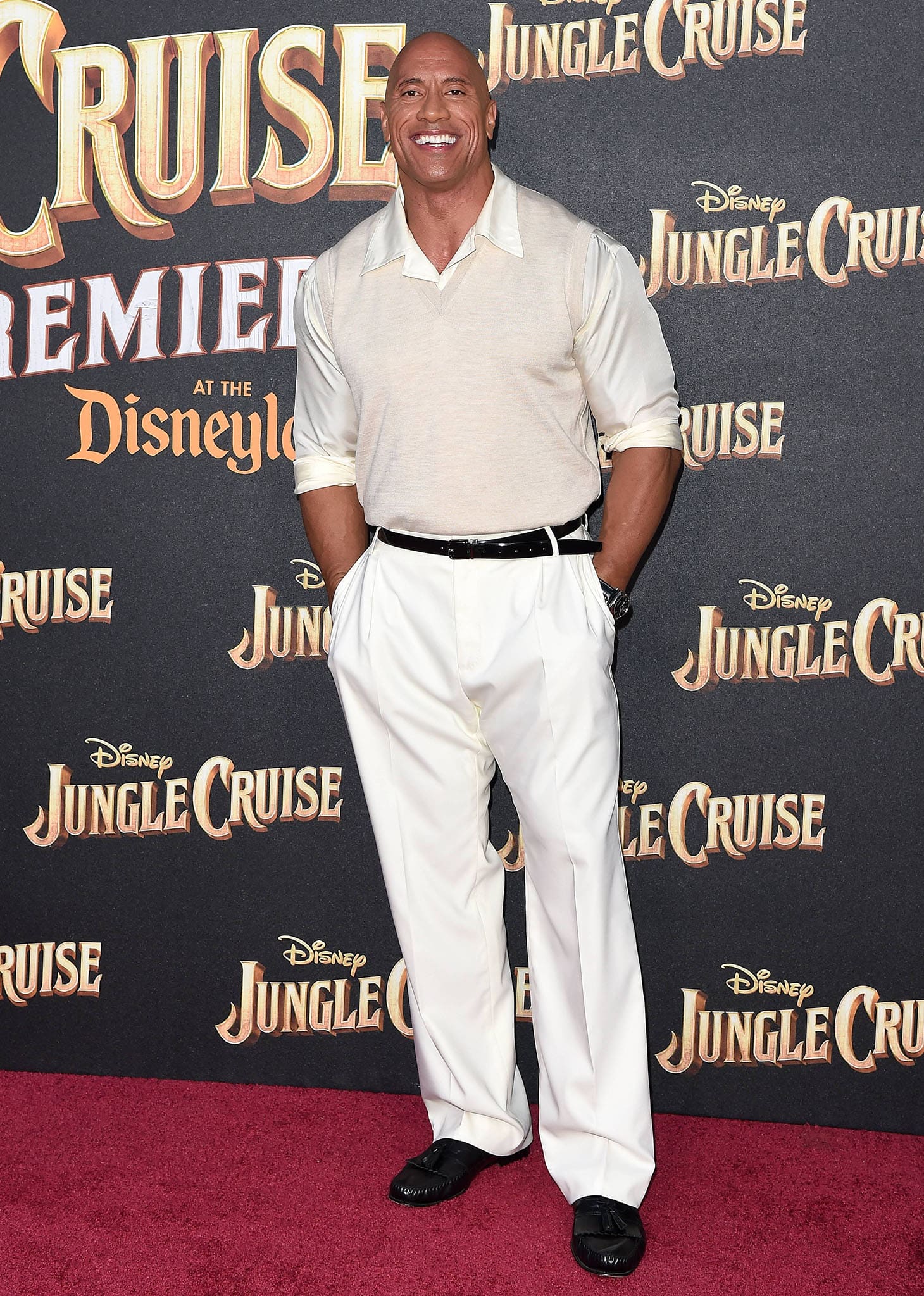 Dwayne Johnson wears a sleeveless knit vest over a button-down shirt with white pants and black loafers (Credit: Mega / WENN)