She is set to star in the survival thriller Borrego, written and directed by Jesse Harris. Scheduled for release on Friday, January 14, the movie follows Lucy Hale's character, Elly, a botanist captured by a drug mule after his plane crashed in the Borrego desert.
Lucy Hale and Nicholas Gonzales, who shared the screen in the popular television series Pretty Little Liars, are reuniting for the 2022 American survival-crime-thriller film Borrego.
In a Monday interview with Extra, the 32-year-old actress spoke about her upcoming film, and her take on the HBO Max reboot of Pretty Little Liars.
"There's a lot of heart to it, and there's a lot of pain to it," she said of the film, adding that she read the script three years ago and knew it would challenge her "physically, definitely emotionally, and mentally."
"The first day, I ran up this canyon because we shoot out of sequence, and I pulled a quad muscle."
"It was just challenging, and it was so rewarding though, at the end of it, I was on the verge of a breakdown, but I was like, 'We did it,' and I'm really proud of it."
Lucy Hale said she's available for the Pretty Little Liars HBO Max reboot (Credit: Mega / WENN)
Ready to participate in the PLL reboot, Lucy jokingly said she was waiting for a phone call. "I'm open to any idea of that, but I'm not involved in any way other than just being genuinely excited and curious about what they're doing."
She added, "I'm just always a supporter of fellow actors. I keep saying I think people want me to be upset that there's a reboot, but, like, that's just never going to happen because it's so hard to get things made and to get cast and things, and I genuinely hope it's great for them."
"It's flattering they want to do a reboot, in my opinion," she continued.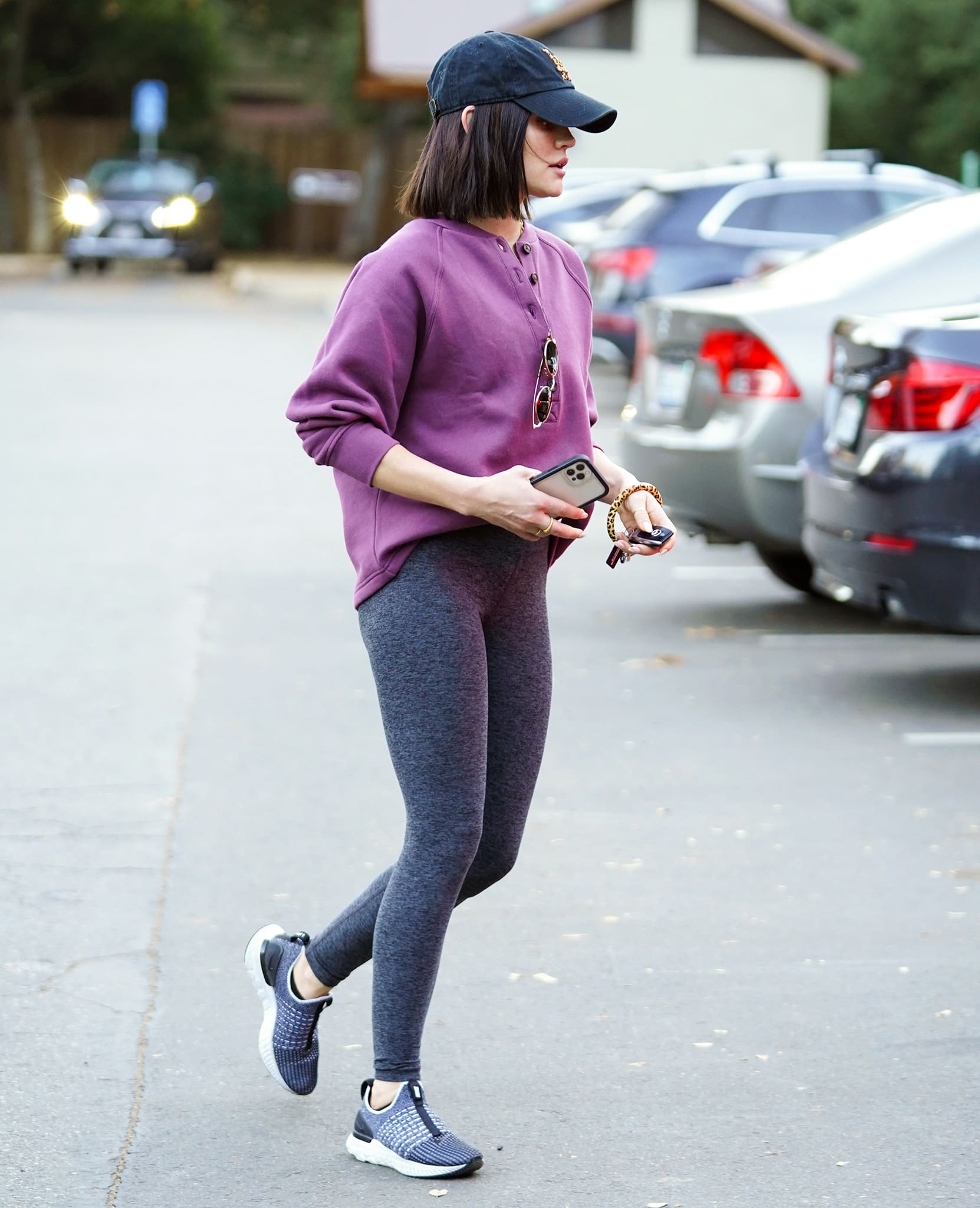 Lucy Hale out and about in Los Angeles in a purple blouse and dark gray leggings on January 6, 2022 (Credit: Mega / WENN)
Following the holiday festivities, Lucy Hale is back to her usual routine. On Thursday, the Katy Keene star was spotted in Los Angeles in her usual athleisure.
She couldn't be missed in a purple long-sleeved blouse with brown buttons down the front, half-tucked into dark heather gray leggings.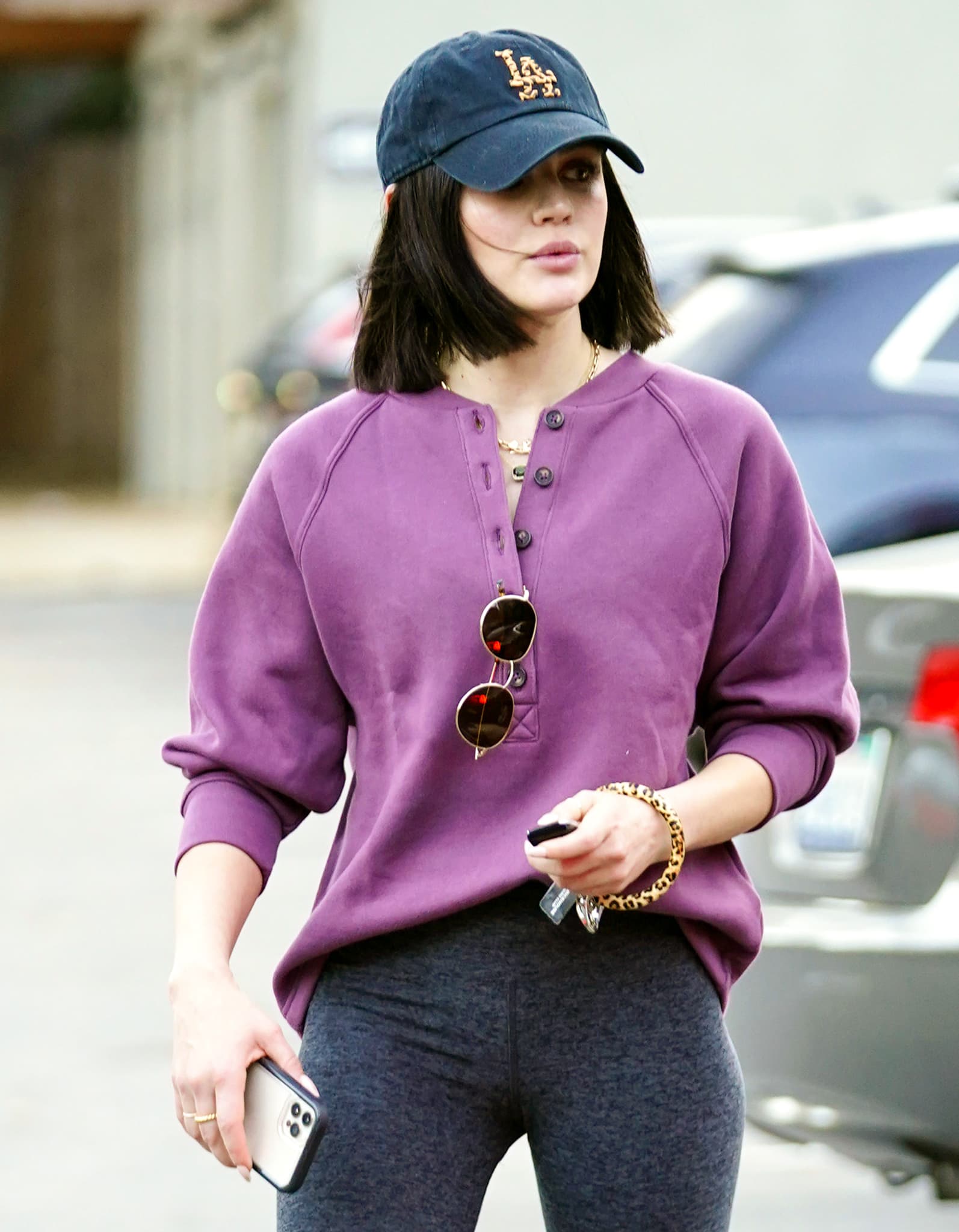 Lucy Hale wears minimal makeup and tucks her hair underneath a cheetah-printed LA Dodgers cap (Credit: Mega / WENN)
As for her accessories, Lucy wore a gold chain necklace, gold rings, semi-rounded sunglasses, and a '47 Brand cheetah-printed LA Dodgers cap that matched her $25 Oventure Cheetah O key ring.
With her natural beauty enhanced by minimal makeup and iconic bob hairstyle, Lucy effortlessly complemented her athleisure ensemble with the sleek and stylish Nike React Phantom Run Flyknit sneakers.
These sneakers feature a Flyknit upper, impact-absorbing lightweight cushioning, a removable cushioned insole, and a Nike React foam sole.
Lucy Hale coordinates her gray leggings with Nike React Phantom Run Flyknit sneakers (Credit: Mega / WENN)