When it comes to reputation in the footwear industry, it doesn't get much higher than that of Italian shoes.
The Mediterranean nation is the home of some of the most prestigious fashion houses on the planet, including the iconic luxury footwear label Bruno Magli.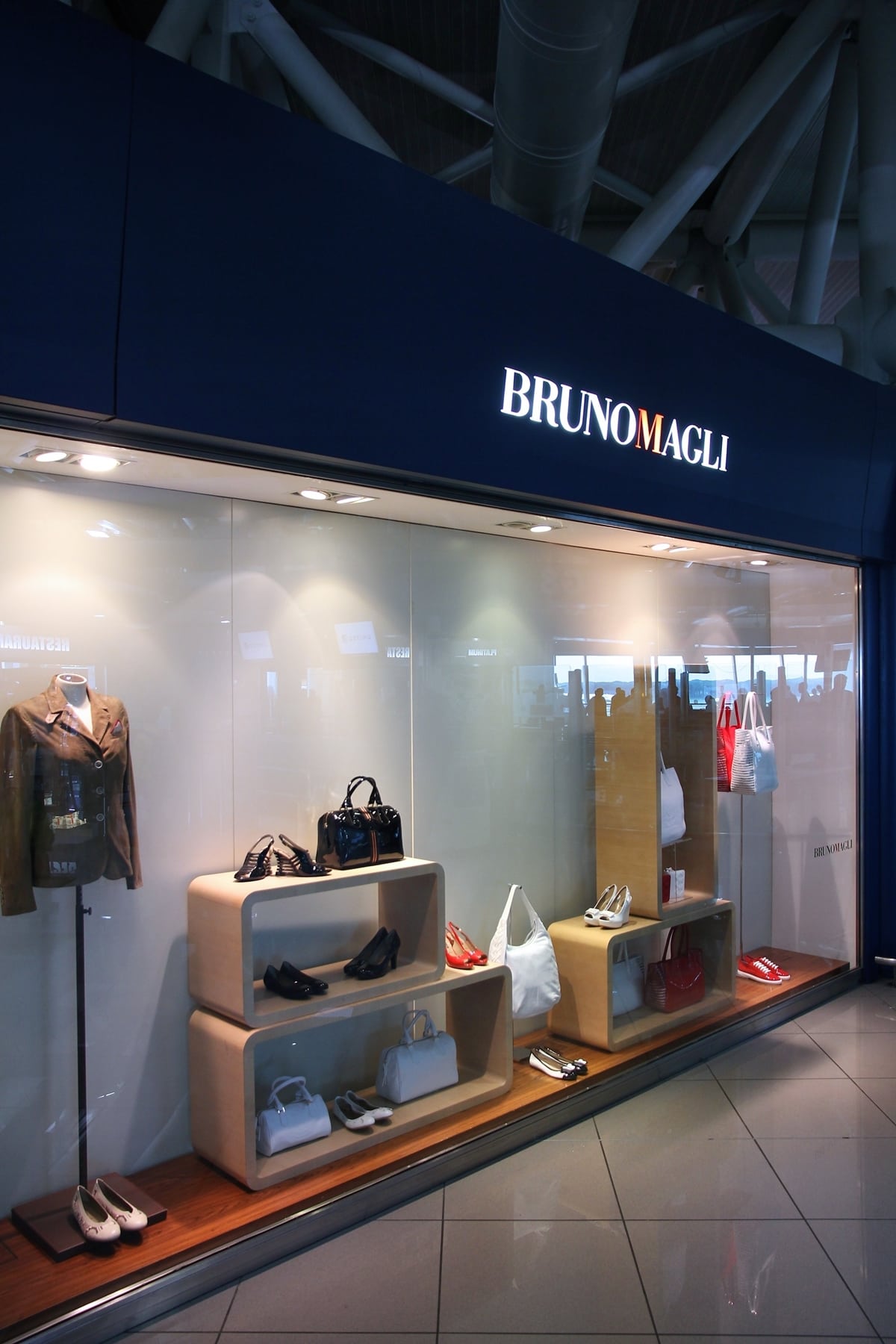 Bruno Magli is an upscale Italian brand of footwear and clothes founded in 1936 (Credit: Tupungato / Shutterstock)
In a world obsessed with novelty, Bruno Magli proves that sometimes it's best to stick to what you know. The brand has maintained its luxury status since 1936 by upholding time-honored traditions and choosing classic designs.
It's been a celebrity favorite since its rise to fame in the 50s and is still well-loved by the most stylish people on the planet. Find out all about the quintessential Italian shoe label below!
The History of Bruno Magli
Bruno Magli started out as a small family business in Bologna, Italy. Shoemaking and fine craftsmanship was a family tradition; Bruno's grandfather was a cobbler who taught him everything he knew.
Bruno was joined by his siblings Maria and Marino in their humble basement headquarters. By 1947 the operation moved into a proper factory, and their product range expanded to include both men's and women's shoes.
Bruno Magli's luxurious dress shoes are still designed and produced in Italy (Credit: Bruno Magli Facebook)
The company saw rapid growth throughout the 1950s and 60s, after opening several boutiques across Italy. Bruno Magli soon became world-famous for its fine quality and craftsmanship. It was favored by illustrious celebrities like Sophia Loren and Marilyn Monroe.
The label continued its global expansion over the next few decades and also introduced an accessories range featuring handbags and cold-weather goods. By the 1990s Bruno Magli boutiques could be found on almost every continent!
Legendary Italian Quality & Craftsmanship
To this day, Bruno Magli shoes are renowned for their high level of quality and exceptional Italian craftsmanship.
The brand is dedicated to preserving the traditional Italian shoe-making techniques that the Magli siblings and their ancestors used. All Bruno Magli shoes and accessories are still designed and handmade in Italy as a nod to the brand's heritage.
Bruno Magli shoes are timeless and sophisticated, made with clean lines and simple details that will never go out of style. Although the brand has added modern styles like sneakers and slides into their collections, the designs still retain a classic Italian aesthetic.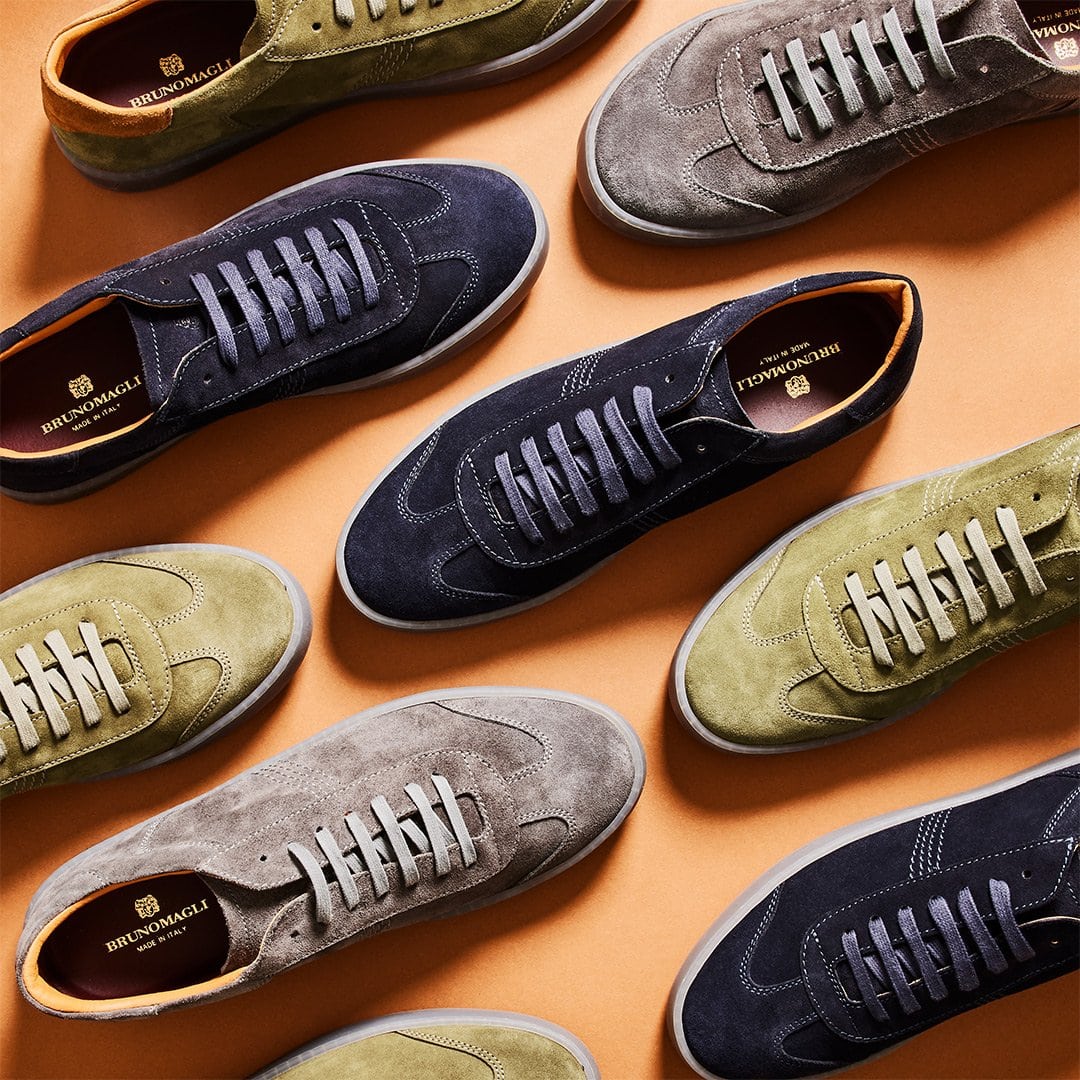 Bruno Magli's timeless lace-up sneaker silhouette is crafted with soft Italian full-grain leather uppers and calf leather linings (Credit: Bruno Magli Facebook)
Bruno Magli brogues, loafers, and pumps are particularly sought after by business professionals and special occasion shoppers.
The label is still a favorite among A-list celebrities, including John Legend, Liev Schreiber, and brand ambassador Lucy Liu. Fashion enthusiasts from all walks of life also love Bruno Magli products for their reasonable price points.
Despite being handmade in Italy with top-quality leather, most shoes range from $300 – $500, making Bruno Magli leaders of accessible luxury.
An Unexpected Celebrity Endorsement
Bruno Magli's worldwide popularity is also linked to a notorious event in pop culture history: the OJ Simpson murder trial in the 1990s. A pair of Bruno Magli 'Lorenzo' shoes were used as part of the evidence against the infamous football player, an alleged fan of the brand.
The sinister proof was a bloody 'Lorenzo' footprint in size 12, which happened to be OJ Simpson's size. Although it was never proven that OJ owned those particular Bruno Magli shoes, civil prosecutor Daniel Petrocelli believed it was a possibility.
Bruno Magli's classic bit loafer slip-on is sophisticated and versatile
The footballer had previously been photographed in another pair of Bruno Magli's at a 1993 football game.
According to Petrocelli, only 9% of the population wore that size, and a mere 299 pairs of Bruno Magli's Lorenzo shoes had been sold in the USA around the time of the murder.
In a strange turn of events, this new public exposure to the Bruno Magli brand led to a 30% increase in sales in 1996. Although the shoes did not end up being the strong piece of evidence that Daniel Petrocelli hoped for, they certainly proved that all press is good press!
The Best Places To Buy Bruno Magli Shoes
Are you ready to add some fine Italian quality to your shoe collection? As a renowned luxury label, Bruno Magli shoes can be found in many designer department stores. Our favorite places to shop for Bruno Magli shoes are:
1. Macy's
2. Zappos
3. Nordstrom
4. Amazon
You can also visit the official Bruno Magli website to view their full range of Italian shoes, sunglasses, cold weather accessories, and leather goods!
Caitlyn Jenner is definitely a Kardashian. The former Olympic athlete and current reality TV star seems to be taking fashion tips from her kids.
Caitlyn Jenner's makeup was light and natural and she kept her hair in loose waves (Credit: WENN)
In October 2016, she looked as chic as the rest of the "Keeping Up" clan at the screening of the biographical war film Hacksaw Ridge.
The then 66-year-old donned a rose pink bodycon dress that showed off her long legs and curves. The dress looked like something out of Kim Kardashian's closet.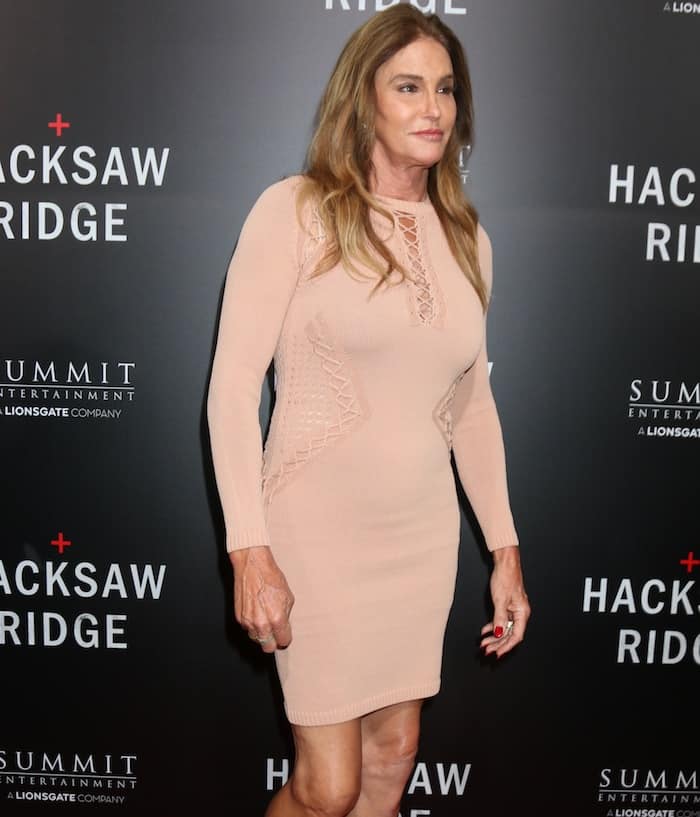 Caitlyn Jenner bared some skin in a sexy dress (Credit: WENN)
Though the former Bruce Jenner didn't show as much skin as his daughters would have, she still bared some flesh.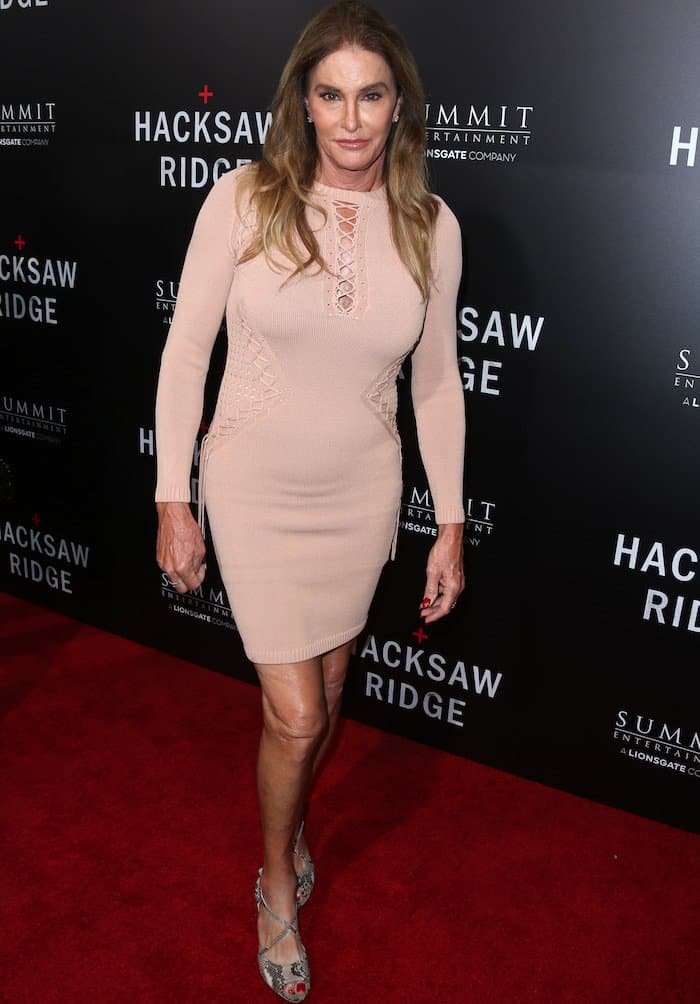 Caitlyn Jenner flaunts her legs in a rose pink bodycon dress (Credit: WENN)
Caitlyn's makeup was light and natural and she kept her hair in loose waves.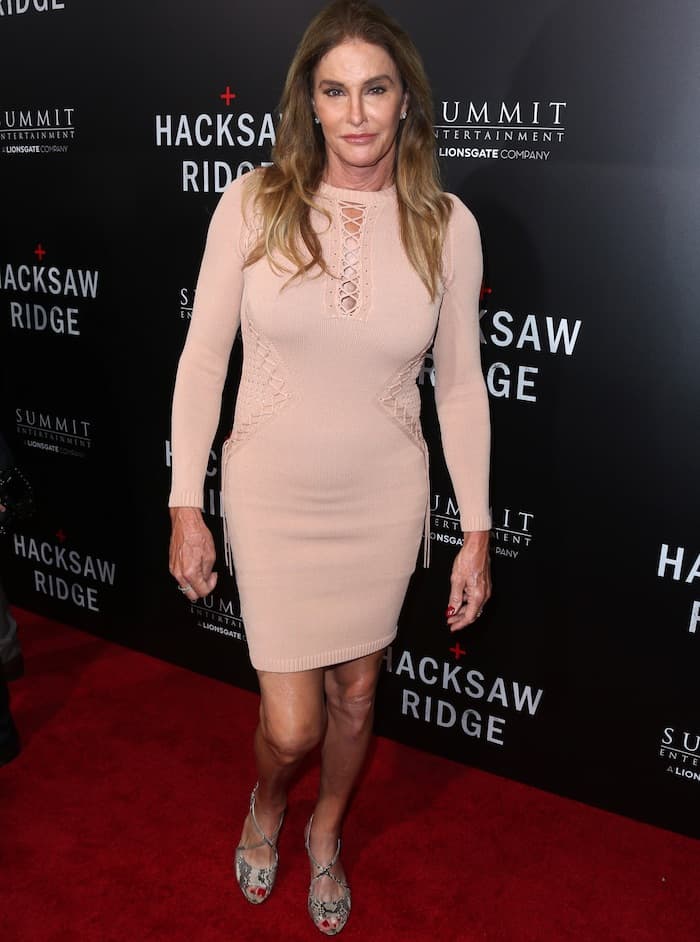 Caitlyn Jenner in a pink bodycon dress at the screening of Hacksaw Ridge in Beverly Hills on October 24, 2016 (Credit: WENN)
The Kardashian-Jenner patriarch paired her fitted dress with Bruno Magli snakeskin sandals.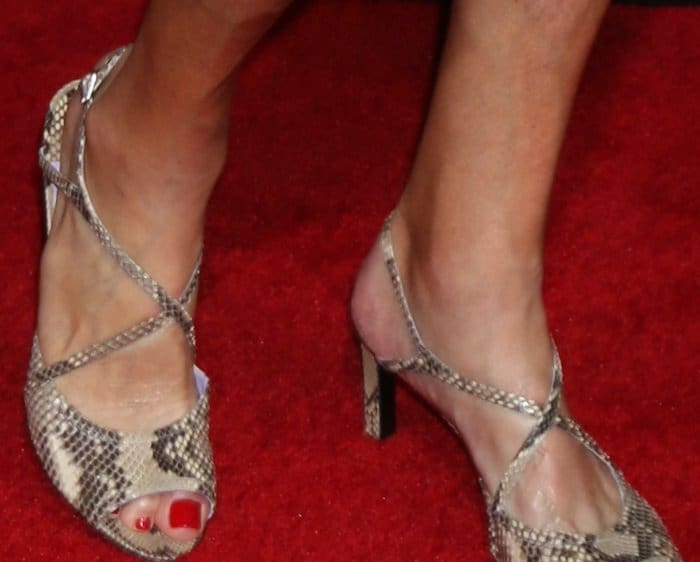 Caitlyn Jenner shows off her feet in Bruno Magli sandals (Credit: WENN)
Since she already stands tall at 6'2 inches, the sandals featured shorter 2.9-inch heels. She is totally owning her femininity.
Caitlyn Jenner rocks Bruno Magli snakeskin shoes (Credit: WENN)
Snakeskin Bruno Magli Sandals, £428