Luxurious and smooth calf hair shoes are some of the most coveted designs in the high-end shoe market.
They're famous for their sleek, hair-like texture and subtle sheen. But what exactly are they, and where do they come from? Below, we'll share everything you need about calf hair shoes!
What Are Calf Hair Shoes?
As the name suggests, calf hair shoes come from the hides of young cows or goats. They are created from the hairy side of the hide, while other types of leather come from the internal side.
The hide is tanned and treated like regular leather, but the pelt is closely shaved to resemble a smooth horse's hide.
The material is first bleached to a pristine white, creating an ideal canvas for dyeing or introducing patterns. Animal prints are the most popular choice for calf hair products, especially cow, leopard, or zebra prints.
Calf hair shoes come from the hides of young cows or goats (Credit: Simon Mayer / Shutterstock)
Calf hair can also be called pony hair, pony fur, haircalf, or hair-on-leather. It's important to note that the term pony hair derives from the texture only. Pony hair shoes are almost never made from actual ponies.
Are Calf Hair Shoes Cruelty-Free?
The ethics of calf hair shoes primarily comes down to personal opinions and beliefs. Genuine calf hair is an animal product, so it's not vegan.
It's also technically a type of fur since it comes from the upper part of a hide, which animal hair derives from.
However, if the calf hair comes from leather, a by-product of the meat industry, it can be considered cruelty-free.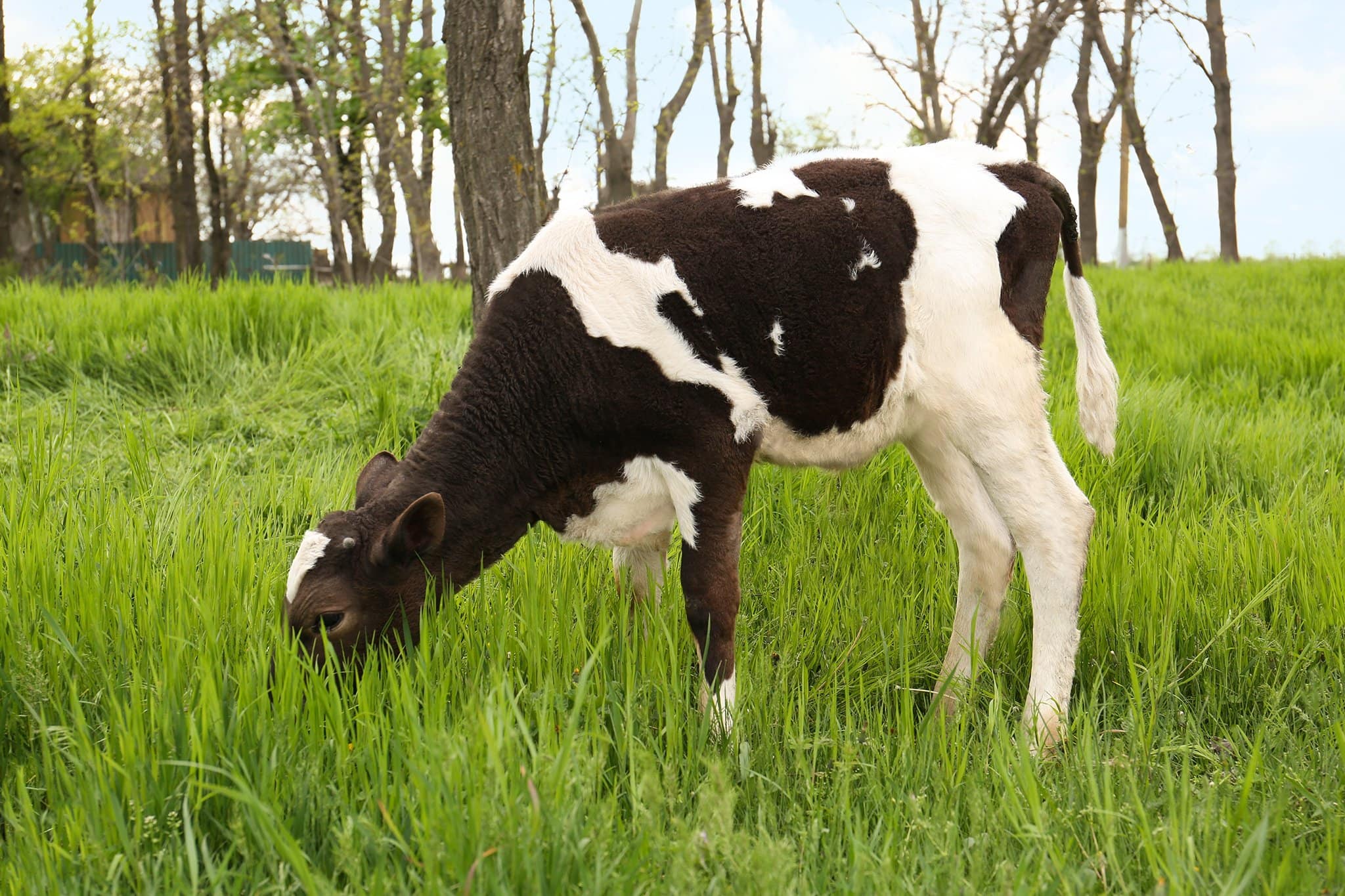 Calf hair shoes are cruelty-free if the calf hair comes from leather that is a by-product of the meat industry (Credit: New Africa / Shutterstock)
Turning these by-products into leather goods is the best way to reduce waste from the meat industry. If the calf hair comes from cows or goats that were killed explicitly for their hides, it sadly can't be considered cruelty-free.
You can view calf hair leather precisely like how you view other types of leather since it's just created with the other side of the hide.
How To Care For Calf Hair Shoes
Calf hair leather is a delicate material that deserves extra care and attention. It's susceptible to staining and tearing, so ensure you're treating your calf hair shoes correctly.
They can last decades with proper treatment, but they can also be damaged beyond repair if you're not careful.
You can clean your calf hair shoes by brushing them with a damp cloth in the direction of the grain. Don't miss the below videos from Rollie Nation and Poppy Barley.
1. Always stick to one motion; never brush back and forth
Always brush your calf shoes in one motion (Credit: Poppy Barley / YouTube)
2. Wet your damp cloth with warm water or a mixture of warm water and mild soap.
You can use a damp cloth to wipe away dirt marks (Credit: Rollie Nation / YouTube)
3. Avoid getting your shoes too wet
Avoid soaking your shoes in water (Credit: Norb_KM / Shutterstock)
Avoid dirt build-up and matting by periodically brushing them with a small bristle brush. You can invest in a specialty brush, but a regular brush is also fine.
The frequency of brushing will depend on how often you wear your shoes, but generally, once a month is fine. You can also use hair conditioner on your calf hair shoes in cases of extreme matting.
Another cleaning technique is placing your shoes in a bag with some cornmeal and shaking it. The cornmeal will absorb dirt, leaving your calf hair shoes clean and fresh.
Be sure to store your calf hair shoes in a clean, dry environment, away from extreme temperatures. You may want to store them in a dust bag or box for extra protection.
You can also use a protective spray to keep your shoes in great condition, but make sure it's specialized for calf hair.
What If My Calf Hair Shoes Get Wet?
Calf hair leather is naturally water-resistant, but you should still avoid getting shoes wet. Excessive exposure to water can cause irreversible damage.
Try only to wear calf hair shoes in dry weather. If you get caught in the rain, dry them immediately with a cloth and change your shoes as soon as possible.
Fashion's Most Popular Calf Hair Shoes
Luxury shoe designers love using calf hair leather for their most glamorous shoes.
Stuart Weitzman has become synonymous with calf hair shoes, using sleek leather on various styles of heels, boots, and flats over the years. It's also a favorite of Christian Louboutin, Valentino, and Tod's.
1. Stuart Weitzman Nudistcurve 100 Sandal in Classic Cheetah, $495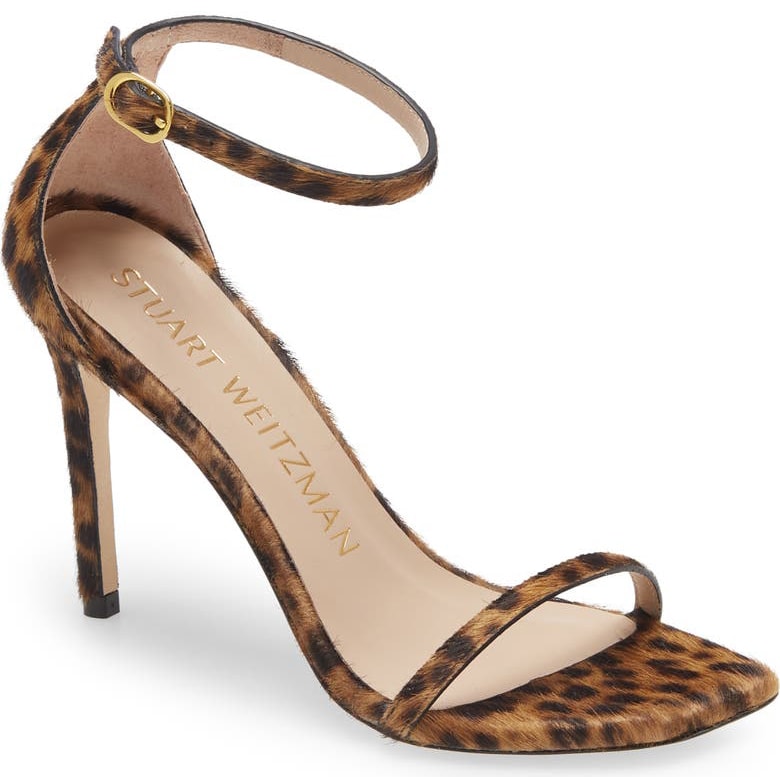 The classic favorite Nudistcurve in genuine calf hair
2. Christian Louboutin Leopard Print So Kate Booties 85, $1,295
Crafted in Italy from smooth calf hair, the So Kate booties are updated in a bold leopard print
3. Valentino VLOGO Signature Calf Hair Slingback Pumps, $1,090
The Vlogo Signature slingback is made of calfskin with leopard print and VLogo Signature embellishment
4. Tod's Tasseled Leopard Print Calf Hair Slippers, $995

Tod's comfy slippers in striking leopard-print calf hair with tasseled trims