The 2011 Teen Choice Awards had its fair share of celebs in delightful (and even outrageous) footwear, but the only pair that took our breaths away was the one worn by a certain leggy Cameron Diaz.
The actress accepted her surf board for Best Actress for Comedy award in classic but stylish fashion via a simple beige strapless dress by A.L.C. complemented with straight locks and a strikingly gorgeous pair of architectural colorblock heels. Her outfit was completed with a nude Chloé 'Sally' clutch and Vhernier cocktail rings: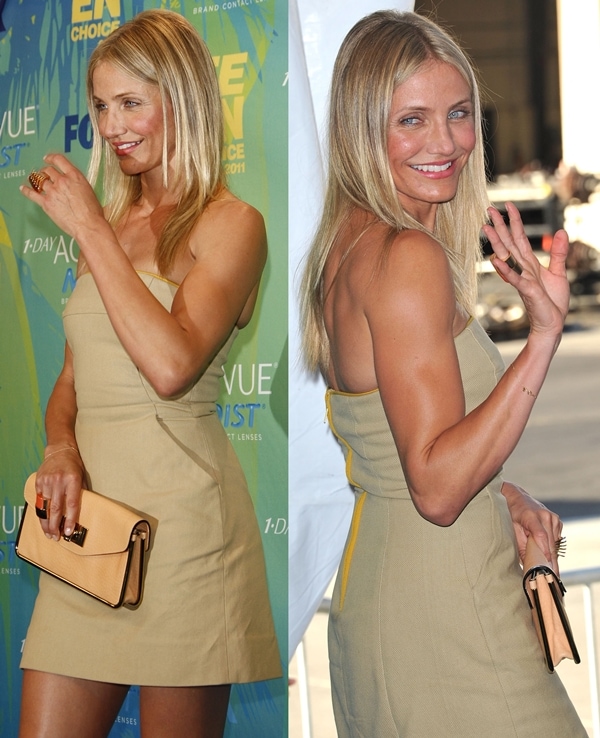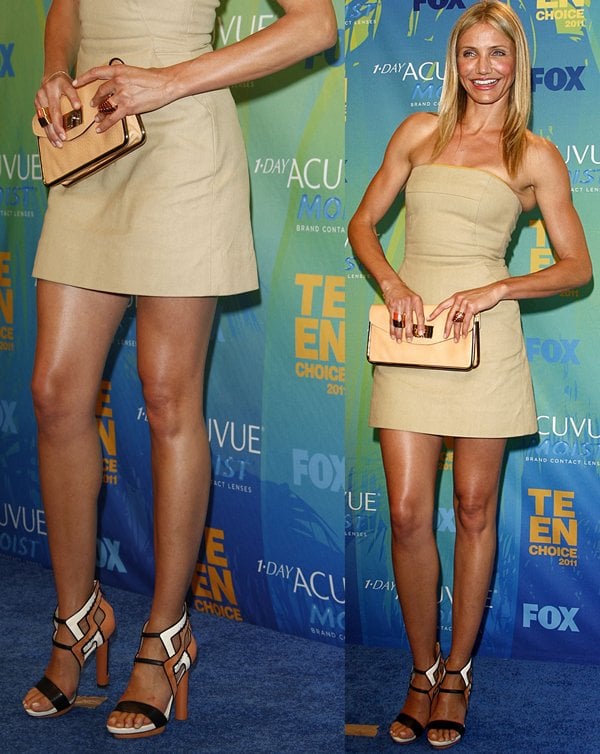 Cameron Diaz shows off her surf board (and sandals) at the 2011 Teen Choice Awards Press Room in Universal City on August 7, 2011
Fabulous mile-long gams aside, what do you think of Cameron's carrot hued strappies? Stunning, yes? If you must know, the sandals are from an up and coming designer named Burak Uyan. Looking at the shoe alone would be enough to tell you that this newcomer will be a big hit, AND will most likely give Nicholas Kirkwood, Jimmy Choo, and the rest of the big wigs a run for their money.
Burak Uyan is a German shoe designer who is currently based in Paris. The sandals on Cam belong to his Spring 2011 Collection. If you want a closer look, below is a zoomed up shot for you. As you can see, the shoe, with its sharp turns, whip stitch accent, sculptured cylindrical heel, and dramatic bold to neutral combination, is undeniably fascinating to watch.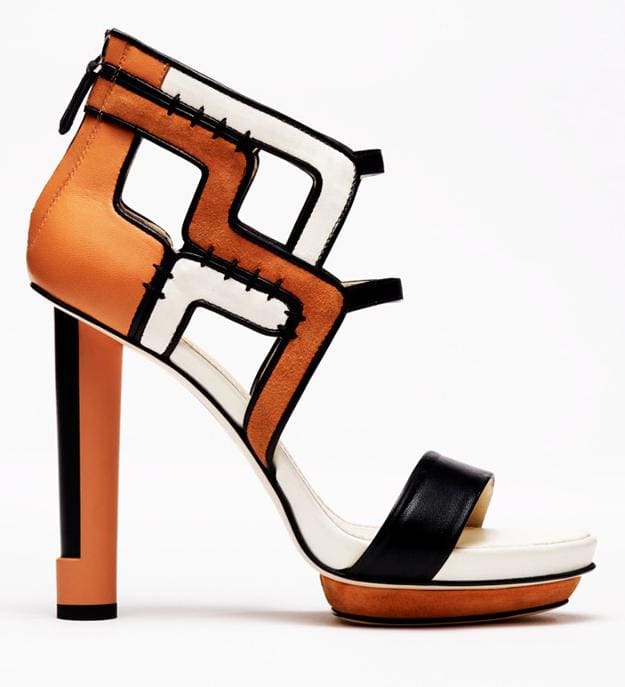 Burak Uyan Color Block Sandal, Spring 2011
Burak Uyan shoes can be purchased via LusiaViaRoma. Unfortunately, this particular style seems to be sold out already so if you want it, you'll need to be a little more resourceful to get it.
That said, because we could not find anything even remotely similar to the pair, we decided to give you the latest from Burak Uyan instead. These sandals are now available on LuisaViaRoma and are part of his Fall 2011 line-up:
Burak Uyan Karung Ankle Strap Sandal, $1439
Burak Uyan Suede and Metallic Criss Cross Sandal, $1169
Credit: Starbux /Ad Media/WENN