In a new interview with British Vogue about her career goals and struggle with anxiety, Zendaya reveals her plans to direct a movie of her own in the future.
"If I ever do become a film-maker, I know that the leads of my films will always be black women," she said.
Zendaya in a two-piece knitted look from Alaia's Spring 2022 collection and Timothée Chalamet in Tom Ford at the premiere of Dune at Le Grand Rex on September 6, 2021, in Paris, France (Credit: MEGA / WENN)
"I gotta hurry up and figure out how to f**king become a director, man. I'm trying, I'm learning every day, I really am. There's so much I want to do."
Having struggled with anxiety before live singing ever since a 2013 performance on the Ellen DeGeneres show, she also opened up about the importance of therapy.
"I mean, if anybody is able to possess the financial means to go to therapy, I would recommend they do that," she said.
Zendaya says her next career goal is stepping behind the camera (Credit: MEGA / WENN)
"I think it's a beautiful thing. You know, there's nothing wrong with working on yourself and dealing with those things with someone who can help you, someone who can talk to you, who's not your mom or whatever. Who has no bias."
In 2017, she discussed her anxiety in a post on her app. "I used to struggle with anxiety pretty bad. It only happened when I sang live, not when I danced or did any other live performances, and it stemmed from a bad experience I had while singing on 'The Ellen DeGeneres Show' in 2013," Zendaya wrote.
"It wasn't my best performance and I've never let myself live that down. I had mad anxiety ever since that."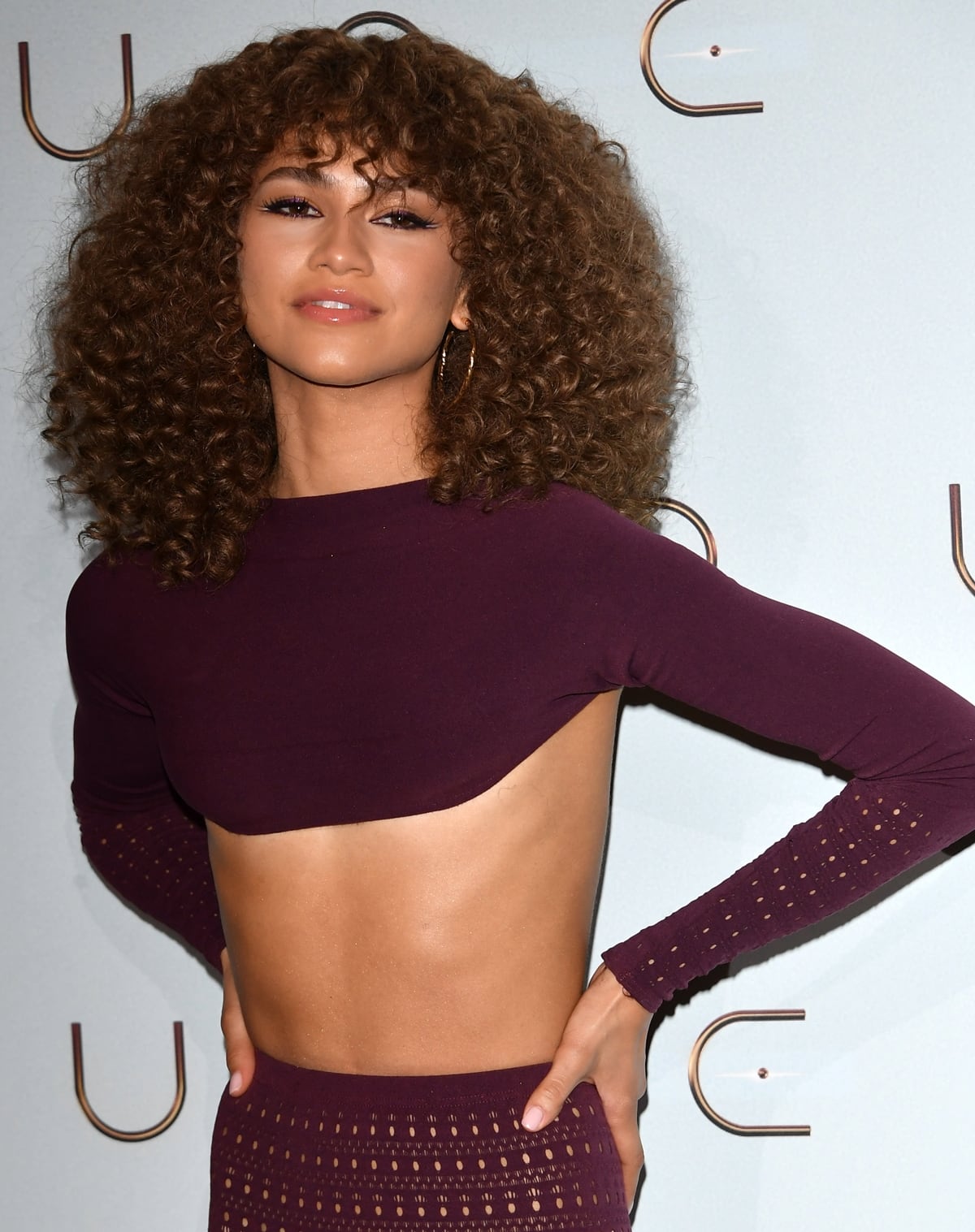 Zendaya is open about the importance of therapy in her life (Credit: MEGA / WENN)
In an interview with InStyle in 2020, the actress added additional details about her mental health.
"My anxiety first started when I was younger and I had to take a test at school. I remember panicking, and my teacher had to walk me out of the room and say, 'Calm down, deep breaths.' I don't think it really came up again until I was about 16 when I was working and there was a project I had turned down," she said.
Zendaya turns heads in an outfit designed by Alaïa's creative director Pieter Mulier (Credit: MEGA / WENN)
"That was kind of my first time dealing with the internet, and it made me feel sick. I deleted everything and stayed in my room. Live performing really gave me anxiety too. I think a lot of it stems from the pressure I put on myself, wanting to do my best and not make a mistake. I definitely don't have it under control yet. I don't have the key, so if anybody does, let me know!"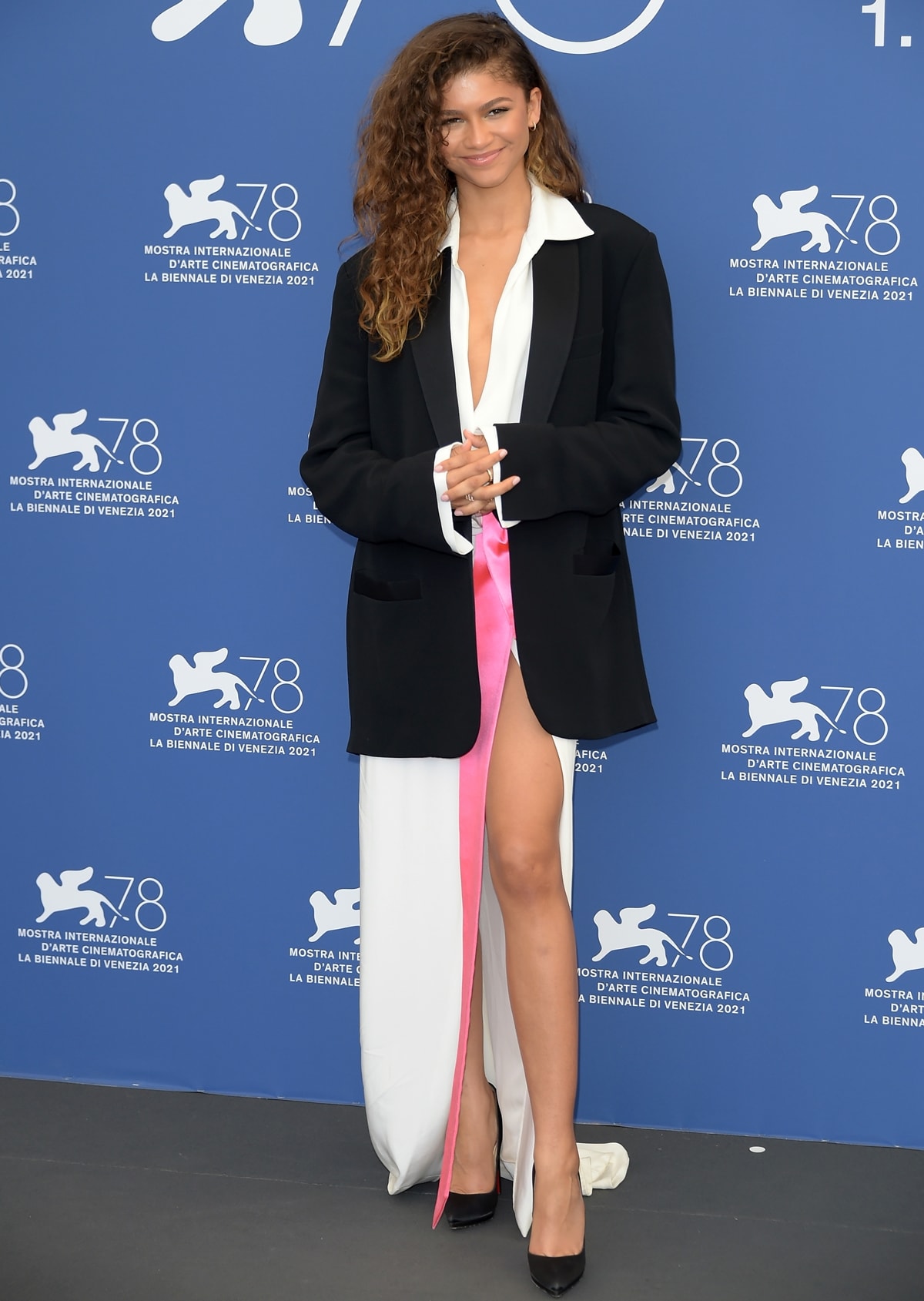 Zendaya wearing Valentino Couture with black satin Christian Louboutin 'Pigalle Plato' pumps to a press conference at the 2021 Venice Film Festival on September 3, 2021 (Credit: MEGA / WENN)
For the photocall and premiere of Dune at Le Grand Rex in Paris, the 25-year-old actress wore a two-piece look from Alaia's Spring 2022 collection consisting of a plum-colored crop top and a matching skin-tight skirt.
"She's a grown woman," her stylist Law Roach wrote in an Instagram post showing Zendaya in the dark burgundy-colored knit set. She completed her look with classic Jimmy Choo shoes. Don't you love Zendaya's beautiful curls?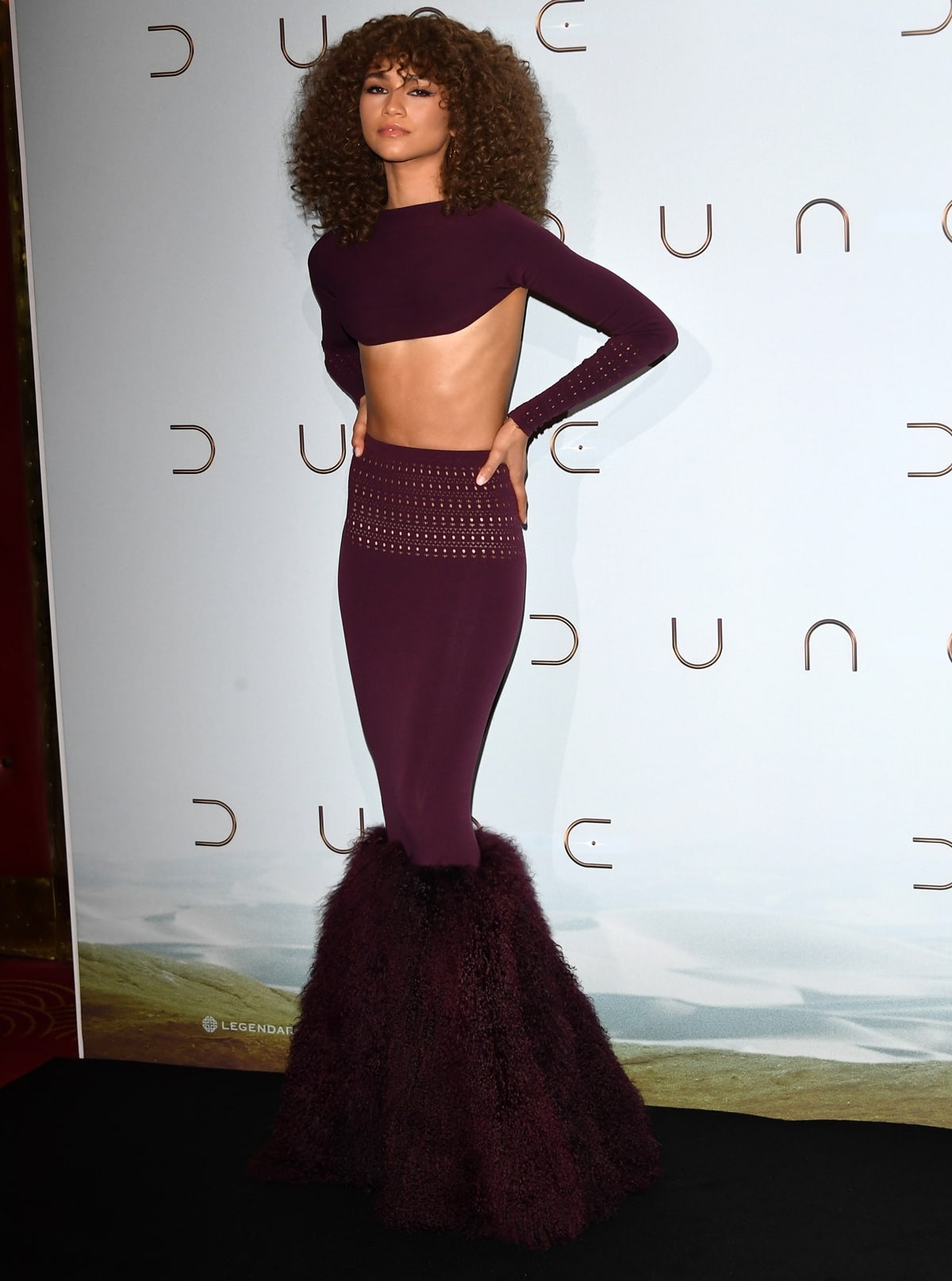 Zendaya in a tiny Alaïa high-cut long-sleeved top and bodycon skirt (Credit: MEGA / WENN)
Just a few days earlier, she dazzled with her wet-look Balmain dress and a gorgeous Bulgari necklace.
In April 2013, Disney Channel star Zendaya, who at the time was competing on Season 16 of Dancing with the Stars, stopped by Extra at The Grove with her dance partner, Valentin Chmerkovskiy. The competition was won by Kellie Pickler and her partner Derek Hough.
Zendaya with Valentin Chmerkovskiy on the set of 'Extra' at The Grove in Los Angeles on April 17, 2013 (Credit: Josiah True / WENN)
The duo had been seen burning up the dance floor and this was surely a hot topic during their interview.
Zendaya let her youth shine in a fresh coral-printed Suno jumpsuit (Credit: Josiah True / WENN)
The then 16-year-old actress let her youth shine in a fresh coral-printed Suno jumpsuit. The slouchy one-piece has "spring" written all over it and was perfect for someone as young as Zendaya.
She wore a glossy top bun high on her head, which was rare for her, as she was typically seen with flowing locks.
It was her Jimmy Choo "Anouk" pumps in pink suede that really pulled the look together though. The bright shoes added polish and sophistication, without aging her.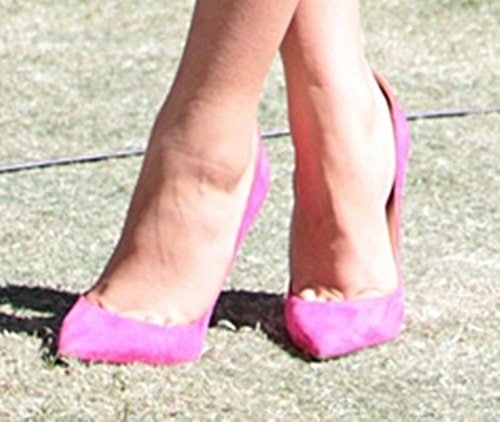 Zendaya wearing Jimmy Choo "Anouk" pumps in pink suede (Credit: Josiah True / WENN)
Pointy-toe pumps can add class to any outfit, but opting for a bright color keeps things young and playful. Would you agree that Zendaya's look was well-styled and age-appropriate?
If you'd like a pair of these Jimmy Choo 'Anouk' pumps in pink suede, you can shop them now at Saks Fifth Avenue.
Jimmy Choo "Anouk" Pumps in Pink Suede, $595
Interestingly, Stacy Keibler wore the same 'Anouk' shoes in navy during her own 'Extra' interview on the same day.