Celine Dion belted out her classics on Carpool Karaoke when joining host James Corden for the Late Late Show segment on Monday in Las Vegas, where she has a residency.
The 51-year-old legendary singer and shoe addict performed her own rendition of the viral hit "Baby Shark" and classics such as "It's All Coming Back to Me Now," "I Drove All Night," "Because You Loved Me," and "My Heart Will Go On."
Known for owning over 3000 pairs of shoes, Celine indicated the number could be much higher when the 40-year-old talk show asked, "Shoes are a very important part of your life. How many shoes do you think you own?"
She responded, "3,000, 5,000, I don't know." James Corden insisted he has heard the real number is closer to 10,000.
"I have a place in Las Vegas where um … let's call it a warehouse," Dion said. "In my house in Florida, I had a system. It was computerized. I would press and doors open, and they were all by colors, so I would press another button, and they would turn like that in front of me."
Celine Dion gives away red pointy-toe pumps with James Corden
"I cannot give anything away, because every piece that I buy has brought me to where I am tonight. They're part of every step that I take and I have an attachment to it," she continued. "You can call it crazy. I keep everything, but I just keep buying a bigger [warehouse] space. I have 10,000 pairs of shoes."
With more shoes than she'll ever need, James Corden got hold of some of them to give away to strangers on the street. It was all carefully coordinated with the help of her assistants. She ended up giving away a pair of white ankle boots, red leather pointy-toe pumps with a spiked heel, and blue suede pumps.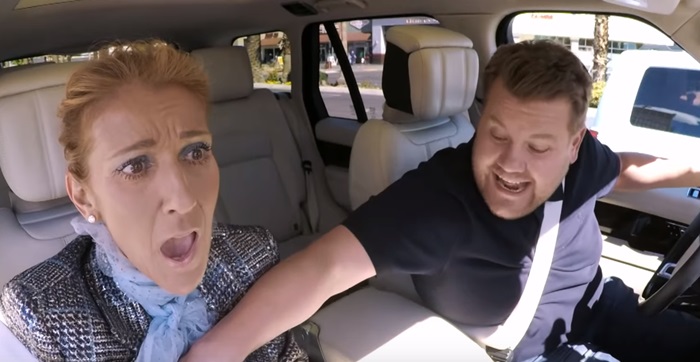 Celine Dion was not happy about donating her shoes to random strangers while filming Carpool Karaoke for the Late Late Show in Las Vegas on May 20, 2019
"I need alcohol," she said jokingly after parting with a beloved pair of white booties.
If you have shoes collecting dust in your own shoe closet, why not donate them to one of these organizations?