Michelle Rodriguez's Sexy Feet and Nude Legs in Hot High Heels
See pictures of Michelle Rodriguez showing off her nude feet and bare legs in sexy high heels, boots, sandals, pumps, and hot shoes.
It's been almost three years since Paul Walker tragically died, and he's still fondly remembered by friends and colleagues. Michelle Rodriguez,…
Rarely do we see tomboy Michelle Rodriguez in a sexy, lady-like gown. So, when we do, we are floored. Just…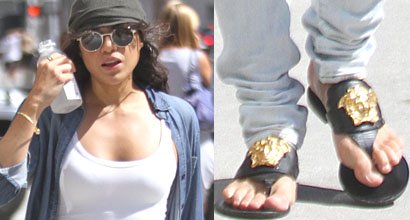 Michelle Rodriguez is calling it as it is – the Fast and the Furious star candidly opens up about how Fast 7 …
Michelle Rodriguez is usually spotted in her signature androgynous style, but she was seen trying out some feminine and glamorous…
Whoops. Looks like Michelle Rodriguez has brought her Fast & Furious character Letty into reality. The paparazzi caught up with the 36-year-old…
Michelle Rodriguez joined her Fast & Furious co-stars, as well as Universal Studios Hollywood President and Chief Operating Officer Larry…
Runway shows are hip and happening in Paris at the moment (it's Paris Fashion Week for Spring/Summer 2014 Haute Couture!)….
Cara Delevingne has a new conquest — Michelle Rodriguez. Yes, in case you didn't know, Cara sways both ways, and the…
Jordana Brewster joined Vin Diesel as he received a star on the Hollywood Walk of Fame on Monday. Michelle Rodriguez and…
A-list celebs paraded the carpet of the Gibson Amphitheatre in Los Angeles on Sunday, August 11, for the 2013 Teen…