Michelle Rodriguez and Paul Walker were close friends and co-stars in the Fast & Furious franchise. They first met on the first film set in 2001 and quickly became friends, bonding over their love of cars, action movies, and rebellious personalities.
"I think that's a big reason why we went dark on this one and why it's not all fun and games," she said at the New York premiere of The Fate of the Furious in 2017.
"But at the end of the day, the big picture of it all is that this has become a global monster that's kind of letting in the 99 percent through the backdoor into Hollywood that never really created anything for them in the action-movie realm."
Michelle Rodriguez and Paul Walker were integral to the Fast and Furious franchise, captivating audiences with their performances and on-screen chemistry, and they formed a strong bond that extended beyond their professional lives (Credit: INFevents)
She added, "It was hard to move on without him. He is the essence of why we were excited to come on board because he kept that childhood excitement about that realm and following through in what we were doing. He's a big part of the family, but at the end of the day, we have a big responsibility, and it's a global one so we gotta keep on trucking."
They supported each other through tough times and always had each other's backs. In 2013, Walker was tragically killed in a car accident. Rodriguez was devastated by his death, and she took a break from acting to grieve.
The shock of losing her trusted friend, whom she describes as "the deepest guy I know," caused her to spiral.
"I actually went on a bit of a binge," she admitted tearfully in an interview with EW. "I went crazy a little bit… I went pretty crazy. A lot of the stuff I did last year, I would never do had I been in my right mind."
"I was pushing myself to feel," she added. "I felt like nothing I could do could make me feel alive, so I just kept pushing myself harder and harder. I was traveling and I was having sex. And I was just trying to ignore everything that I was feeling."
Paul Walker, Jordana Brewster, Vin Diesel, and Michelle Rodriguez arrive for the Europe premiere of Fast & Furious on March 17, 2009, in Bochum, Germany (Credit: INFevents)
"I could see Paul once every two years and just know there was another human on the planet who's deep like me, who loves like that," she said.
"When that disappears, you wonder, 'Wait a minute, what do I hold on to?' There was nothing to tether me to this existence: 'Why am I f—ing here? And, like, why'd you leave without me?'"
"I just woke up [one morning] with a profound respect for living," she concluded. "I stood tall one day and I said, 'You know what, Michelle? Stop f—ing hiding. Go manifest.' And all of a sudden, I picked myself up and started hustling."
In the years since Walker's death, Rodriguez has spoken openly about her grief and her friendship with him. She has said that he was like a brother to her and that she will never forget him.
"I'm gonna carry this torch for you brother, with a forced smile on my face," Rodriguez tweeted in December 2013. "And Im gonna open my heart just cause your telling me to."
She has also said she is grateful for their time together and will always cherish their friendship.
"It was a reality check," Rodriguez said in an interview in February 2021 on the Tamron Hall Show.
"It was a reminder that we are very delicate creatures and that one minute you're here, and the next you can be gone. And it made me really take life and living more seriously. It made me think, 'Why do I do what I do? And what's the intention behind it? What's my purpose?'"
Rodriguez and Walker's relationship was a special one. They were more than just co-stars; they were friends. They supported each other through thick and thin and always had each other's backs. Walker's death was tragic, but Rodriguez's friendship with him will live on.
Michelle Rodriguez was born on July 12, 1978, while Paul Walker was born on September 12, 1973. Therefore, there was a five-year age difference between the two actors.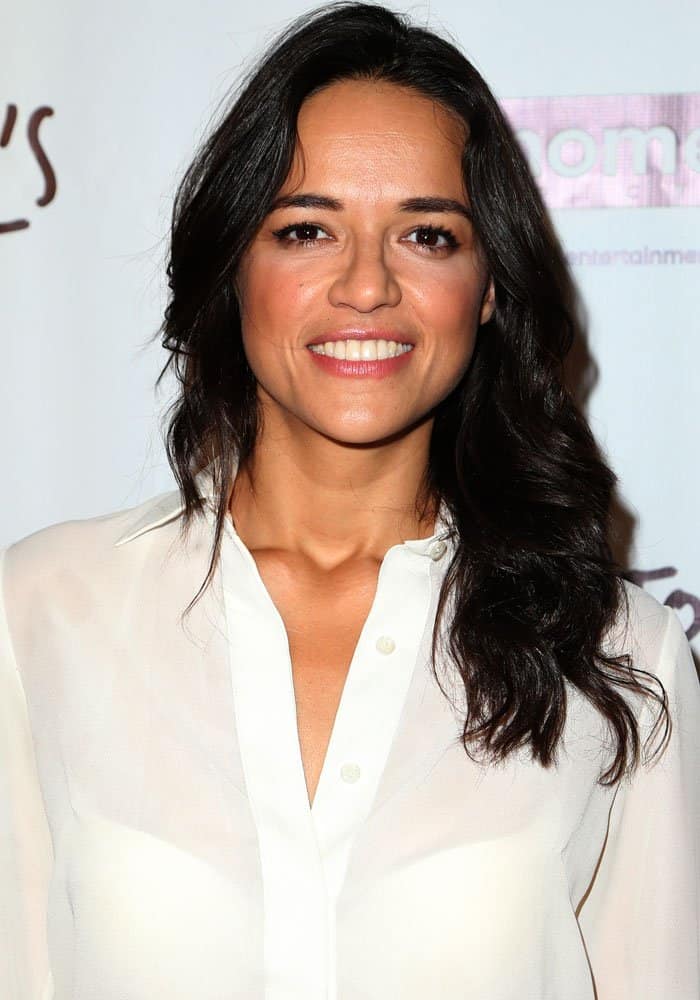 Embracing a relaxed and effortless style, Michelle Rodriguez wore a sheer white shirt that allowed her ample assets to make a statement (Credit: FayesVision / Apega / WENN)
In September 2016, it had been almost three years since Paul Walker tragically died in a car accident.
Michelle Rodriguez, who became fast friends with Paul after working on the first Fast & Furious film in 2001, spoke about the kind of person Walker was at the premiere of the film Hamilton's Secret in Hollywood.
Michelle Rodriguez wears loose harem-style black trousers with eccentric fur-embellished metallic loafers at the premiere of "Hamilton's Secret" in Hollywood on September 27, 2016 (Credit: FayesVision / Apega / WENN)
Michelle showed off her usual no-nonsense red carpet style in a laid-back button-down shirt and comfortable pencil-cut trousers. Her shirt had a cowl detail at the back, showing off a dainty lace bra.
Michelle Rodriguez wears a pair of MM6 Maison Margiela shearling flats (Credit: FayesVision / Apega / WENN)
The Dungeons & Dragons: Honor Among Thieves actress had an interesting focal point to her outfit: Her MM6 Mason Margiela shearling slip-on shoes.
Michelle wore a pair of metallic shearling-trimmed flats that could not escape anyone's eyes. Frankly, we think she rocked this look.
Michelle Rodriguez shows off the cowl-back detail of her seemingly plain button-down shirt (Credit: FayesVision / Apega / WENN)
Michelle said that Paul had a huge heart and would sometimes stop and question whether their movies were contributing to the good of the world. The Blue Crush actress would remind him that the money they make was something they could give to those in need.
You can order Michelle's MM6 Maison Margiela shearling flats in three colors on Farfetch and Net-a-Porter.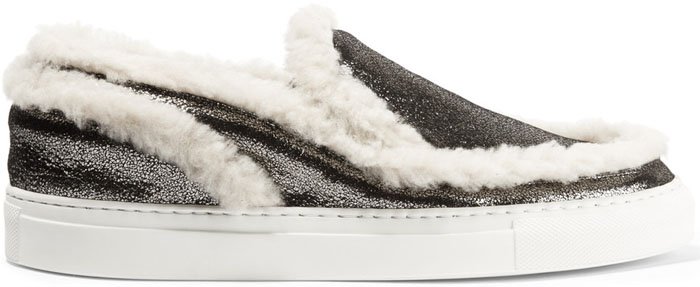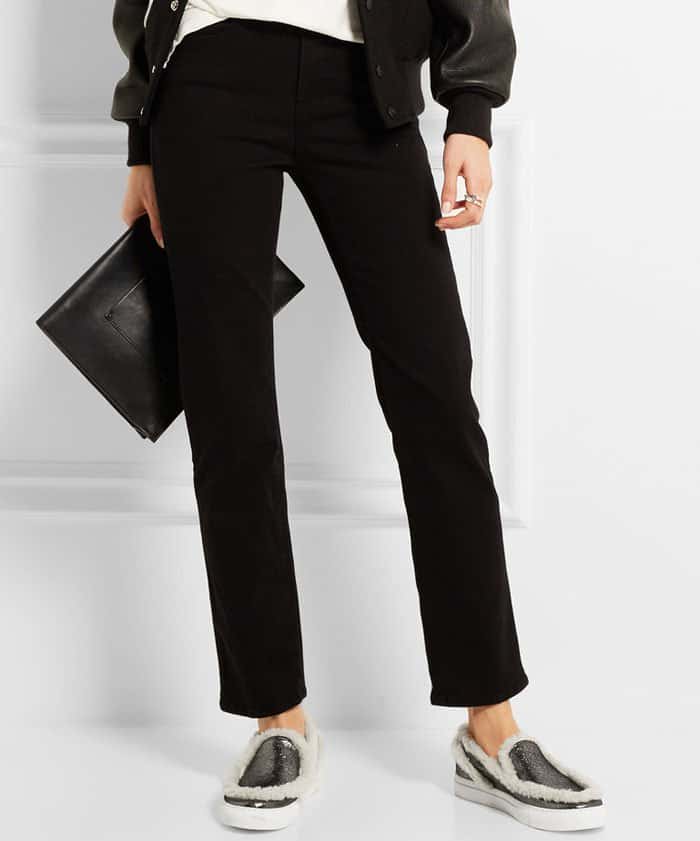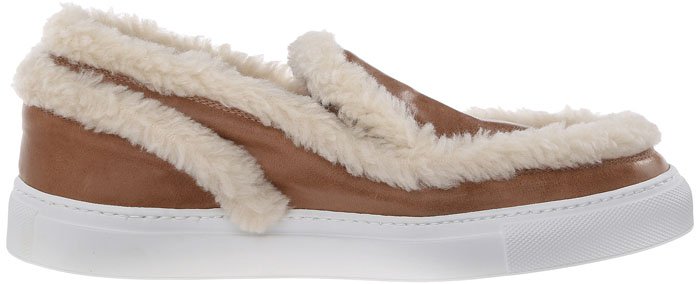 MM6 Maison Margiela Shearling-Trimmed Textured-Leather Slip-on Sneakers, $132.99 – $360