Hollywood's elite celebrities, including Elle Fanning, Naomi Campbell, Catherine Zeta-Jones, Marion Cotillard, Helen Mirren, Calista Flockhart, Uma Thurman, Natalie Portman, and Jennifer Lawrence, have descended upon the glitz and glamour of the 2023 Cannes Film Festival.
With each star vying for the spotlight on the red carpet, it takes a true fashion icon to captivate the crowd and steal the show.
Fortunately, Scarlett Johansson is no stranger to turning heads with her consistently stylish choices.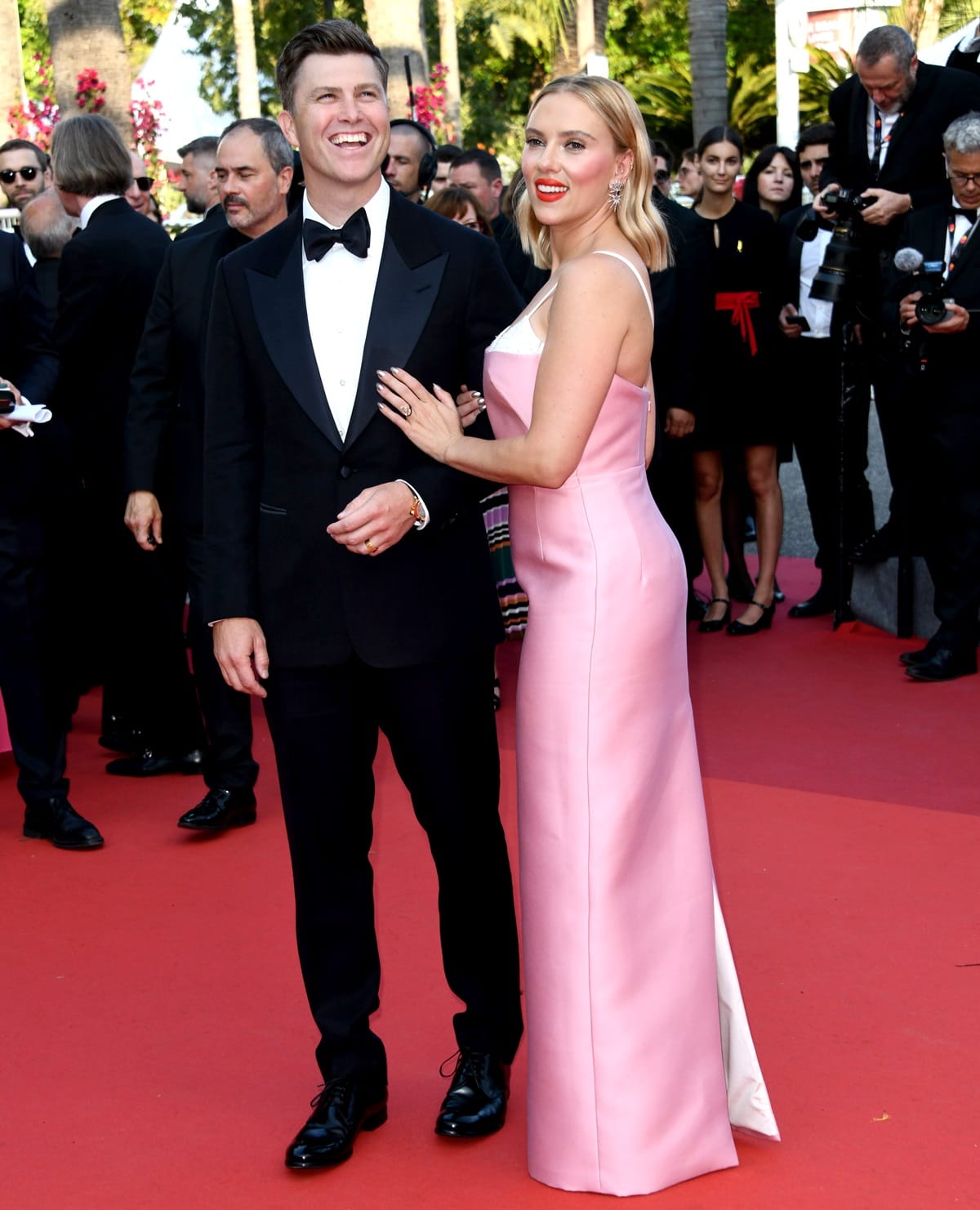 Colin Jost and Scarlett Johansson made a dazzling impression on the "Asteroid City" red carpet during the 76th annual Cannes film festival at Palais des Festivals on May 23, 2023, in Cannes, France (Credit: IPA / INSTARimages)
The 38-year-old actress and her 40-year-old husband, Colin Jost, made a rare red carpet appearance on Tuesday at the Asteroid City premiere, oozing elegance and sophistication.
While some celebrities opted for the minimalist nude trend, Scarlett took it upon herself to infuse the occasion with dazzling glamour, all while acknowledging the visible lingerie craze that currently reigns supreme.
Channeling her inner Barbie, the Ghost World actress graced the premiere in a bespoke blush pink silk Prada gown that hugged her figure in all the right places.
Scarlett Johansson exuded grace in a customized pink Prada gown that beautifully showcased her striking back tattoo, featuring a delicate floral design accompanied by a gentle lamb (Credit: Robert Smith / INSTARimages)
With the expertise of celebrity super-stylist Kate Young, Scarlett elevated the ensemble with a white bra top adorned with dazzling straps peeking out from beneath the gown's delicate fabric.
To accentuate her stunning physique, the Black Widow star chose an eye-catching set of David Yurman earrings as her accessory, perfectly complementing the massive floral print design back tattoos that peeked through the gown.
Scarlett's flawless makeup featured a bold application of crimson lipstick, while shimmering gold nails added a touch of luxury. Ryan Reynolds' ex-wife parted her golden locks down the middle, allowing them to cascade in elegant waves down her back.
In contrast to his wife's ethereal radiance, Colin Jost opted for a classic black tuxedo and black leather dress shoes, displaying a sense of understated elegance.
As the loved-up couple posed hand-in-hand, their matching gold wedding bands shone brightly, symbolizing their love and unity. The comedian completed his ensemble with a watch with a gold frame.
The red carpet outing was a rare treat for fans, as Scarlett and Colin's busy schedules often keep them apart. With three years of marriage under their belts and their adorable son Cosmo Jost in tow, these cherished moments become even more precious.
Scarlett also has an 8-year-old daughter, Rose Dorothy, with her ex-husband, French journalist Romain Dauriac.
The day following the premiere, Scarlett embraced a retro aesthetic for the Asteroid City photo call. The successful celeb exuded confidence when wearing an iconic Prada dress from the Spring/Summer 2011 Ready-to-Wear collection.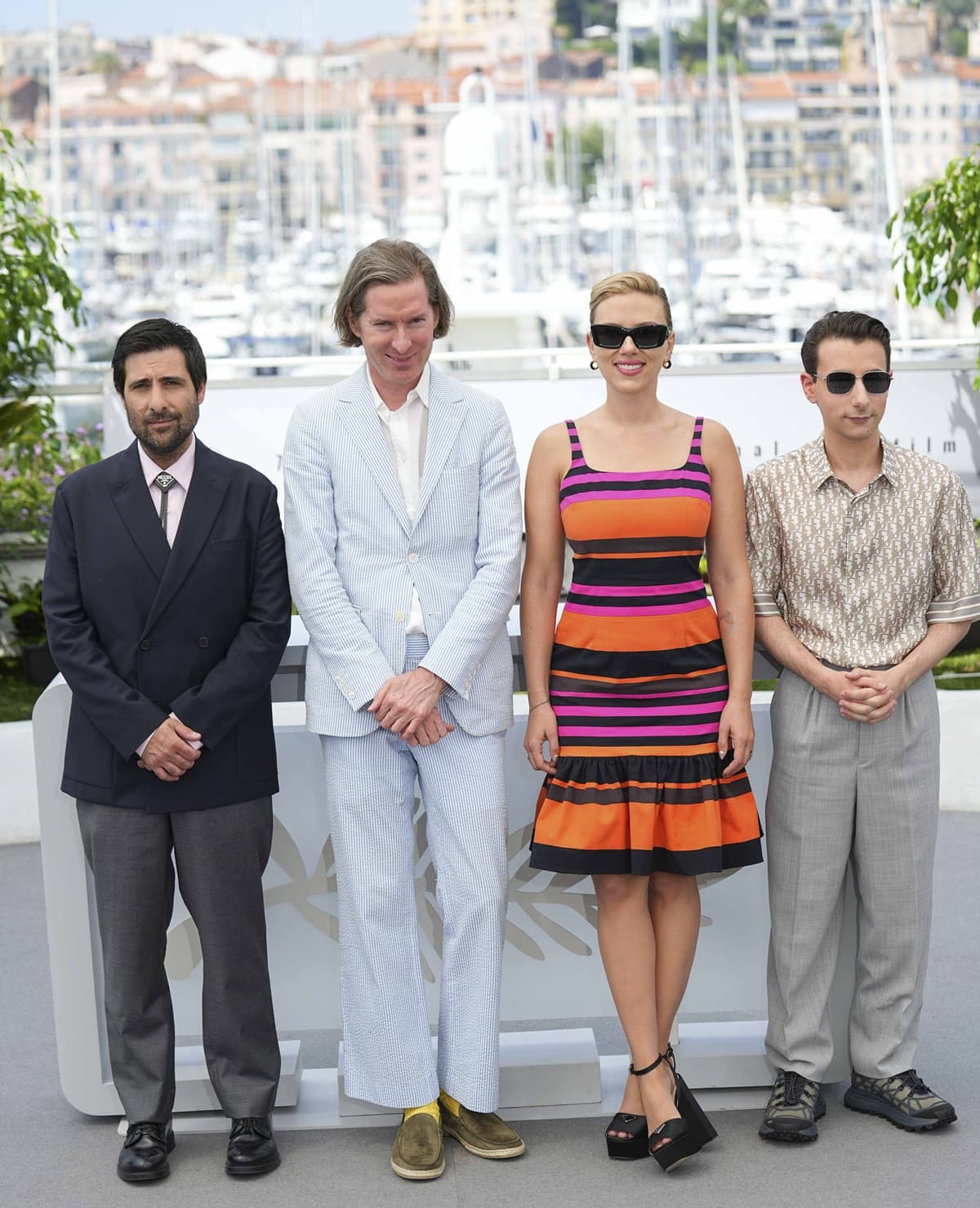 Jason Schwartzman, Wes Anderson, Scarlett Johansson, and Jake Ryan at the "Asteroid City" Photocall at the 76th Cannes Film Festival held at the Palais des Festivals on May 24, 2023, in Cannes, France (Credit: DDP / INSTARimages)
Her vibrant striped dress showcased horizontal lines of vivid orange, pink, and black, perfectly accentuating her toned legs. It was a statement piece designed to brighten any occasion.
Scarlett's ensemble was elevated further with funky Prada satin platform heels delicately strapped at the ankles. You can buy her Prada satin platform 135mm sandals on Farfetch for $1,250.
Scarlett Johansson, who has a tattoo of two interlocking circles with the letter "A" inside one of the circles on the inside of her right ankle, wore black Prada satin platform 135mm sandals (Credit: PA Images / INSTARimages)
A pair of black sunglasses shielded her eyes, while thick black and gold hoop earrings and her wedding rings were the sole jewelry.
Keeping her makeup fresh and simple, the Avengers star sported a black winged eye and a glossy pink lip, allowing her natural beauty to shine through. Her hair was swept back into a stylish bun, completing the retro-inspired look.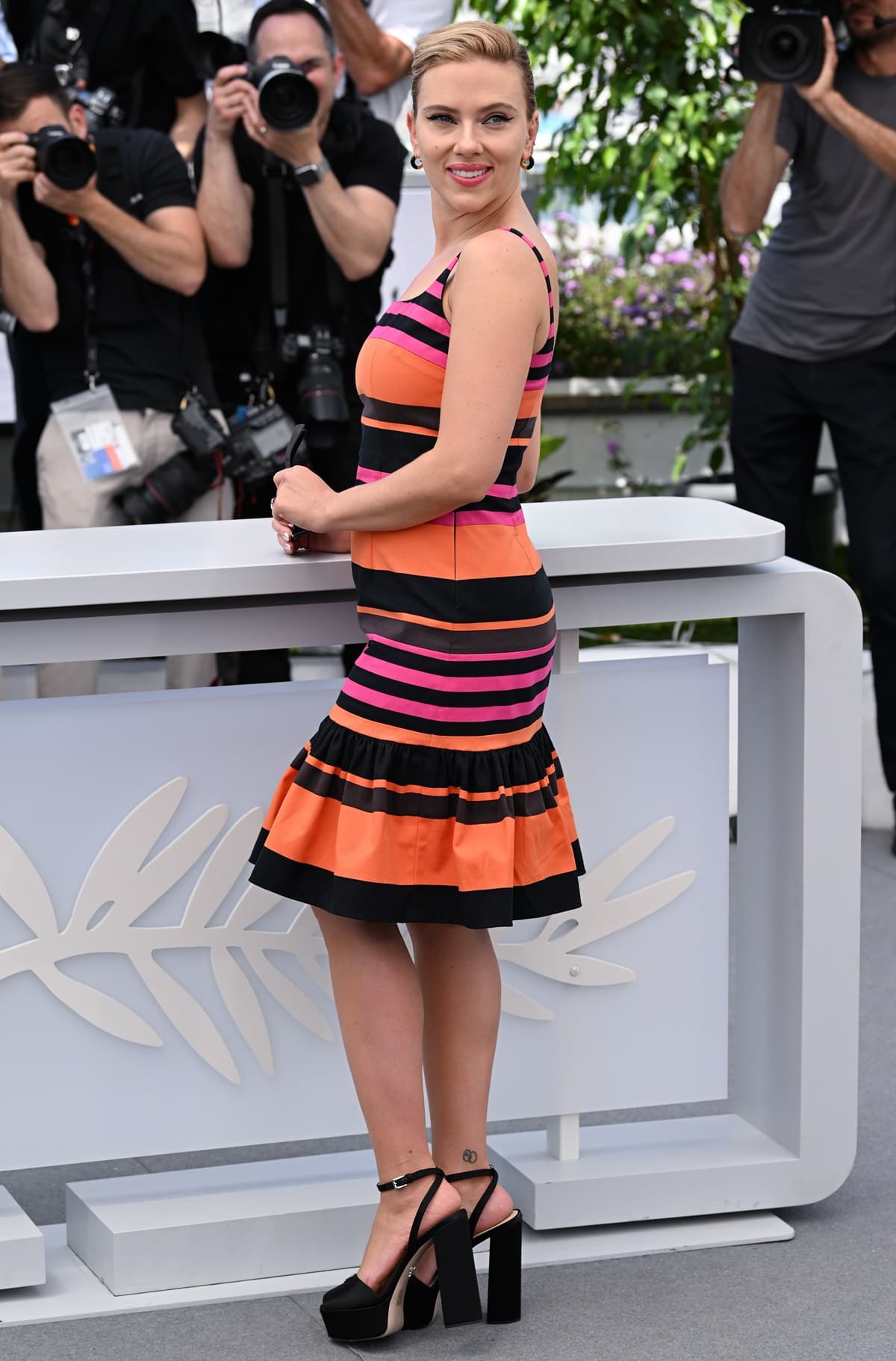 Scarlett Johansson took a nostalgic trip down memory lane at the Cannes Film Festival in an iconic Prada Spring 2011 dress adorned with vibrant horizontal stripes in orange, pink, and black, with a prominent ruffle along the bottom hem (Credit: PA Images / INSTARimages)
In Asteroid City, a Wes Anderson-directed film set in a desert town in America in 1955, Scarlett Johansson shares the screen with renowned actors Tom Hanks, Maya Hawke, and Jason Schwartzman.
The movie takes audiences through upheavals and unexpected twists that disrupt the planned Junior Stargazer/Space Cadet convention.
As Scarlett Johansson continues to astound with her impeccable style, it's no wonder she remains a fashion inspiration for many. With each red carpet appearance, she captivates our hearts and reminds us why she is truly a force to be reckoned with in the world of fashion and film.