In late 2022, Christian Louboutin debuted its newest line of merchandise: the LoubiFamily Collection. This collection features items for the entire family, even pets.
While deeply fabulous, the items are also wildly expensive. If you're in the market for designer items for your children and animals, check out what Louboutin now has to offer:
1. Pensamoi Flower Appliqué Sandals, $545 at Nordstrom
Staying true to form, Louboutin's first foray into children's items is shoes only – no clothing or accessories (yet). The Pensamoi sandals are darling girl's sandals in hot pink and yellow.

Crafted in neoprene and calf leather, the Pensamoi sandals feature pansies inspired by Andy Warhol's pop art
Made with neoprene and genuine leather, these hand-constructed sandals will set you back over $500, though you do get a free comic book with the purchase, so it's not just the shoes.
While the heel is not nearly as high as many of Louboutin's full-sized offerings, these small shoes still have a red bottom.
2. Mini Sharky Sock Sneakers, $495 at Mytheresa
If your child has ever expressed interest in sporting a shoe that resembles your sock booties, Christian Louboutin has made that possible with its Mini Sharky Sock sneakers.
A pair of sock sneakers, the Mini Sharky Sock is crafted in a woven knit and partially coated with a polyurethane film for a textured effect, finished with two-tone sole that evokes shark's teeth
Available in three different colors, these boy's sneakers climb the calf with fabric and feature a non-slip red sole, the latter of which leads us to wonder whether children are often slipping because of their shoes (we don't really think so).
Sort of unnecessary soles aside, all the kids' Louboutin shoes have a printed lemur inside to help them discern left from right, which is a useful detail from the shoemaker.
3. Anemonou Sandals, $595 at Nordstrom
From the looks of the collection, LoubiFamily aims to create Louboutin shoe lovers from a young age, indoctrinating them via eye-catching designs.
Ever one to create footwear that's as dazzling as it is expensive, Louboutin designed the Anemonou sandals for the poshest of the posh, the fanciest of the fancy, and the richest of the rich.

The Anemonou sandals for little girls boast handmade organza bow and feathers with printed lemur on the insole
Replete with an ankle strap and a bow with feathers along the toe strap, these sandals are available in a delicate pink or a striking black with a red interior. Whatever your child's vibe, there's a Louboutin sandal to meet it.
4. Poupetimoc Loafers, $645 at Harrods
If sneakers aren't your son's style, perhaps he'll be more interested in the Poupetimoc loafers. These chic shoes come with a Poupette design on the tongue that'll draw attention to your child's shoes in the best way.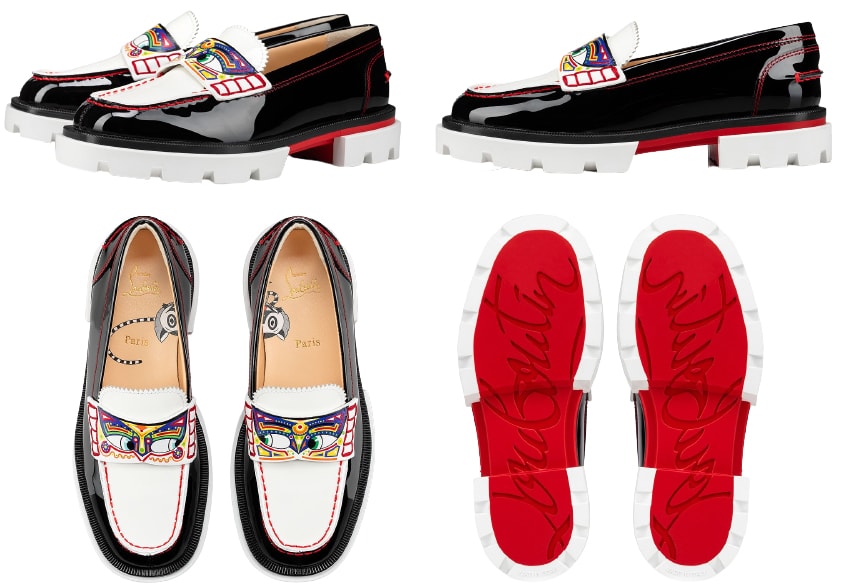 The bi-color Poupetimoc loafers are adorned with a multi-colored Poupette print, inspired by the characters that inhabit Louboutin's imaginary world
The patent leather shoes will look awfully spiffy with a suit, but they can also be dressed down with a pair of khaki shorts if necessary.
Despite how they sound, they're actually pretty versatile, which might help justify the over $600 price tag (keyword: might).
5. Baby Funnyto Sneakers, $345 at Nordstrom
Don't worry – Louboutin didn't forget about your baby in its new collection.
While there aren't as many options for infants and toddlers as there are for children and pets, you can purchase the tiniest member of your family a pair of Baby Funnyto sneakers, the answer to the Funnyto sneakers for older children and adults.
A pair of high-top sneakers for babies, the Funnyto comes with laces and the label's signature logo on the heel counter
Just as in the other versions, the Baby Funnytos come in multiple colorways, so you can coordinate with your kids or completely match. Thanks to Louboutin, you've got some options.
6. Loubikiki Pet Travel Bag, $2,390 at Mytheresa
Your pet deserves a designer bag of its own, and thanks to Louboutin, it's got choices. Take the Loubikiki bag, for instance.
This pet travel bag is made with genuine leather and has enough space to house your pet and some of its most necessary accessories.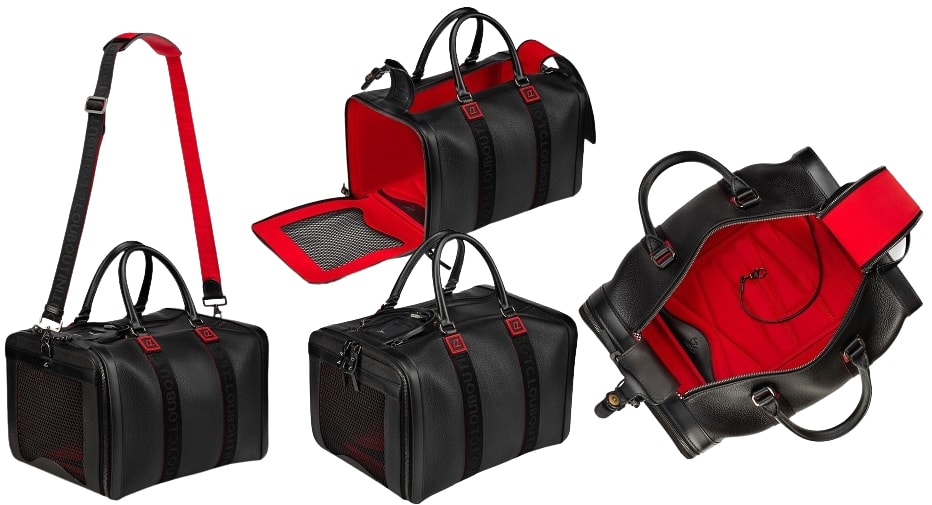 The Loubikiki pet travel bag is made of calf leather and features contemporary lines, two top handles, a shoulder strap, and a main compartment with two openings
Spending nearly $3,000 on a bag for your pet might seem wasteful, but if you can spare the expense, the bag should last forever. It just might be worth the price tag.
When we say something noteworthy, it simply means it's worth discussing. Such is the case with the Louboutin Waste Bag Purse. The price aside, we've got to give it to Louboutin.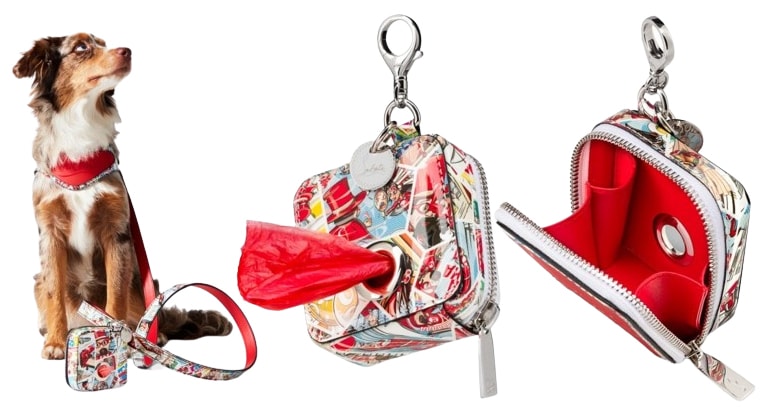 An elegant waste bag made from red rubber and patent calf leather with a colorful graphic comic book print
There are certainly people in the world who want everything they use – even the bags for collecting their pet's waste – to be designers. If Louboutin can make an overpriced product that its customers want, more power to its creative team.
All joking aside, we're sure it works just fine. And since it's made of leather, barring your dog gets ahold of it, the Waste Bag Purse should be of use to you for years to come.
8. Loubitoy Shoe Squeaker Dog Toy, $250 at Nordstrom
Forget collars and leashes (though Louboutin does make those, too). There's a new designer pet product every dog owner needs – the Loubitoy.
The Loubitoy dog toy is constructed of black and red rubber and is a replica of Christian Louboutin's iconic studded sneaker
The Loubitoy is appropriately shaped as a shoe, and it features several signature Louboutin designs, including the iconic red sole.
Sure this dog toy is expensive, but wouldn't you rather have your furry friend destroy a rubber shoe replica instead of a pair of your beloved red bottoms? If your dog just can't stay away from your shoe closet, this is a much cheaper alternative.
9. Loubishark Woman Sneaker, $945 – $995 at Nordstrom
Don't worry, there are items from Louboutin's family line that aren't a total waste of money, like the Loubishark Woman Sneaker.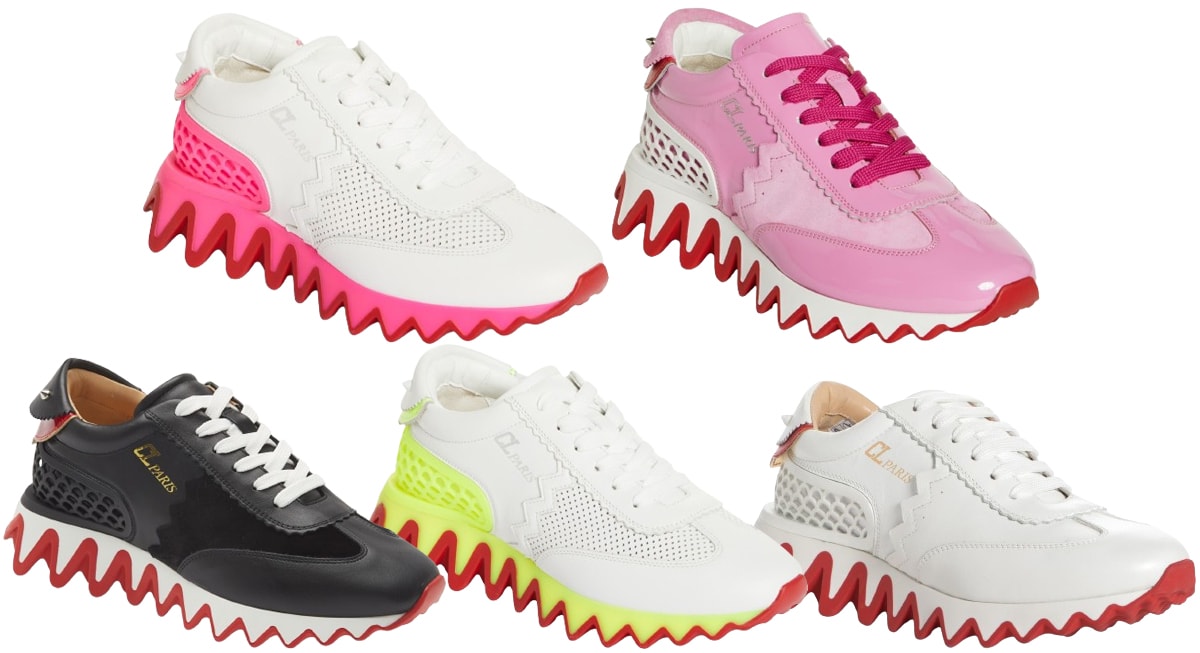 The Loubishark Woman sneakers are detailed with caged heel counters and shark tooth-inspired soles
These fun sneakers feature soles that resemble shark teeth, a funky pattern on the vamp, and lots of bright colors. To make the shoes even more appealing, they, along with several other shoes from the collection, have men's and children's counterparts.
If you're willing to foot the bill, your entire family can have matching Louboutin footwear. How fun is that?
10. Toy Toy Man Sneaker, $495 – $995 at Mytheresa
Another pair of shoes that come in both a full-sized and mini version is the Toy Toy Man Sneaker. These fun shoes come in candy apple red that's offset by a white outsole, big white laces, and white stitching.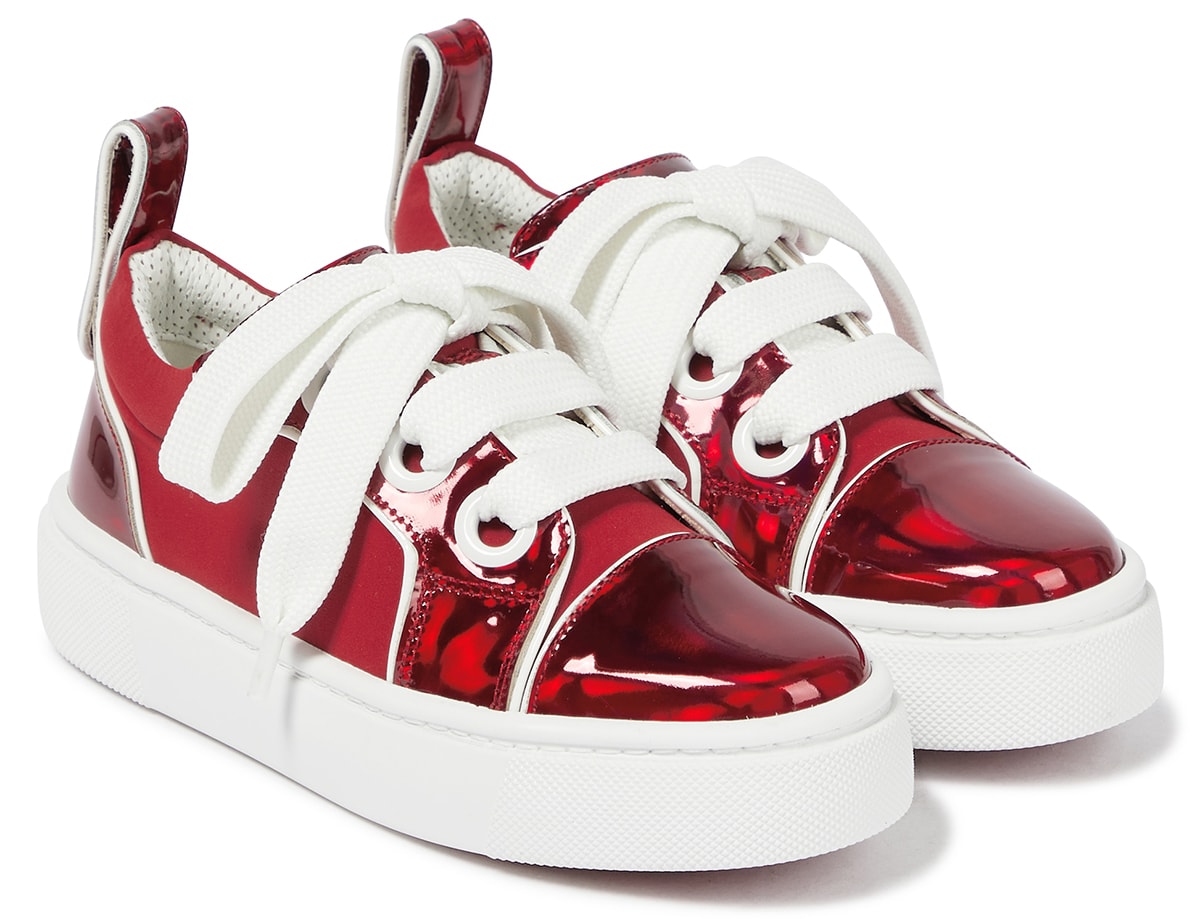 Sporty but stylish, the Toy Toy Man is crafted from patent calf leather and a signature red neoprene, finished with a rubber sole and a tone-on-tone pull-tab on the heel
They're an eye-catching pair of shoes that'll certainly make a statement, and nobody will be able to stop staring when they see your son rocking his pair, too.
Note that the Toy Toy for boys comes in bright orange instead of red, but they're just as appealing. If style is your middle name and you passed it on to your kids, you'll want to consider these shoes.