There are few shoes as distinctive or luxurious as Christian Louboutins. Coveted for their sensual designs and vibrant red soles, Louboutins are likely the only shoes that you'll want to show off from the bottom up. In fact, the red soles are so famous that the term can be used interchangeably for Louboutins themselves.
The French designer has remained at the top of the women's luxury shoe game for years thanks to his penchant for timeless luxury. Christian Louboutin's collections offer the perfect mix between classic and whimsical and are always finished with a lavish touch.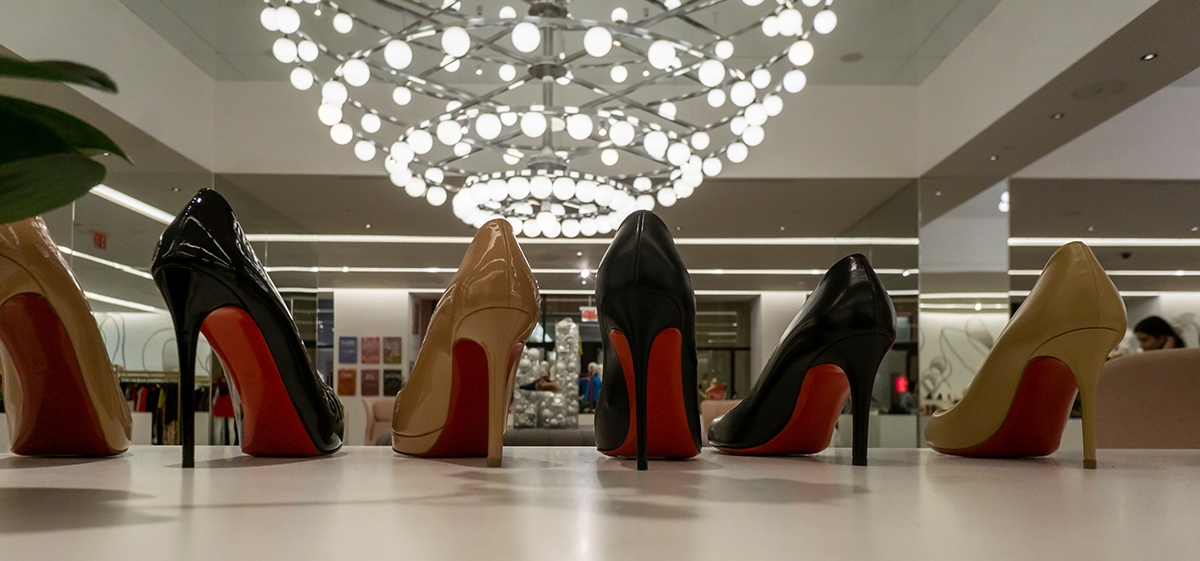 Every Christian Louboutin shoe boasts the signature red lacquer sole (Credit: Rblfmr / Shutterstock)
You also can't beat the quality; Christian Louboutin shoes are all handmade in Italy using the finest leathers, ensuring your red sole shoes are a worthy investment.
Although the brand is probably best known for its classic pumps, Christian Louboutin's gorgeous seasonal releases are more than worthy of sharing the spotlight. Below we'll be highlighting Christian Louboutin's top shoe releases of 2022.
1. The Viva Las Vegas Capsule
There's no better shoe for a night on the town than a Christian Louboutin heel, so the designer's latest capsule collection was a dream come true for lovers of bold evening wear.
Inspired by the bright lights of Las Vegas, this collection features a striking and colorful print reminiscent of the city of sin's signature neon hotel signs.
Brightly colored stars and swirls stand out against a black background with delicate stars to create the ultimate range of statement shoes. Louboutin fans can choose between classic pumps, slingbacks, espadrilles, and sneakers in this eye-catching print.
1.1 Hot Chick Pumps in Starlight, $845 at Nordstrom
Curved v-shaped notches add an alluring twist to the classic pump, making this shoe aptly named.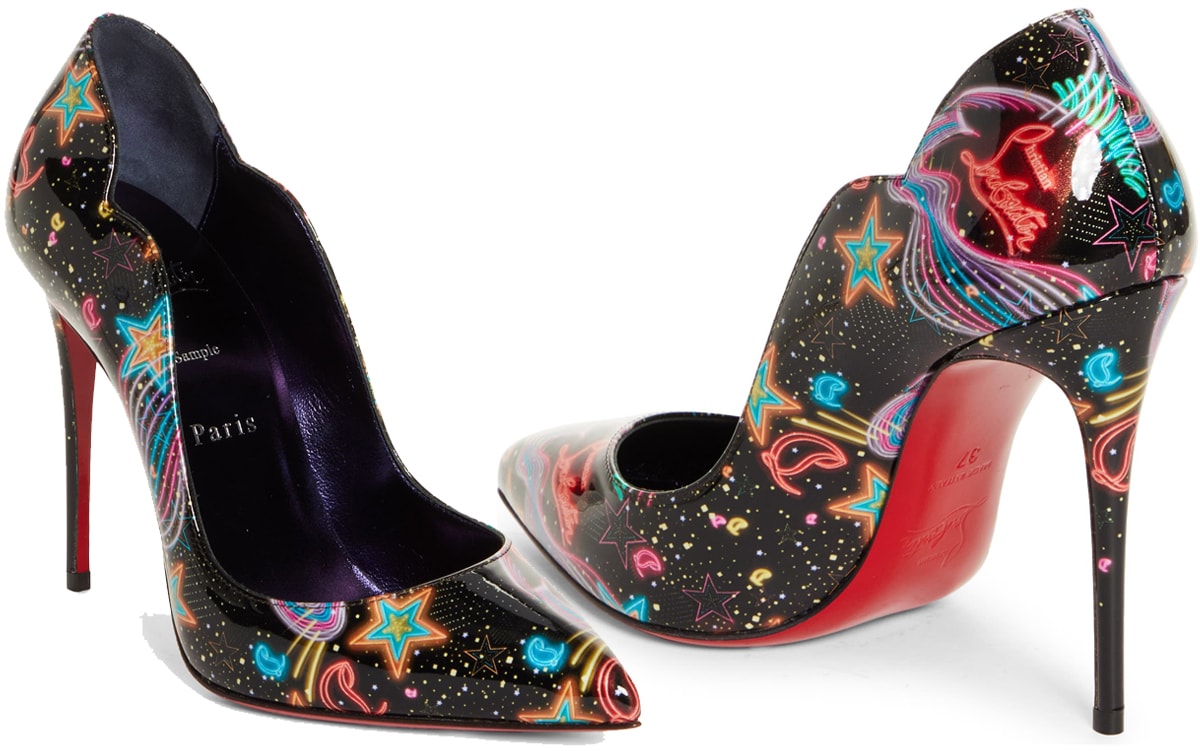 The Hot Chick Pumps in Starlight feature a scalloped counter and a star-spangled design
1.2 Hot Chick Sling Alta Pumps in Starlight, $1,045 at Nordstrom
Feel like showing a bit more skin? These slingback pumps have got you covered.
The same star-spangled design is incorporated in a sexy slingback silhouette
1.3 Pyraclou Espadrilles in Starlight, $945 at Nordstrom
This summery style allows you to add a touch of city nights to the beach and beyond.
The Pyraclou Espadrilles are adorned with iridescent pyramid spikes, finished with a multicolored Starlight print
1.4 Vieira Sneakers in Starlight, $845 at Nordstrom
These captivating kicks will definitely upgrade your sneaker game.
The Vieira is crafted in veau velours with multicolored Starlight embroidery
2. The Starlight Collection
Louboutin's otherworldly Starlight collection took us from the bright lights of the city to the starry skies themselves.
Glamorous sandals, booties, pumps, and mules featured celestial elements such as star-shaped studs, iridescent metallic colors, and crystal appliques that shine as bright as stars in the night sky.
These sophisticated shoes are must-have companions for any night out or special occasion.
2.1 Asteroispikes Sandals, $1,095 at Saks Fifth Avenue
With their elegant slanted heels and star-studded straps, these sandals will instantly elevate any outfit.
Crafted in black patent leather, the Asteroispikes features a strap with a series of tonal Art Deco-style spikes and a slanted heel
2.2 Degratina Frou Sandals, $1,195 at Neiman Marcus
Shine bright with these alluring semi-naked lace-up heels.
The Degratina Frou is defined by the transparent PVC vamp strap sprinkled with luminous specchio crystal strass
2.3 Asteroispikes Booties, $1,595 at Saks Fifth Avenue
These black booties will liven up any outfit with their intriguing slanted heels and star print trims.
The Asteroispikes booties feature a sleek upper made from black veau velours, gold-tone Art Deco spikes along the opening, and slanting heels
2.4 So Kate Booties, $1,095 at Nordstrom
One part disco and one part supernatural, these starlight lurex booties dazzle with their jewel-toned metallics.
A timeless iconic stiletto ankle boot, the So Kate Bootie showcases starlight lurex, featuring a purple base with a tweed-like iridescent hue
The classic black pump is given a futuristic twist with a mesmerizing iridescent finish.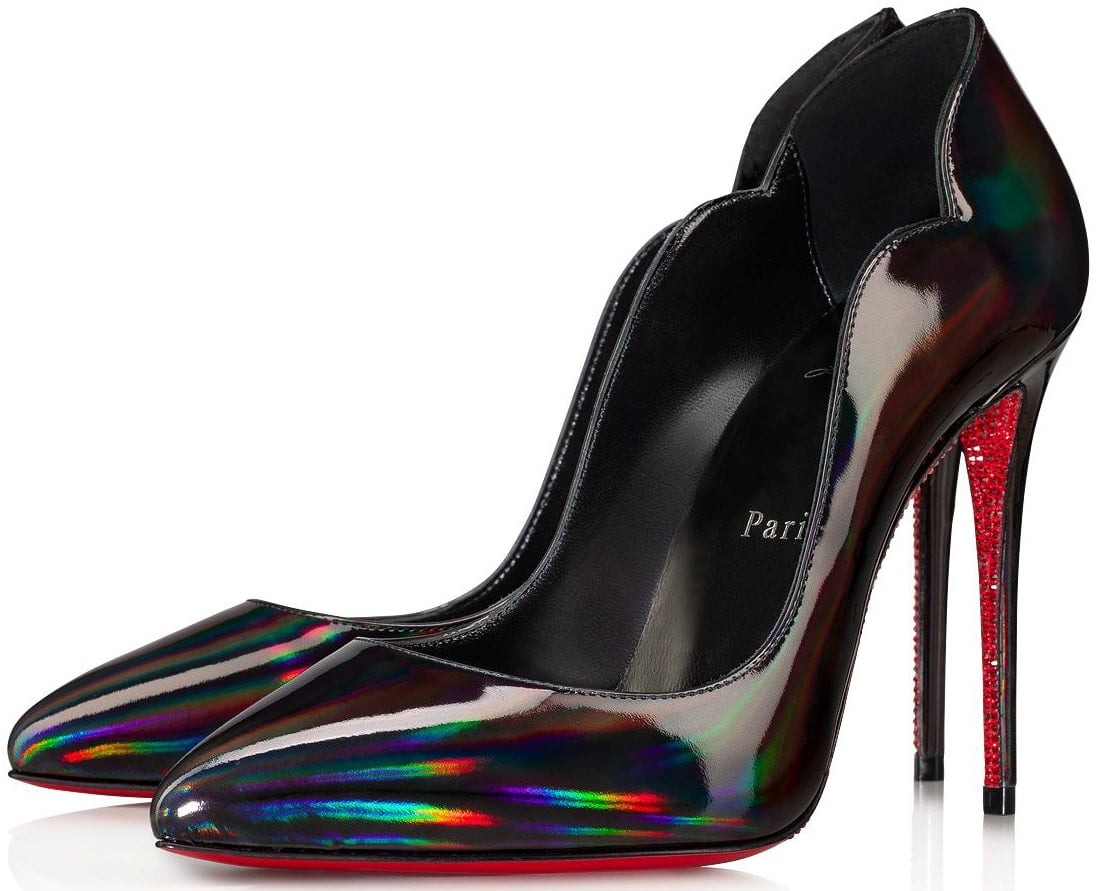 The classic Hot Chick pumps in iridescent black patent calf leather finished with hand-placed red strass on the soles
3. The Lipchick Collection
What could be a better combination than a pair of Louboutins and a bold (preferably red) lip?
Featuring chic lipstick-shaped heels, this clever collection is ideal for femme fatales that know that sky-high heels and a swipe of lipstick are the keys to confidence. Ladies that can't get enough of refined lipstick tubes can wear them on their pumps, boots, or sandals.
3.1 Lipchick Pumps, $1,095 at Mytheresa
Pumps are given a playful twist with the collection's signature lipstick-shaped heel.

Part of the Loubi Mystery capsule, the Lipchick pumps boast notched collars and heels that are perfect replicas of the Sheer Voile lipstick
3.2 Lipqueen Sandals, $1,095 at Mytheresa
These nude strappy sandals are the perfect combination of minimal and audacious.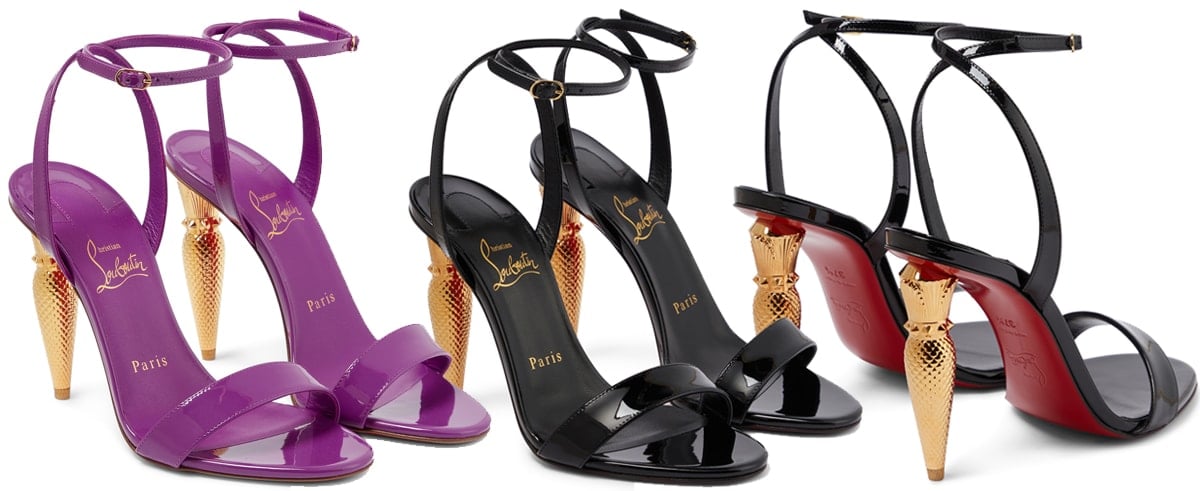 The Lipqueen sandals are set atop a heel in the shape of the house's lipstick case
3.3 Lipbooty Suede Ankle Boots, $1,495 at Mytheresa
The opulent texture of suede is complemented by gleaming gold.
A pair of sleek suede booties with Christian Louboutin's signature lipstick case heels
3.4 Lipbotta Suede Over the Knee Boot, $2,095 at Nordstrom
Make your boldest statement yet with these sky-high lipstick heel boots.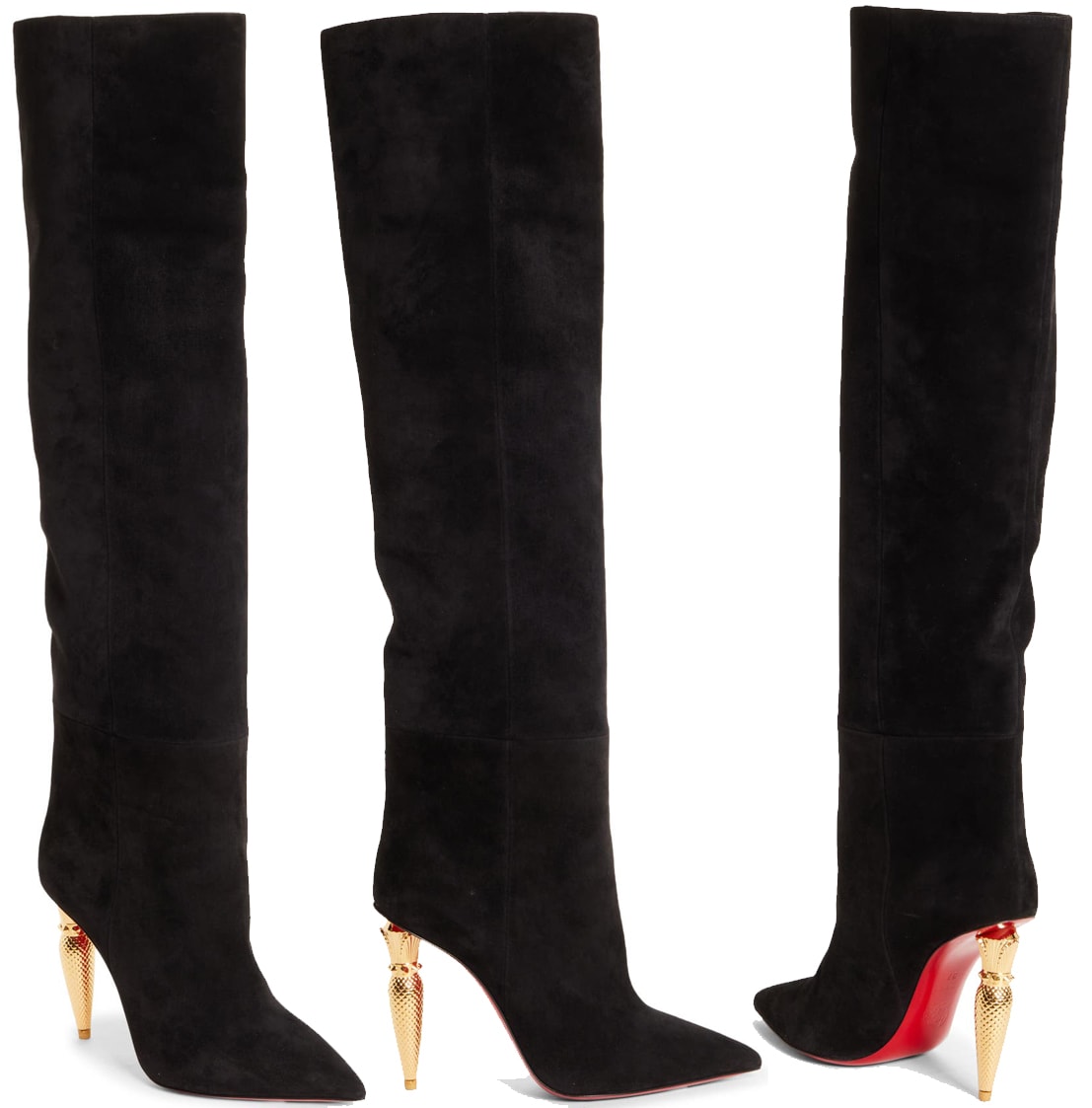 The over-the-knee version of the Lipbooty, the Lipbotta boots have a 19-inch shaft, finished with the signature lipstick heels
4. The Me Dolly Mules
Christian Louboutin loves paying homage to women he admires through his designs. First, there was the Kate and So Kate range inspired by the iconic supermodel Kate Moss. 2022's muse is none other than country legend Dolly Parton.
Inspired by a trip to Nashville, where he met and dined with the country queen, Christian created a design that captures her glamorous essence. The Me Dolly shoe is a stylish mule available in either sparkling metallics, hot pink, or black velour fit for a star.
4.1 Me Dolly Strass Mules, $1,695 at Matches Fashion
These crystal-embellished mules wouldn't look out of place on the red carpet.
Inspired by Dolly Parton, the Me Dolly Strass Mules fuse patent leather with sparkling hand-embellished crystals
4.2 Glossy Pink Me Dolly Mules, $845 at Matches Fashion
Pink is one of Dolly's favorite colors, so it only makes sense to honor her with this vibrant hue!
These Me Dolly Mules are made from Fuxia pink Patent Psychic leather and feature peep toes, low-cut vamps, and stiletto heels
4.3 Me Dolly Mules in Black Veau Velour, $845 at Net-a-Porter
If Dolly's style can teach us anything, it's that it's all about the texture. These plush mules will be the stars of any outfit.
Timeless and elegant, this Me Dolly mule is crafted in Papillon black veau velours, set on a 4-inch heel
5. The New Kates
Of course, no list of Christian Louboutin would be complete without his signature Kate Moss-inspired pumps and booties. These best-selling styles have been going strong since their 2012 debut.
Over the years, the Kate pumps and So Kate booties have undergone many transformations, but none are as sumptuous as 2022's.
Christian Louboutin has given this year's Kate styles glossy, satin-like finishes, rich velvet coatings, and fierce reptilian prints.
5.1 Kate Croc-Embossed Leather Pumps, $845 at Christian Louboutin
Can't you just picture Kate Moss rocking these croc print beauties with an LBD and a fur coat?
An iconic signature style, the So Kate pump features a pronounced arch, a modern pointy toe, and a slender stiletto heel done in striking embossed mock croc leather
Made from soft Naplak leather, these booties have an irresistible glossy finish. It looks like satin but is much more durable!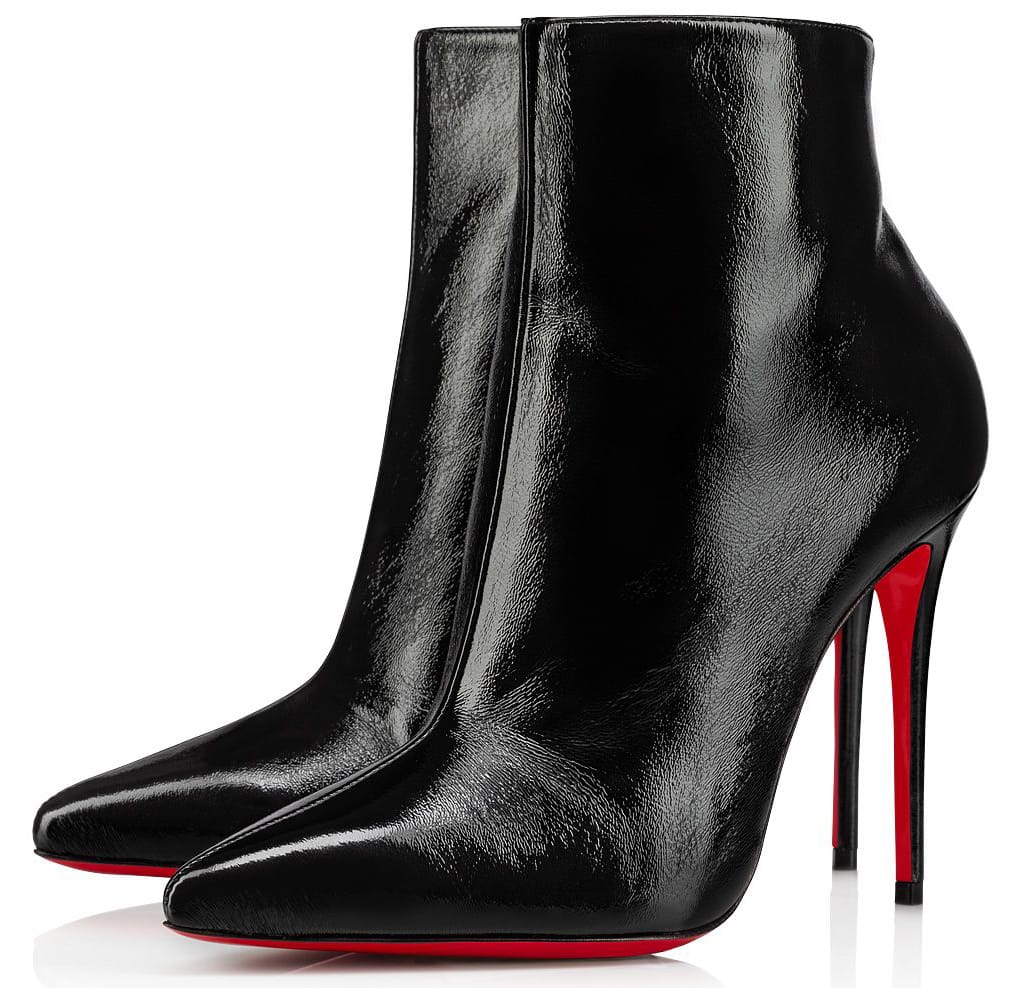 The So Kate Booties crafted in black Naplak fabric with slender lines, subtle details, and a pointed toe design
5.3 Kate Black Velvet Botta, $1,795 at Christian Louboutin
There's no other way to describe these show-stopping black velvet boots than extravagant.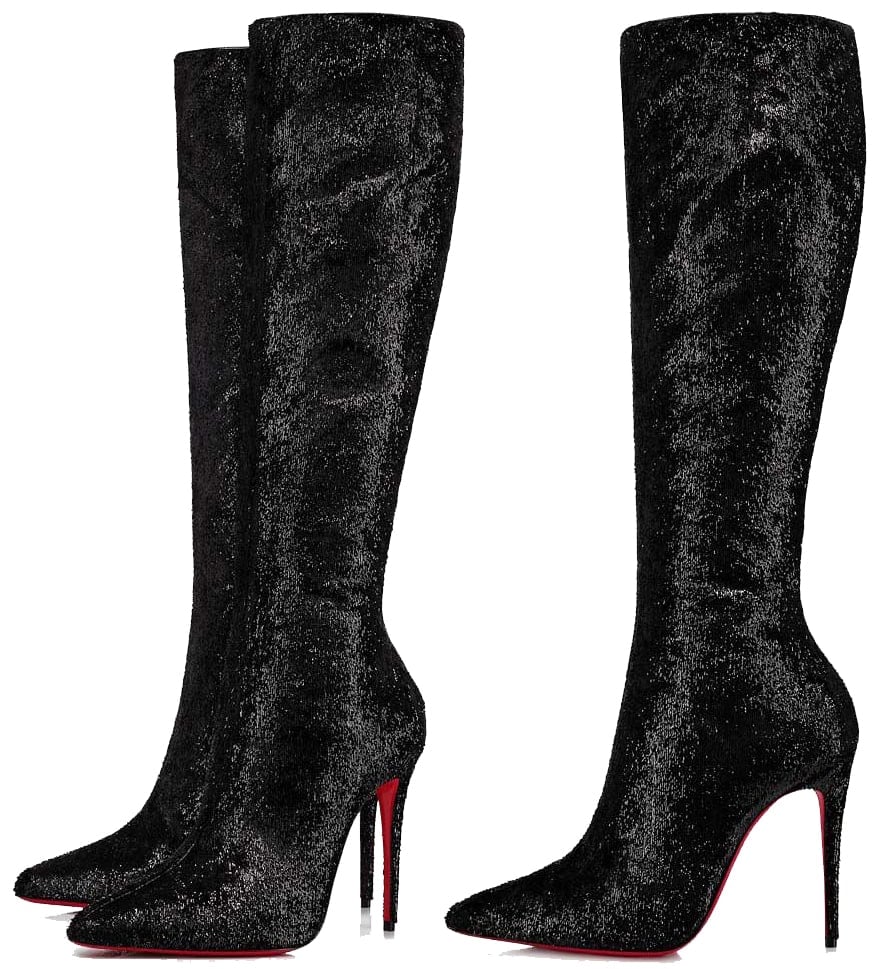 An iconic tall boot, this Kate Botta is made from opulent Velours Papillon, which is a shimmering black velvet material that creates a fur-like effect
Christian Louboutin certainly took fashion lovers on a wild ride with his 2022 collections.
He successfully embodied the mysteries of outer space and the energy of Las Vegas and Hollywood, all while giving his designs an undeniable air of sophistication. Time and time again, he proves that he is one of the greatest masters of shoe design.