Disney star Ciara Riley Wilson was born on March 26, 2001, and is 16 years younger than Ciara Princess Wilson, who was born on October 25, 1985.
Ciara Riley Wilson attends the 2019 Radio Disney Music Awards at CBS Studios – Radford on June 16, 2019, in Studio City, California
Of mixed ethnicity, Ciara Riley Wilson added her middle name Riley to differentiate her from Ciara Wilson, NFL star Russell Wilson's equally famous wife.
"We have a small thing in common," Wilson joked about sharing the same name with the superstar singer. In an interview with Portland Tribune in February 2019, she emphasized that her brother, Riley Wilson, means a lot to her as well. "I got his permission; I look up to my brother and his qualities and how he carries himself."
Starring as Letti Ramirez on L.A.'s Finest, an American action crime television series, she attended the premiere in Los Angeles.
Ciara Riley Wilson attends the premiere Of Spectrum's Originals "L.A.'s Finest" at Sunset Tower on May 10, 2019, in West Hollywood, California
Raised in Portland, Oregon, Ciara Riley Wilson moved to Los Angeles with her brother and her parents, Jay and Nanette Wilson, in 2013.
"It definitely was a career move," she said about moving to California. Her career began in Portland at the age of eight with radio voiceover ads and local television commercials.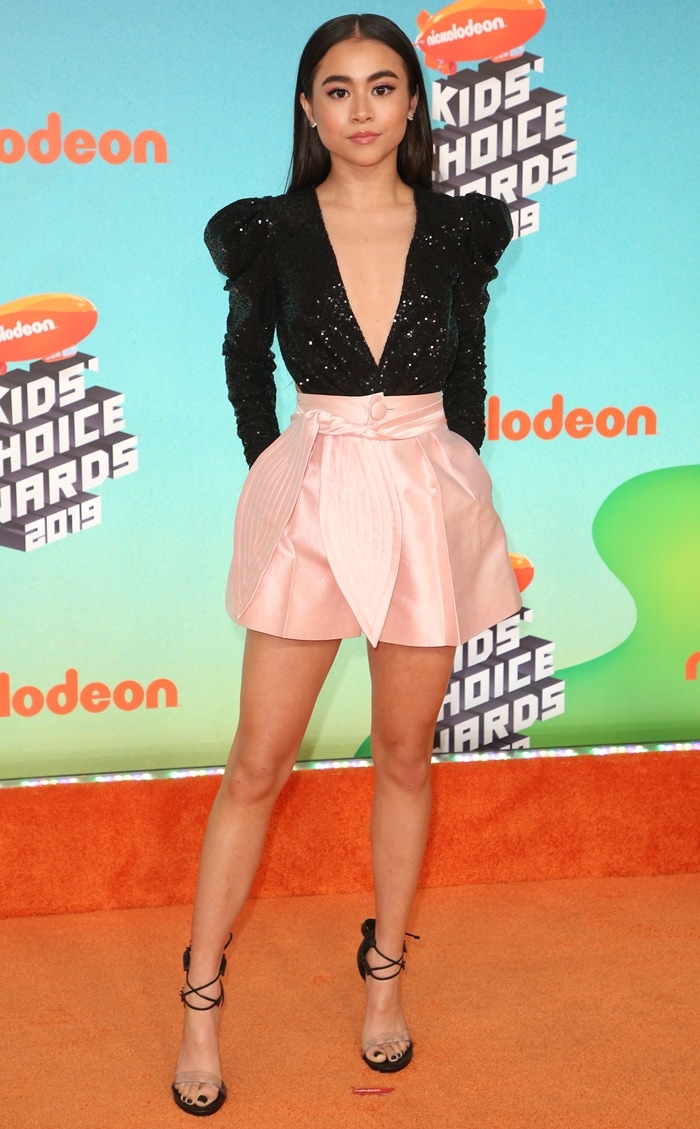 Ciara Riley Wilson flaunted her legs in a Bao Tranchi sequin 'Seraphina' bodysuit with pink Cynthia Rowley shorts at Nickelodeon's 2019 Kids' Choice Awards at Galen Center on March 23, 2019, in Los Angeles, California
"Growing up I always wanted to be a performer, and I've been watching Disney Channel. It's always been in my blood. I've done radio voiceovers and commercials, theater and acting camps, and I've decided this is something I wanted to do for the rest of my life. My parents helped me take steps working toward it."
Ciara Riley Wilson shows off her feet in Ruthie Davis heels
Ciara Riley Wilson played the multifaceted character Athena in the 2019 American comedy action-adventure television film "Kim Possible." She attended the premiere of the Disney Channel Original Movie in February 2019.
"It's definitely a breakthrough role for me, my first movie," Wilson said about her role as Athena, an advanced android built by Dr. Drakken (Todd Stashwick). "I'm considered a lead in the movie, which is nice, part of the 'Team Possible.'"
"It's a fun character for me, a new character not in the original cartoon series. It's exciting for me to bring (her) into the world. It's the most complex character I've ever played; and I got to do stunt work, which is interesting."
Ciara Riley Wilson flashes her legs at the premiere of Disney Channel's "Kim Possible" at The Television Academy on February 12, 2019, in Los Angeles, California
In March 2019, the professional hip hop dancer also attended the premiere of Captain Marvel in a John Paul Ataker dress with Stuart Weitzman heels.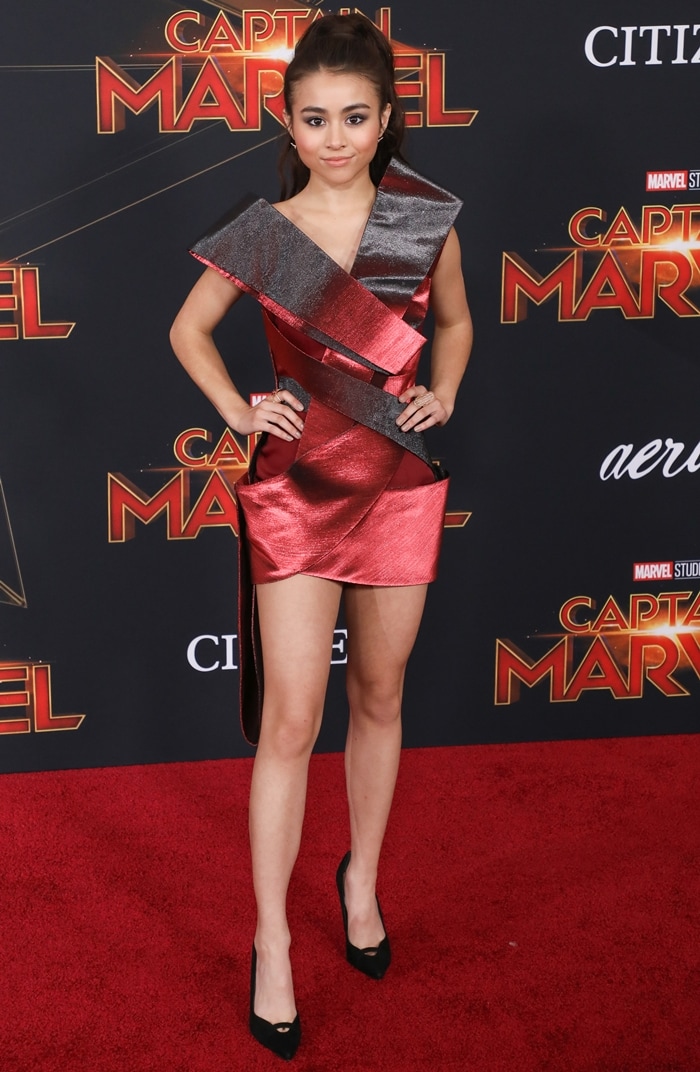 Ciara Riley Wilson flaunts her legs at the Marvel Studios "Captain Marvel" premiere on March 04, 2019, in Hollywood, California
In November 2015, Ciara may have physically been on the red carpet of the 2015 American Music Awards, but mentally? She was somewhere else entirely.
Ciara wears her hair back at the 2015 American Music Awards held November 22, 2015, in Los Angeles
While the singer was busy posing for photos and smiling on the red carpet, she was also keeping tabs on the Seattle Seahawks vs. San Francisco 49ers game.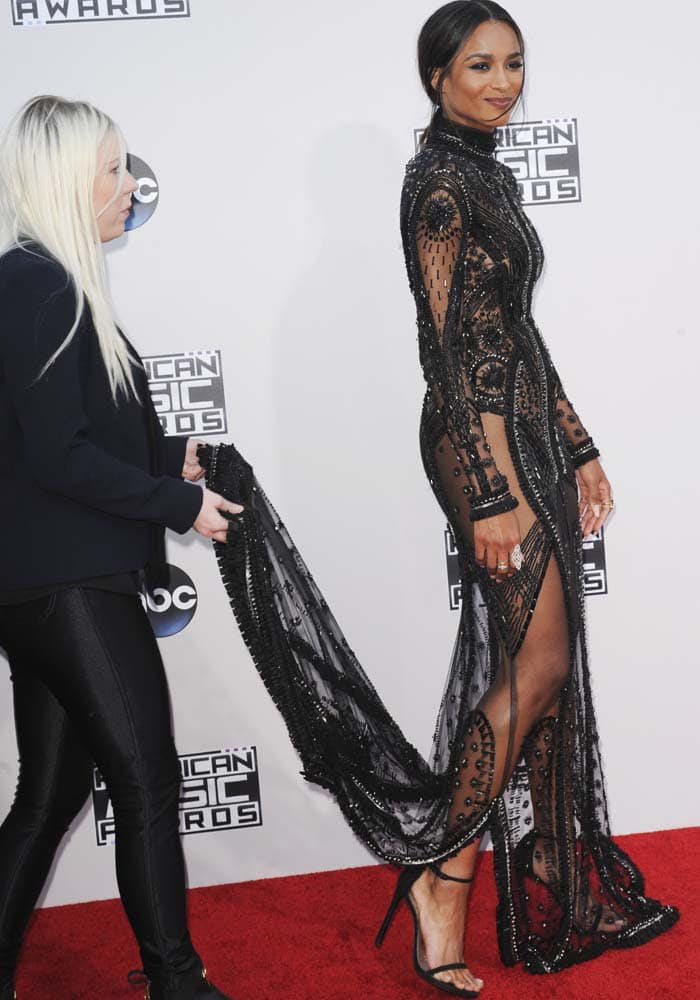 Ciara gets a little help with the train of her Reem Acra gown on the red carpet of the AMAs
For those who don't know, Ciara's boyfriend Russell Wilson plays in the National Football League as Seattle's quarterback.
Ciara wears a sheer Reem Acra dress on the red carpet of the AMAs
Ciara candidly said that despite the dressing room chaos of the evening, she was committed to keeping herself updated on the game.
Ciara's feet in Stuart Weitzman sandals
While interviewed by Bailee Madison and Frankie Grande on the red carpet, she managed to witness an early touchdown in the game and gave a celebratory "whoop!" when she was updated on the score.
For her red carpet appearance, Ciara wore a sheer and fully-embellished dress by Reem Acra, which she paired with an Anne Sisteron ring and Nudist sandals by Stuart Weitzman.
Grab this celebrity closet staple from Stuart Weitzman by clicking your way over to Nordstrom or Zappos.
Black Stuart Weitzman "Nudist" Goosebump Napa Sandal, $415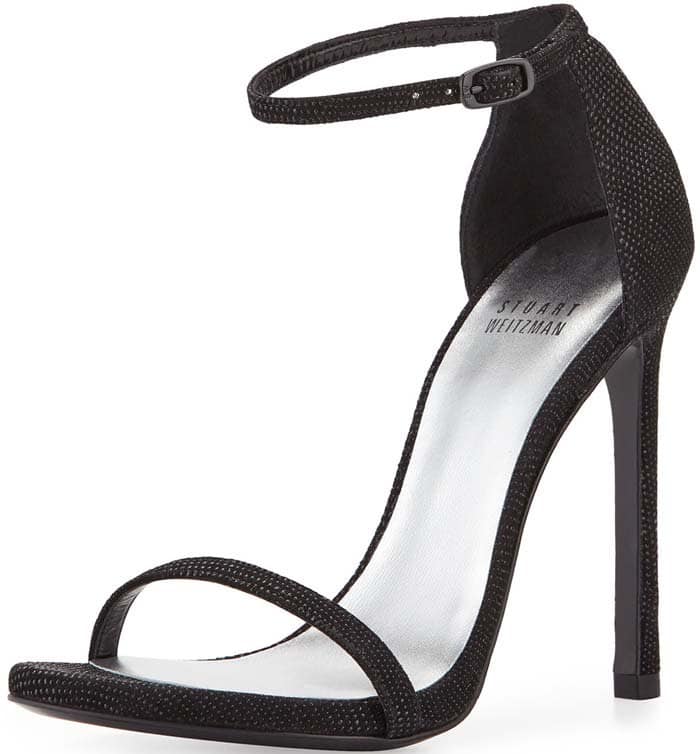 Credit: Apega / Adriana M. Barraza / Brian To / FayesVision / WENN / Nicky Nelson / Sheri Determan