In January 2016, things hadn't quite calmed down after Jada Pinkett-Smith's controversial Oscars boycott, due to the Academy's second year of all-white nominees. Despite the boycott, the Collateral actress and her husband Will Smith carried on with business as usual.
Jada Pinkett-Smith wears her hair down as she arrives at Los Angeles International Airport on January 28, 2016
Jada was spotted at Los Angeles International Airport, a day before her husband commended the Academy for making "aggressive" changes.
12 years earlier, she co-starred with Tom Cruise and Jamie Foxx as Annie Farrell in the 2004 American neo-noir action thriller film Collateral.
Not based on a true story, the film is based on a script by Stuart Beattie. The Australian screenwriter and film director first conceived the idea for the film when taking a taxicab home from Sydney airport. He told Shooting People about his idea for a script in a February 2005 interview.
Sure, I'm in Sydney, I'm 17. I catch a cab back from the airport by myself. The first time I've ever caught a cab of my own and I started talking with the cab driver. By the time he dropped me home, we were just chatting and chatting, I had one of those bizarre sicko thoughts, which was like, 'Man, I could be some homicidal maniac sitting back here and here we are talking like best mates and you've got your back to me'. And it just grew from there. Taxi cabs I think are one of those unique islands really in modern society, where two complete strangers get together and trust each other implicitly.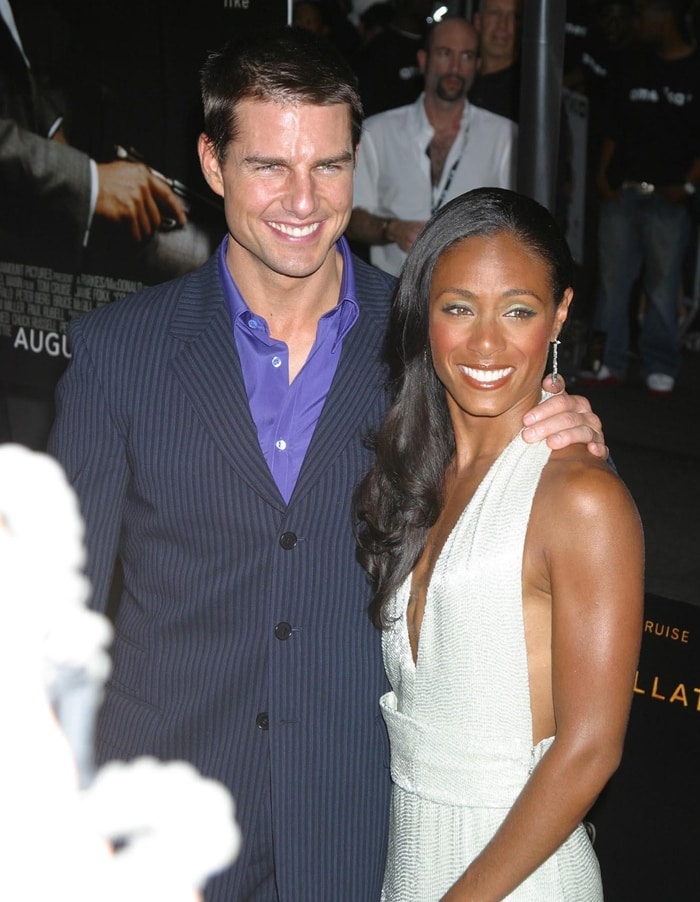 Actors Tom Cruise and Jada Pinkett Smith attend the New York premiere of their film "Collateral" which opened the 8th annual Urban World film festival in Harlem on August 4, 2004
The two rules you get taught growing up: don't get in a car with a strange person and don't pick up hitchhikers. And that is like the basis of cab transactions every day! So it just seemed like it was a setting that was right for drama. I always like having close proximity where heroes and villains are together a lot. Because that is when you start to get into the real meaty stuff. Two people that seem completely different but actually are two sides of the same coin.
Tom Cruise, Jamie Foxx, and Jada Pinkett Smith star in Collateral, a 2004 American neo-noir action thriller film based on a script by Stuart Beattie
Arriving at LAX, the A Different World actress wore a long red trenchcoat with black jeans and a pair of grey Adidas Yeezy "Boost 350" shoes. The outspoken actress also had a structured gray tote in her hand.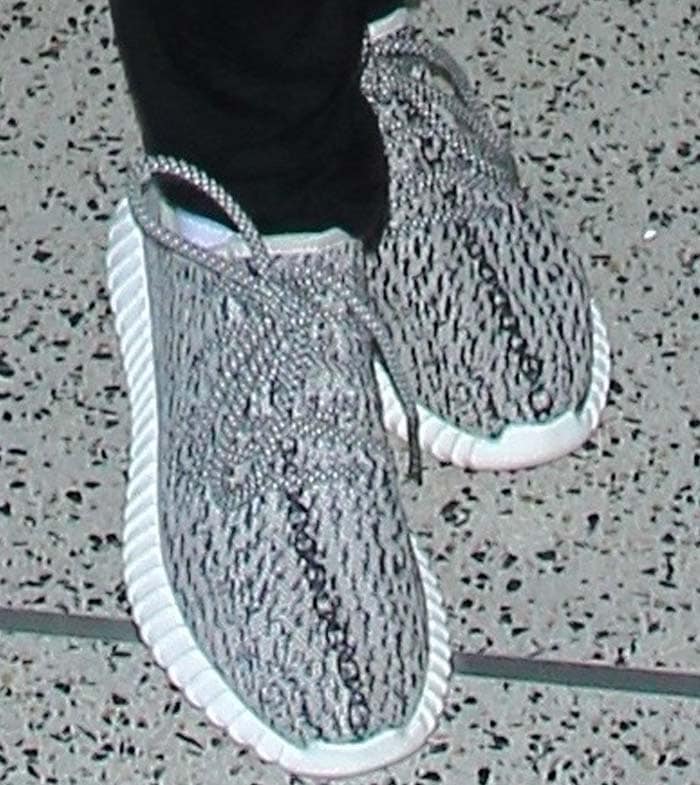 Jada Pinkett-Smith wears a pair of gray Adidas Yeezy sneakers at LAX
"This has nothing to do with me, this has nothing to do with awards," Will Smith reportedly told BBC after commending the Academy.
"That's a very frivolous reason for me to put my hand up and make a statement. For me, this is much more about the idea of diversity and inclusion."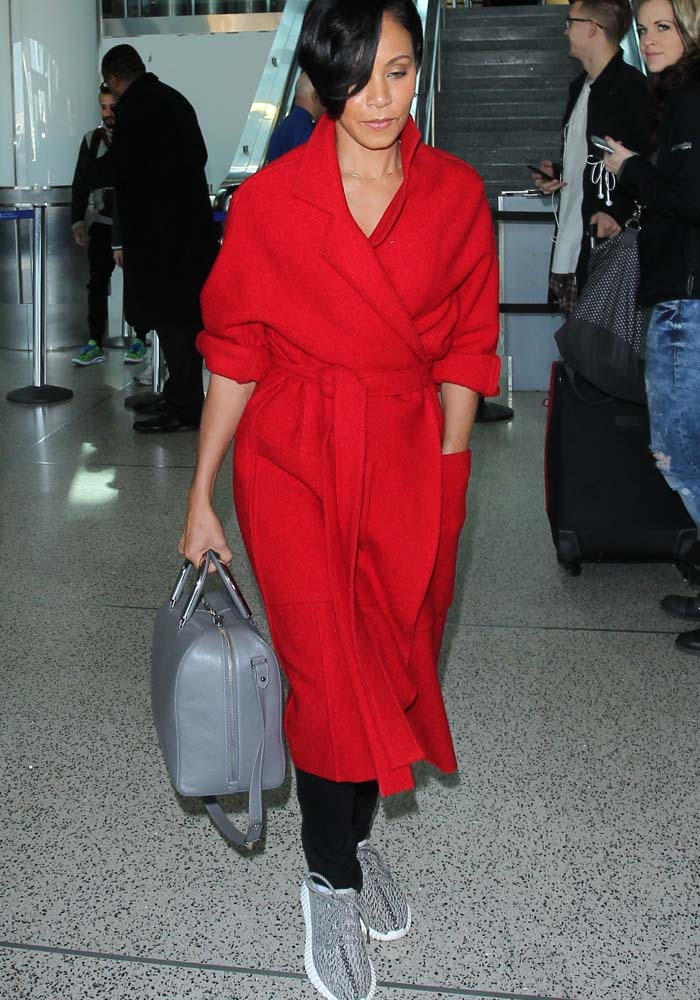 Jada Pinkett-Smith strolls through LAX in a long red trench coat paired with black jeans
Jada, on the other hand, kept quiet after releasing her viral video.

Yeezy Boost 350 Sneakers in Grey White, $2,145.00 – $3,599.00
Credit: WENN / Joe Major / L.K.