Will Smith and Jada Pinkett Smith are Hollywood Elite – A-List if you will. Both have enjoyed hugely successful careers in Hollywood spanning nearly 3 decades.
Their marriage and family life have been the talk of the town this year, with Jada Pinkett Smith famously getting "entangled" in a love affair with a 27-year-old singer and confirming it publicly on her Facebook talk-show (more on that later!).
But who are the Smiths and what are they worth?
Will Smith, 52, started out in the industry as a rapper at only 16 years old. He launched a highly successful rap career with Jeff Townes, and they became known as DJ Jazzy Jeff & The Fresh Prince.
Smith also starred on the notorious sitcom The Fresh Prince of Bel-Air for six seasons. The show propelled Will Smith into the Hollywood lifestyle, allowing him to take on more serious acting gigs in films such as Bad Boys (1995), Independence Day (1996), Men in Black (1997), and Hitch (2005.)
Will Smith and Jeffrey Allen Townes, known professionally as DJ Jazzy Jeff or simply Jazz, at the American Music Awards in 1988
His role in the film Ali, depicting famous boxer Mohammed Ali, had him nominated for an Oscar, and years later he was nominated again for his role in The Pursuit of Happyness (2006.)
Jada Pinkett Smith, 49, has also enjoyed her own success in the Hollywood scene, making this duo a true power couple. She began her acting career in 1990, with a guest appearance on the sitcom True Colors.
The short-lived sitcom didn't propel her into stardom but did lead to a more permanent role in the series A Different World from 1991-1993. Her career breakthrough came from her appearance in The Nutty Professor (1996), opposite Eddie Murphy.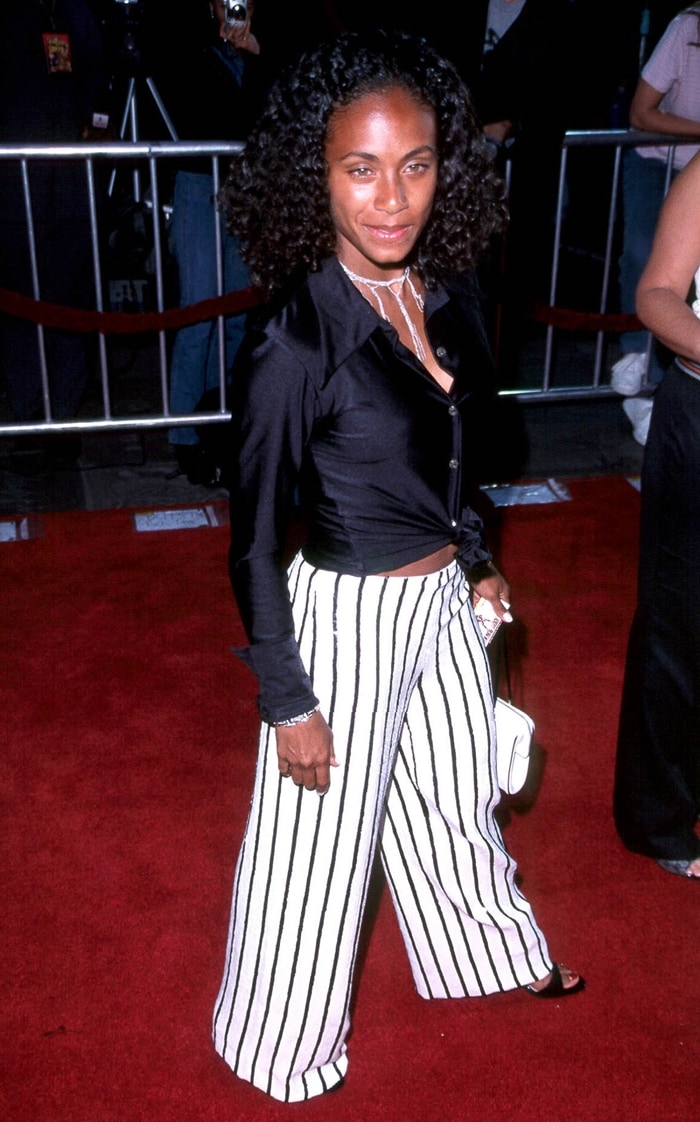 Jada Pinkett attends the Rush Hour 2 premiere at Mann's Chinese Theatre in Hollywood on July 26, 2001
Since then, Jada's acting career has been wildly successful, starring in over 20 feature films, including Scream 2 (1997), Ali (2001), The Matrix Reloaded (2003), The Matrix Revolutions (2003), the Madagascar films (2005–2012), Magic Mike XXL (2015), Bad Moms (2016), Girls Trip (2017), and Angel Has Fallen (2019).
Jada is currently running her own talk show, called "Red Table Talk" which has seen considerable success.
Together, this power couple have built a considerable fortune, and they are known as one of Hollywood's wealthiest couples.
But – are they actually billionaires?
In short, the answer is no. Will Smith and Jada Pinkett Smith are not billionaires – yet!
Will Smith and wife Jada Pinkett Smith leaving Wolfgang Puck's restaurant, Cut, in the Beverly Wilshire Hotel after enjoying dinner with friends Tom Cruise and Katie Holmes, in February 2008
But that doesn't mean they won't hit billionaire status in their lifetime. They are currently estimated to be worth over $370 million and with annual incomes of over $80 million combined, there's no sign of them slowing down yet.
How they built their wealth
Will and Jada have diversified their careers beyond acting, which was an incredibly smart financial move for this power couple. They've made their fortune through many different avenues and are considered to be talented actors and successful entrepreneurs.
So how exactly did Will Smith and Jada Pinkett Smith build their wealth?
Music Sales
Both Will and Jada Pinkett Smith have had successful music careers, selling millions of albums around the world.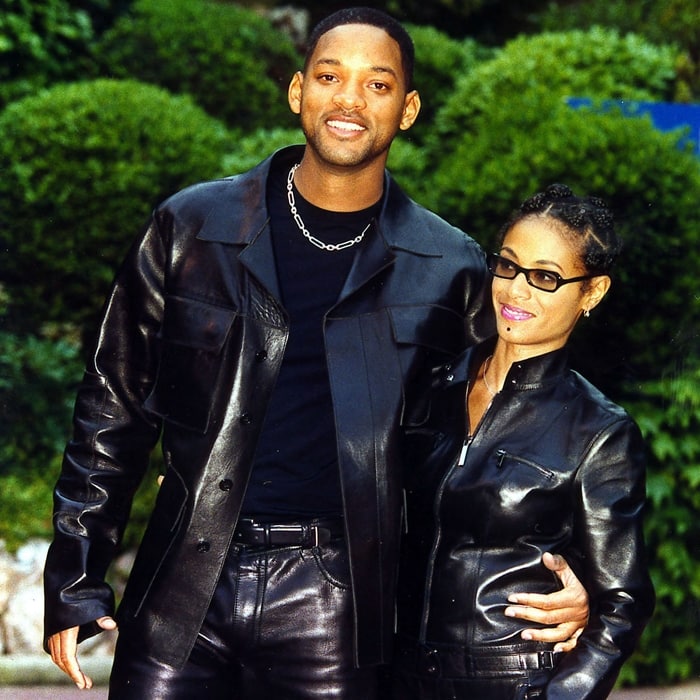 Will Smith and his wife Jada Pinkett Smith at the 1999 World Music Awards held in Monaco on May 5, 1999
Will Smith's solo album "Lost and Found" sold close to 10 million copies in 2013, an impressive stat that provided the couple with a hefty payday!
They've starred in dozens of films
Will Smith has starred in nearly 50 films in his career, and Jada has appeared in at least 40. With most of their salaries coming from film, their acting skills have undoubtedly contributed to most of their millions.
They own a production company
Will and Jada Pinkett Smith share ownership of Overbook Entertainment LTD, a hugely successful production company co-owned with famous producer James Lassiter.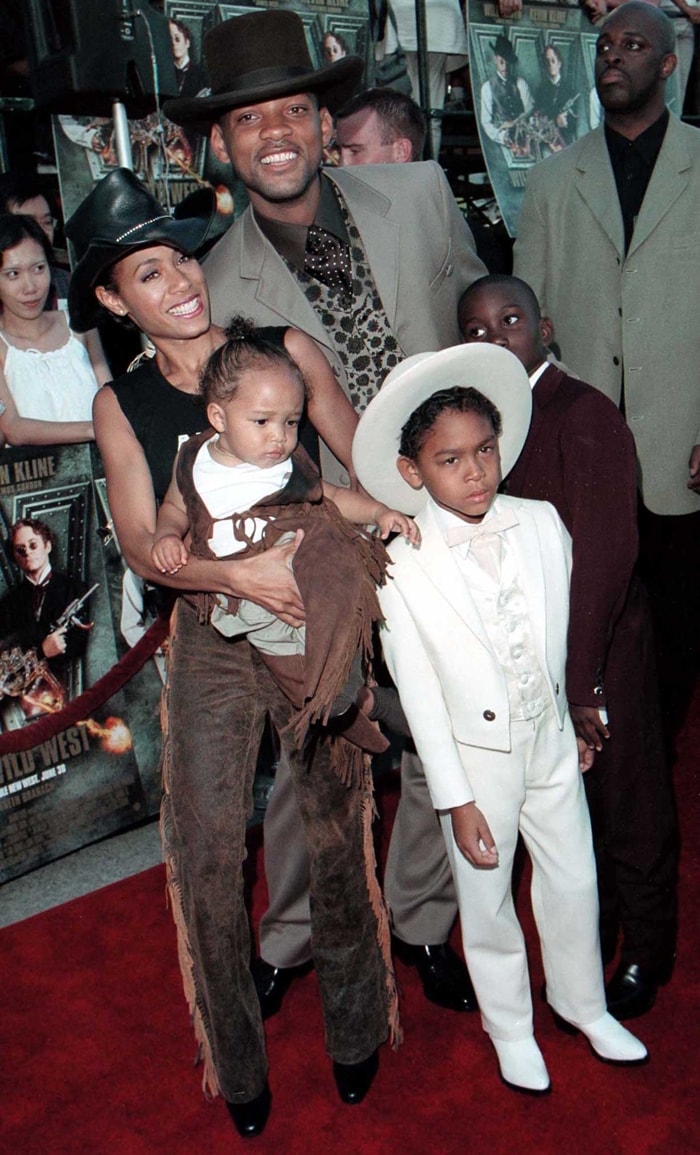 Actor Will Smith, actress Jada Pinkett Smith, son Jaden Smith, and Will's son Trey Smith attend the "Wild Wild West" Westwood Premiere on June 28, 1999, at Mann Village Theatre in Westwood, California
The company is co-producing the American action comedy-drama web television series "Cobra Kai" with Heald Productions, Hurwitz & Schlossberg Productions, and Sony Pictures Television. In 2020, the show was on top of the Netflix charts and broke a record for non-Netflix originals.
Real Estate
Over the years Will Smith and Jada Pinkett Smith have made some smart real estate moves that have made millions.
In 2017 Will and Jada sold their breathtaking 7-acre oceanfront compound in Kauai for a cool $12 million, $2 million more than what they purchased it for only 2 years prior.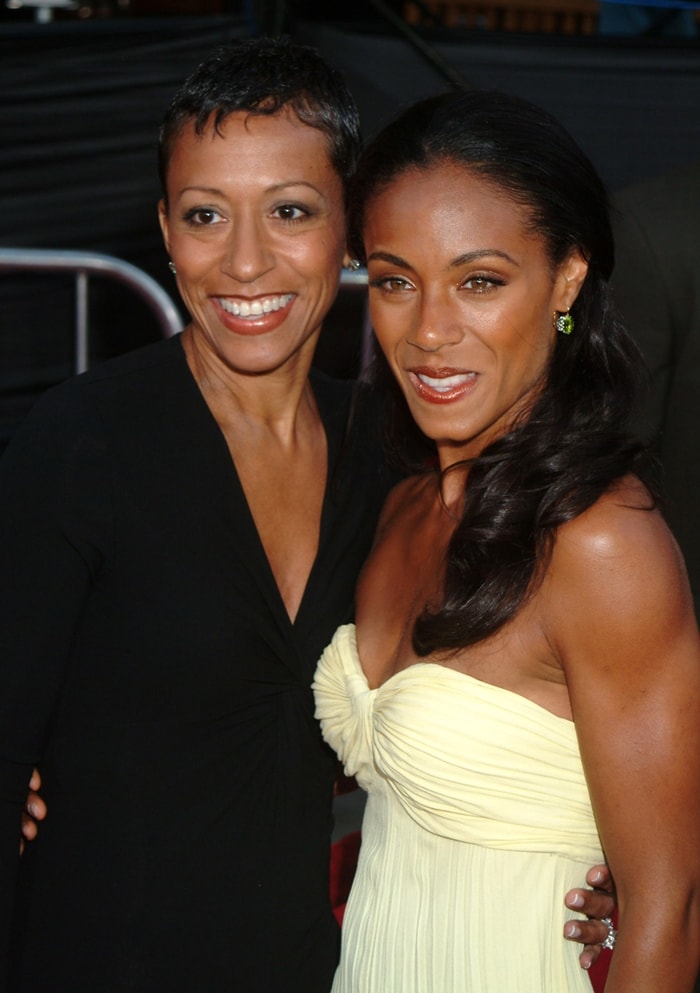 Jada Pinkett Smith with her mother Adrienne Banfield-Norris at the premiere of 'Collateral' held at the Orpheum Theatre in Los Angeles on August 2, 2004
In 2011 they sold a different oceanfront Hawaiian property on 7-acres for $20 million to Ekaterina Rybolovlev, the daughter of billionaire Russian oligarch Dmitry Rybolovlev for $20 million.
Paid Promotions
With hefty social media followings and loyal fans, Will Smith and Jada Pinkett Smith can make a pretty penny off social media promotions and spokesperson deals.
Will Smith was the fastest-growing account on Instagram, ever, when he went from zero to 21 million followers in a mere nine months in 2018. They have also partnered with huge fashion houses and cosmetic companies.
Family Life
Jada met Will Smith in 1994 when she auditioned for the role of Will's girlfriend in The Fresh Prince of Bel-Air.
Unfortunately, Jada was considered too short for the role, so it was nabbed by actress Nia Long. According to some reports, the attraction to Jada was immediate but Will didn't act on it initially.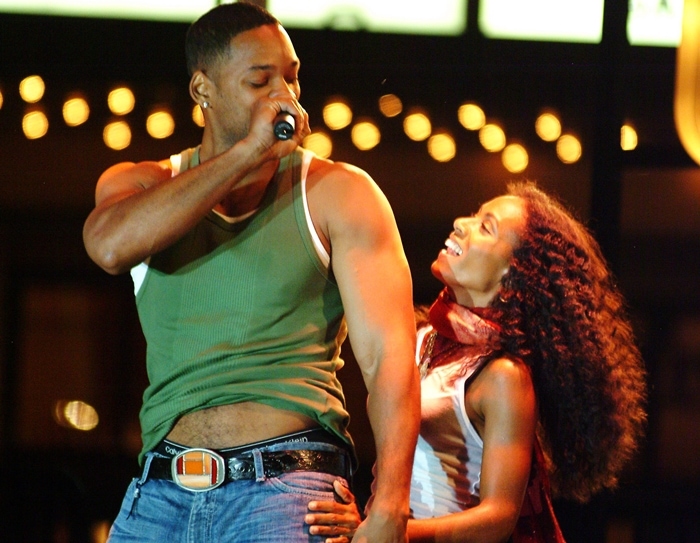 Will Smith and Jada Pinkett Smith performing at the 'Summer Concert Series' at The Grove in Los Angeles on August 12, 2004
It was only after he split with long-time partner Sheree Fletcher, that the romance between Will and Jada began. On December 31, 1997, the couple tied the knot. Jada was 3-months pregnant at the time with their first child Jaden.
Will Smith and Jada Pinkett Smith have been married ever since, and they had two children together – Jaden and Willow Smith. Jada is a stepmother to Will's son Trey, from his previous marriage to Sheree Zampino.
Will and Jada Pinkett Smith have been open about much of their family life and their relationship.
Will Smith and Jada Pinkett Smith with Jayden and Willow at the New York premiere of Dreamworks animated film "Shark Tale" on September 27, 2004
In April 2013, Pinkett Smith stirred up allegations that they were in an open relationship after she said in an interview with Huff Post Live's Marc Lamont Hill: "You can do whatever you want as long as you can look at yourself in the mirror and be okay'. Because, at the end of the day, Will is his own man. I'm here as his partner, but he is his own man".
She denied an open relationship and stated their relationship is built on trust and love, and that was all she meant by that statement.
Though their marriage has been strong over the years, it's not without challenges.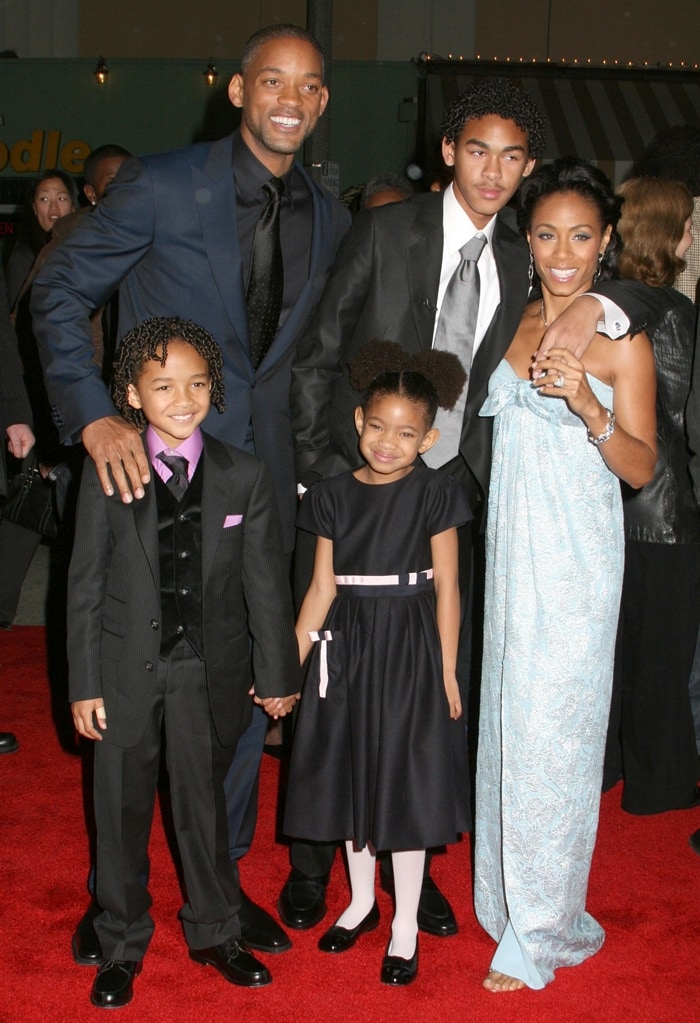 Trey Smith, Jada Pinkett Smith, Thandie Newton, Willow Smith, Will Smith, and Jaden Smith at the Los Angeles premiere of 'The Pursuit of Happyness' held at the Mann Village Theater in Westwood on December 7, 2006
This year, Jada Pinkett Smith confirmed allegations of a relationship with singer August Alsina, 27, during an episode of her show Red Table Talk on Facebook. In the show, she confirmed she got into an "entanglement" with August, while she and Will separated.
Life is no fairy-tale, but they are living large and money is no issue
With a net worth of an estimated $370 million, Will Smith and Jada Pinkett Smith live the luxurious lifestyle you would expect of any A-List celebrity couple.
The family shares a beautiful home in Calabasas, worth an estimated $42 million. The star-studded neighborhood of Calabasas is crawling with celebrities (hello, Kardashians!) and the community is incredibly private with loads of security.
Their sprawling property has all the amenities, including basketball, volleyball, and tennis courts, a man-made lake, outdoor pool, meditation lounge, and home theatre.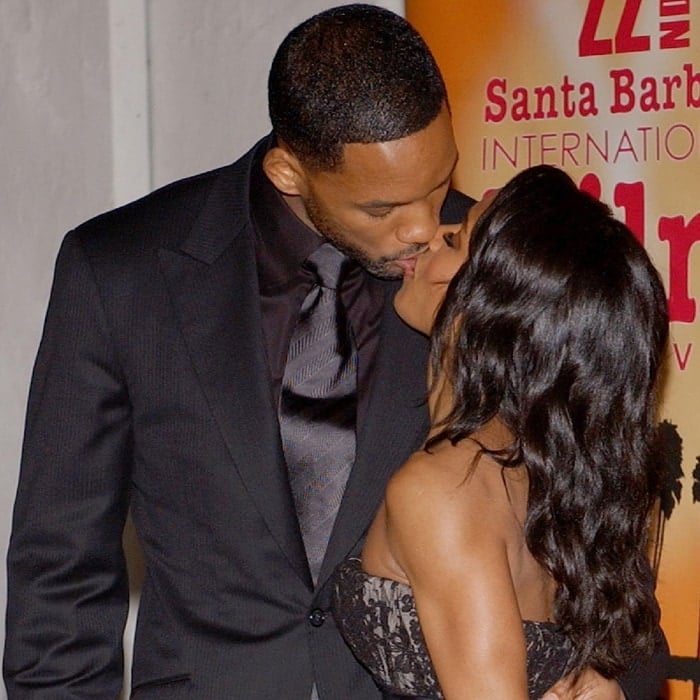 Will Smith and Jada Pinkett Smith kissing during the 22nd Annual Santa Barbara International Film Festival on January 27, 2007
You may recognize their home from daughter Willow Smith's famous single 'Whip my Hair' which was filmed at the family home.
Will Smith is a huge fan of classic cars, and since he has more money than he knows what to do with, he's built an impressive collection over the years.
His car collection includes a cherry-red 1965 Ford Mustang in mint condition. The very first Mustang was sold in 1965, making this car a hot commodity among car-aficionados.
Though Will loves classic cars, the family has their share of luxury whips too.
The opulent Maybach 57S sedan sits in the garage, parked side-by-side with a custom Rolls-Royce Ghost. The Maybach 57S is packed with top tech features like voice recognition, massage seats, and even heated cup holders, to ensure their coffee never gets cold!
Will Smith has been a fan of Rolls Royce cars since his early days, and he's been spotted a few times around LA recently cruising the streets in his custom RR Ghost.
Not-quite billionaires Jada Pinkett Smith and Will Smith attend Paramount Pictures' Premiere Of "Gemini Man" on October 6, 2019, in Hollywood, California
Now, this is where it gets fun… Have you ever heard of a $2.5 million luxury mobile home? We haven't either, but Will and Jada have the top of the line mobile home that is truly fit for a king! The best part? You can rent it for $9,000 a night.
If you have deep pockets, take it for a spin and enjoy the 30-seat movie theatre or, one of 14 TV's spread throughout decked out the mobile home. The bedrooms alone cost over $30,000!
Will Smith and Jada Pinkett Smith might not be billionaires, but they are definitely doing well for themselves. With a net worth estimated at around $370 million, money is no object and their lifestyle proves it.
In December 2015, Jada Pinkett Smith and Will Smith had been married for 18 years and appeared to be just as in love as ever.
Jada Pinkett Smith wears her hair back at Rihanna's 2nd annual Diamond Ball at The Barker Hangar in Los Angeles on December 10, 2015
The two posed on the red carpet at the Second Annual Diamond Ball hosted by Rihanna and The Clara Lionel Foundation held at The Barker Hangar in Los Angeles.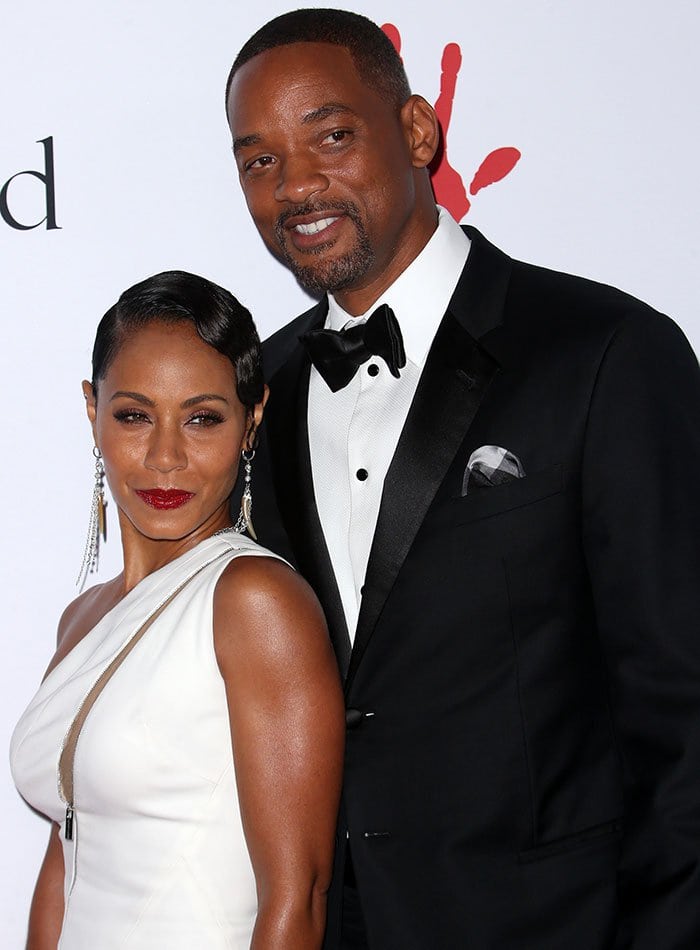 Jada Pinkett Smith and Will Smith pose together on the red carpet
The then 47-year-old actor was dashing in a black tuxedo suit, while his then 44-year-old wife looked the epitome of classic elegance in a floor-length white number.
Jada Pinkett Smith and Will Smith pose for photos together on the red carpet
Jada flaunted her enviable figure in a form-fitting one-shoulder dress by Zuhair Murad.
Jada Pinkett Smith poses in a white Zuhair Murad dress
The white dress featured a half-open zip detail across her chest that gave a peek at her inner side boob and a thigh-high slit that put her toned leg on display.
Jada Pinkett Smith shows off her cleavage in a white Zuhair Murad dress
Her accessories — a diamond bangle and a pair of long dangling earrings — as well as her Josephine Baker hairstyle and pop of red lipstick, brought the glam factor up a notch.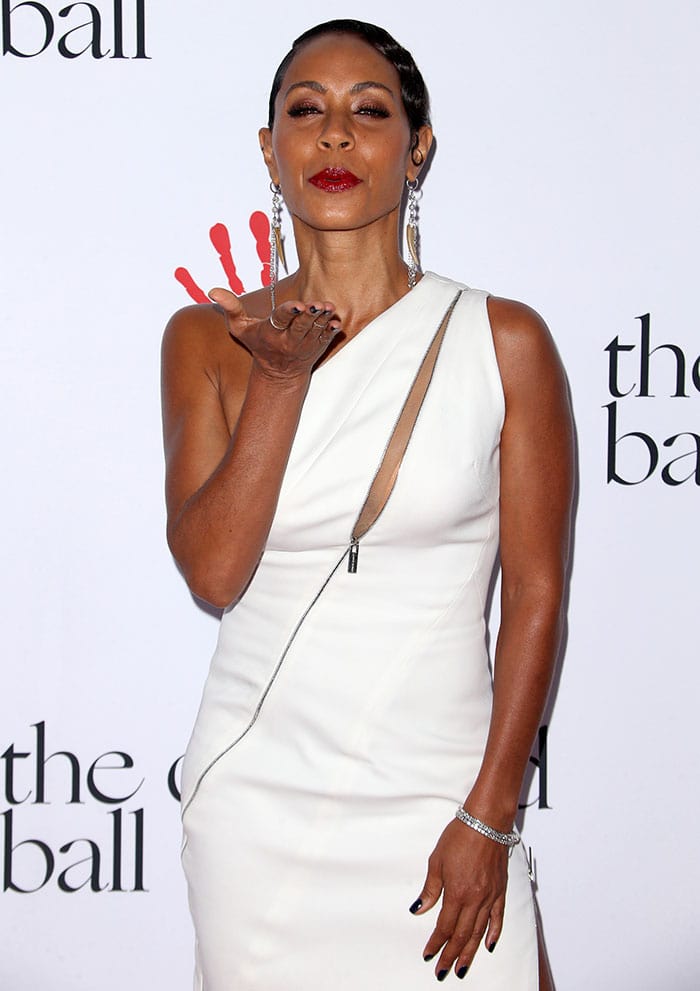 Jada Pinkett Smith blows a kiss from the red carpet
Jada completed her look with a pair of silver heels to match her jewelry.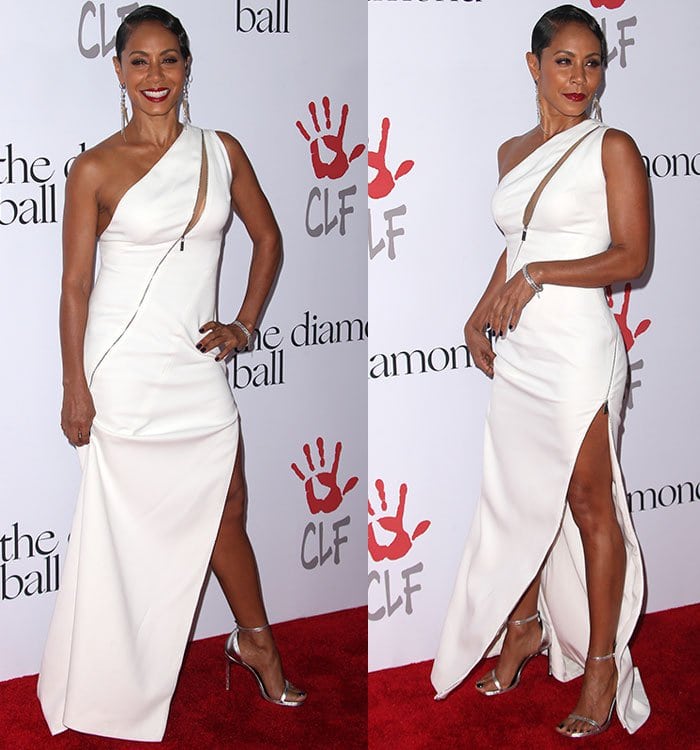 Jada Pinkett Smith shows off her silver jewelry and sandals
She wore the classic Saint Laurent "Jane" sandals, which feature buckled ankle straps, open toes, thin straps, and about 4.5-inch heels.
Jada Pinkett Smith's feet in Saint Laurent sandals
These Saint Laurent sandals are a must-have! You can get them in different versions at Farfetch and Nordstrom.
Saint Laurent "Jane" Ankle-Strap Sandals, $561 – $695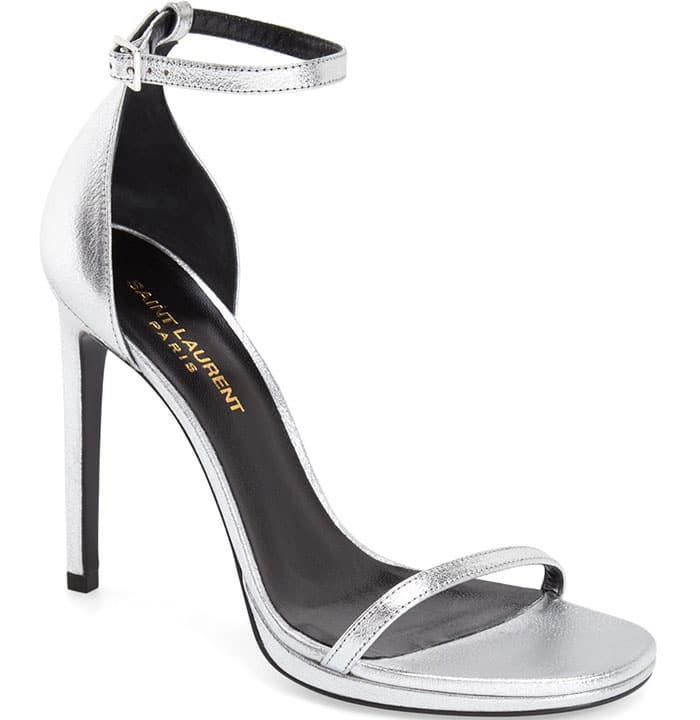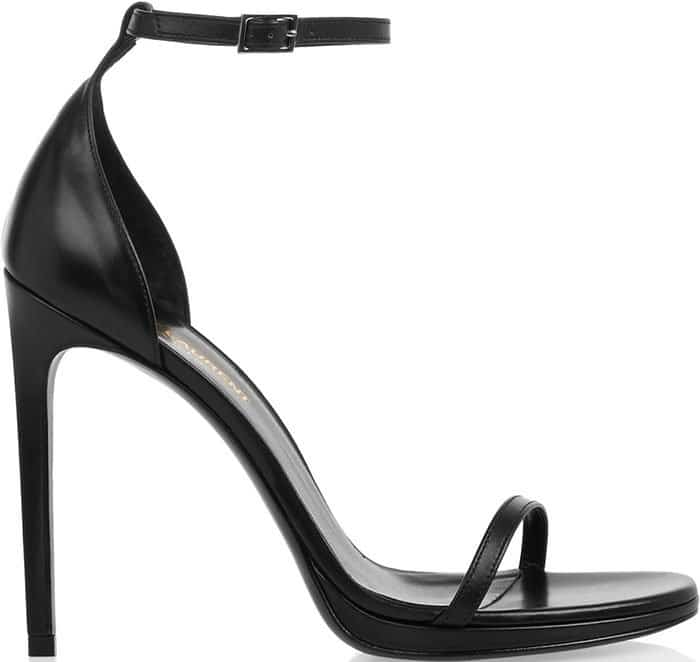 Credit: Adriana M. Barraza / FayesVision / WENN / Chris Connor / 
Nice Mati / Marcus Hoffman / Jody Cortes / PNP / Fabrizio Picco