Stopping at a convenience store after Paris Hilton's elaborate wedding last week, Kim Kardashian flaunted her famous boobs in a revealing Rick Owens Spring 2022 full-length dress.
Kim Kardashian flaunts her boobs outside a convenience store in Los Angeles after coming from Paris Hilton's wedding on November 11, 2021 (Credit: MEGA / WENN)
Featuring a plunging neckline cut into an angular design with a see-through inset, her dress was styled with Balenciaga Lithoplast XL earrings in black recycled plastic brass and her favorite over-the-knee Knife boots.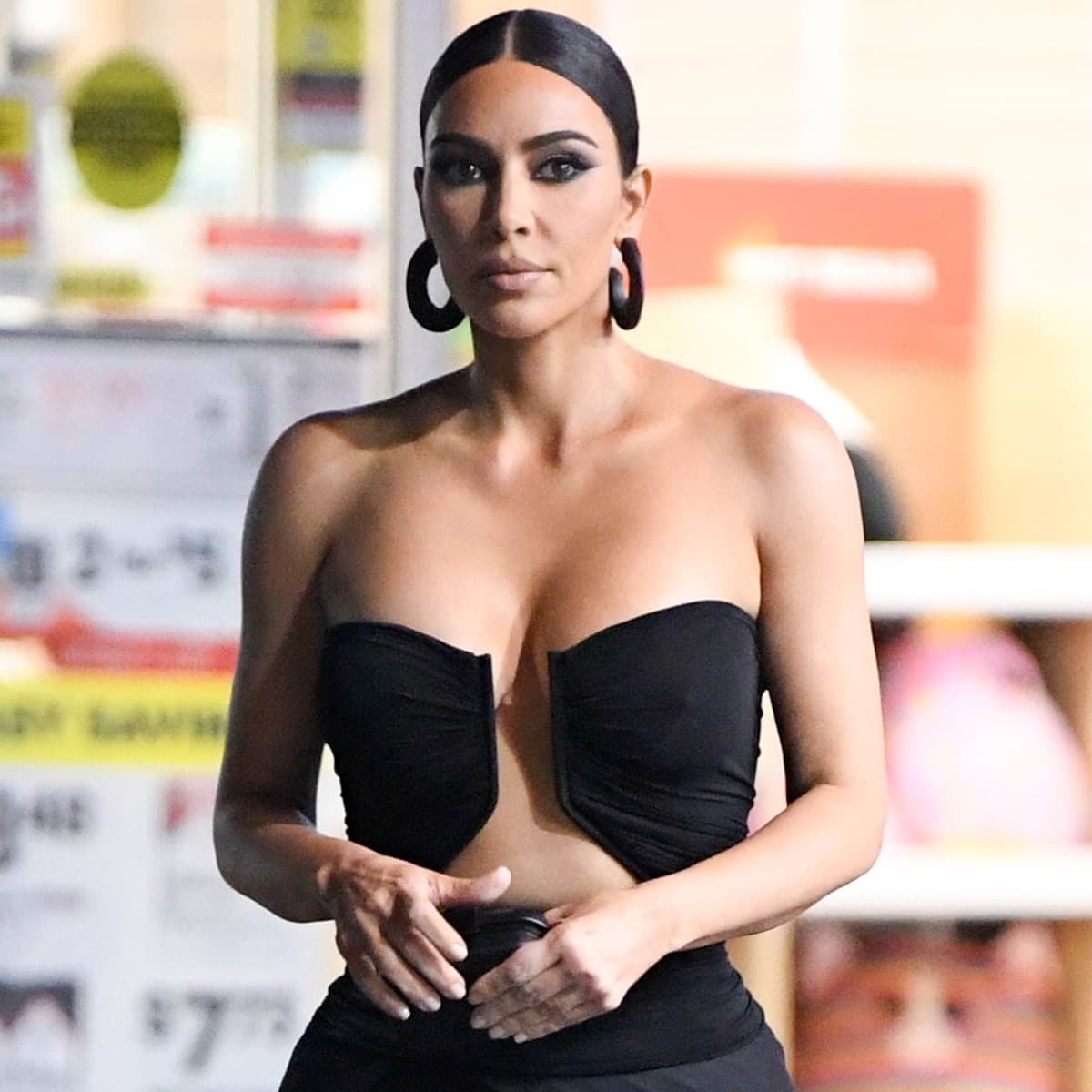 Kim Kardashian styled a Rick Owens Spring 2022 dress with Balenciaga Lithoplast earrings (Credit: MEGA / WENN)
"Pumpkin spice and everything nice for Paris's wedding!" the Skims founder captioned photos of her outfit for the evening.
View this post on Instagram
On Friday night, Kim Kardashian poked fun at her three divorces while delivering a speech at friends Simon Huck and Phil Riportella's rehearsal dinner ahead of their Saturday wedding. She has so far been married to Damon Thomas, Kris Humphries, and Kanye West.
"I was a little bit confused because I haven't really figured out this marriage thing myself, so I don't know what kind of advice…I'm gonna give to you guys tonight," Kim joked as PR executive Simon Huck and his long-time boyfriend Phil Riportella laughed behind her.
Appearing on Late Night with Seth Meyers earlier the same week, Pete Davidson refused to comment on the rumor he's dating Kim Kardashian.
"I want to address something—I feel like I want to confirm if it's real or a rumor," Seth immediately asked Pete as he sat down. "This is something you've been reading a lot about in the press. We appreciate you doing it here."
Wearing a Balenciaga burgundy satin bomber jacket with loose track pants and an off-the-shoulder top, Kardashian returned to The Ritz-Carlton New York, Central Park in New York City on November 3, 2021 (Credit: MEGA / WENN)
"I've been wanting to talk about this because there's a lot of people I walk by, people are like whispering and making eyes at me. But it is true," Pete responded and proceeded to joke about his new animated series, The Freak Brothers.
"I do have a show on Tubi coming out. The Tubi. A lot of people are shocked that I could get on a show like Tubi, but it's a real thing."
Despite the freezing temperatures, in early January 2015, Kim Kardashian was spotted in a stylish outfit while stepping out in Midtown in New York City.
Kim Kardashian takes a photo with a fan in New York on January 8, 2015 (Credit: WENN / TNYF)
Earlier the same month, the then 34-year-old reality star was praised by the Armenian-American heavy metal band System of a Down for raising recognition for the Armenian genocide of 1915.
Serj Tankian, who is the frontman for the band, told Rolling Stone that "For all the flak people give Kim Kardashian, I could say that with her yearly commemorations of the Armenian genocide and spreading that word, she's been valuable. She's been great".
Kim Kardashian flaunts her freezing booty in a leg-baring tight, zip-up mini skirt (Credit: WENN / TNYF)
While Kim was later seen together with her stylist and husband, Kanye West, for her shopping trip, she was accompanied by Jonathan Cheban.
Kim Kardashian shows off her new handbag (Credit: WENN / TNYF)
Kim sported a leg-baring tight, zip-up mini skirt paired with a matching biker jacket and towering white ankle-strap heels.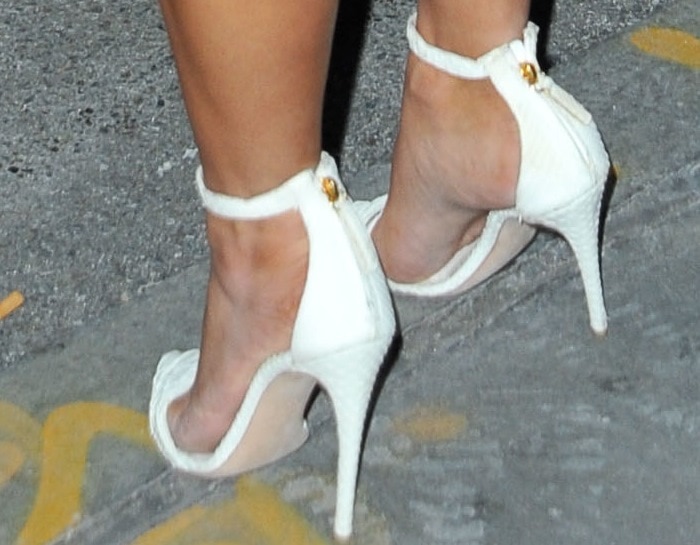 Kim Kardashian's sexy feet in white ankle-strap sandals (Credit: WENN / TNYF)
Would you wear a mini skirt in winter like Kim Kardashian?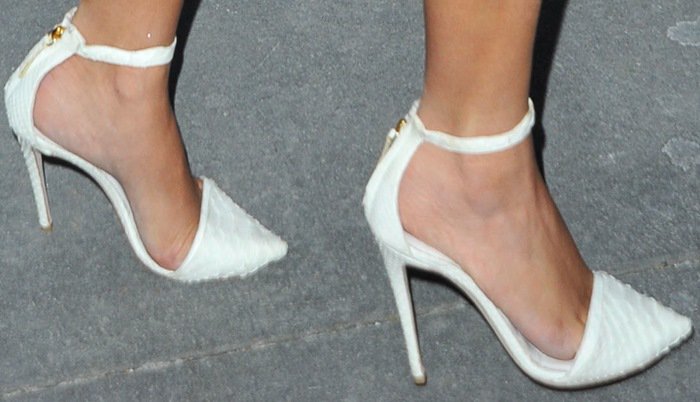 Kim Kardashian rocks sexy white shoes in New York (Credit: WENN / TNYF)
You can find great white pointy-toe pumps at Kim Kardashian's own ShoeDazzle. We really like the new Yousra style that new members can purchase for just $10!
White Yousra Snake-Accented Pointy-Toe Pumps, $10
A rhinestone-embellished snake encircles the stiletto heel for an unexpected detail