Cristina Greeven Cuomo was born in New York on January 12th, 1970. She grew up in both New York City and Southampton, Long Island.
Of Brazilian and German ancestry, Cristina attended Cornell University, where she maintained a passion for writing – that passion would later become her career.
Cristina Greeven Cuomo and her mother-in-law Matilda Cuomo at Love Heals, The Alison Gertz Foundation For AIDS Education 20th Anniversary gala at the Four Seasons Restaurant on November 9, 2011, in New York City (Credit: Lev Radin / Shutterstock)
She began as a writer and magazine editor, and also worked for some of the most renowned publishing houses in the United States.
However, Cristina Greeven had bigger ambitions than just working for someone else. With an entrepreneurial spirit, she eventually launched her own website and journal, titled "The Purist," which mainly focuses on wellness and lifestyle content.
In the public eye, she is mainly known for her work with The Purist and for her public appearances with her husband, former CNN anchor Chris Cuomo.
Who is Chris Cuomo?
Cuomo was born on August 9th, 1970, in Queens, New York. Although he eventually went on to make a name of his own, Chris has been in the public eye since he was a child.
His father, Mario Cuomo, was a notable Democratic politician and became the governor of New York when Chris was just 12 years old.
Chris' brother, Andrew Cuomo was also elected as the governor of New York in 2011 but stepped down from the position in 2021 due to several sexual assault allegations that were made against him.
Anderson Cooper of CNN's Anderson Cooper 360° and Chris Cuomo of CNN's Cuomo Prime Time attend the WarnerMedia Upfront 2019 held at The Theater at Madison Square Garden on May 15, 2019, in New York City (Credit: Jennifer Graylock / INSTARimages)
Chris Cuomo, a licensed attorney, chose not to pursue law in his career- he would go on to become one of CNN'S most visible journalists and one of Anderson Cooper's close friends.
He co-hosted the morning show "New Day," and eventually formed his own show, "Cuomo Prime Time", which began in 2018.
Chris Cuomo's brother Andrew Cuomo served as the 56th governor of New York from 2011 to 2021 (Credit: Lev Radin / Shutterstock)
However, Chris Cuomo was recently fired from CNN in December 2021 due to breaching journalistic ethics while assisting his brother Andrew with the sexual assault allegations that were made against him, and subsequent sexual assault allegations that were made against Chris himself.
How Did They Meet?
Chris Cuomo and Cristina Greeven (now Greeven Cuomo) met at an art opening in New York City in 1998 when Cristina was working in the city as a magazine editor.
Cristina told Elle that she thought the Cuomos were a very driven family and was inspired by Chris's dedication to community service.
Christopher Cuomo and Christina Greeven met in 1998 at an art opening and married on November 24, 2001 (Credit: Dave Allocca / Startraksphoto)
Cristina and Chris were both enamored with one another right away and tied the know just a few short years later.
What Do They Do For A Living?
As mentioned above, Cristina Greeven Cuomo's current work focuses on her own brand, The Purist. Through her work with the website and journal, she hopes to inspire others to live healthy, positive, and mindful lives.
While Chris's most recent position with CNN, he began his career bouncing around several networks and shows in broadcast journalism, such as ABC's "Good Morning America."
Cristina Greeven Cuomo has worked as an editor for several New York magazines and is the founder of the online wellness magazine and lifestyle website The Purist (Credit: Hugo A.K.A. Sppider / Shutterstock)
He began his work with CNN in 2013, though, as stated above, he was recently fired for several reasons. It is unclear what his next career move will be.
Inside Their Relationship
After meeting in 1998, it was just a few short years before Chris and Cristina officially got married. The two reportedly tied the knot on November 24, 2001.
Since their marriage, they have welcomed three children. Their oldest daughter, Bella Cuomo, was born in 2003. Their second child, Mario Cuomo, named after Chris' father, was born in 2006.
View this post on Instagram
Finally, their third child and the youngest of the clan, Carolina Cuomo, was born in 2010.
The Cuomo's are a very close family, and very much enjoy the time they spend with one another.
Notable Public Scandals
Both Chris Cuomo and Cristina Greeven Cuomo have faced very intense public scandals in the past few years – 2021 was a particularly rough time for their family.
First, as mentioned, Chris lost his job at CNN after he was discovered to have violated journalistic ethics while helping his brother battle sexual misconduct allegations that would ultimately lead to his resignation as the governor of New York. Chris responded publicly on Twitter:
"This is not how I want my time at CNN to end but I have already told you why and how I helped my brother, so let me now say as disappointing as this is, I could not be more proud of the team at 'Cuomo Prime Time' and the work we did … I owe them all and will miss that group of special people who did really important work."
CNN announced in December 2021 that their star anchor Chris Cuomo had been fired amidst an investigation into work that he did for his brother Andrew Cuomo (Credit: CNN)
Just a day later, allegations against Chris himself were made public. Both Chris and his brother Andrew have kept relatively quiet since the accusations made against them.
His wife, Cristina, also face severe public backlash after she was named in Jeffrey Epstein's 1997 address book that was released in 2021. The newly discovered address book predates the 2004 address book that was made public in 2019 (Cristina was not found in the 2004 book).
Although her name is slightly misspelled, Cristina Greeve's office address, office phone number, and home phone number are all found in the address book.
Cristina Greeven Cuomo's name was allegedly found in Jeffrey Epstein's 1997 address book (Credit: Hugo A.K.A. Sppider / Shutterstock)
It is unclear why Cristina Greeven Cuomo appears in the address book, but any association with Jeffrey Epstein is far from good.
When the news broke, a message was left with The Purist seeking comment- the request was returned by Chris Cuomo himself, who declined to comment on behalf of both him and his wife. The two have made very few public appearances since.
Conclusion
Chris Cuomo and Cristina Greeven Cuomo have been together for over twenty years, and have a very loving family relationship.
Cristina Greeven Cuomo and Chris Cuomo married in 2001 and are the parents of three children (Credit: Sam Aronov / Shutterstock)
However, both of them have had significant public scandals for their behavior and ill-advised associations (namely, Andrew Cuomo and Jeffrey Epstein), and their future in the public eye is unknown.
Chris Cuomo Facts
| What is Chris Cuomo's net worth? | He is an American television journalist with an estimated net worth of $12 million. |
| --- | --- |
| Full Name: | Chris Cuomo |
| Born: | August 9, 1970, in Queens, a borough of New York City. |
| Kids: | Bella Cuomo, Carolina Regina Cuomo, and Mario Cuomo |
| How tall is Chris Cuomo? | 6′ 2″ (188 cm) |
| Nationality: | American |
| How long has Chris Cuomo been married? | He has been married to Cristina Greeven Cuomo since 2001. |
| Who is Chris Cuomo's dad? | He's the son of Mario Matthew Cuomo, an American lawyer and politician who served as the 52nd Governor of New York for three terms, from 1983 to 1994. |
| Who is Chris Cuomo's mother? | The daughter of Italian immigrants, Matilda Cuomo was First Lady of New York from 1983 to 1994. |
| How much was Chris Cuomo paid? | He reportedly signed a four-year contract with CNN in April 2020 worth $6 million a year. |
In April 2013, Cristina Cuomo, wife of Chris Cuomo of CNN, was spotted at an event in NYC looking very chic and sophisticated.
Cristina Cuomo in sexy black dress at Manhattan Magazine Men's Issue party hosted by Zach Quinto in New York City on April 9, 2013 (Credit: Alberto Reyes / WENN)
She wore a black dress with sexy lace panels and a pair of super classy gold-heel sandals. Against that otherwise all-black ensemble, the bright blue manicure and pedicure added the perfect pop of color.
Her loose and straight locks, however, were a bit flat for my preference and could have used a little wave.
Cristina Cuomo shows off her pedicured feet in black high heel sandals (Credit: Alberto Reyes / WENN)
Do you agree that the only thing Christina's look lacked was a little something in the hair department? The rest of her ensemble is so fresh and sexy, but her locks need a little "oomph" in my opinion.
Unfortunately, Christina's heels are no longer available online. We did find three similar styles from Giuseppe Zanotti though, which are worth snagging at Farfetch.
Any of the black pairs would create the same chic effect if partnered with a bright blue pedicure.
Black Giuseppe Zanotti Sandals With Metal Plate, $695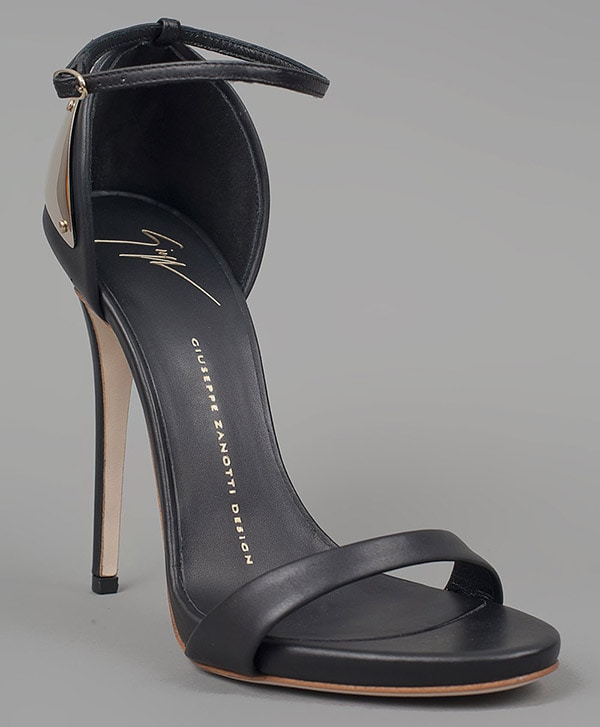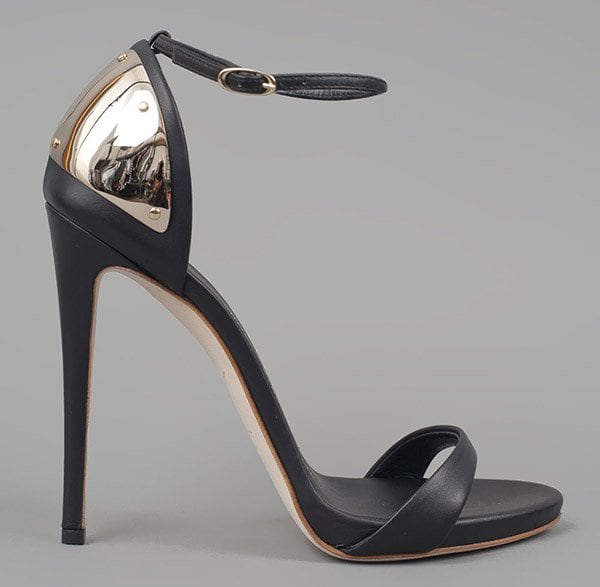 Nude Giuseppe Zanotti Sandals With Metal Plate, $695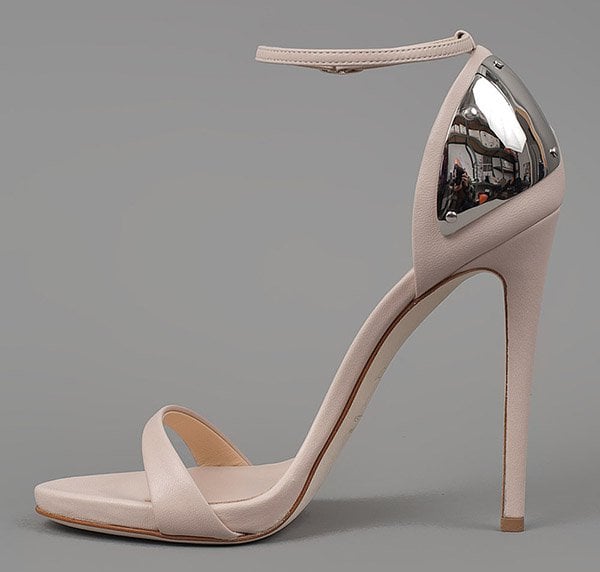 Giuseppe Zanotti Plated Heel Tie-Front Sandals, $1,250
What do you think of these similar sandal styles? Would you make any of them your next shoes?