After NBC's Today Show announced back in August of 2019 that Demi Lovato would have a guest role on the last season of the Will & Grace revival, the then 27-year-old pop superstar took to an Instagram story to tease, "I skipped the VMA's for a REASON. Well, that and I just hate awards shows."
Fans interpreted it as throwing shade to ex-frenemy Taylor Swift, set to perform and nominated for Video of the Year (which she would win) at the 2019 MTV Video Music Awards.
By November 20, Lovato further teased the project that had been in production around the time of the VMAs, writing: "Okay I can't tell you guys what I'm doing today (you'll find out super soon tho) but it's making me SO HAPPY. I'm having SO MUCH FUN and I can't stop laughing. Now go come up with crazy ass theories as to what it might be!!! 😝😂😂😂"
The next day, she showed off her baby bump in a polka-dot dress with the caption, "Real or fake? #WillandGrace #Meet Jenny," sending fans into a frenzy.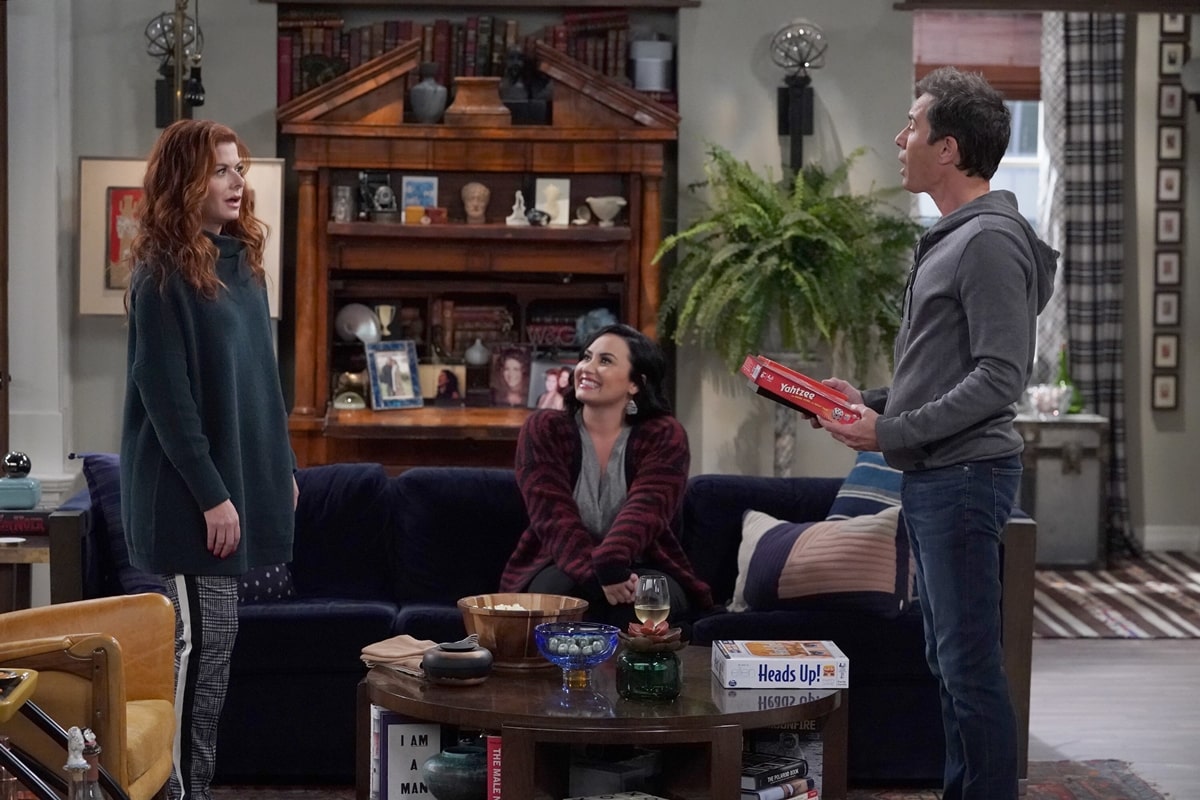 Debra Messing as Grace Adler, Demi Lovato as Jenny, and Eric McCormack as Will Truman in the American sitcom television series Will & Grace (Credit: NBC)
Entertainment Weekly revealed only that Demi was going to play a character named Jenny, a "guarded gal who comes into [Will's] life in an unexpected way."
Why did Demi Lovato take a guest role on Will & Grace?
She had been itching to return to acting as far back as 2018. Having started out as a child actress on Barney & Friends, she burst onto the scene alongside the Jonas Brothers in the 2008 Disney Channel original movie Camp Rock at the age of 16.
"Yes!! I plan on getting back into acting this next year," Demi responded on Twitter in May 2018 when asked about her plans for the future.
Then came a run at the helm of her very own Disney Channel sitcom Sonny with a Chance from 2009–2011, and a stint across a few episodes of Glee in 2013–2014.
Lovato's first episode as Jenny on Will & Grace aired on January 9, 2020. Called "Performance Anxiety," the episode featured the pop star as a camgirl with a filthy apartment and who's a candidate surrogate for Will.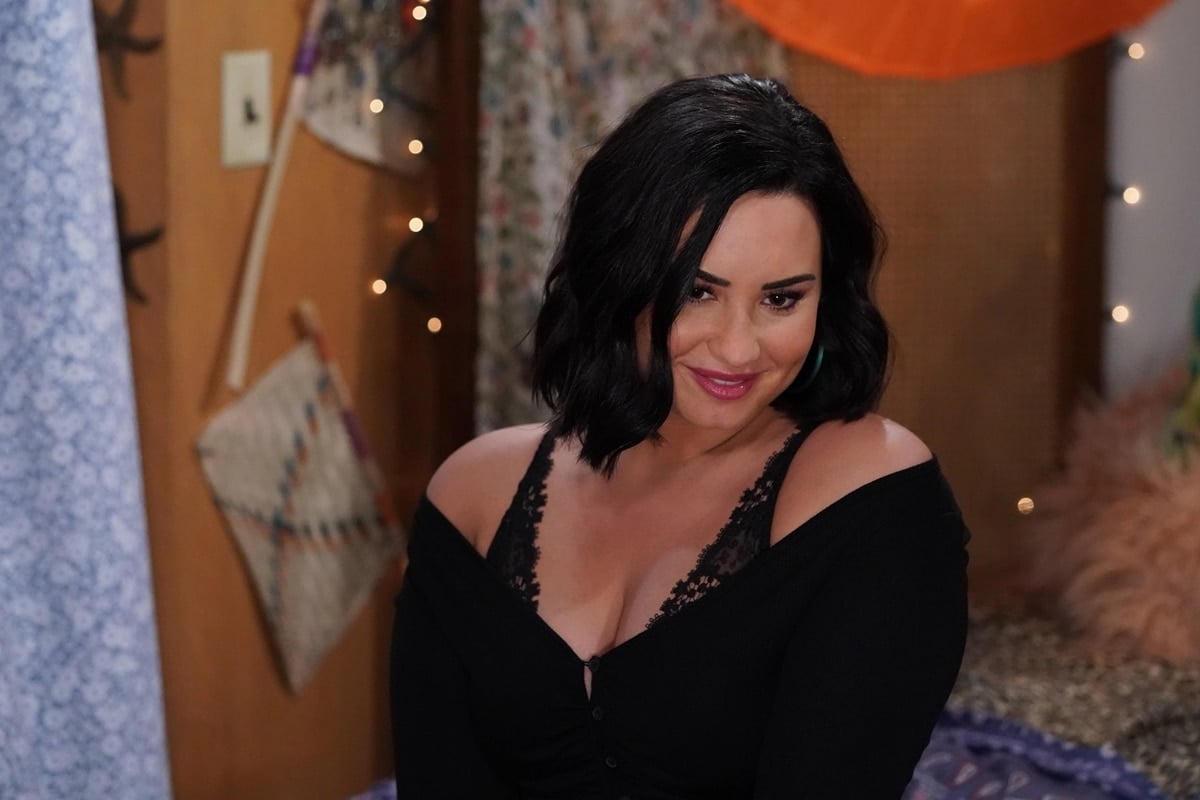 Demi Lovato portrays Jenny, a surrogate mom and cam girl, in the final season of Will & Grace (Credit: NBC)
When clean-freak Will has doubts about Jenny's potential to be a surrogate mother in his pursuit of becoming a father, he eventually comes around:
Will: She gets paid to show strange men her body!
Karen: And you want her to stick to getting paid to let strange men put babies in her body!
"Look, I don't smoke, I don't drink, I don't do drugs. Nothing harmful goes into my body and perfect babies come out," Jenny says about her being the perfect surrogate. "I'm like a machine."
Lovato's next appearances in episodes "Lies and Whispers", "The Favourite", and "Broadway Boundaries" would round out a recurring role pivotal in setting up Will's future.
Fans of Will & Grace and Lovato alike responded with overwhelmingly positive reactions to how the Jenny character helped provide a sendoff to one of the show's beloved title characters.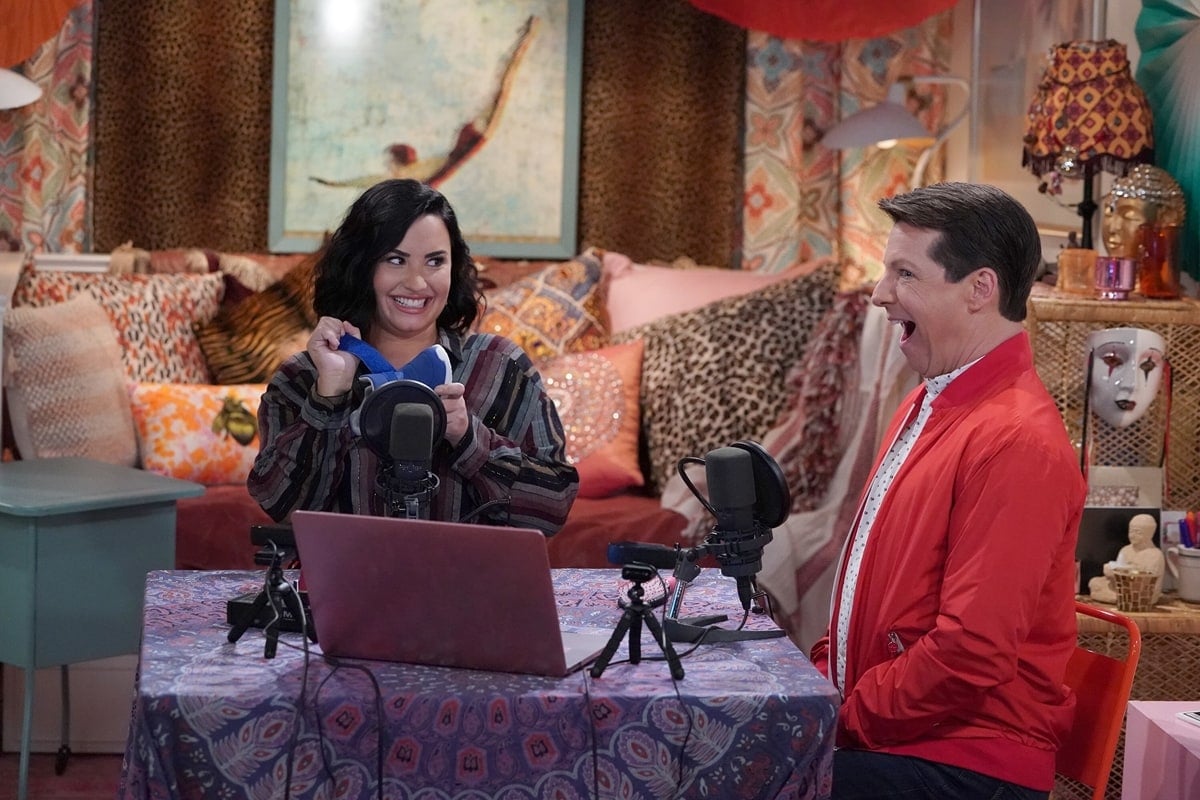 Sean Hayes as Jack McFarland and Demi Lovato as Jenny in the popular sitcom Will & Grace (Credit: NBC)
Demi Lovato's stint on the show also served as a practice run for a promising new pilot at NBC. It was announced last year that Lovato is slated to star in Hungry, a single-camera sitcom about friends in a food dependence support group, with Will & Grace writer Suzanne Martin as executive producer.
Considering Demi Lovato's history with eating disorders, her new show is going to be a compelling, potentially more personal return to her acting roots.
In April 2016, Demi Lovato showed off her fierce side at the 2016 GLAAD Media Awards held in Los Angeles.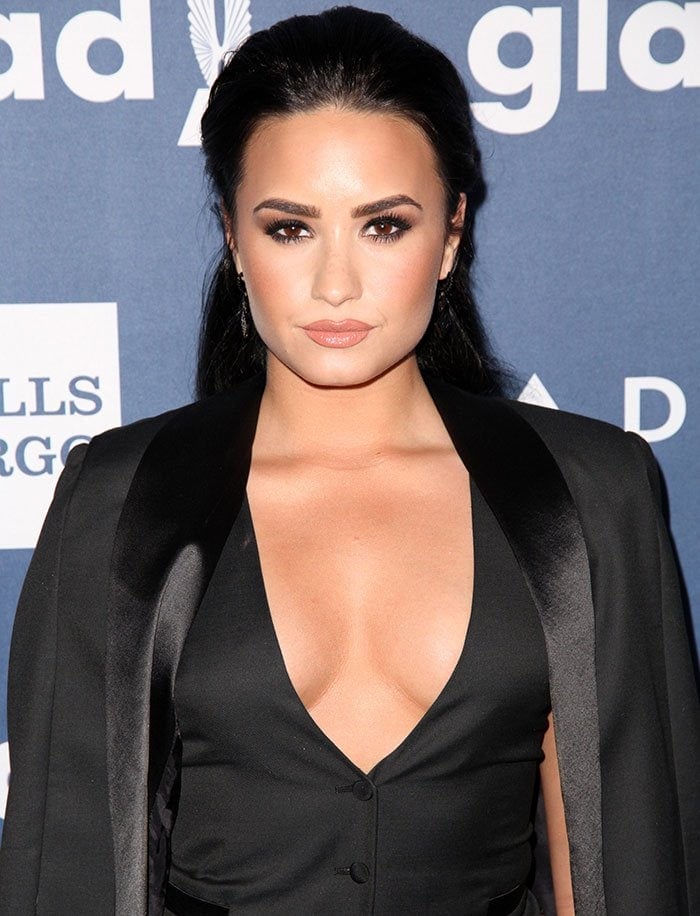 Demi Lovato wears her hair half-up at the 27th annual GLAAD Media Awards held on April 2, 2016, at the Beverly Hilton Hotel in Los Angeles (Credit: WENN)
She was honored with the Vanguard Award, which is given to a member of the entertainment industry "who has made a significant difference in promoting equal rights for LGBT people."
The then 23-year-old singer wowed on the blue carpet in a low-cut waistcoat that put her ample cleavage on display.
She teamed the revealing black top with a cape-like jacket worn over her shoulders and a pair of cream-and-black cheetah-printed flared pants, both by Sass & Bide.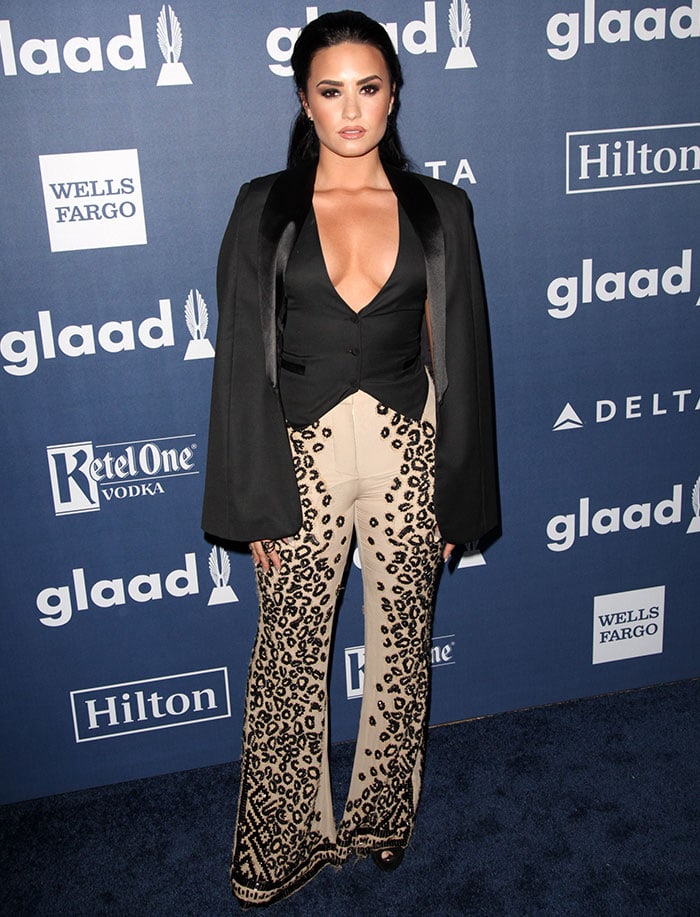 Demi Lovato reveals some serious cleavage in a black waistcoat, cape-like coat, and animal-print pants from Sass & Bide (Credit: WENN)
The "Cool for the Summer" hitmaker styled the look with XIV Karats jewelry and a pair of Louis Vuitton pumps.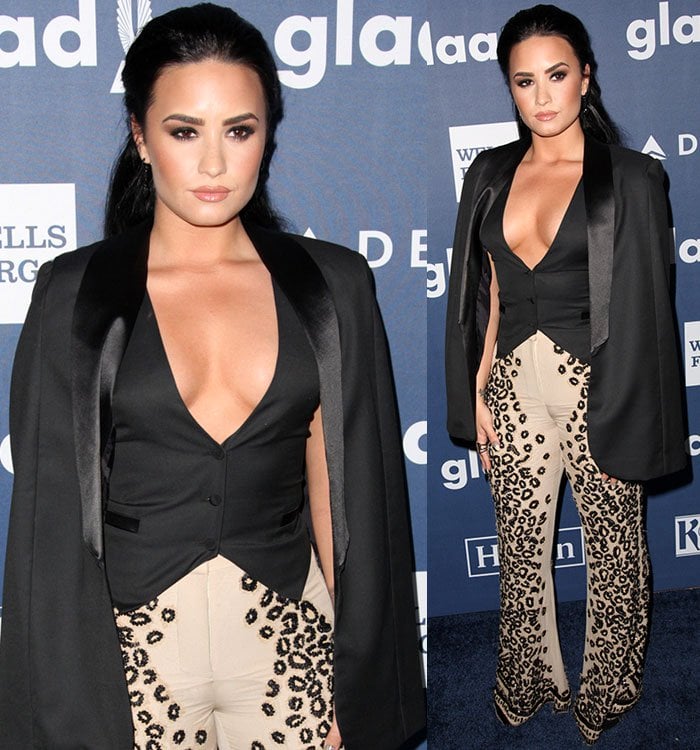 Demi Lovato puts her chest on full display at the GLAAD Awards (Credit: Brian To / FayesVision / WENN)
Demi was seen posing with Nick Jonas, who was dapper in a gray checked coat and matching pants.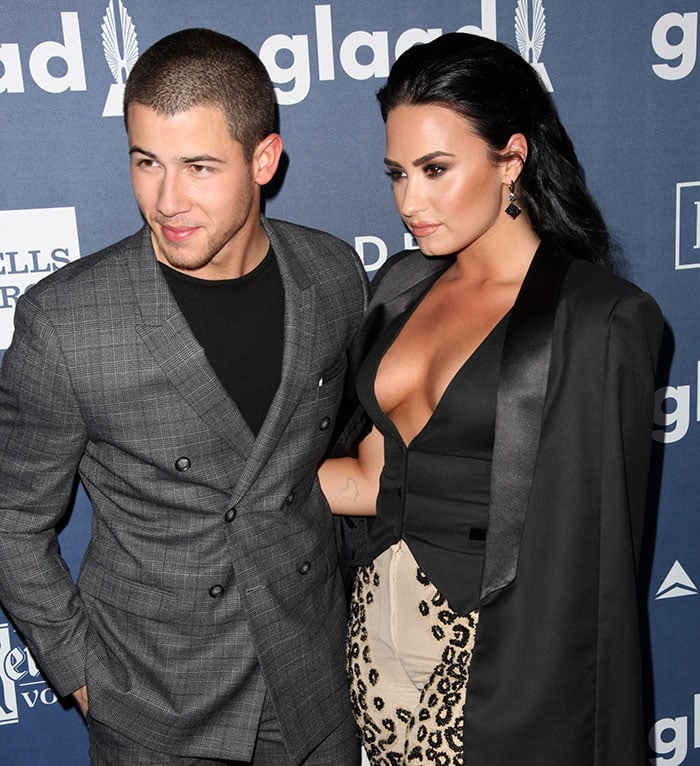 Nick Jonas and Demi Lovato pose for photos together at the GLAAD Awards (Credit: WENN)
Nick was about to join Demi for their "Future Now Tour" in support of her fifth studio album Confident and his third studio album Last Year Was Complicated. They dated briefly in 2010 following the release of Camp Rock 2.
Demi wore her dark brunette tresses in a slicked back half updo and amped up the sultry vibe of her look with nude lipstick and smokey eye makeup.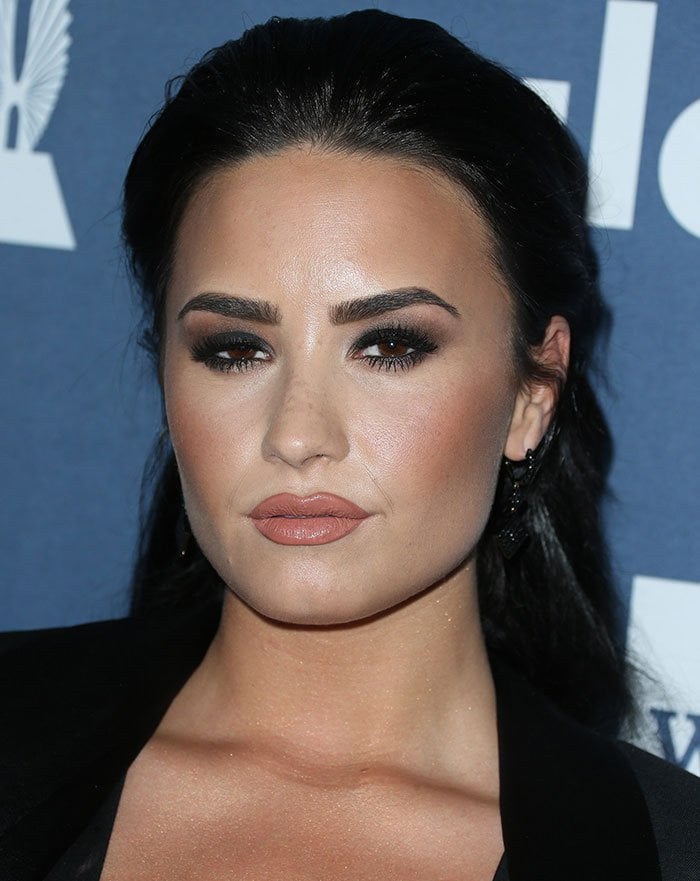 Demi Lovato keeps her makeup dark and sultry (Credit: WENN)
She kept her demeanor totally fierce as she posed for photo after photo on the blue carpet, barely cracking a smile.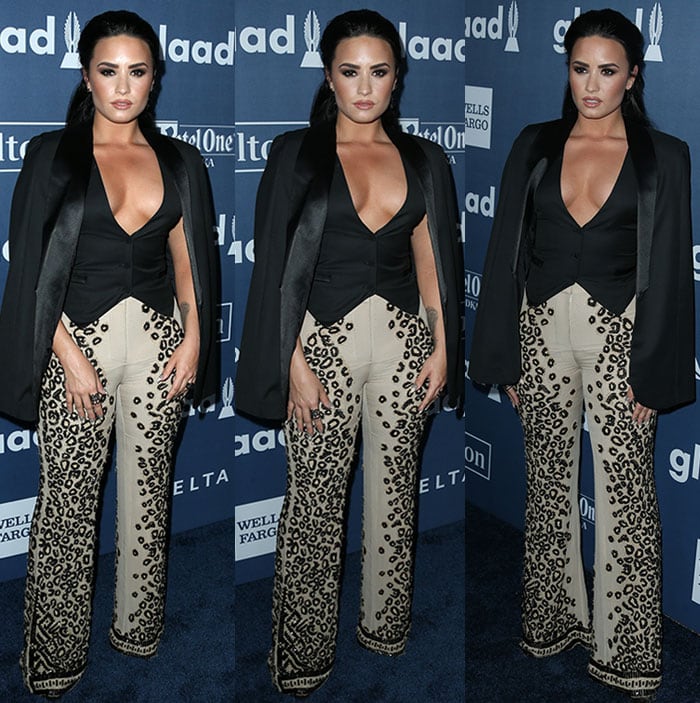 Demi Lovato in shows off her cleavage in a Sass & Bide ensemble (Credit: WENN)
Demi wore a pair of black patent leather Louis Vuitton "Oh Really!" pumps. These peep-toe pumps feature a roughly one-inch hidden platform and about 4.5-inch heels.
Her shoes are from the Pre-Fall 2013 collection and are no longer available for purchase.
Demi Lovato's feet in barely-visible Louis Vuitton platform pumps (Credit: WENN)