Adding fuel to the divorce rumor fire, on a recent episode of Keeping Up with the Kardashians, the 39-year-old Keeping Up With The Kardashians reality TV star and the 42-year-old Jesus Is King rapper got into an argument during her final dress fitting for her Met Gala outfit after West found her corset and Thiery Mugler dress too revealing.
"I went through this transition where being a rapper, looking at all these girls and looking at my wife, like, 'Oh my girl needs to be just like the other girls showing their body off.' I didn't realize that that was affecting my soul and my spirit as someone who is married and the father of now … about to be four kids. A corset is a form of underwear, it's hot, for who though?" he said.
"So the night before the Met you're going to come in here and say that you're not into a corset vibe?" the ShoeDazzle founder responded. "You're giving me really bad anxiety. You knew last night I had really bad anxiety and I don't need any more negative energy and for you say you're now not into me wearing a tight dress."
"You are my wife and it affects me when pictures are too sexy," West insisted.
"You built me up to be this sexy person and confidence and all this, and just because you're on a journey and transformation doesn't mean I'm in the same spot with you," Kim told him.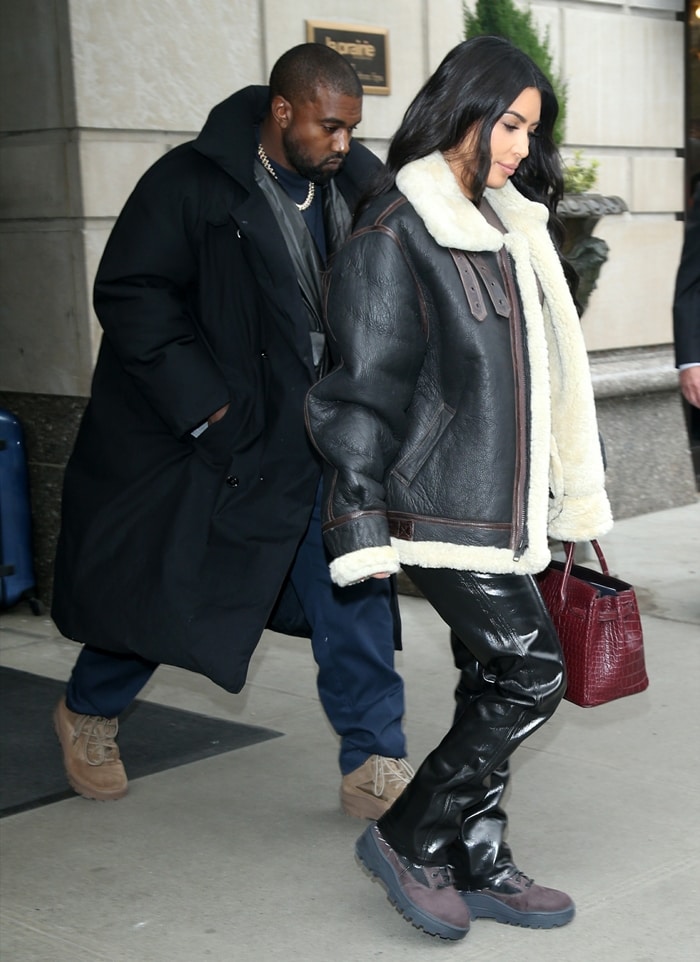 Kim Kardashian and Kanye West making their way to Fast Company's Innovation Festival in New York City on November 7, 2019
While understandably upset about West's sudden change of heart when it came to her clothing, she agreed to remove some fake nipples from the dress to prevent a possible divorce.
"Well, the dress initially, since I was wet coming out of the water, there were nipples attached to it. I think with editing I don't know, I'm not sure if we actually put that part into that fight [on the show]," Kim explained.
"So, he was really certain that he didn't want that on the dress and had mentioned it multiple times. And that was still on there so we did have that discussion."
"I obviously want to be appropriate for my children and there's enough for them to see already. I could tone it down a little bit. I totally compromise," Kim added.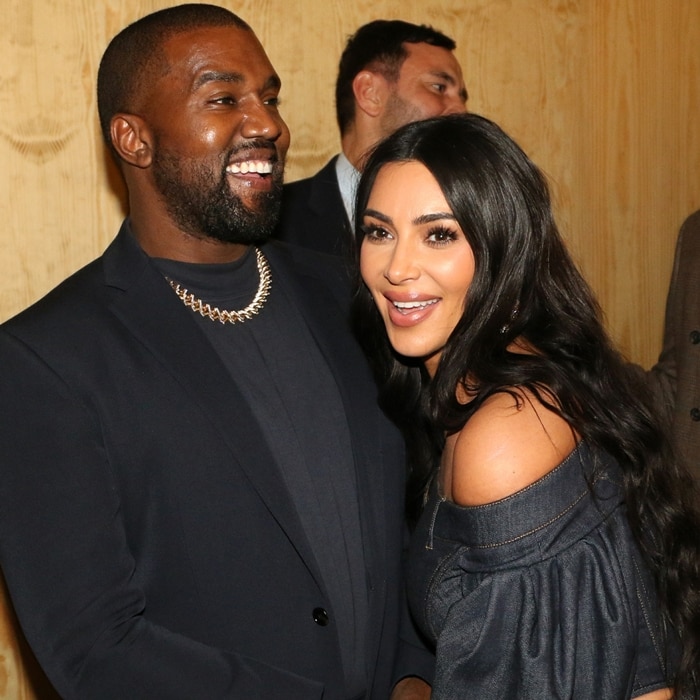 Kim Kardashian and Kanye West attend the 'Follow God' music video presentation taking place at the Burberry Store on November 6, 2019
They married five years ago, but Kim Kardashian and Kanye West still can't keep their hands off each other. The couple looked like loved-up newlyweds as they arrived at the 2019 WSJ Magazine Innovator Awards held at the Museum of Modern Art in New York City on Wednesday.
Kanye West and Kim Kardashian share a kiss as they arrived at the MoMA for the 2019 WSJ Innovator Awards on November 6, 2019
The beauty mogul and her rap star husband attended the event to present their long-time friend, designer and Burberry's Chief Creative Officer Riccardo Tisci, with the Fashion Innovator award.
They were also joined by Kris Jenner, who brought along her boyfriend Corey Gamble.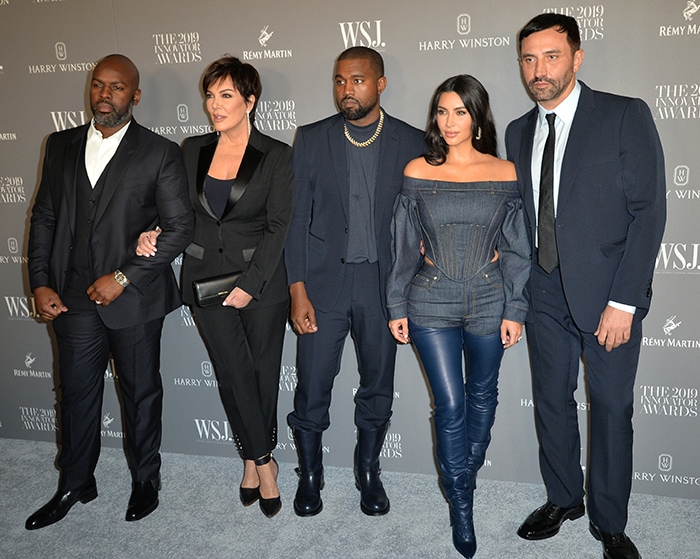 Corey Gamble, Kris Jenner, Kanye West, Kim Kardashian, and Riccardi Tisci pose together at the WSJ Innovator Awards in New York City
For the occasion, the power couple fittingly dressed in head-to-toe Burberry.
Kanye West and Kim Kardashian are a match made in fashion heaven in Burberry outfits
The KKW Beauty founder gave the '80s double denim trend a sexy twist. She showcased her hourglass figure in chic denim jeans with built-in indigo leather chaps teamed with denim off-the-shoulder corset top with faux belt loops along the neckline and trendy puff sleeves.
Kim Kardashian shows off her hourglass figure in denim off-the-shoulder corset-style top and denim pants with built-in leather chaps
The 39-year-old socialite furthered the sexy vibe of her look with her long raven tresses styled in loose waves. She also wore nude peach lipstick, peach blush, and full lashes.
Kim Kardashian wears her long black hair down in loose waves and sports full lashes with peach blush and lip gloss
To complete her look, Kim accessorized with sparkling diamond hoop earrings and a pair of indigo blue lace-up booties also from Burberry.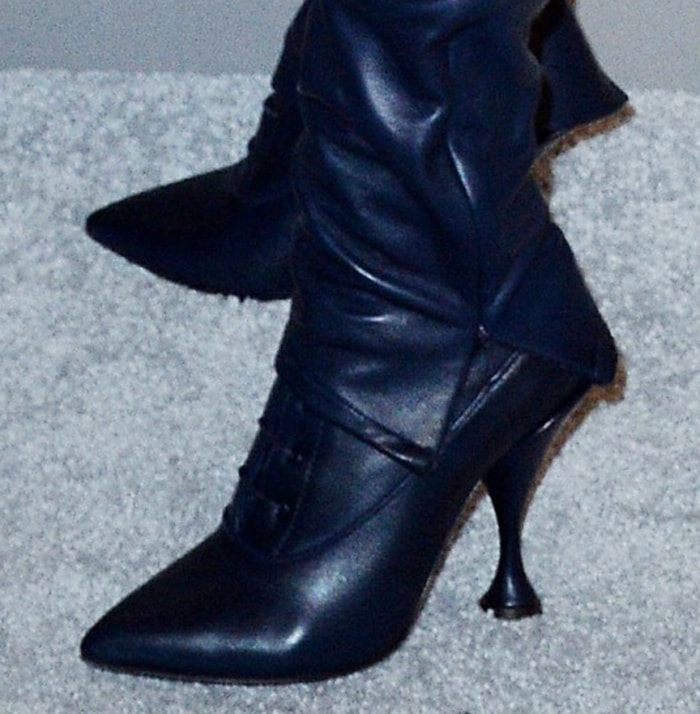 Kim Kardashian finishes her look with indigo blue lace-up boots
Her rapper slash entrepreneur slash fashion designer husband looked dapper in a monochromatic suit that consisted of a midnight blue jacket with a turtleneck top underneath paired with matching trousers.
The Yeezy creative director, who recently suggested the idea of changing his name legally to Christian Genius Billionaire Kanye West, swapped his Yeezy kicks for a pair of tall blue galoshes worn over his pants.
Kanye West matches Kim Kardashian's outfit with midnight blue suit
Aside from her other half, Kim was also accompanied at the event by Kris Jenner and Corey Gamble.
Corey looked smart in a three-piece Burberry suit and a pair of black leather shoes as he posed alongside the Kardashian-Jenner matriarch, who looked sophisticated in a Burberry pantsuit.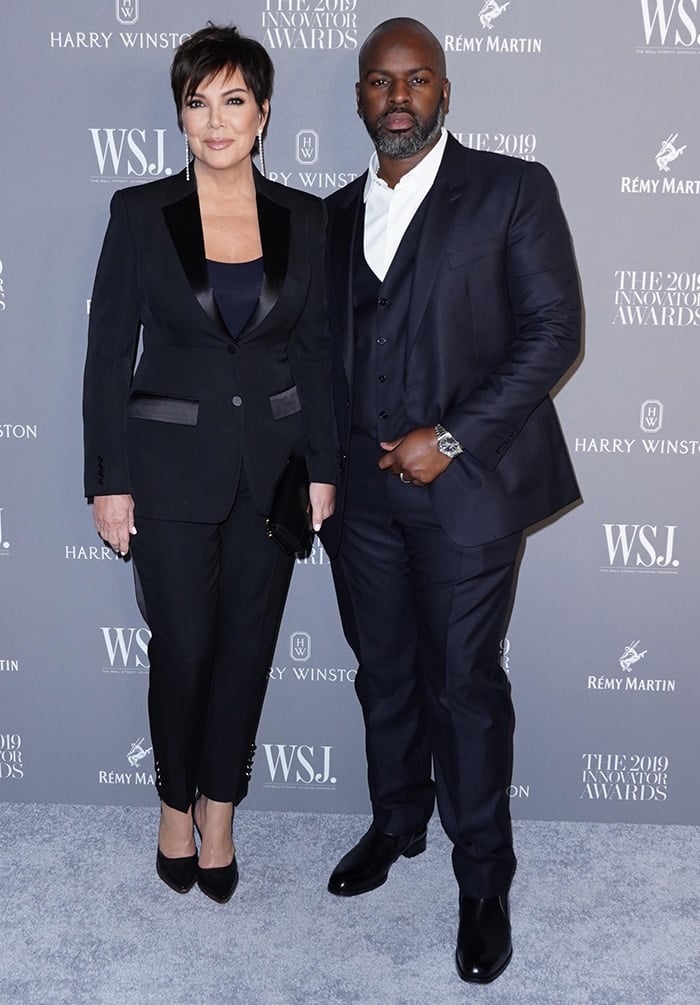 Kris Jenner and Corey Gamble wear matching suits at the WSJ Innovator Awards
Kris donned a tuxedo jacket with satin lapels teamed with a navy inner top and matching trousers.
The 64-year-old momager rocked a slightly mussed pixie cut and sported dark eyeliner and mascara with lip gloss and blush in nude palette.
Kris Jenner wears mussed pixie haircut with dark eyeliner, mascara, and nude lipgloss
She styled her look with diamond drop earrings, a black clutch, and a pair of black pumps with thick ankle straps and wooden block heels and platforms.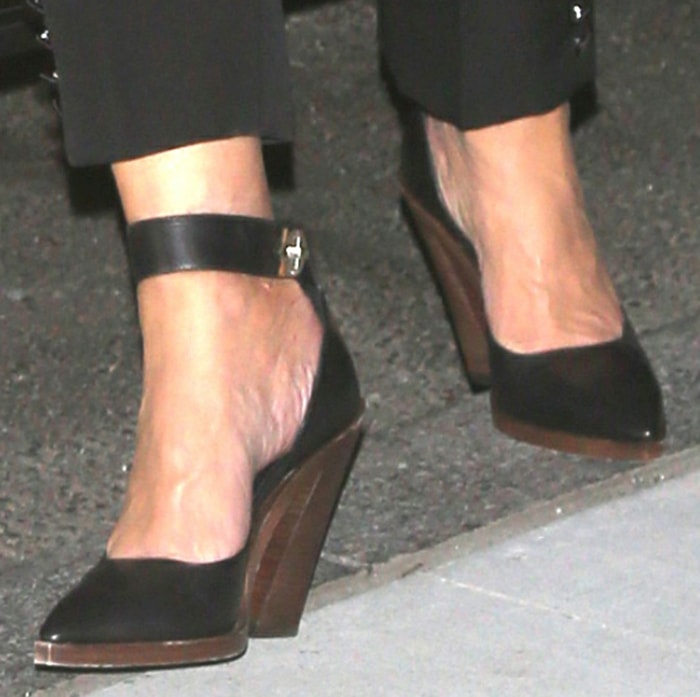 Kris Jenner balances on a pair of black d'Orsay pumps with wooden block heels
Credit: WENN / Instar