Wow, Rihanna didn't even try to hide it for her "Pour It Up" music video, did she?
She didn't even try to pass it as sexualized art like other pop singers did with their music videos; it's just straight up a stripper act, complete with pole dancing, real stripper queens, and dollar bills tucked into g-strings.
But like how Rihanna sings in her latest song, it looks like she doesn't care how her haters feel because she really does still have more money in the end.
Her expression at 2:18 in the video below says it all. At the risk of being redundant, we have to say it is highly NSFW. Watch at your own discretion.
Since it's basically a stripper video, Rihanna's dollar-printed platform sandals couldn't really have come from anybody else but premium stripper heel makers, Pleaser USA.
This behind-the-scenes shot RiRi shared on her Instagram shows the brand's recognizable logo on one of the shoes' insoles: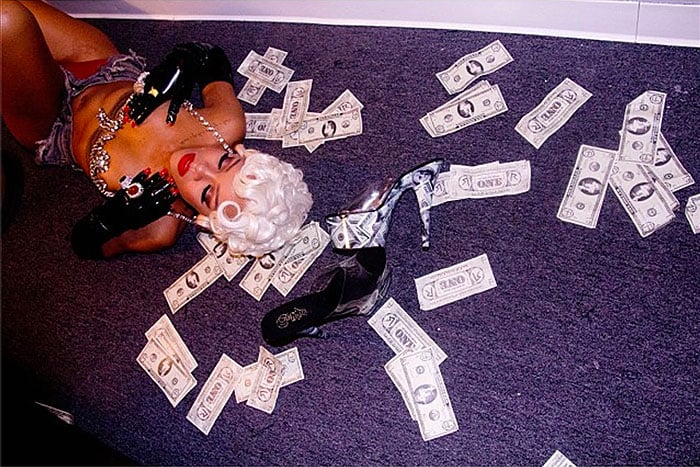 Rihanna's Instagram pic of a behind-the-scenes shot from the filming of her "Pour It Up" music video
If you could not or would not watch the video above, can we just say that we don't blame you, and here's a nice shot of the money-printed shoes just for you: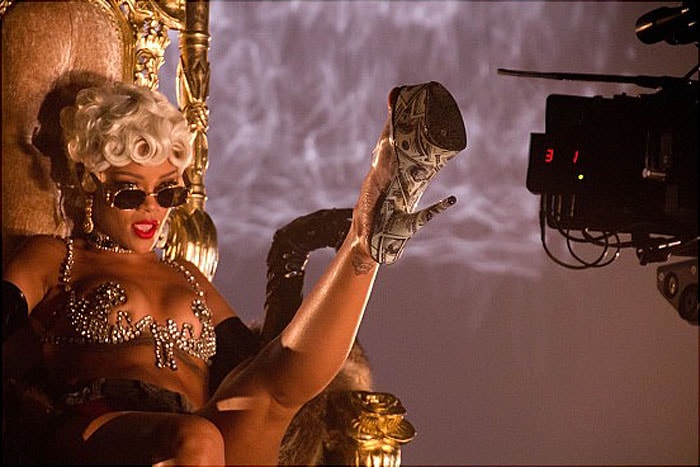 Rihanna showing her dollar-printed stripper heels to the camera while shooting her "Pour It Up" music video
Rihanna's Pleaser USA shoes are the following platform mules that have staggering (but not unheard of) 7-inch stiletto heels:
Pleaser Money Print Platform Sandals, $30.25 to $111.51 at Amazon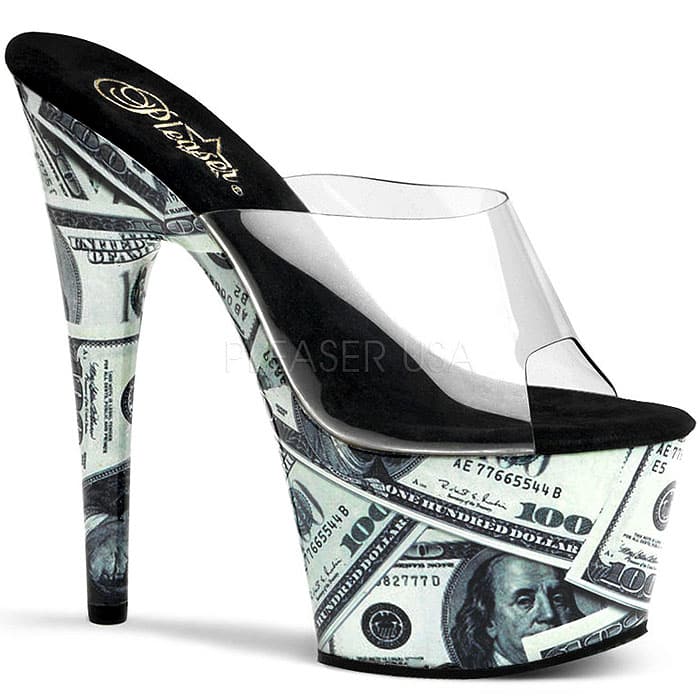 Is it just us, or do you also think Rihanna could've chosen a better pair of shoes? Sure, probably no other shoes could be more fitting than these, but to compete with the fashion showcased in other music videos we featured recently, RiRi needs to step her game up.
RiRi could've gotten that expensive stripper-look going with these Giuseppe Zanotti heels featuring crystal-encrusted dollar signs:
Giuseppe Zanotti Crystal Dollar Sign Sandals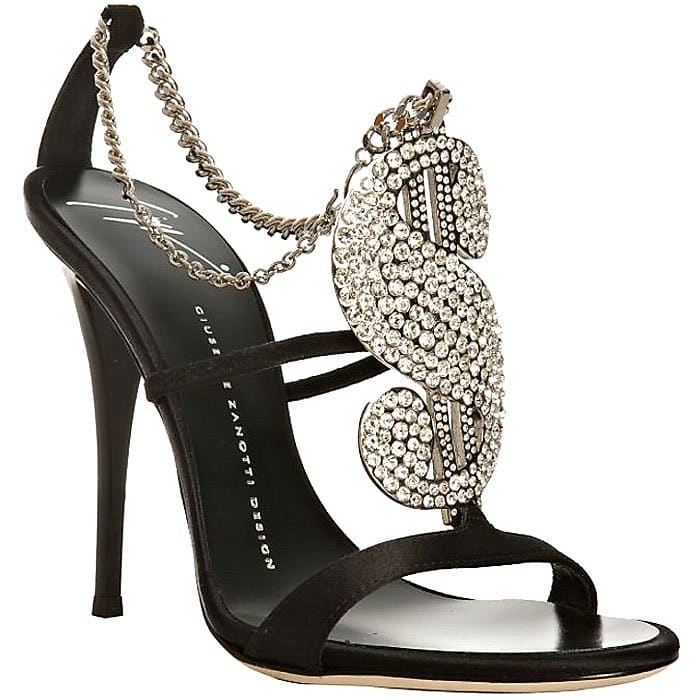 Someone also should've introduced Massimo Dogana to Rihanna because we just know the Italian designer would've made the most jaw-dropping dollar-sign shoes for her.
Massimo Dogana is most famous for his "FU" sandals, but when it comes to money-themed shoes, no one can make them quite as he can. Just check out a few of his awesome designs:
Massimo Dogana Shoes With Dollar Bills and Dollar Signs
For us, shoe lovers, Rihanna totally missed an opportunity here. How about you? Which money-themed shoes would you wear out of our picks?
Credit: Rihanna's Instagram / Massimo Dogana Shoes Facebook page