We don't often feature shoes sold on eBay, but when we do, it's when a style is sold out everywhere else, hard to find, or just plain too cute to pass up.
Just take the perfect Christmas boots we found, for instance — they proved to be extremely popular!
eBay is an American multinational e-commerce corporation based in San Jose, California
However, we did notice that along with all the comments that oohed and aahed over the Christmas boots were comments that asked whether it's safe to buy shoes off of eBay or not.
To answer the question, yes, eBay is generally safe. To give you further peace of mind, here are 7 things you can do yourself to make your eBay shoe shopping an even more rewarding experience:
1. Examine Listings Very Carefully
Scrutinize every word of the shoes' description. Are they the right navy blue and not the royal blue color that you want?
Are they the correct size? Do they come in the width and heel height that you want? Are they NIB (Brand New in Box), NWOT (New Without Tags), in FC (Fine Condition), or just in EUC (Excellent Used Condition)?
eBay listing for the limited edition sneakers from rapper Drake's own October's Very Own x Air Jordan line
A good description should have plenty if not complete details of the shoes. It shouldn't read like it's scripted and definitely shouldn't just be lifted from the shoe manufacturer's website.
If there is information missing from the description, don't hesitate to ask the seller.
2. Don't Accept Stock Photos; Demand Actual Photos of the Shoes
eBay is a place where you want to know what you're really getting, so the listing should have photos of the actual shoes from different angles. This is mandatory for shoes that are listed as used, secondhand, or worn once.
The photos should show the shoes' damages, scuff marks, and worn-down areas, so you can decide if they are acceptable to you at the price listed.
Natalia Vodianova holding the Prada Mary Jane wedges she donated to the Celebrity Shoe Auction 2013 to benefit a charity called Small Steps Project
Stay away from sellers who only use stock photos, but do take a good look at them before dismissing them completely.
You never know; the seller just might be a professional photographer or an art director or has access to top-of-the-line cameras, lighting, and a studio.
3. Know the Shoes You Are Looking for
If you are on a hunt for a specific pair of shoes, particularly designer ones, you must know your stuff. Do shoe sizes from that brand typically run small or large for you?
Is the red sole really that shade of red in the picture? Do the shoes really come in the colorway shown in the listing?
Marcia Cross scrutinizing a shoe on display at Barneys New York in Beverly Hills, California, on March 6, 2010
You must also know the retail price the shoes typically sell for — if the marked-down price on eBay sounds too good to be true, chances are that it is.
You can directly ask the seller if the shoes are authentic or ask the help of authenticity experts, many of whom also offer their services on eBay.
4. Check the Seller's Feedback Rating and History
Checking the seller's feedback and history is probably the first thing you should do before you even look at the shoe listing.
Imagine having already fallen in love with a pair of shoes only to find out that the seller has less than stellar feedback!
The rule of thumb is to stick to sellers with at least 99.7% positive feedback and who have had at least 100 transactions and have been selling for at least a year.
Do look through those feedback writeups; you'll find that some aren't really positive and some aren't really negative either. Also, check if the seller has a history of selling shoes or even the exact shoes you are interested in purchasing.
5. Scrutinize the Seller's Return Policy
When it comes to shoes, it is imperative that the seller has a good return policy.
We all know how it is with shoes — even if they're by the same designer, from the same brand, and in the same size, they still sometimes oddly don't fit (what more shoe sizes from different brands).
You should expect to be able to return shoes that you bought off of eBay.
A model strapping on a sandal at the HOEGL designed by Guido Maria Kretschmer fashion presentation during Mercedes-Benz Fashion Week Berlin Spring/Summer 2014 in Berlin, Germany, on July 3, 2013
If you want to be sure about the size, you can ask the seller for the shoes' exact measurements, which you can compare with shoes that you already own.
If the shoes are of a style that's currently being sold, it might be worth your time to visit a shoe store and try them on in person. You can also compare prices by doing this and find out if the price on eBay is really a fair deal or not.
Checking if the seller has a good return policy goes without saying that he/she should also have good payment and shipping terms.
Guaranteed authentic, worn-once Jimmy Choos for $200: a great deal? It sounds like it is at first, but not once you read that the shipping is $100, and the shoes will take more than a month to arrive from halfway around the world.
6. Be Smart About Payment Options
eBay sellers nowadays offer numerous payment options, but as much as possible, stick to using PayPal or your credit card through PayPal.
This way, you're completely protected against fraud through PayPal's Purchase Protection and eBay's money-back guarantee.
Jennifer Aniston in her 2004 Barclaycard commercial
If you find an amazing shoe deal from a seller who doesn't accept PayPal, well, at least make sure that the price is an amount you're willing to risk. Do numbers 1 to 5 on this list before bidding or buying.
If you do, chances are, you won't even need the added protection, but do stick to the safe, tried-and-tested payment methods as much as possible or until you become a more experienced eBay shopper.
7. Be Proactive
If you come across listings of counterfeit shoes or those that read like outright scams, do your part as an eBay shopper and report the item/s.
If the shoes you purchased look very different from the ones in the listing, are defective or damaged, or didn't arrive at all, do contact the seller immediately so you can resolve the issue.
Make sure that all your correspondence is through your registered email address on eBay so that everything is officially on record.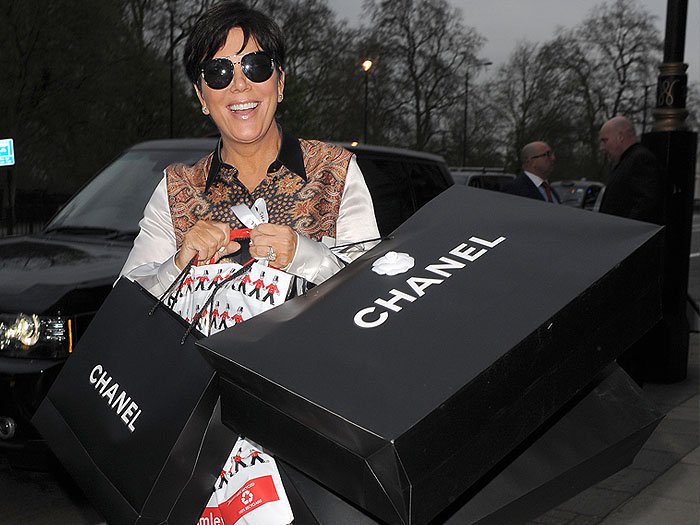 Kris Jenner carrying multiple Chanel bags following a shopping spree at Selfridges in London, England, on April 23, 2013
If the seller takes time to respond (seven days to be exact), don't take your time, too, to open a case and file a claim for coverage under PayPal's Purchase Protection program.
These are just some of the proactive steps to make your eBay shoe shopping experience safer for you and for others.
Don't miss this fun video from Amy-Rose Walker that shows what happens when you purchase fake Yeezys from eBay. Not surprisingly, the quality is awful.
Credit: I Heart Studio / Will Alexander / WENN