Elizabeth Banks was born in Pittsfield, a small city in western Massachusetts, on February 10, 1974. Her parents are Ann Wallace, who worked in a bank, and Mark P. Mitchell, a factory worker.
Her childhood was filled with horses, athletics, and even a nomination for the local Harvest Queen. While playing baseball as a child, Elizabeth broke her leg sliding into third base and was prevented from playing sports for a while.
During that time, she decided to try her hand at acting and she auditioned for the school play. She was often called a "goody-two-shoes," even in college, though she is quoted as saying, "… every goody two-shoes has a bad side."
Elizabeth Banks made her acting debut in the black and white 1998 independent film Surrender Dorothy (Credit: TLA Releasing)
Elizabeth graduated Magna cum Laude from the University of Pennsylvania with a degree in communications.
She went on to attend acting school at the American Conservatory Theater in San Francisco, California where she was placed in the Advanced Training Program.
In 1996, Banks graduated with a master's in fine arts. Shortly after, she moved to New York City to work in theater. She also collected some minor acting roles in film and television during this time.
Actress Elizabeth Banks attends the 2002 MTV Movie Awards at The Shrine Auditorium on June 1, 2002, in Los Angeles (Credit: WENN)
Her breakout role was in Spider-Man, where she played Betty Brant, a secretary for a newspaper tycoon.
Elizabeth Banks has drawn the attention of many throughout her career, having been compared to Audrey Hepburn for her charming screen presence. Her acting has taken on a wide variety of roles and film genres, ranging from comedy to horror.
Elizabeth Banks has done some voice acting for the celebrated Lego Movies and has appeared in reoccurring roles on the television series Scrubs and 30 Rock.
Banks' birth name is Elizabeth Mitchell. She later changed her name to Elizabeth Banks to distinguish herself from actress Elizabeth Mitchell, who was already registered in the Screen Actors Guild.
Elizabeth Banks is more than just an actress; she is a director, producer, and business owner. Her 2015 directing debut with the movie Pitch Perfect 2 exceeded expectations and put her in a league of rare women-in-film.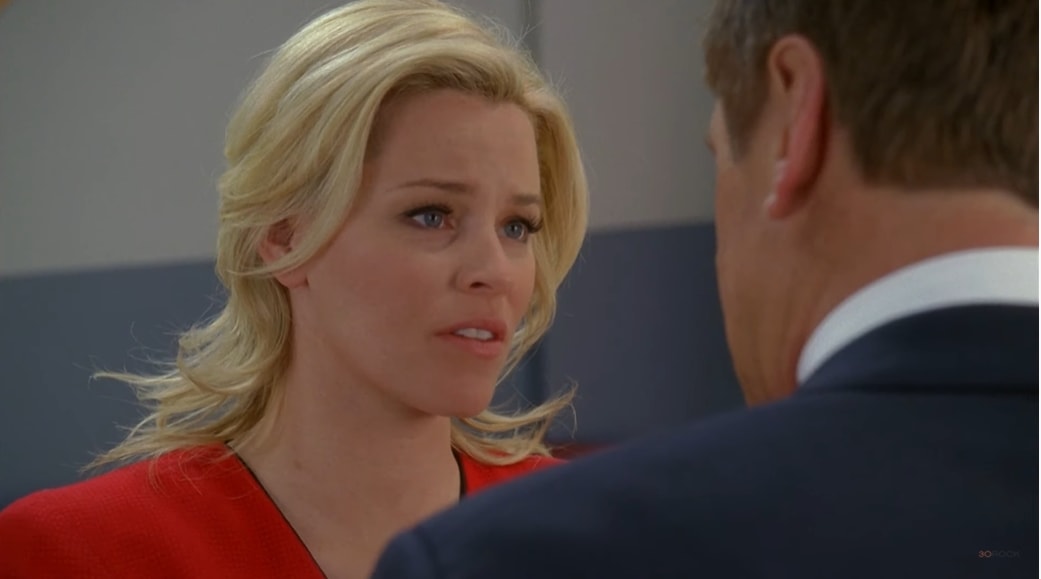 Elizabeth Banks had a recurring role as Avery Jessup on the NBC sitcom 30 Rock (Credit: NBC)
She co-founded Brownstone Productions with her husband Max Handelman. The film and television production company has deals with almost every major studio and upcoming projects in both film and television.
Showing her entrepreneurial spirit, Banks also founded an online platform for female comedians called, WoHaha, where she seeks to empower and elevate funny female creators.
Below is a list of Elizabeth Banks' Top 10 Movies according to the critics at Rotten Tomatoes.
10. Definitely, Maybe (2008) – 70%
In this romantic comedy, Elizabeth Banks, age 34, plays the character of Emily. The story is about a father, telling three stories about three different women, to his daughter.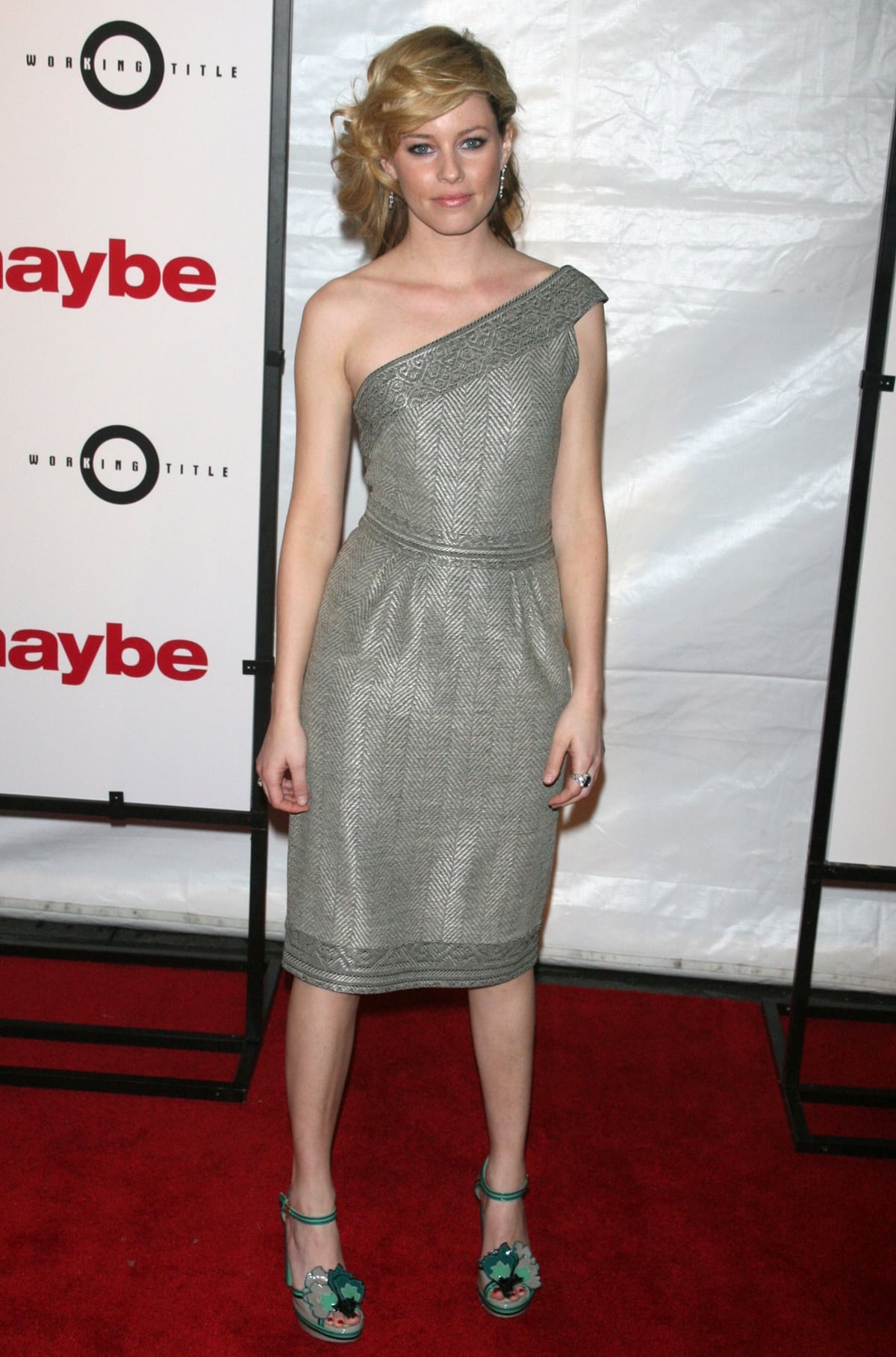 Actress Elizabeth Banks flaunts her legs at the premiere of Definitely, Maybe at the Ziegfeld Theater on February 12, 2008, in New York City (Credit: PNP / WENN)
The stories are about the complicated mess his love life was in before she was born. The father changes the women's names in his stories so that his daughter has limited clues in figuring out which storyline is about her own mother.
Emily is the father's college sweetheart, but a series of complicated events – and an affair – leave their love broken. Though the girl learns that Emily is her mother, she discovers that her father loves one of the other women more.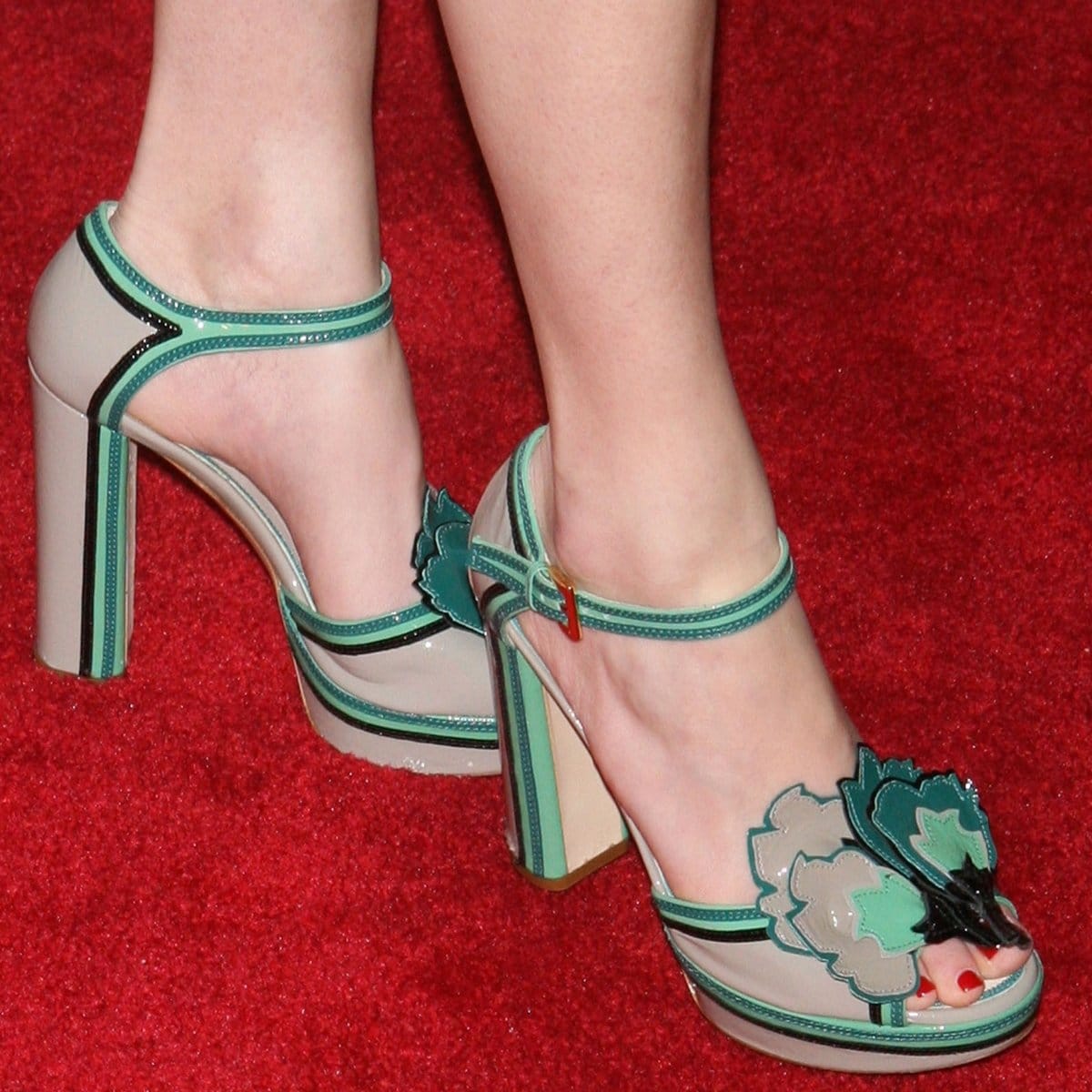 Elizabeth Banks shows off her size 7 (US) feet in high heels (Credit: PNP / WENN)
Critics have called it an intelligent script that is emotionally resonant and satisfying. The movie was released to theaters on Valentine's Day, February 14, 2008, just 4 days after she celebrated her 34th birthday on February 10, 2008.
9. Invincible (2006) – 72%
Inspired by the true story of Vince Papale, Invincible is a classic underdog story. Elizabeth Banks plays the role of Janet Papale, the wife of the main character.
The main character becomes one of the oldest rookies in NFL history after trying out and earning a spot on his favorite team, the Philadelphia Eagles.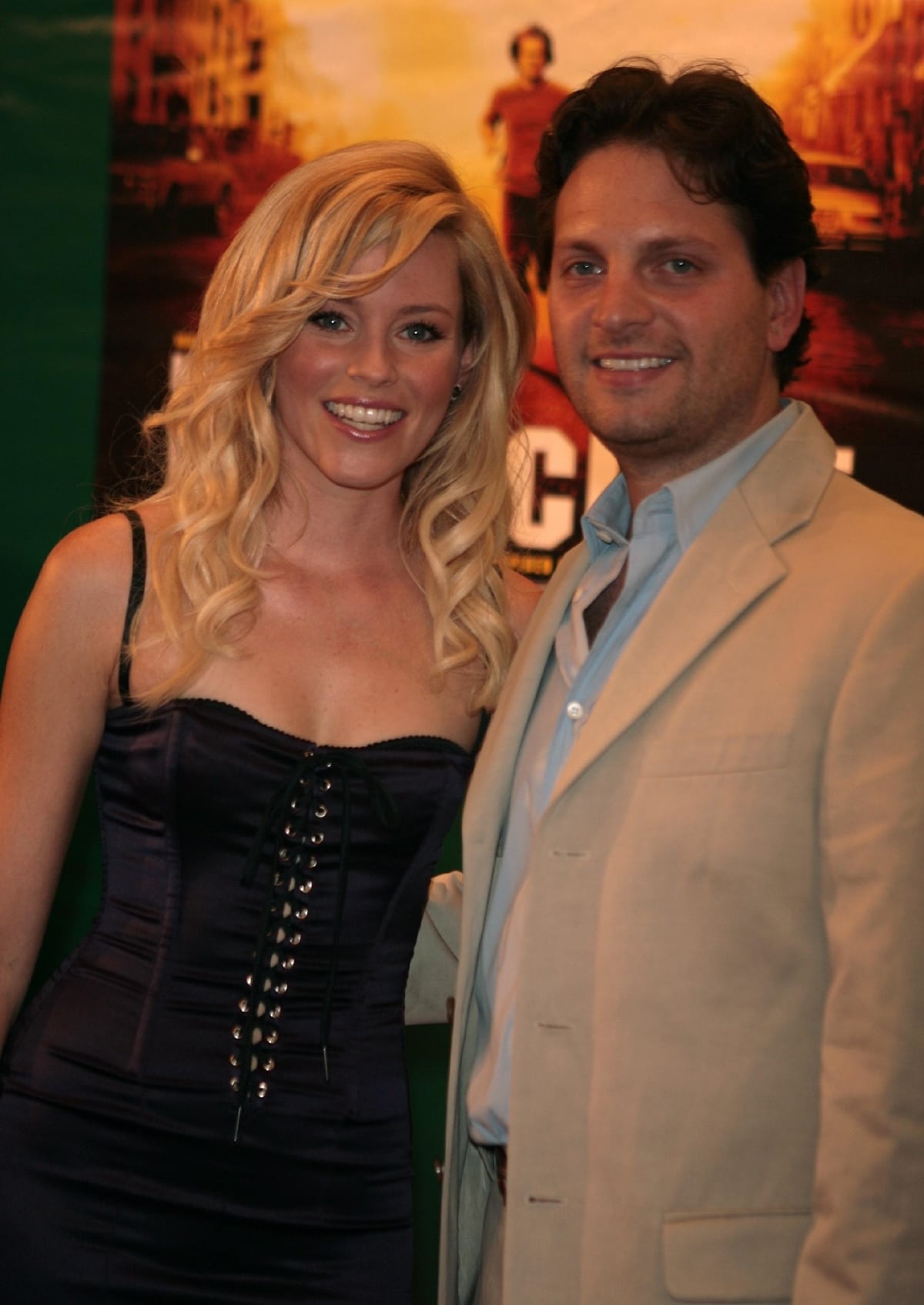 Elizabeth Banks and her husband Maz Handelman at the premiere of Invincible on August 23, 2006, at The Ziegfeld Theater in New York City (Credit: PNP / WENN)
In the story, Janet is a bartender who meets Papale in the bar where he used to work. Banks, age 32, was one of the very few women on set, as the cast was made up mostly of men.
The movie was released on August 25, 2006, in theaters and received a score of 72% from Rotten Tomatoes.
As the movie is based on real people, Elizabeth Banks got to meet Janet Papale. The real Janet consulted on the character, wanting to sign-off on her likeness. Janet Papale believed that several creative liberties had been taken.
"[S]he's appraising me and she's like, 'Alright, okay. This is going to work. I mean you don't really do it in the boob department.' That's the first thing she said to me," Banks told Chicago Tribune about Papale.
"I thought 'Alright I like this lady.' She is so feisty, you know. She's a spark plug. She really is. She's a spark plug. She's great and that's what I try to do in the movie is just have that sense of sass and be a little feisty and she really keeps Vince on his toes. They have a great relationship. They are so supportive of each other. Exactly what you'd want in a marriage. I hope I got that sense of her essence up there."
8. Lovely, Still (2008) – 73%
Playing the character of Alex, Elizabeth Banks appears in this holiday story about late-in-life love in the movie Lovely, Still. The movie features two older people finding love, as one is new to love and the other is trying to guide him along.
Elizabeth Banks as Alex in the 2008 American romantic drama film Lovely, Still (Credit: North Sea Films)
Alex is the main character's daughter, who is determined to draw Alex in on the relationship. It is a beautiful look into some of the difficult aspects of aging and love.
The movie received a score of 77% from critics and a 75% from audiences. On November 13, 2009, it had a limited release and was released for streaming services on September 13, 2010.
7. Seabiscuit (2003) – 77%
In this Oscar-nominated film, Elizabeth Banks plays a spectacular supporting role. She is the wife of Seabiscuit's owner, and her presence is a soothing and gentling force for her husband's demons.
Her encouragement is a source of strength for the whole team involved. The New York Times raved that Elizabeth Banks has the grace and charm of an actress from Old Hollywood.
Elizabeth Banks as Marcela Zabala-Howard in the 2003 American sports film Seabiscuit (Credit: DreamWorks Pictures)
The movie received a rating of 77% from Rotten Tomatoes and was released on July 25, 2003, when Elizabeth Banks was 29 years old.
Elizabeth Banks is no stranger to horses or the track. As a girl, she rode horses in Girl Scouts and took dressage lessons in the winter, when it was more affordable, as her parents were working-class Americans. When she was ten years old, she started learning how to place bets on ponies and had her dad place bets on her behalf.
6. Role Models (2008) – 77%
Elizabeth Banks, age 34, plays the character Beth, the girlfriend of one of the main characters.
When the movie begins, she and her boyfriend are in a rough place, and their fight is the catalyst for significant trouble and comedy that lands him and his buddy in deep water.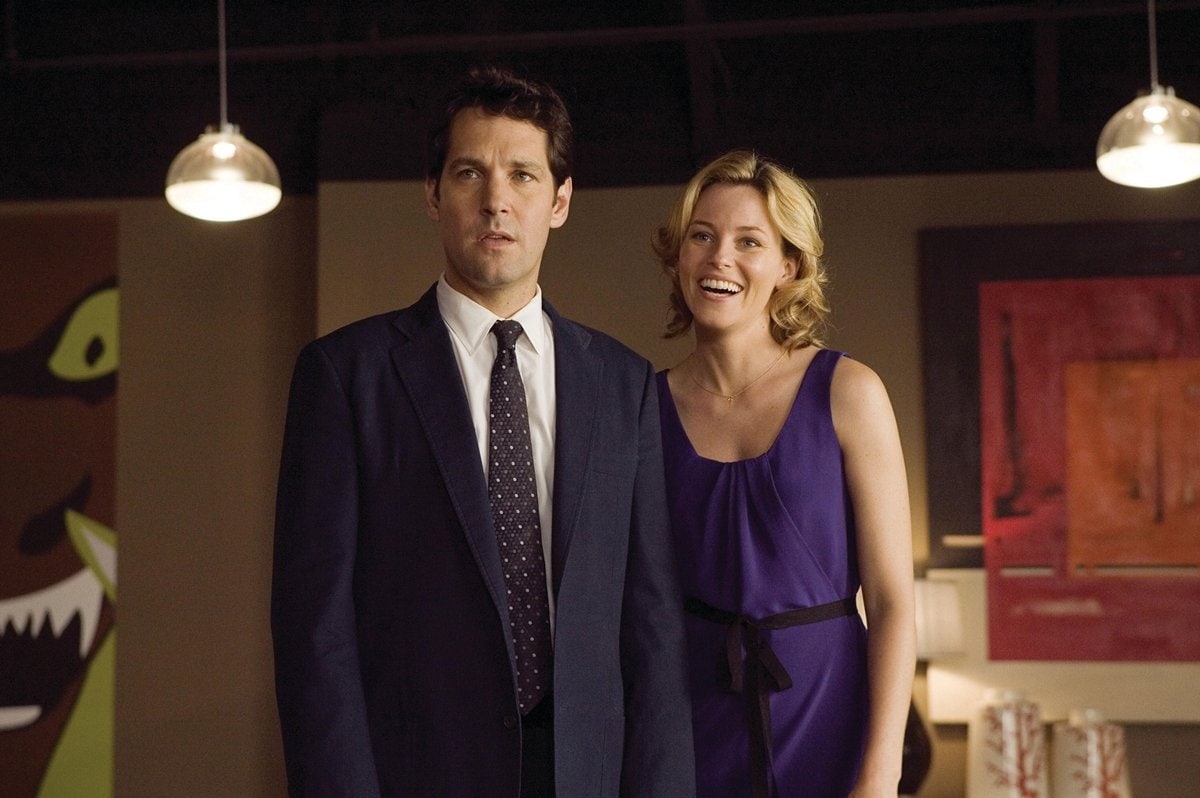 Paul Rudd as Danny and Elizabeth Banks as Beth in the 2008 American comedy film Role Models (Credit: Universal Pictures)
As she is the only lawyer her boyfriend knows, she is the one he must turn to in an attempt to stay out of jail.
Role Models is a hilarious comedy, which received a Rotten Tomato score of 77%. The movie was released on November 7, 2008, in theaters.
5. Pitch Perfect (2015) – 81%
Known for its excellent musical numbers and performances, Elizabeth Banks plays Gail, a commentator for the acapella singing competitions. She is one of a pair of critics that delivers harsh, clueless, and yet hilarious critiques on the singers.
She tends to speak whatever is on her mind, which would most likely get her fired if aired on actual television.
The first Pitch Perfect movie earned a score of 81%, while Pitch Perfect 2 earned a score of 65% from the critics. The movie and its sequel were released on October 5, 2012, and May 15, 2015, respectively.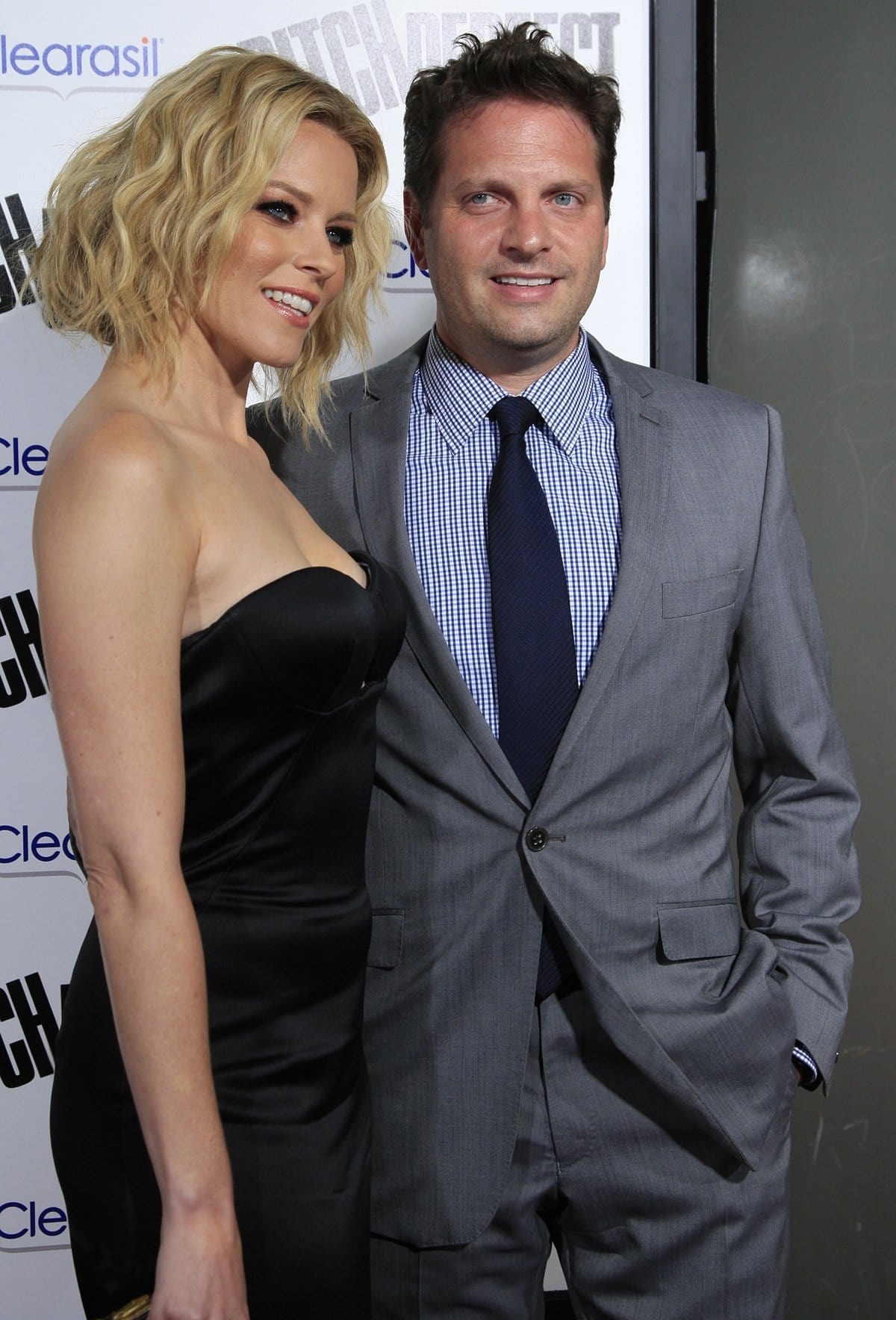 Elizabeth Banks and her husband Max Handelman arrive at the Los Angeles premiere of 'Pitch Perfect' at ArcLight Hollywood on September 24, 2012, in Hollywood, California (Credit: Starbux / WENN)
Though she played a minor role in Pitch Perfect and Pitch Perfect 2, Elizabeth Bans did more than just act. For Pitch Perfect 2, she took on the roles of director and producer for her debut performances of both.
The movie exceeded expectations when it earned $285 million globally. She opted out of directing the third installment of Pitch Perfect, citing conflict with parental duties.
4. The 40-Year-Old Virgin (2005) – 85%
Though she only had a small role in the movie, Elizabeth Banks, age 31, established herself as a comedic actress and one to definitely watch. She plays the role of Beth, a bookstore clerk who flirts with the main character, Andy.
Her character is fun-loving and extroverted, which is a bit too much for Andy. She played an unforgettable character that charmed audiences and made her memorable beyond the big screen.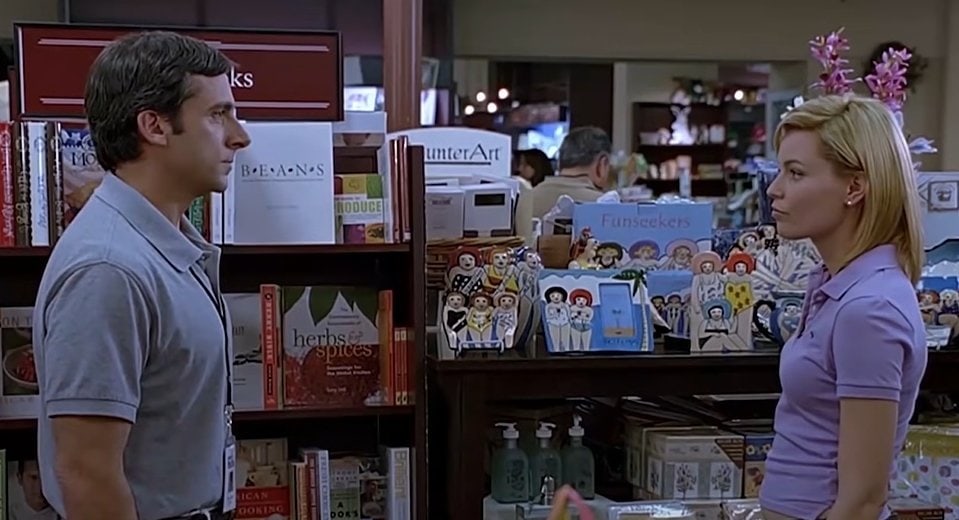 Steve Carell as Andy Stitzer and Elizabeth Banks as Beth in the 2005 American romantic comedy film The 40-Year-Old Virgin (Credit: Universal Pictures)
The movie received a score of 85% and was released in theaters on August 19, 2005, when the actress Elizabeth Banks was 31 years old.
3. Slither (2006) – 87%
in this gory horror-comedy / sci-fi film Slither, Elizabeth Banks plays the role of Starla Grant – who, even though married, the local Sheriff has a crush on her. When a meteorite lands outside of town, aliens come out of the meteorite and invade the city.
The aliens take over the bodies of townspeople by crawling down their throats, turning them into creatures who keep their human memories but have a craving for raw meat. The aliens take over Starla's husband and the Sheriff tries to save her.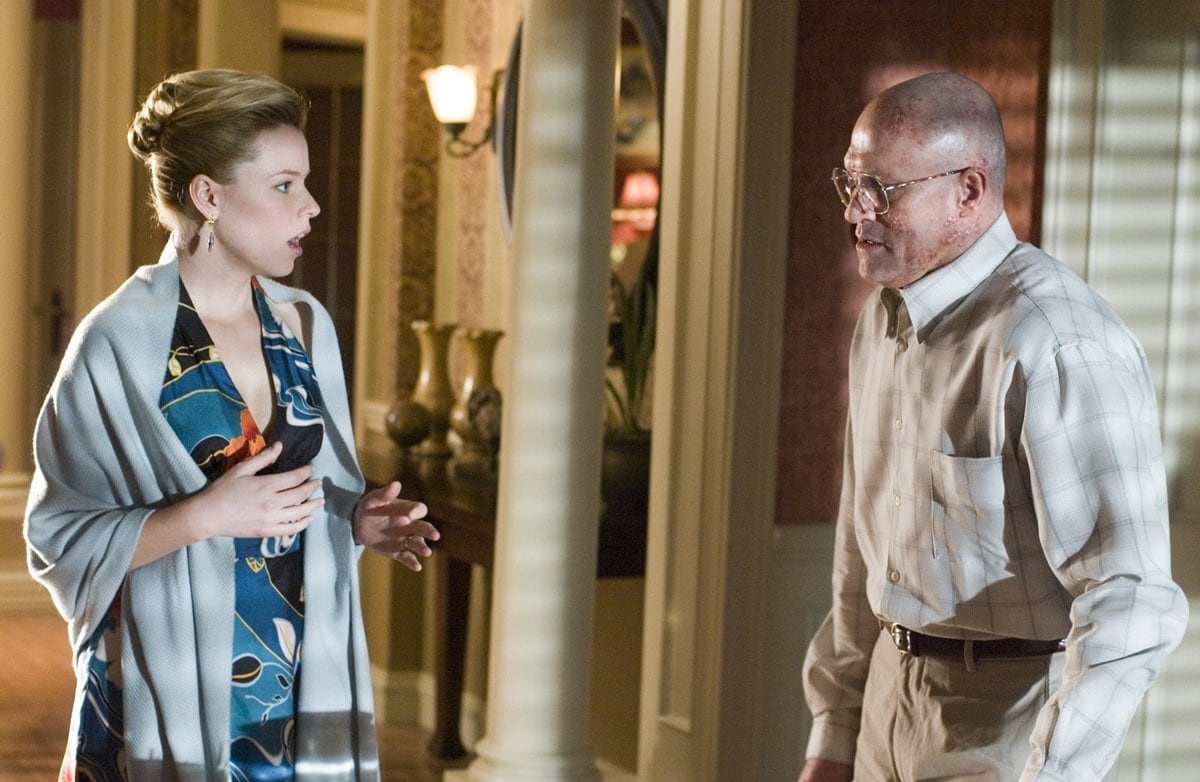 Schoolteacher Starla Grant (Elizabeth Banks) cautiously approaches her husband Grant Grant (Michael Rooker) in the 2006 American science-fiction black comedy horror film Slither (Credit: Universal Pictures)
Not just a damsel in distress, Starla shoots her alien-possessed flammable-gas-filled husband, and he explodes, killing the rest of the aliens with him.
Even though it is a low-budget film that is highly unusual and a little bizarre, it grew in popularity, eventually becoming a cult classic among horror/comedy fans. The movie was released when Elizabeth Banks was 32 years old on March 31, 2006, and received a score of 87%.
2. Love & Mercy (2014) – 89%
Love and Mercy is a biographical drama based on the life of the Beach Boys founder Brian Wilson, and it explores a great artist's mental world and artistic methods.
Elizabeth Banks, age 40, plays the role of Melinda, another role in which she plays a real-life person whom she got to meet in real life. Melinda is a Cadillac car saleswoman who meets the now-famous Brian Wilson.
As their relationship progresses, she becomes disturbed by the power the therapist has over Wilson. Her actions pave the way for Brian to break free from the therapist's control and find new and healthier forms of treatment. The two later meet and marry.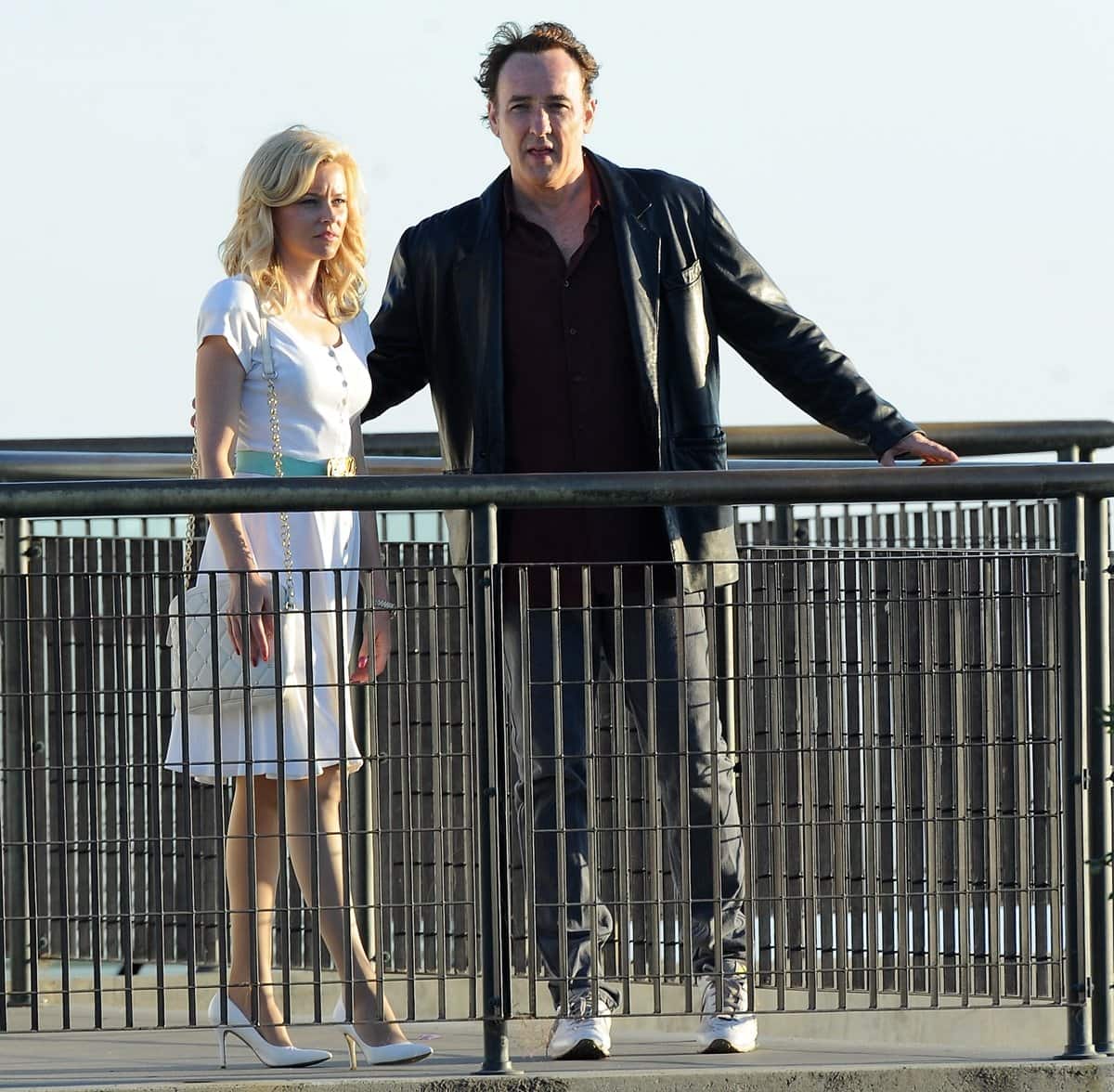 Elizabeth Banks as Melinda Ledbetter and John Cusack as Brian–Future watching the sunset while filming a scene for the 2014 American biographical drama film Love & Mercy at Griffith Park in Los Angeles on August 19, 2013 (Credit: Cousart / JFXimages / WENN)
Elizabeth Banks said there was some freedom in playing the role because the real Melinda was honest about the fact that her memories are impressions, and that her recollections would not be exact after over 20 years passed between 2014 and the time that the movie features.
Banks' acting was, therefore, another form of impression of real-life events. Melinda was not as well-known as some of her other roles, but Banks could still do some private research that helped her develop the character.
Elizabeth Banks said it was validating that both Melinda and her friends felt that Banks did a "Great job" on her role of Melinda.
1. The Hunger Games (2012-2015) – 90%
Elizabeth Banks plays the iconic character of Effie Trinket, the effervescent District 12 advisor and escort who helps prepare Katniss and Peeta for The Hunger Games.
Effie Trinket is a cruel, out-of-touch television star who delivers long-winded speeches in a violent dystopian world with bizarre, outlandish, and over-the-top costumes and makeup. Her role in the dystopian world was to announce the tributes for The Hunger Games.
True Hunger Games book fans will recognize that Effie did not have quite as significant of a role in the books, but with Banks bringing the character to life, the role and character were expanded as the films progressed.
Actress Elizabeth Banks arrives at the Los Angeles Premiere "The Hunger Games" at Nokia Theatre L.A. Live on March 12, 2012, in Los Angeles, California (Credit: WENN / FayesVision)
The actress, who was 38 in the first film, is a self-proclaimed fan of The Hunger Game series and reached out to play the role. Her love of the series, with her knowledge and enthusiasm, helped make her a top pick for the character of Effie Trinket.
Elizabeth Banks said that the worst part of playing Effie Trinket was the long nails. Banks had to have help doing everything, including going to the bathroom while wearing the excessive nails.
The Hunger Games trilogy franchise received a score of 90% on Rotten Tomatoes. The first movie, The Hunger Games, was released in theaters on November 22, 2013.
Elizabeth Banks wears Eva Fehren earrings (Credit: Brian To / WENN)
In June 2015, Elizabeth Banks looked lovely in yellow while attending the premiere of "Magic Mike XXL" held at the TCL Chinese Theatre IMAX in Hollywood.
She was joined by her co-stars Amber Heard, Jada Pinkett Smith, and Andie MacDowell.
Elizabeth Banks at the premiere of "Magic Mike XXL" held at the TCL Chinese Theatre IMAX in Hollywood on June 25, 2015 (Credit: Brian To / WENN)
The then 41-year-old American actress, producer, and director donned a stunning Swarovski-embellished dress from the Balmain Spring 2015 collection featuring sheer inserts.
Elizabeth Banks went commando in a Balmain Swarovski-embellished dress (Credit: Brian To / WENN / FayesVision)
She styled the edgy halter-neck dress with a Lee Savage clutch, Eva Fehren earrings, and an unflattering pair of Pedro Garcia pumps that looked way too big.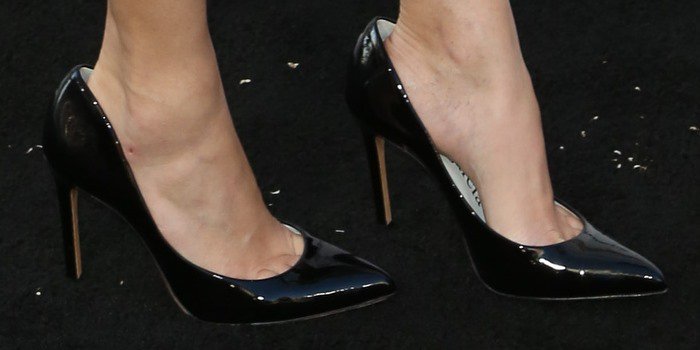 Elizabeth Banks showed off her hot feet in black shoes (Credit: WENN)
Do you think her dress was tacky, or do you love it? We really wish she had paired the figure-hugging frock with a pair of sandals instead of black pumps.