Elizabeth Olsen, younger sister of Ashley and Mary-Kate Olsen, has quickly risen to fame over the last couple of years. Her most recent notable role is as Scarlet Witch in the Marvel franchise.
Elizabeth distinguishes herself from her twin sisters through the sexually explicit roles that she plays.
"I truly believe in the films I've chosen to be nude [in]. It helps tell a more grotesque story. There's nothing gratuitous about it, and it creates the opposite of pleasure. I find it empowering," Olsen told New York Daily News in 2013.
Elizabeth Olsen smokes a cigarette as Marie Sebastian in Spike Lee's 2013 American neo-noir action thriller film Oldboy (Credit: FilmDistrict)
Although the Scarlet Witch actress might have been comfortable in the nude and during the sex scenes, she couldn't say the same for her co-star.
Olsen was 24 years old at the time of the release of Oldboy – a scant five years older than her co-star Josh Brolin's daughter, Eden Brolin. On the other hand, Josh Brolin's third wife, Kathryn Boyd Brolin, is just two years older than Elizabeth Olsen.
Kathryn Boyd Brolin, the third wife of actor Josh Brolin, met her husband while working as his personal assistant on the set of the film Oldboy. They married in September 2016 and have two children together. Josh also has two adult children, Eden and Trevor, from his previous marriage to Alice Adair.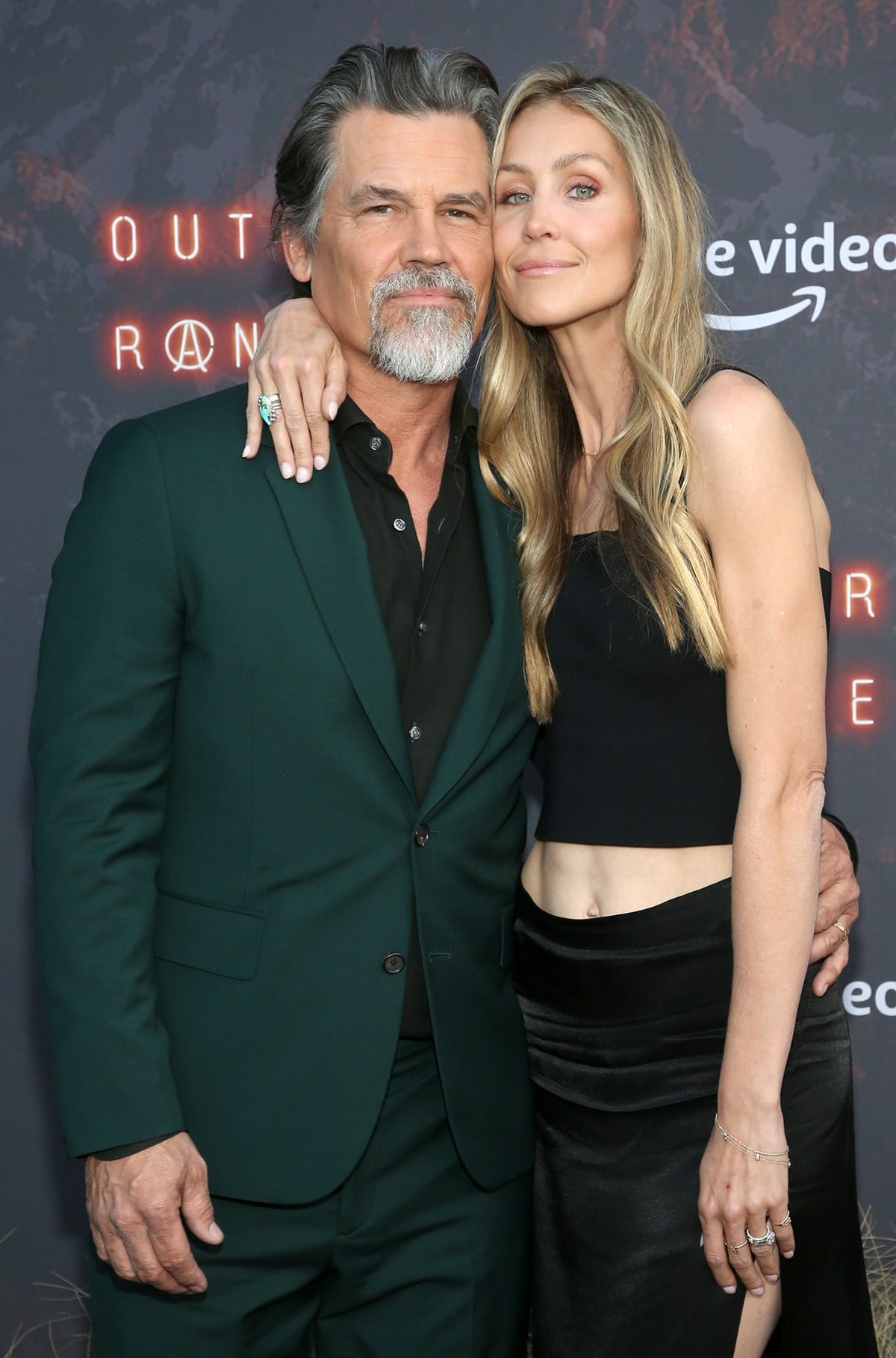 Josh Brolin and Kathryn Boyd Brolin met on the set of Oldboy, where Boyd was his personal assistant (Credit: Faye's Vision/Cover Images/INSTARimages)
The role of the female lead was offered to both Rooney Mara and Crimson Peak's Mia Wasikowska, but neither accepted the part.
"It was probably weirder for him than for me because he has a daughter my age, so I'm sure that was weird for both of them," Olsen said before the film's New York premiere in 2013.
Josh Brolin as Joe Doucett and Elizabeth Olsen as Marie Sebastian in the 2013 American neo-noir action thriller film Oldboy (Credit: FilmDistrict)
In a 2015 interview with Net-a-Porter's digital magazine, The Edit, Elizabeth Olsen talked about doing nude scenes in Oldboy and other films.
"I love Kate Winslet and Cate Blanchett. I remember watching 'Holy Smoke!' and thinking that it was so reassuring to see a young Kate doing something that was so bold in so many ways," Olsen said about the 1999 independent romantic comedy-drama film Holy Smoke!
"I thought to myself, 'OK, so it doesn't destroy your career if you appear nude or take risks' because not everyone in my family and group of friends thought it was the best idea to be naked in a movie."
"There are actresses, young and old, who have decided never to do that, and they become those examples people talk to you about, (but) there are times when I like to do it."
"You want that voyeuristic quality, but I never feel I have to be nude – and you won't ever see me in a beauty shot in a bikini on a beach. That's a character I will never play," she said.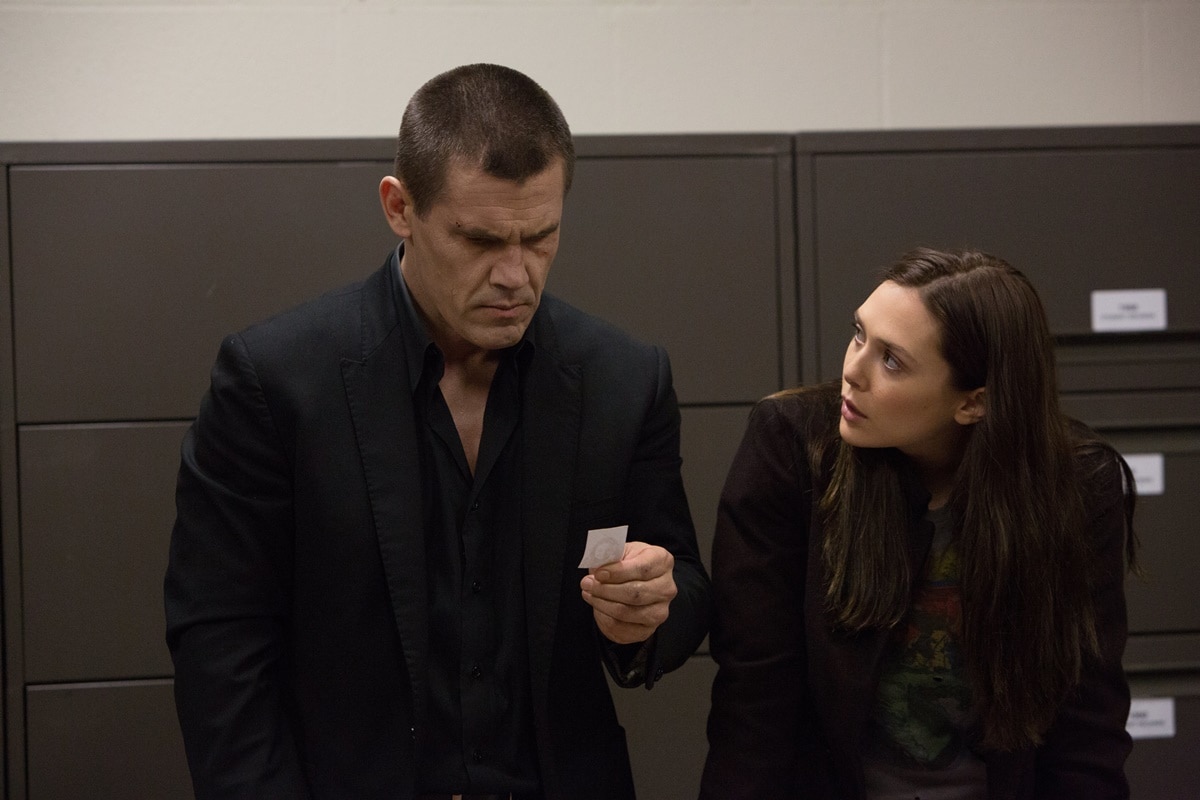 Actress Elizabeth Olsen found it awkward filming the lovemaking scenes with her Old Boy co-star Josh Brolin, as she is the same age as his daughter (Credit: FilmDistrict)
At the New York premiere of the film, Elizabeth Olsen was surprised by the ending as she had no prior knowledge of it.
She stated, "I've never been more shocked and surprised by an ending since maybe like The Sixth Sense," referencing the 1999 American psychological thriller film written and directed by M. Night Shyamalan.
"No one spoiled it for me. No one hinted at it for me. And I got to experience it with just a blank canvas."
Director Spike Lee stated that his original cut of the film was 140 minutes and focused heavily on character development and interactions. Still, the studio significantly shortened it to 104 minutes by removing over 30 minutes of footage.
As a result of the editing, Lee disowned the film, and it is credited as "A Spike Lee Film" rather than his signature "A Spike Lee Joint." Actor Josh Brolin reportedly preferred Lee's original version of the film.
Elizabeth Olsen pulls her hair back at the 9th annual Veuve Clicquot Polo Classic held on June 4, 2016, at Liberty State Park in New Jersey (Credit: Derrick Salters / WENN)
In June 2016, the Oldboy actress looked positively radiant in an all-white masculine-meets-feminine ensemble at the 2016 Veuve Clicquot Polo Classic held at Liberty State Park in New Jersey.
The then 27-year-old actress wore a low-cut top underneath a pinstripe short suit by Burberry, showing just a hint of cleavage.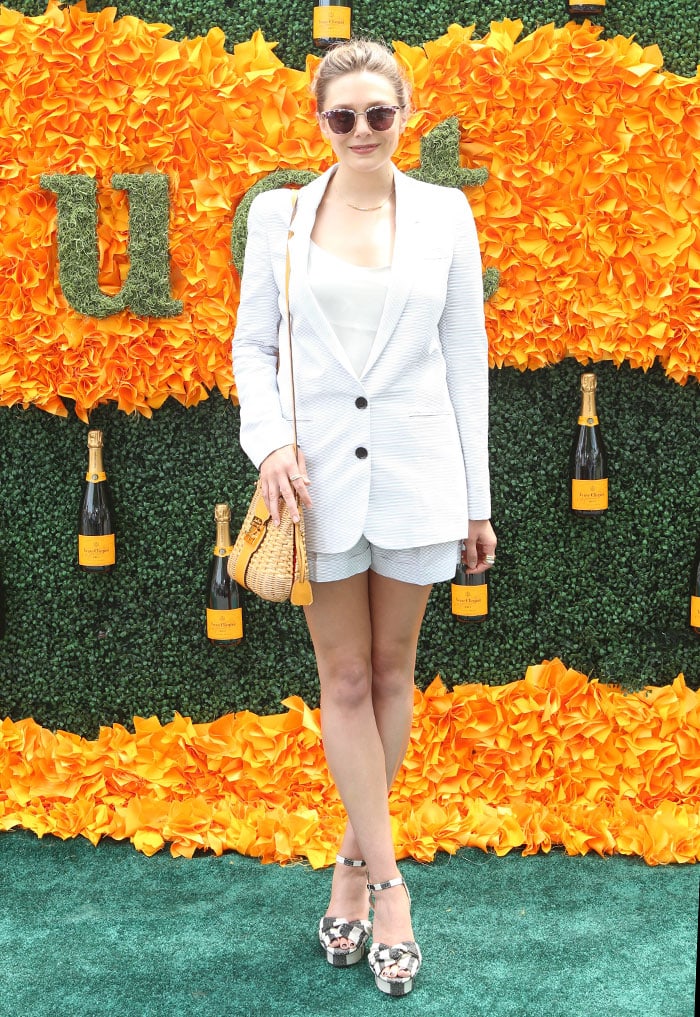 Elizabeth Olsen shows off her legs at the Veuve Clicquot Polo Classic in a pinstripe Burberry short suit (Credit: Derrick Salters / WENN)
The set included a tailored blazer with contrasting sleeves and front buttons and a pair of coordinating shorts that flaunted her toned legs.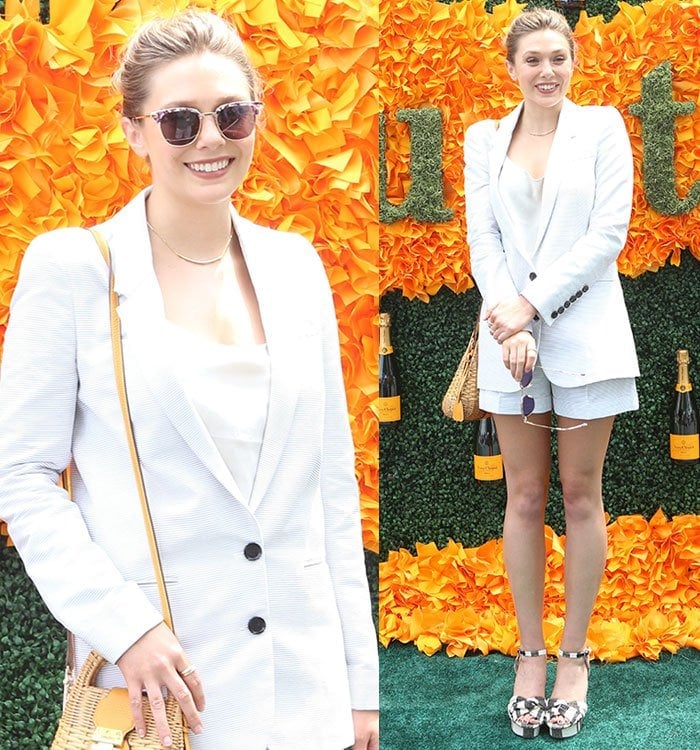 Elizabeth Olsen accessorizes with a pair of Gentle Monster sunglasses and a wicker purse (Credit: Derrick Salters / WENN)
Elizabeth accessorized the look with a few minimalist jewelry pieces, including a dainty gold necklace and several rings.
She pulled her blonde locks back into a no-fuss but chic updo and kept her makeup simple with peach lipstick.
To complete the look, she hid her eyes behind a pair of Gentle Monster sunnies and slipped into a pair of Loeffler Randall sandals.
Elizabeth Olsen's feet in platform Loeffler Randall sandals (Credit: Derrick Salters / WENN)
Elizabeth teetered on a pair of "Arbella" sandals by Loeffler Randall.
These summer-perfect shoes feature striped canvas in black and ecru colors, twisted toe bands, peep toes, adjustable ankle straps, about one-inch platforms, and five-inch block heels.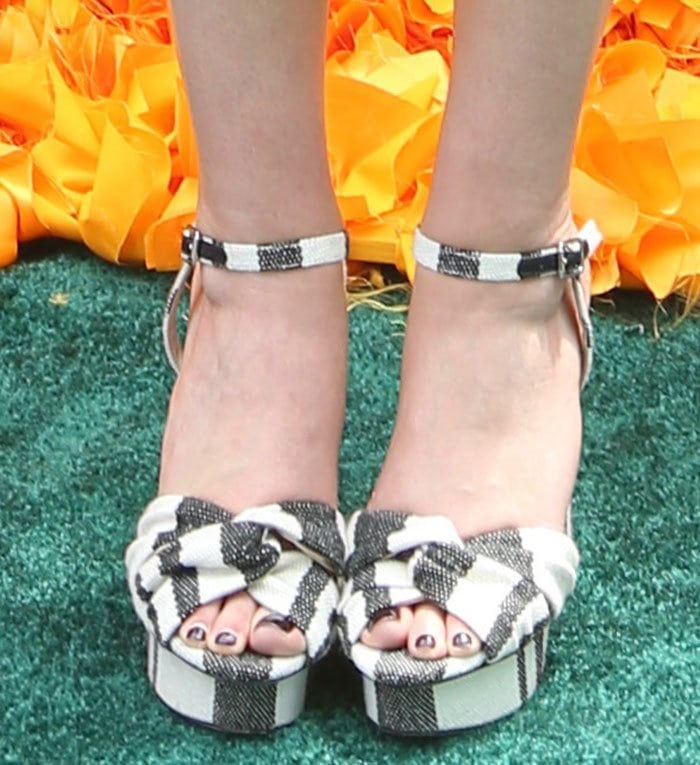 Elizabeth Olsen's feet in striped canvas "Arbella" sandals (Credit: Derrick Salters / WENN)
Also spotted on the feet of Jessica Alba, her sandals from Jessie Randall's luxury fashion brand are no longer available online.
Pink Loeffler Randall "Arbella" Platform Sandals, $395.00
Suede Loeffler Randall "Arbella" Sandals, $395.00
Black and Off-White Loeffler Randall "Arbella" Sandals, $395.00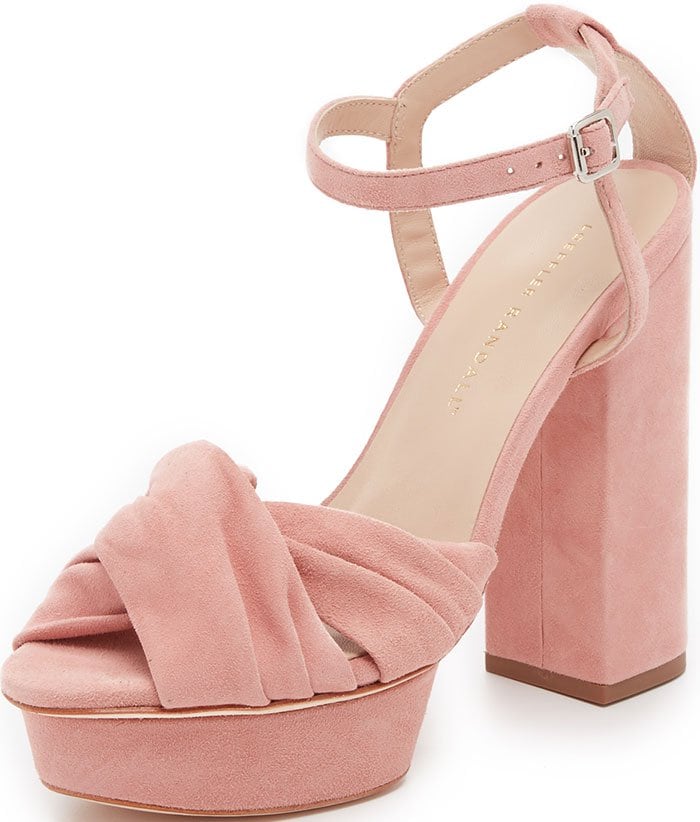 Pink Suede Loeffler Randall "Arbella" Sandals, $395.00