In November 2019, Dakota Johnson made an awkward appearance on The Ellen DeGeneres Show. The encounter with host Ellen DeGeneres is considered a cultural reset and was followed by allegations of toxic workplace environment by former staffers and guests.
Ellen started off the interview by wishing Dakota a belated happy birthday and accused the actress of not inviting her to a birthday party. Dakota corrected Ellen and said she did invite her.
"Actually that's not true, Ellen…Ask anybody, ask your producer," Dakota said. "Why didn't I go?" DeGeneres joked, admitting defeat. "Oh yeah, I had that thing. [The party] was probably in Malibu, that's too far for me to go to."
Dakota Johnson accuses Ellen DeGeneres of not telling the truth on an episode of The Ellen DeGeneres Show
Dakota, who turned 30 on October 4, 2019, celebrated her birthday in Malibu on October 5 with celebrity friends including Miley Cyrus, Coldplay frontman Chris Martin, Goop founder Gwyneth Paltrow, and comedian Tig Notaro.
It was later revealed that the weekend of Dakota's birthday party fell on the exact same weekend when Ellen was photographed sitting next to George W. Bush at a Dallas Cowboys football game. The television host was criticized for sitting next to the former US president, whom many dislike for his controversial decisions during the Iraq war.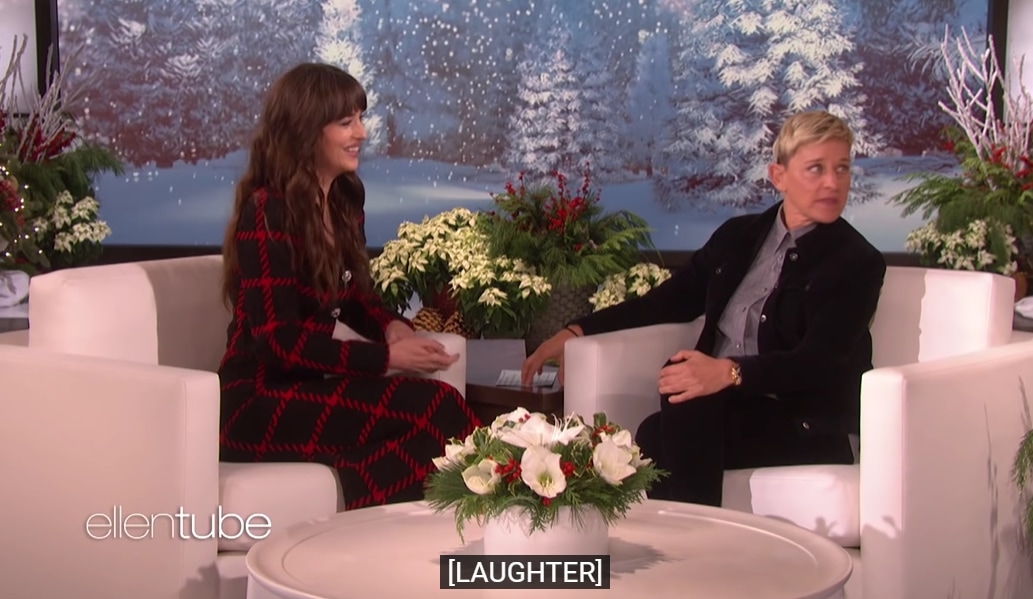 Dakota Johnson corrected Ellen DeGeneres when she accused the actress of not inviting her to a birthday party
"I'm friends with a lot of people who don't share the same beliefs that I have. We're all different and I think we've forgotten that that's okay that we're all different…Just because I don't agree with someone on everything doesn't mean I'm not going to be friends with them," Ellen said in a statement about her friendship with former President George W. Bush.
"Tig Notaro performed at your party? What did she do?" Ellen asked.
"She did, it was a surprise! [She did] a bunch of funny stuff. She's my favorite comedian," Dakota confirmed and awkwardly added "other than you."
Ellen DeGeneres suddenly recalls why she didn't attend Dakota Johnson's birthday party in Malibu
Who knew "Fifty Shades of Grey" star Dakota Johnson was such a daredevil?
In February 2016, Melanie Griffith's lookalike daughter talked about some of her past skydiving shenanigans during an interview at AOL in Manhattan while promoting her latest film, "How to Be Single."
Dakota Johnson wears her hair back as she arrives at The Huffington Post in Manhattan on February 5, 2016
Previously known for her tooth gap, the actress wore a dainty white off-the-shoulder top beneath a leather jacket, which she paired with loose high-waisted pants.
Dakota Johnson wears a leather jacket as she arrives for an interview in Manhattan
Dakota shielded her eyes from camera flashes in a red-orange tinted pair of sunglasses and finished off her look with a pair of Saint Laurent "Jane" sandals in an embossed reptile print.
Dakota Johnson's feet in reptile-embossed Saint Laurent sandals
So, about that skydiving adventure?
Dakota said her ex-boyfriend surprised her with a skydiving trip for her 24th birthday. She said that, while she thought she would see her boyfriend fall downward after jumping, he disappeared sideways instead.
With no time to think, the 21 Jump Street actress jumped after her boyfriend, stating, "that's love."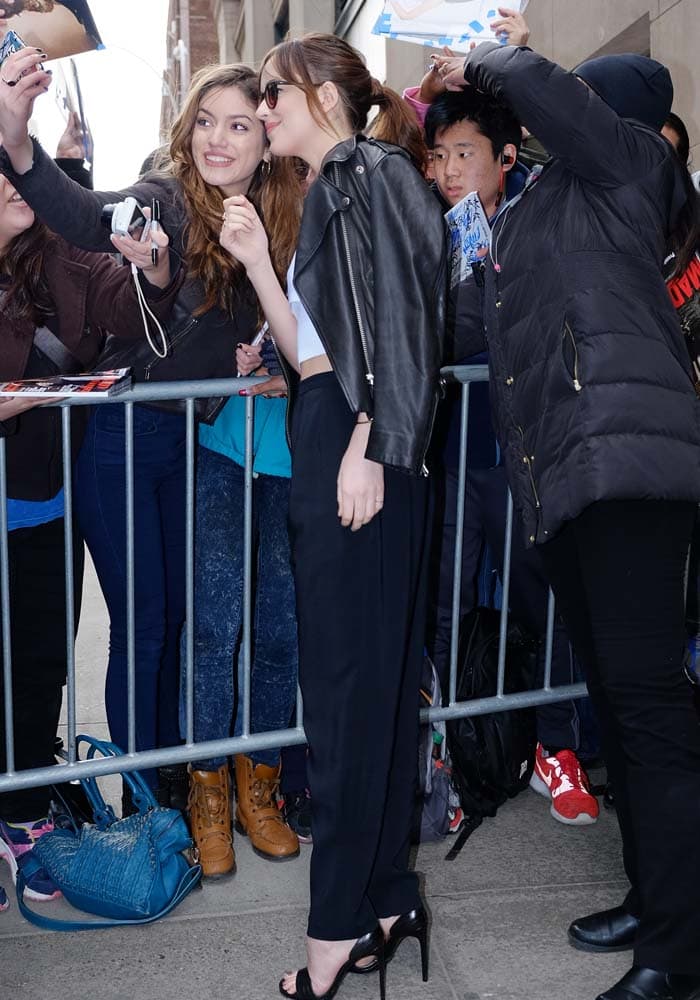 Dakota Johnson poses for photos with fans as she arrives in Manhattan
Even though Dakota's classic Saint Laurent "Jane" sandals don't express her apparent daredevil streak, we are happy to announce that the shoe comes in other risk-taking colors and patterns that you can buy at Farfetch and Nordstrom.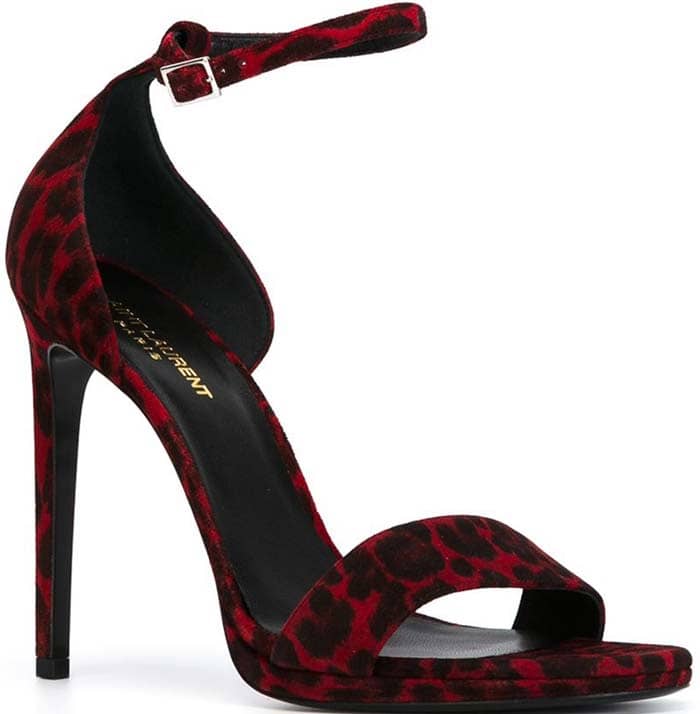 Leopard Calf Hair Saint Laurent 'Jane' Sandals, $895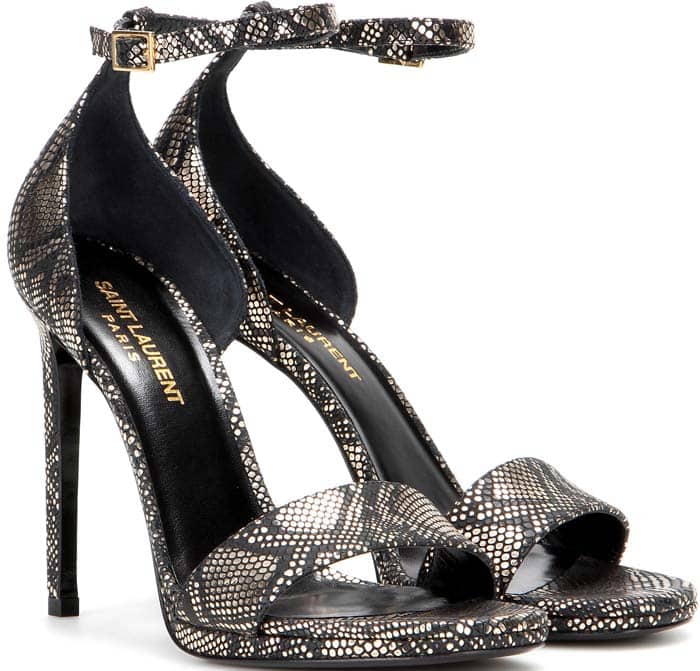 Saint Laurent 'Jane' Printed Metallic Leather Sandals, $895
Credit: TNYF / WENN