Emma Roberts played Poppy Moore when she was 16 years old, a fitting choice for a character who was the same age.
The comedy led to a romance between Roberts and model-turned-actor Alex Pettyfer, who played Freddie Kingsley – Moore's love interest.
Emma Roberts as spoiled teenager Poppy Moore and Alex Pettyfer as Freddie Kingsley in the 2008 British American teen comedy film Wild Child (Credit: Universal Pictures)
The couple was together for about a year, and Pettyfer even had Roberts' initials tattooed on his ring finger. The two allegedly called their relationship quits in July 2008.
The final film of English actress Natasha Richardson, who died on March 18, 2009, Wild Child started filming in June 2007 when Emma Roberts was 16 years old. She celebrated her 17th birthday on February 10, 2008, and was 17 years old when the film was released in the United Kingdom on August 15, 2008.
Emma Roberts and Alex Pettyfer met in June 2007 on the set of Wild Child and dated for about a year (Credit: Richard Young / Startraksphoto)
In the film, Roberts is a spoilt Malibu princess who gets shipped off to boarding school. Her character very obviously has great style, and we have no doubt that the actress has a knack for it too. We love a good classic pair of pointed-toe flats.
In July 2012, Wild Child actress Emma Roberts rocked the same pair of d'Orsay Jenni Kayne flats as Jessica Alba. And much like Jessica, Emma paired hers with printed psychedelic pants.
Emma Roberts wears her hair down while eating ice cream out in Los Angeles on July 6, 2012 (Credit: Hailey-R / WENN)
Emma wore her shoes from California lifestyle brand Jenni Kayne while out grabbing ice cream in Los Angeles with her mom, Kelly Cunningham.
In addition to the fun leggings, Emma sported a white t-shirt, a camel-colored leather jacket, a brown leather tote, and oversized sunglasses.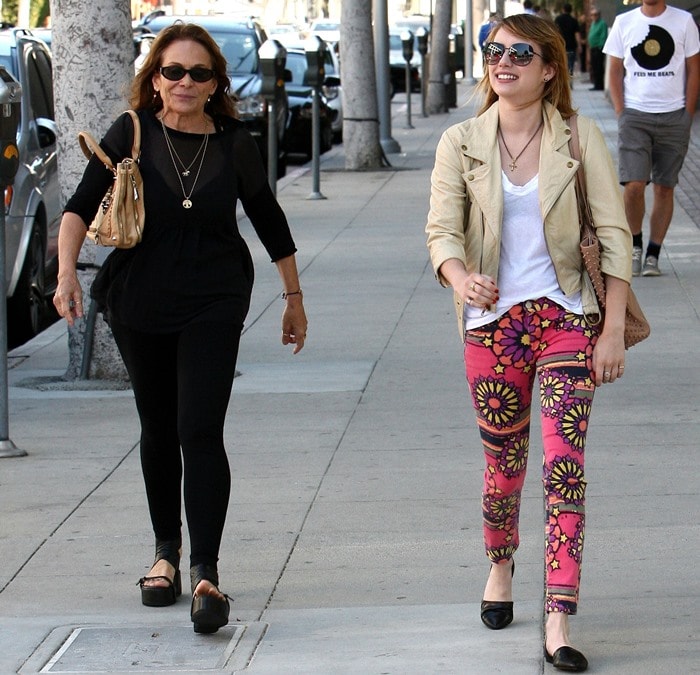 Emma Roberts and her mom Kelly Cunningham stroll through Los Angeles (Credit: Hailey-R / WENN)
The pointy vamps combined with the d'Orsay silhouette give these ballet flats a unique twist.
Emma Roberts and her mom grab ice cream while strolling through Los Angeles (Credit: Hailey-R / WENN)
Emma's black version isn't available online. Other interesting renditions — like croc and chambray — have also sold out.
Jenni Kayne d'Orsay Flats in Oliva, Brown, and Red Croc, $495
Jenni Kayne d'Orsay Flat in Chambray, $395