The daughter of Kelly Cunningham and actor Eric Roberts, who separated when Emma Roberts was a baby, her aunts are actresses Julia Roberts and Lisa Roberts Gillan.
Romantically involved with film performer Garrett Hedlund, who she started dating in 2019 after a few years as friends, she gave birth to their son Rhodes Robert Hedlund on December 27, 2020. Emma wanted to keep the pregnancy a secret, but her mom Kelly Cunningham confirmed the news without permission.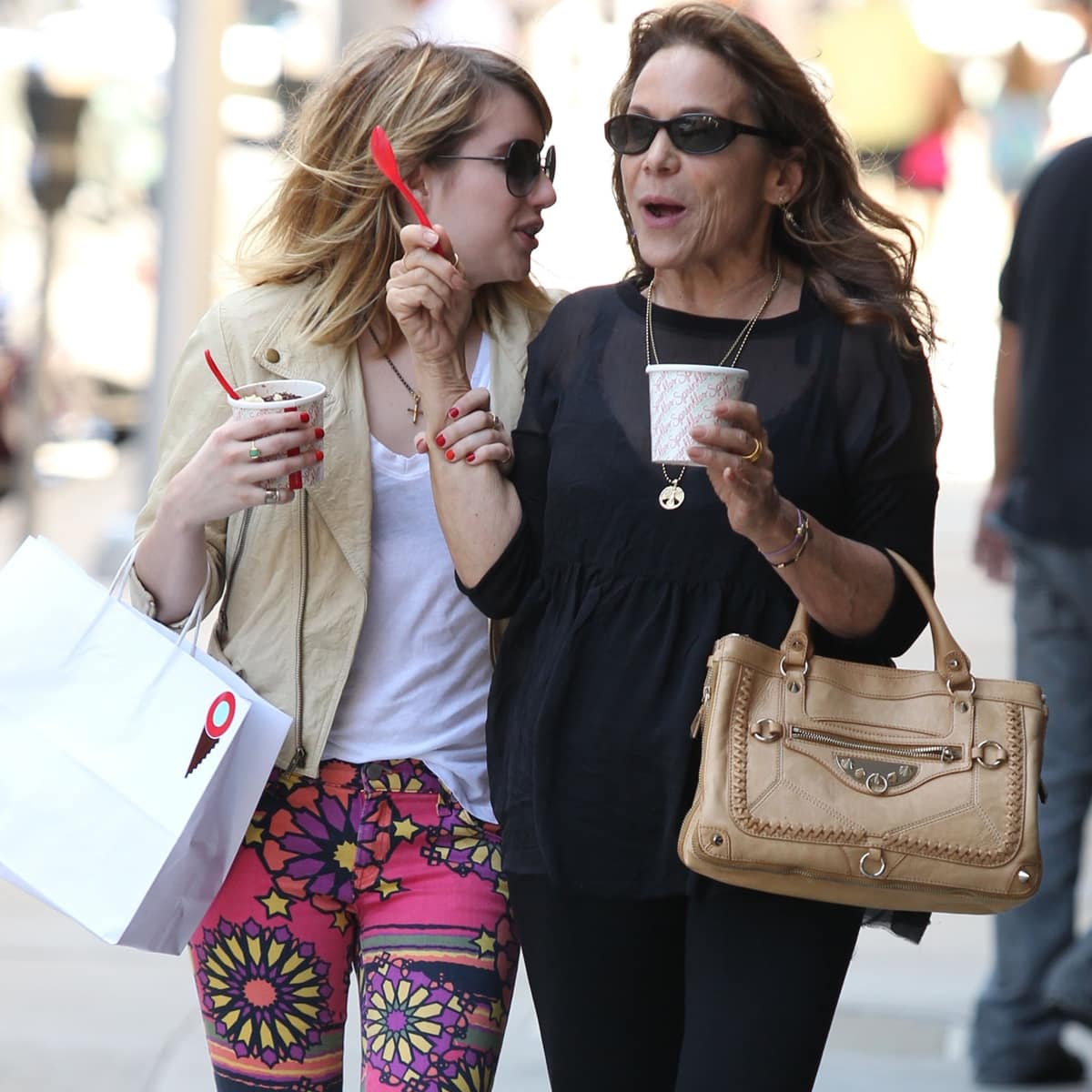 Emma Roberts enjoys a great relationship with her mom Kelly Cunningham (Credit: WENN)
"I was, like, 'Now we can FaceTime and iMessage. And like, how sweet.' And it was just such a love fest," Emma said in October 2020 about buying her mom her very first iPhone during her virtual appearance on The Tonight Show. "And it was the worst thing I ever did."
"It was a disaster," Emma said about her mom confirming Emma's pregnancy on Instagram. "And I found it all out on a plane. So, I couldn't get to her. Like, I couldn't call her or attack her. I could just iMessage with her and DM her and ask her to please stop."
"When I said to her, 'Mom, you revealed my pregnancy,' she goes, 'Emma, you announced it,'" the Unfabulous actress said. "I said, 'No, I didn't. That was a tabloid.' She's like, 'Oh, that wasn't clear.'"
"I blocked her at one point. It was my only weapon. She texted me at 2:00 a.m., 'Queen, did you block me? Sad face.' I was like, 'Yes, I did block you.' Then I unblocked her. It's been an Instagram war with my mother that I never saw coming. A good story to tell the baby," Emma said.
View this post on Instagram
Emma told Cosmopolitan in November 2020 that she had always wanted to have a baby. "Ever since I was little, I wanted to have a baby, in theory. When I was a kid, I begged my mom to have another baby. The day she brought my sister home from the hospital, I remember holding her, wanting to dress and play with her." Emma's younger half-sister Grace Nickels was born on January 16, 2001.
"It sounds cheesy, but the moment that I stopped thinking about it, we got pregnant," she said. Diagnosed with endometriosis, a common gynecological condition that according to Johns Hopkins Medicine affects up to 10% of American women of childbearing age, the Blow actress worried she could be infertile.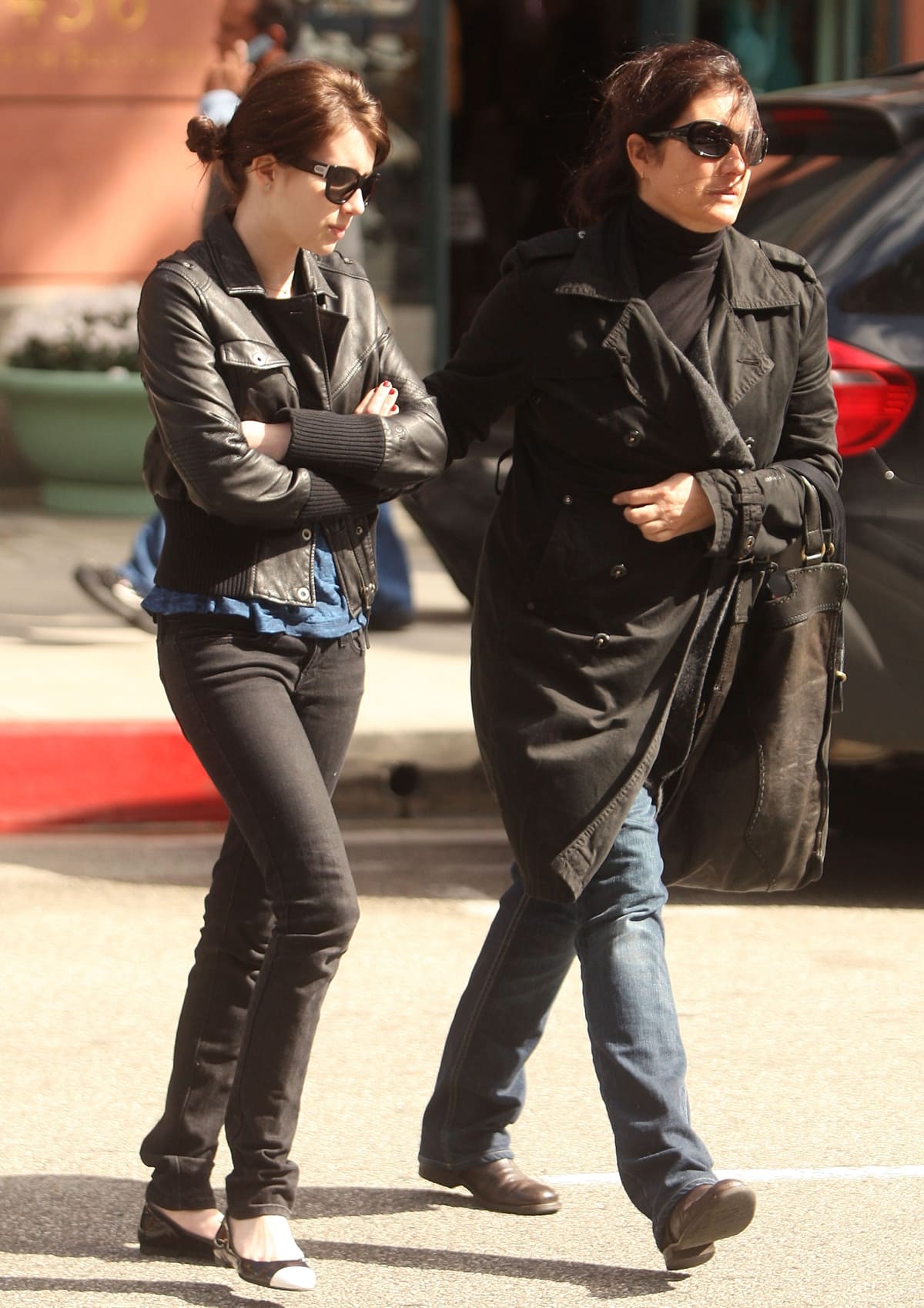 Emma Roberts out for a walk with her mother Kelly Cunningham in Los Angeles on February 17, 2009 (Credit: WENN)
"But even then, I didn't want to get my hopes up. Things can go wrong when you're pregnant… So I kept it to myself, my family, and my partner, not wanting to make grand plans if it wasn't going to work out. This pregnancy made me realize that the only plan you can have is that there is no plan."
Asked by Jamie Lee Curtis for Violet Grey whom she most admires, Emma was quick to reveal her newfound admiration for her mom, Kelly Cunningham. "My mom, especially after having a baby. I kiss the ground she walks on!"
View this post on Instagram
In March 2016, Emma Roberts went for an understated, yet chic and flirty look at the "Scream Queens" panel held during the 2016 PaleyFest Los Angeles at the Dolby Theatre in Hollywood.
Emma Roberts wears her blonde hair down at the "Scream Queens" panel held March 12, 2016, during the 33rd Annual PaleyFest Los Angeles held at Dolby Theatre in Hollywood (Credit: Nicky Nelson / WENN)
The then 25-year-old actress teamed a pair of black culottes by Atea Oceanie with a flirty printed peplum cropped top by Thakoon, which showed just a hint of cleavage.
Emma Roberts wears a Thakoon peplum top with black culottes (Credit: Brian To / WENN)
Emma styled the monochrome ensemble with a pair of Tara Hirshberg stud earrings and a white Anya Hindmarch purse.
Emma Roberts wears a monochrome ensemble with red heels (Credit: Nicky Nelson / WENN)
She wore her shoulder-length golden tresses down in soft waves with side-swept bangs and added color to the look with a hint of blue eyeliner and pink lipstick.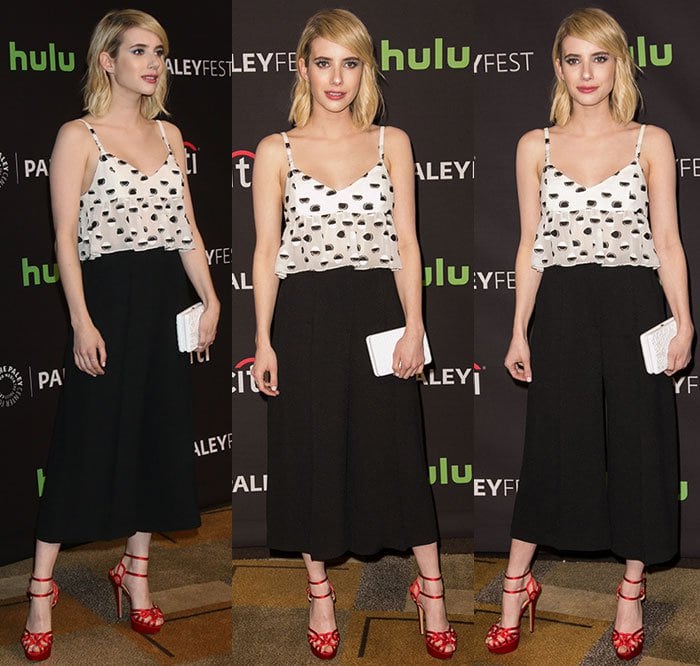 Emma Roberts wears a Thakoon top and Atea Oceanie pants to PaleyFest Los Angeles (Credit: Nicky Nelson / WENN / Brian To)
Emma gave her black-and-white ensemble a pop of color with a pair of red satin heels by Charlotte Olympia.
Emma Roberts's feet in red Charlotte Olympia sandals (Credit: Nicky Nelson / WENN)
She wore the "Ursula" sandals, which debuted as part of the spring 2012 collection. These six-inch heels feature strappy vamps, peep toes, double adjustable ankle straps, and about one-inch platforms.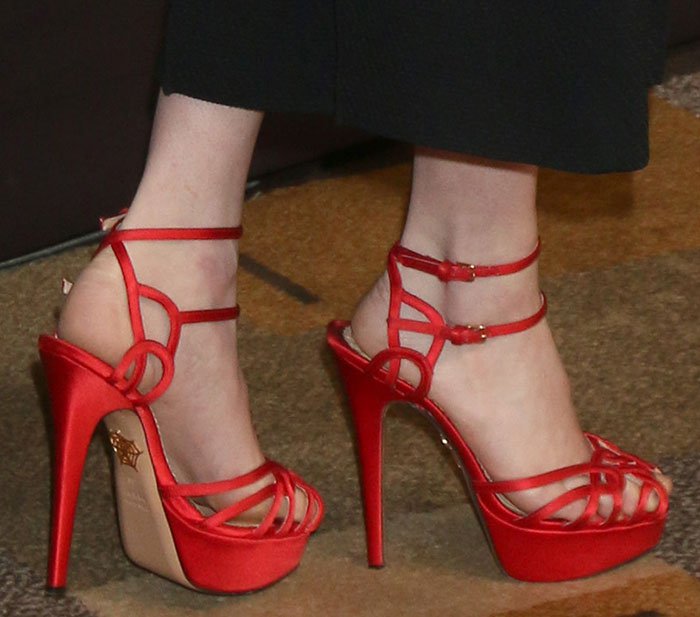 Emma Roberts's feet in red platform "Ursula" sandals (Credit: Nicky Nelson / WENN)
Unfortunately, these sandals are no longer available.