After spending the Christmas holiday with her family in New York City, in December 2014 Emma Roberts returned to work in Tinseltown.
Becoming famous for her lead role as Addie Singer on the Nickelodeon television comedy series Unfabulous, she caught everyone's attention at Los Angeles International Airport (LAX).
Emma Roberts wearing a black-and-white striped beanie by Forever 21 while arriving at LAX from New York City on December 28, 2014
How old was Emma Roberts in Unfabulous?
Making her film debut in the 2001 American biographical crime film Blow, the following year Emma Roberts was cast as the 13-year-old main character Addie Singer in the teen sitcom Unfabulous.
One of the most-watched programs in the United States among children between the ages of 10 and 16, Unfabulous debuted on September 12, 2004, when Emma Roberts was 13-years-old.
The series ended with the third season on December 16, 2007, when she was 16-years-old.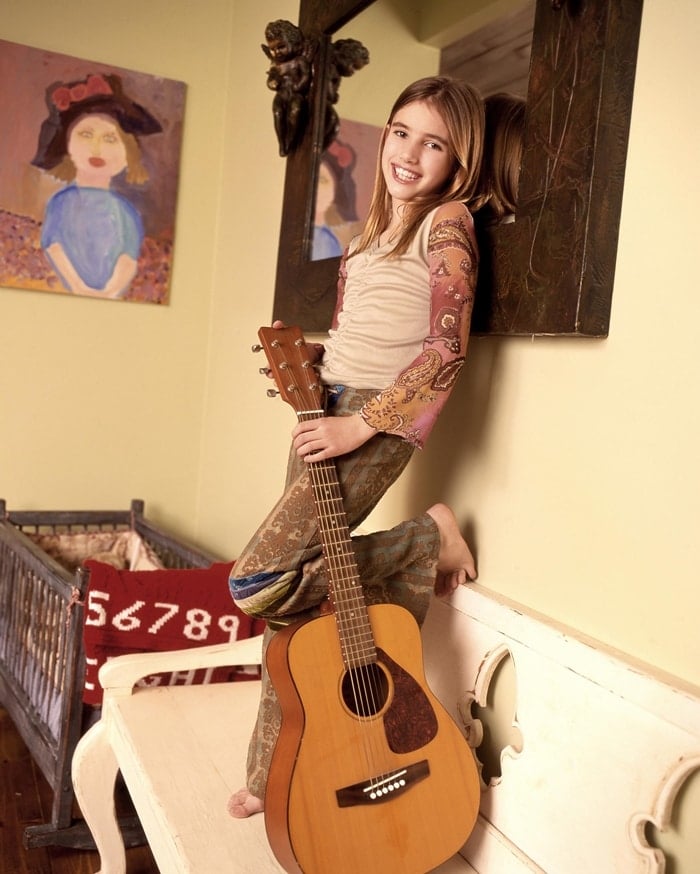 Emma Roberts as the 13-year-old main character Addie Singer in Unfabulous
"My mom [Kelly Cunningham, Eric's former live-in girlfriend] and I would stay with my Aunt Julia when I was really young, so I grew up on sets," Emma Roberts told Glamour in 2015, explaining how she got inspired to become an actress.
"I just found this old Polaroid of me on the set of Erin Brockovich, in one of my Aunt Julia's super-padded dresses from the movie, with the biggest smile on my face. I'd cry when I had to leave. I loved that it felt like camp."
"My mom didn't want me to act," she told the publication about wanting to audition. "I said to her, 'You're not supporting my dreams!' She decided to let me go on one audition, thinking I'd see what rejection was like. That was Blow, and I got the part."
Emma Roberts with her father, actor Eric Roberts, in 2001
Julia Roberts' niece tried to keep a low profile when she arrived at the terminal, but the paparazzi were quick to recognize and photograph her.
She covered up her slender figure in a loose black tee and dark denim jeans.
Her blonde locks, which were styled into a messy braid on one side, were mostly hidden under a black-and-white striped beanie by Forever 21, while her eyes were shielded with oversized black sunglasses. She even carried her own Louis Vuitton luggage!
Emma Roberts' blonde locks were styled into a messy braid on one side
Completing the American Horror Story star's comfy airport getup were black "Susanna" boots by Chloe — a favorite among many celebrities.
They are a modern pair of Western boots with gold-tone studs, triple adjustable buckled straps, pointed toes, side zipper fastenings, and 2 inch stacked heels.
Emma Roberts wearing green socks and Chloe boots
Emma Roberts added a little fun to these somewhat tough-looking booties by wearing green socks, which look very Christmasy.
Check out these Chloe boots in three color versions at Nordstrom and Farfetch:
Chloe Susanna Studded Western Booties in Black, $1,345
Chloe Susanna Studded Western Booties in Green Alga, $1,345
Chloe Susanna Studded Western Booties in Gray, $1,345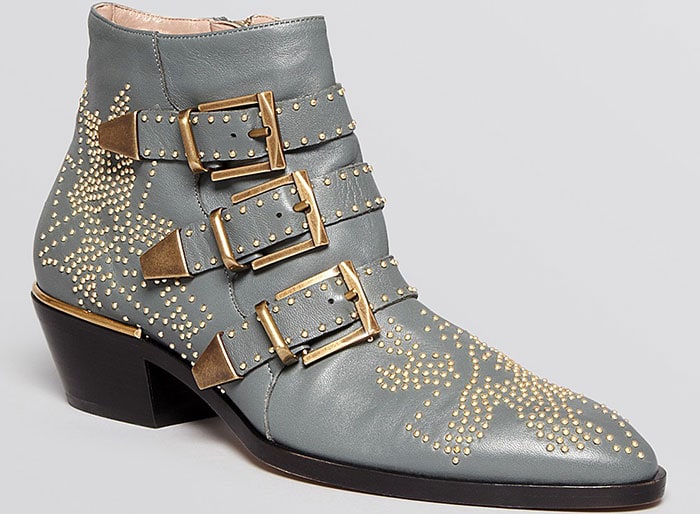 Credit: WENN / David Buchan