The red bottom soles are instantly recognizable. Christian Louboutin is one of the most sought-after luxury shoe brands in the world; and one of the most counterfeited designer brands.
Spotting a fake pair of Christian Louboutin shoes is like finding a counterfeit Louis Vuitton bag – they're everywhere online.
Buying your Louboutin shoes pre-loved can save you a little cash and give you access to iconic vintage styles. The danger of buying Christian Louboutin shoes on the second-hand market is the number of counterfeits. It's also possible to rent Louboutin shoes.
One of the most popular and often imitated designer shoes in the world is Christian Louboutin
We live in an era of super-fakes where not even Cartier will authenticate their own Love bracelets anymore. Everything from dust bags to receipts and serial numbers can be faked to look just like the real deal.
How Can I Tell if My Louboutins Are Real?
Unless you're buying from an authorized retailer like Mytheresa or Nordstrom, you'll need to get up close and personal with your Louboutins to determine whether or not they're genuine.
Superfakes mean that every aspect of the shoe and its packaging can be replicated to look like the real thing. You'll need to look for the finer details to tell whether your Louboutins are real.
1. The box and dust bags
Check the font used for 'Christian Louboutin' and 'Paris' on the front of your box.
An authentic Louboutin box will also feature the shoes in their European size, the style name, the Louboutin logo, and the shoe's barcode. The box and overall packaging should feel high-quality.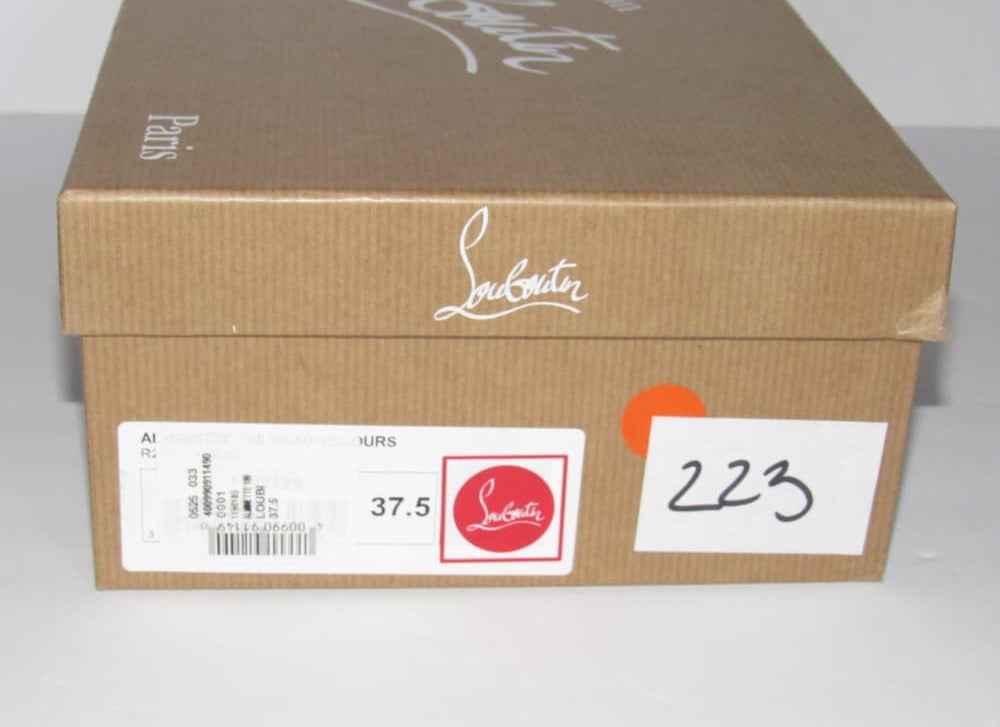 A Christian Louboutin shoe box should have the European size of the shoe, the style name, the Louboutin logo, and the shoe's barcode (Credit: Vestiaire Collective)
Genuine Louboutins have a cherry red dust bag and are made using high denier cotton that is soft to the touch with a drawstring closure and overlocked stitches. Fake Louboutins will typically use a different shade of red for their dust bag.
2. The quality of the shoe
Christian Louboutin shoes are an art form primarily made by hand, with each model having at least 30 steps to its production.
You can usually tell whether a pair of Louboutin shoes are genuine or not by feeling the quality. Look out for the quality of the stitching, particularly the uppers.
Authentic Christian Louboutin heels have even insoles, aligned uppers, and thinner logo font
The stitching should be even throughout with properly sealed insoles. Fake Louboutin shoes typically have uneven insoles with misaligned uppers. You'll also want to compare the logo on the insole. Counterfeit Louboutins will usually have a thicker logo that easily chips off.
3. Check out the sole
Christian Louboutins are instantly recognizable for their red soles. Genuine Louboutins have a smooth red leather sole.
The exact shade of Louboutin red is very hard to emulate. Most counterfeit Louboutin shoes have a plastic sole while claiming to be made in leather.
Genuine Christian Louboutin shoes have smooth and sturdy red leather soles
It's worth noting that some older Louboutins – particularly those made before 2007 – featured 'Vero Cuoio' on the sole.
These older styles also had a slightly different shade of red. You'll want to pay closer attention to these older styles, particularly when shopping for vintage Louboutins from the early 2000s.
What's the difference between fake and real Louboutins?
The quality is the biggest difference between fake and real Louboutins. While they may look similar, you'll spot a real vs. fake pair of Louboutins by looking at the finer details.
Genuine Louboutin shoes are made with leather, creating a super smooth finish that reflects the light. Counterfeit styles struggle to recreate this look and often have an uneven surface.
Pay attention to the outsole of the shoe. Fake shoes have a virtually non-existent outsole, with the bottom of the shoe looking as though it's been glued together.
Real Christian Louboutin shoes have super smooth leather finish that reflects the light
Christian Louboutin shoes represent the pinnacle of shoe design and craftsmanship. The heel counter is one of the easiest ways to spot a fake versus real pair of Louboutins.
Genuine shoes will have a straight heel counter with seamless stitching, while their fake counterparts often have a curved line with visible stitching.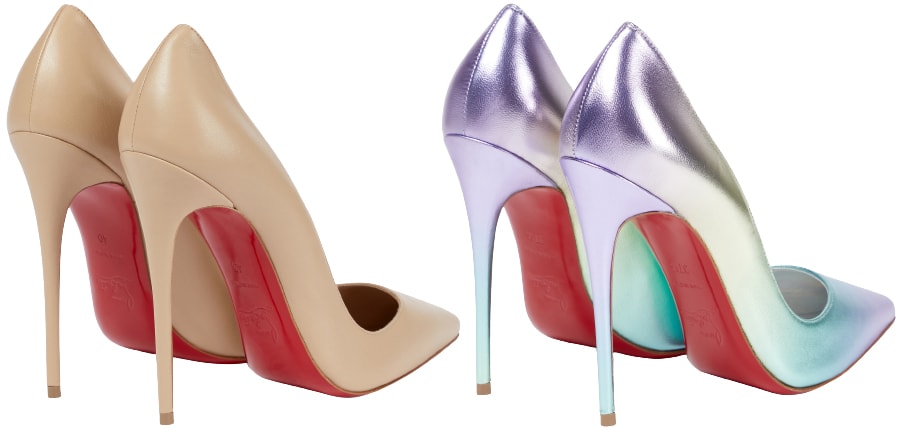 Real Christian Louboutin shoes have straight heel counters with seamless stitching
FAQs about Christian Louboutin Shoes
Before buying Christian Louboutins, you want to get familiar with the brand and the most common questions about Christian Louboutin shoes.
Does Louis Vuitton make red bottoms?
No, the iconic red sole shoes are made by Christian Louboutin and not Louis Vuitton.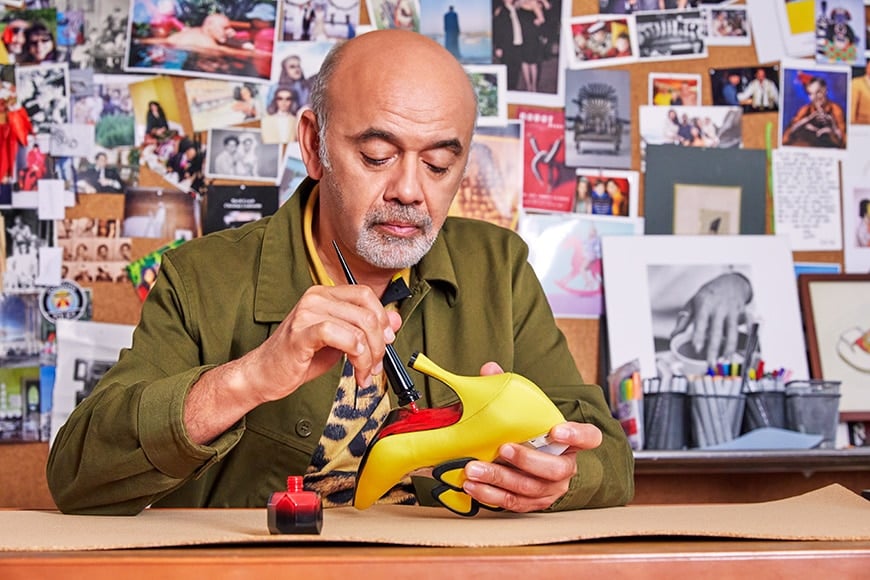 French designer Christian Louboutin is the creator of the red-soled shoes (Credit: Christian Louboutin)
Are Louboutin shoes made in China?
No, Christian Louboutin shoes are not made in China. They are made in Europe, specifically in Italy and Spain. The company has a strict policy of not manufacturing its products in China to maintain high quality standards.
In September 2022, in an unfair competition lawsuit, the Beijing Intellectual Property Court (BIPC) issued a verdict in favor of Christian Louboutin, the renowned French footwear brand.
Christian Louboutin had accused Guangdong Wanlima Industrial Co. Ltd. of selling high-heeled shoes that imitated the distinctive red sole design associated with Louboutin's footwear. These counterfeit shoes were sold on Tmall, an online marketplace, and in a Beijing department store.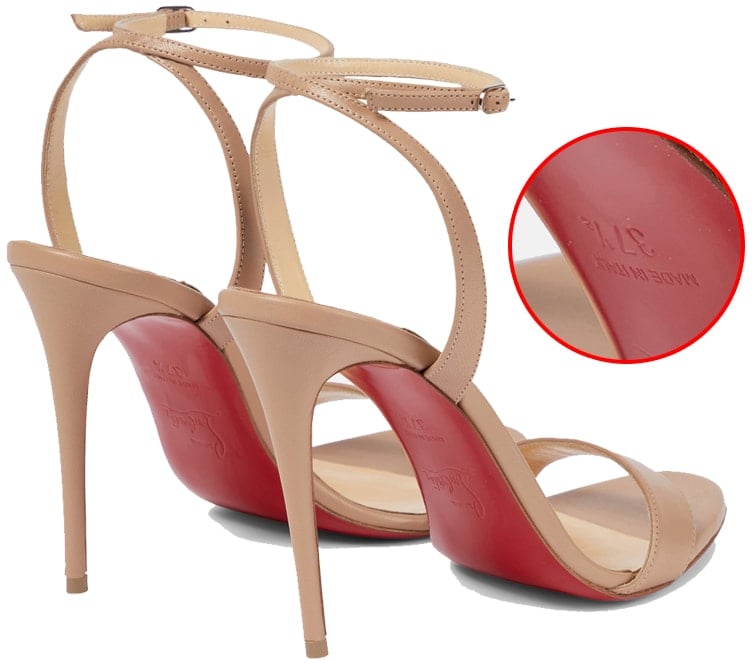 Luxury fashion designer Christian Louboutin manufactures his footwear in Italy and Spain
Louboutin further alleged that Wanlima utilized the term "red sole shoes" in its promotional activities, deliberately creating confusion among consumers and leading them to mistakenly associate the products with Louboutin.
The court acknowledged that since Christian Louboutin entered the Chinese market in 2011, its red sole trademark and design had gained significant recognition and had become closely associated with the public.
Therefore, the court found Wanlima guilty of violating China's Anti-Unfair Competition Law. As a result, Wanlima was ordered to compensate Louboutin with $721,855 (5 million RMB) in damages and $64,245 (445,000 RMB) to cover legal expenses.
Is it cheaper to buy Louboutins in Italy?
It's not always necessarily cheaper to buy Louboutin shoes in Italy. While you may find a great deal on Louboutin shoes at outlet stores in Italy, it's worth considering the exchange rate and VAT.
Italy has a 22% value-added tax on footwear, but travelers can only reimburse a certain amount in tax when leaving the country.
While you'll almost always save money by buying Louboutins in Italy, it's worth checking the exchange rate and considering if the UK is a better option for your purchase.
How much is a pair of Louboutins?
A classic pair of Louboutins will set you back roughly $750, while the most expensive Louboutin shoes in its main collection can cost up to $2,500.

Christian Louboutin Pigalle Pumps, $745; Christian Louboutin Kate Pumps, $795; Christian Louboutin Follies Strass Mesh Pumps, $1,245; Christian Louboutin Joli Queen Sandals, $1,695; Christian Louboutin Lipbotta Knee-High Boots, $2,095
Are Louboutins made by hand?
Christian Louboutin shoes are primarily made by hand, with each shoe having at least 30 steps in its production process. Everything is cut, sewn, and shaped by hand.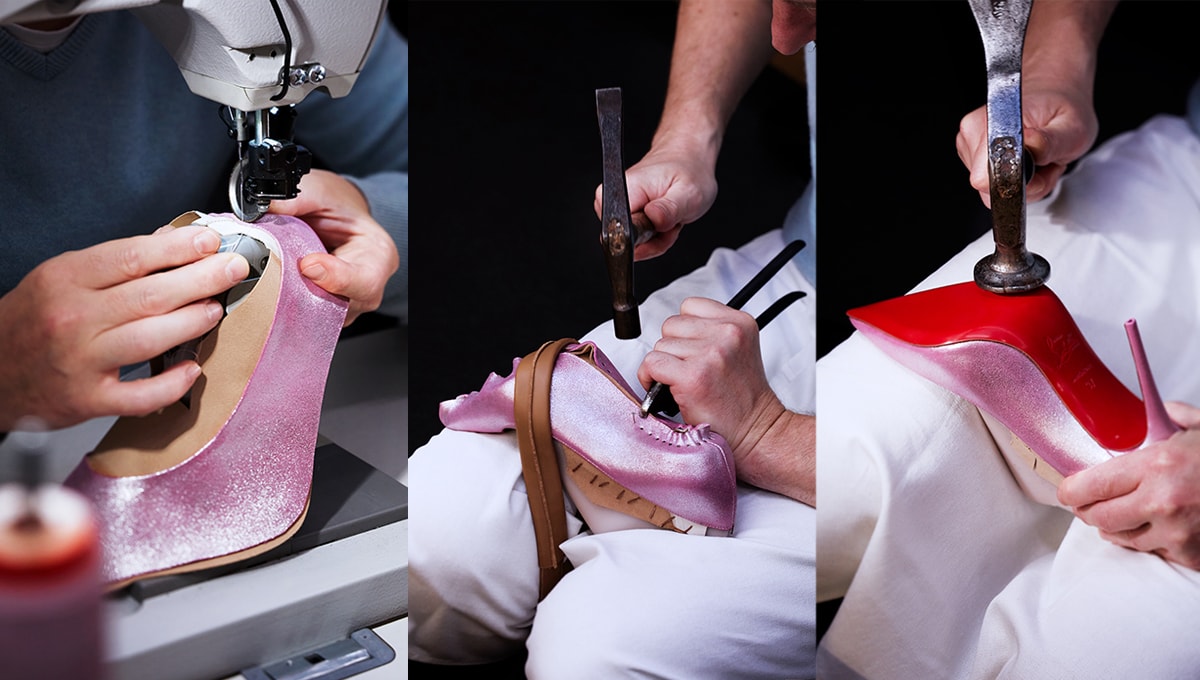 Christian Louboutin shoes are exquisitely crafted by hand by artisans in Italy (Credit: Christian Louboutin)
Are Louboutins French or Italian?
Christian Louboutin is a French fashion designer who launched his eponymous brand in 1991.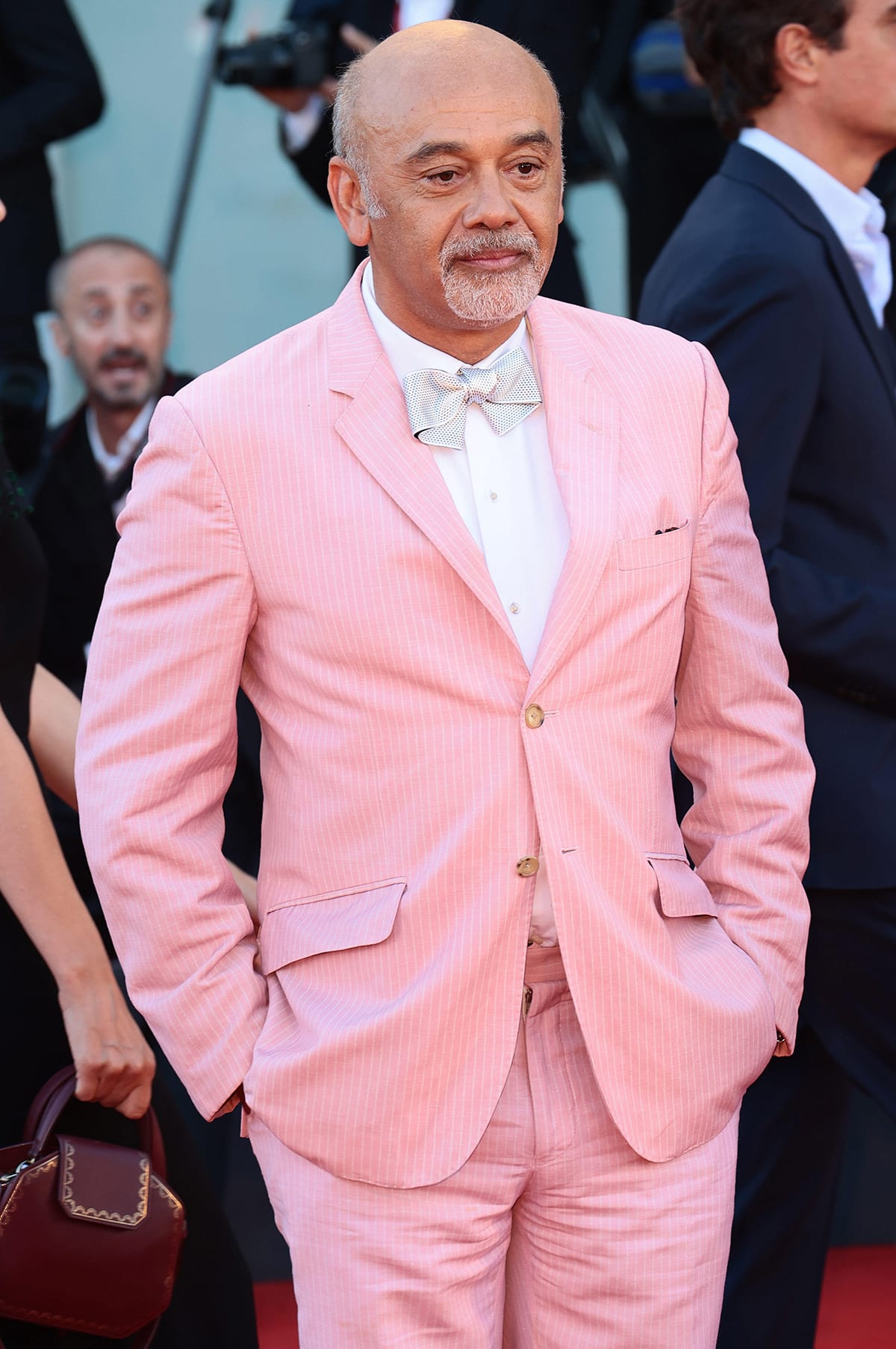 Christian Louboutin is a French fashion designer who launched his eponymous label in 1991 (Credit: KIKA Press / Cover Images)
Does the red on Louboutins wear off?
The red soles of Christian Louboutin shoes are made using a secret lacquering process that gives them their signature color and shine. The soles are first painted with a layer of red lacquer, which is then protected by a transparent film. This film is removed when the shoes are boxed up and the red soles are revealed.
The lacquer used to create the red soles is a proprietary formula developed and manufactured by Christian Louboutin. The formula is a blend of different chemicals that give the soles their unique color and durability. The lacquer is applied to the soles by hand, and each shoe is inspected to ensure the finish is perfect.
The red can start to chip or fade after repeated wear, especially if the shoes are exposed to rough surfaces or harsh chemicals.
There are a few things you can do to help prevent the red from wearing off, such as:
Avoid wearing your Louboutins on rough surfaces, such as concrete or gravel.
Avoid using harsh chemicals on your Louboutins, such as bleach or ammonia.
Apply a clear coat of sealant to the soles of your Louboutins. This will help to protect the red from chipping or fading.
Here are some of the options you have if the red on your Louboutins starts to wear off:
Resole the shoes: This is the most expensive option, but it will give you a brand new sole with the iconic red color.
Have the soles repainted: This is a less expensive option but will not be as durable as a resoled sole.
Leave the soles as is: This is the least expensive option, but it will mean that the red color will continue to wear off over time.
The best option for you will depend on your budget and how much you care about the red color on the soles of your Louboutins.
Do Louboutins keep their value?
Christian Louboutins have a better resale value than most designer shoes, but the value of your shoes will depend on the condition of your shoes. Keeping your original dust bag and box will help to maintain the value of your Louboutin shoes.
Which Louboutins are most comfortable?
Louboutin shoes are notorious for not being comfortable. Christian Louboutin famously said that he doesn't design his shoes with comfort in mind.
Over time, the brand's styles have evolved to incorporate flatter and sneaker styles. If you're hunting for a comfortable Louboutin heel, we recommend checking out the new 'Sporty Kate' style with its 85mm heel.
The Christian Louboutin Sporty Kate is the comfortable rendition of the all-time classic favorite Kate pumps