Florence Pugh is currently one of the buzziest actresses today. She soared to mainstream fame in 2019 following her critically acclaimed performances in the folk horror film Midsommar and in the coming-of-age period drama Little Women.
Florence Pugh in Pierpaolo Piccioli purple pleated ruffle dress at the 11th Annual Governors Awards at the Dolby Theater on October 27, 2019
In December 2019, the Associated Press named her one of its Breakthrough Entertainers of 2019. She also scored the cover of American Vogue Magazine's February 2020 issue.
On Sunday, she will go up against Laura Dern, Kathy Bates, Scarlett Johansson, and Margot Robbie for Best Supporting Actress at the Academy Awards.
After earning her first Oscar nomination this year, Florence Pugh is suddenly everywhere. She's currently the talk of the town. However, aside from her career, her personal life has been hitting headlines as well.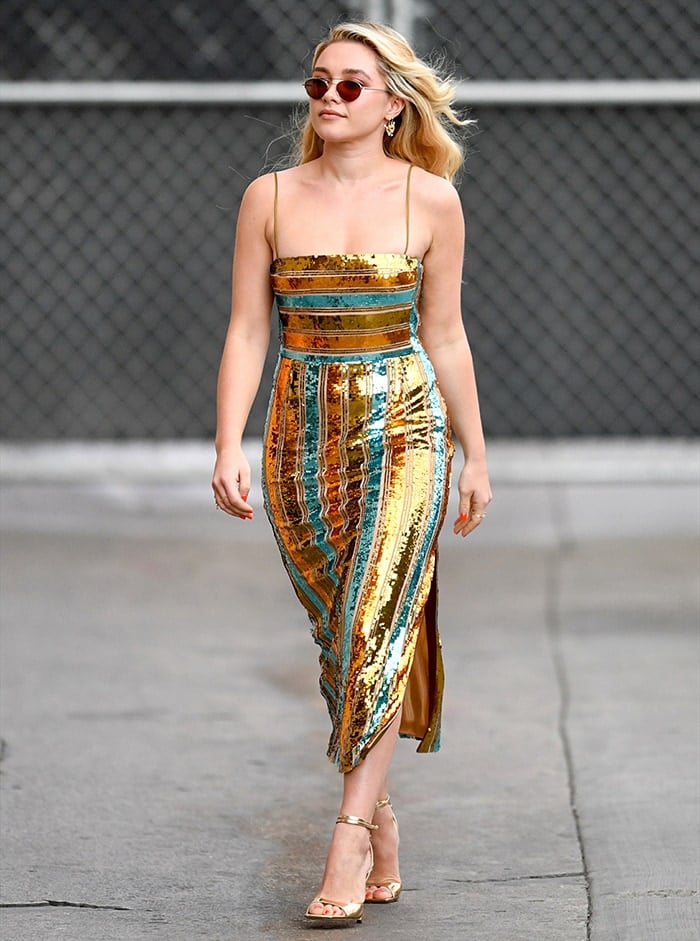 Florence Pugh in Galvan London striped sequin dress at Jimmy Kimmel Live on January 16, 2020
Who Is Florence's boyfriend?
The 24-year-old actress is in a relationship with 44-year-old Zach Braff.
Zach has been in the industry since the 1990s, but it wasn't until 2001 that he became widely known for his role as J.D. on the TV series Scrubs. He also produced and directed several episodes of the medical comedy-drama, which aired until 2010.
For his role, he received a Primetime Emmy Award for Outstanding Lead Actor in a Comedy Series in 2005 and three Golden Globe Awards for Best Actor from 2005 to 2007.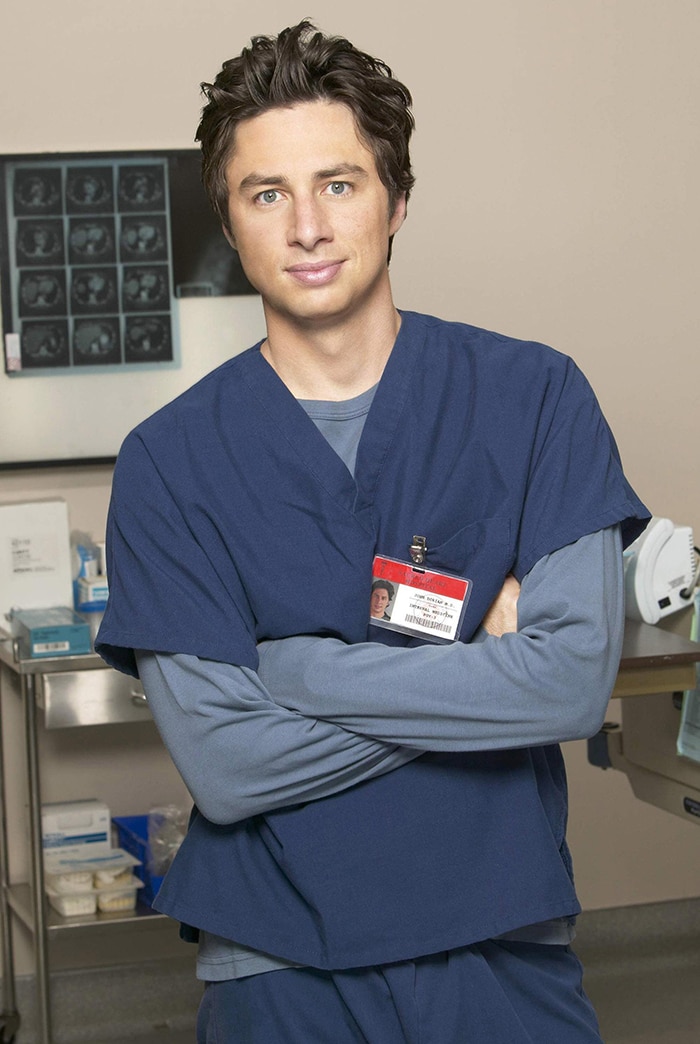 Zach Braff a.k.a. Dr. John 'J.D.' Dorian on Scrubs series
In 2004, Zach made his directorial debut with the romantic comedy-drama movie Garden State with Natalie Portman. He also wrote and starred in the movie, which was based on his real-life experiences.
He received several awards and nominations for his work as a director and scored a Grammy Award for Best Soundtrack Album in 2005.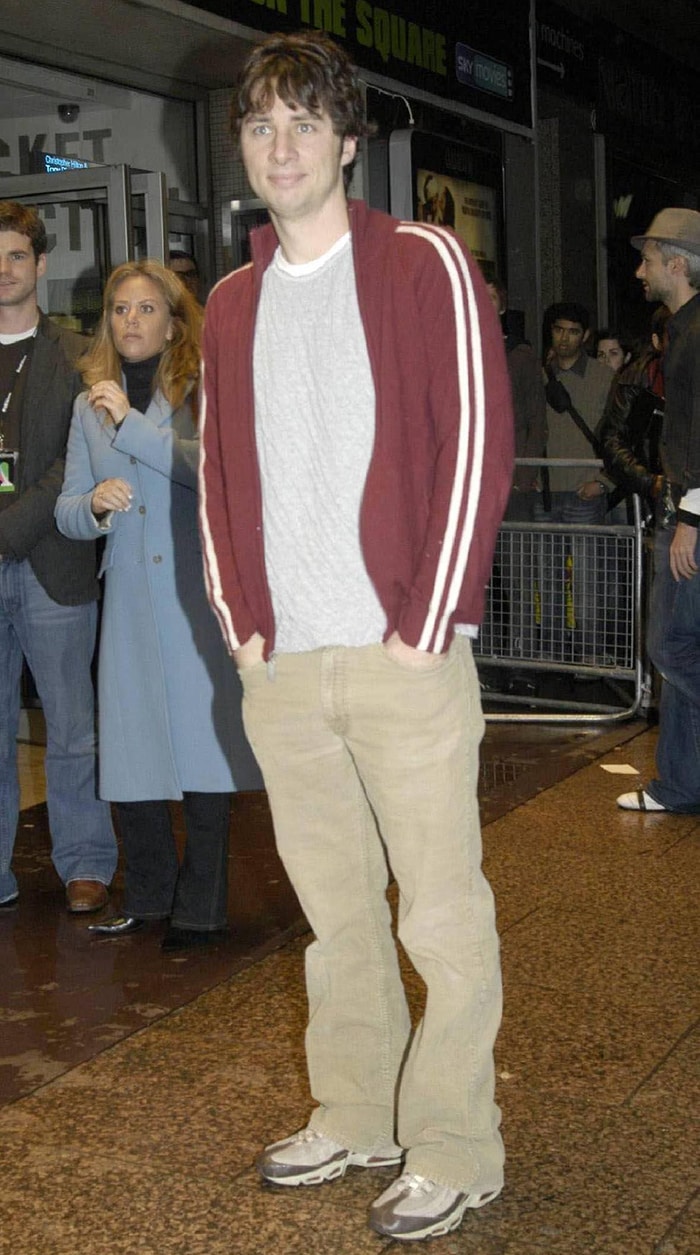 Zach Braff at the London premiere of his directorial debut Garden States on October 23, 2004
Ten years later, in 2014, Zach directed, wrote and produced his second movie, Wish I Was Here, which received mixed reviews from critics.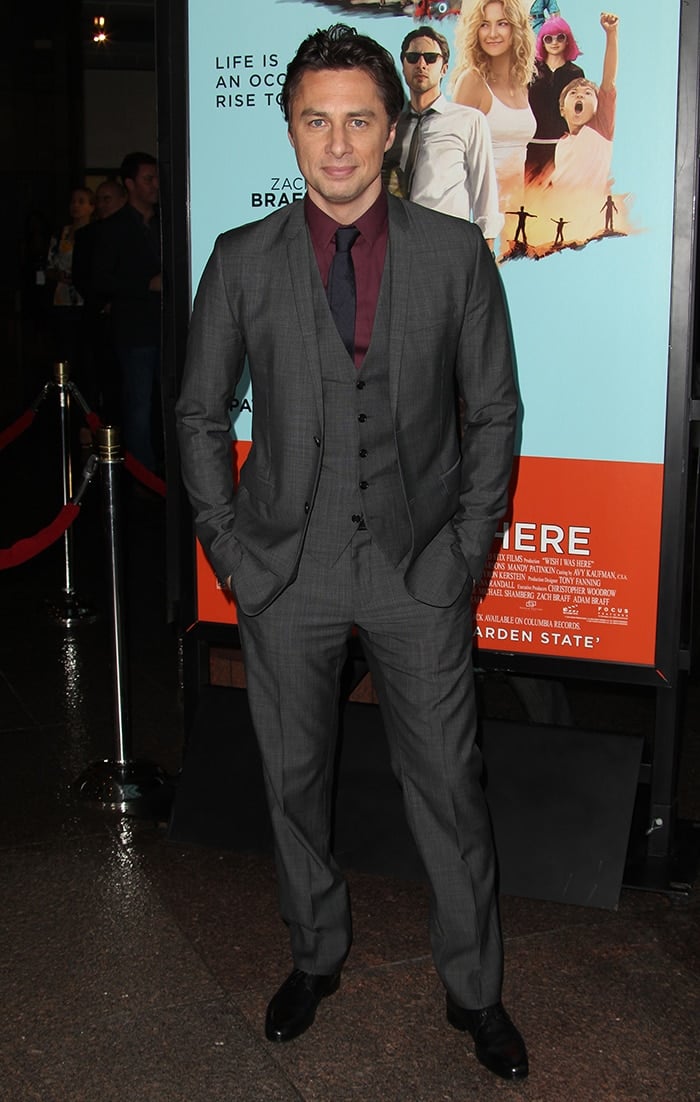 Zach Braff at the premiere of his movie Wish I Was Here in Los Angeles on June 23, 2014
After Scrubs, Zach had small acting roles in several TV series. In 2018, he had a starring role in the ABC comedy Alex, Inc., but the show was canceled after its first season.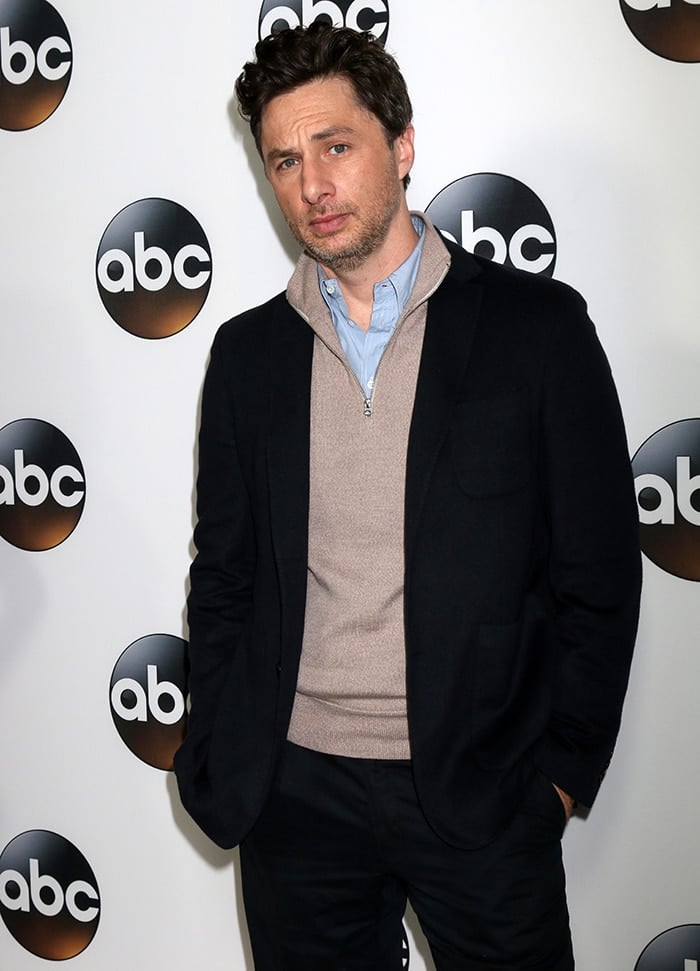 Zach Braff at the ABC TCA Winter 2018 Party in California on January 9, 2018
How did Zach Braff and Florence Pugh meet?
In March 2019, Florence starred alongside Alicia Silverstone in a short film, In the Time It Takes to Get There, which was written and directed by Zach. There's no official report or confirmation whether they first met on the set of the 11-minute film, but it appears it's where their romance started.

Cosmopolitan, however, mentioned that Zach has been liking Florence's Instagram pictures since 2018.
In April, Florence and Zach were spotted holding hands while on a shopping trip in New York City.
Florence Pugh and Zach Braff holding hands while walking around SoHo neighborhood in April 2019
In August 2019, actress Sydney Morton posted an Instagram photo with Zach and Florence looking all loved up while on a vacation in Spain.
View this post on Instagram

Three months later, in November, the couple went to Disneyland with their friends.
View this post on Instagram
Zach and Florence are keeping a low-key relationship
Neither Zach nor Florence has confirmed their relationship status, but based on the photos, it's obvious that they are a couple.
The two have been keeping their relationship low-key. While they have been pictured publicly looking loved up, they have yet to make their relationship red carpet official.
In December, they both attended the premiere of Little Women, but they walked the red carpet separately.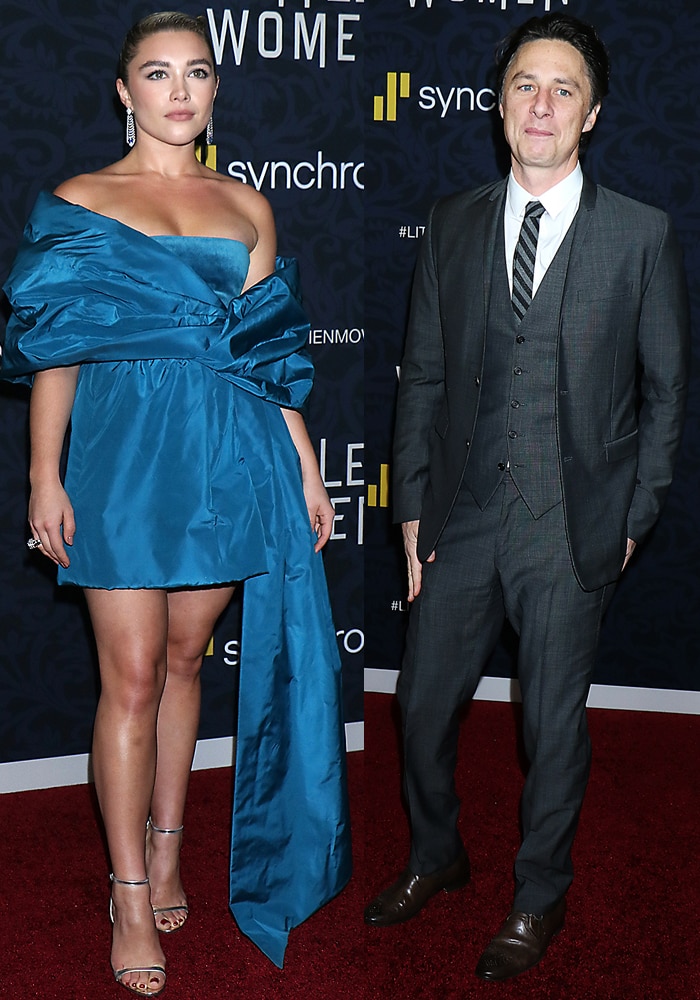 Florence Pugh in Maison Valentino dress and Zach Braff in a three-piece suit at the Little Women world premiere in New York City on December 7, 2019
Just recently, Florence walked the 2020 BAFTA red carpet in London, and Zach was nowhere to be found.
The actress wore a bold fuchsia Dries Van Noten Spring 2020 tiered parachute cape dress, which was tied with black velvet ribbons down the front. She layered the striking number over a black mini dress that put her legs on display.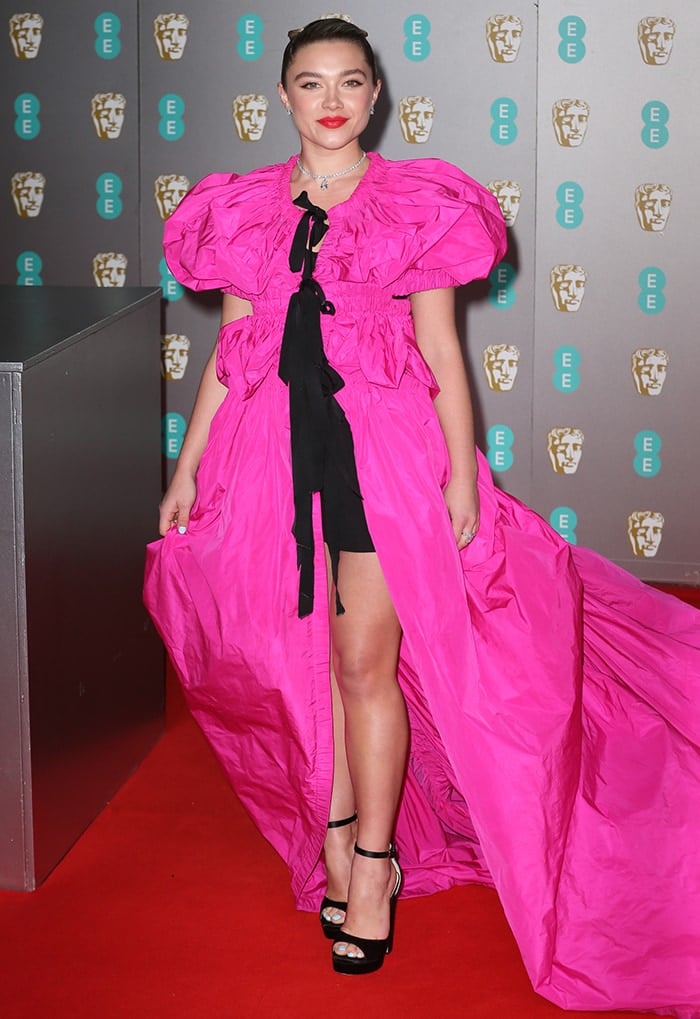 Florence Pugh in hot pink Dries Van Noten cape dress at the 2020 BAFTA in London on February 2, 2020
She paired the look with a diamond necklace, diamond earrings, and Jimmy Choo platform sandals.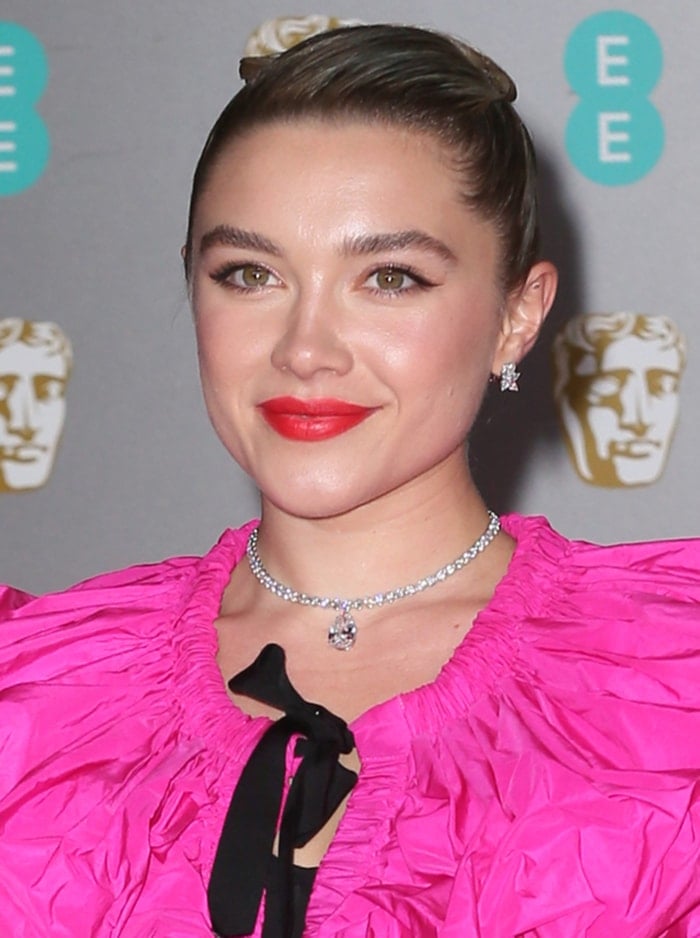 Florence Pugh wears a sleek updo with red lipstick
Florence defends Zach from a basher
Many are criticizing her relationship with Zach, given their 21-year age gap.
In one photo posted by Florence last December, for instance, Zach commented with a princess emoji. One of her followers then pointed out their huge age difference, saying: "you're 44 years old," in response to Zach's emoji.
View this post on Instagram

Florence was quick to defend Zach and responded: "and yet he got it," shutting down the criticism.
Florence and Zach's net worth
New Jersey-born actor Zach Braff has been acting since 1993. Best known for his role as Dr. John Dorian on Scrubs, he has also ventured into screenwriting and directing, with his feature film, Garden State, earning over $35 million.
According to Today, Zach earned $350,000 per Scrubs episode, which made him one of the highest-paid actors at the height of the series.
Currently, he has a net worth of $22 million.
Meanwhile, his British girlfriend Florence Pugh made her professional acting debut in the mystery drama The Falling in 2014.
Maisie Williams, Carol Morley, and Florence Pugh at The Falling screening during the BFI London Film Festival on October 11, 2014
Two years later, she starred in Lady Macbeth, for which she won a BIFA Award for Best Actress. In 2019, Florence had three major films under her belt: biographical sports movie Fighting with My Family, horror film Midsommer, and Little Women.
She is also set to appear as Yelena Belova in the Marvel Comics movie Black Widow, which is scheduled to be released in May.
Her net worth for this year is still unknown, but reports say it's between $100,000 to $1 million. She got her wealth mostly from her acting works.
Her fortune is expected to increase as she might star in more movies in the future, especially after her Oscar nomination.
Zach's famous exes
Zach is no stranger to being in a relationship with famous women who are significantly younger than him.
In 2004, he dated singer and actress Mandy Moore but they ended their relationship in 2006 after two years of dating. She is nine years his junior.
Zach also had a long-term relationship with model Taylor Bagley that lasted for five years, from 2009 to 2014. He is 12 years older than her.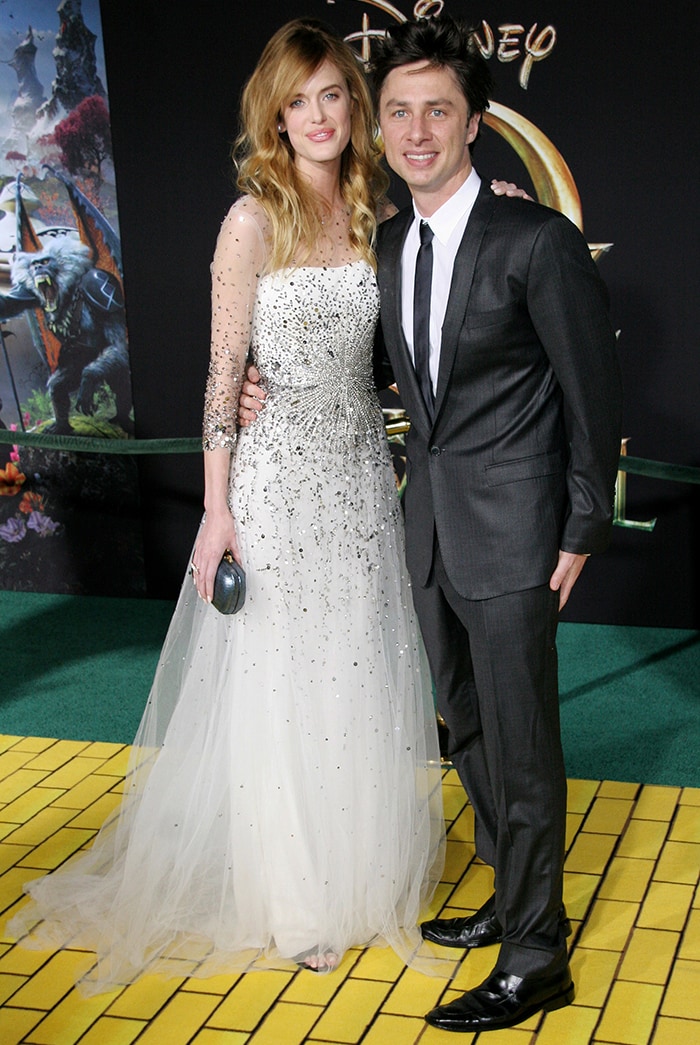 Zach Braff and then-girlfriend Taylor Bagley OZ The Great And Powerful LA premiere on February 13, 2013
Credit: FayesVision / Nicky Nelson / Mario Mitsis / Daniel Deme / Ai-Wire / Instar / WENN