Wearing an Alo Yoga Bae hoodie with a bra top and matching leggings, Alessandra kicked off her day by attending a workout session in Los Angeles.
She has recently joined the list of stars who received the COVID-19 vaccine. On Thursday, Alessandra Ambrosio proudly shared with her Instagram followers a photo of herself holding a COVID-19 Vaccination Record Cart.
Her vaccination comes a month after officials eased COVID-19 restrictions in several California counties. Making sure she stays fit and healthy during the pandemic, the Brazilian model has added regular exercise to her weekly routine.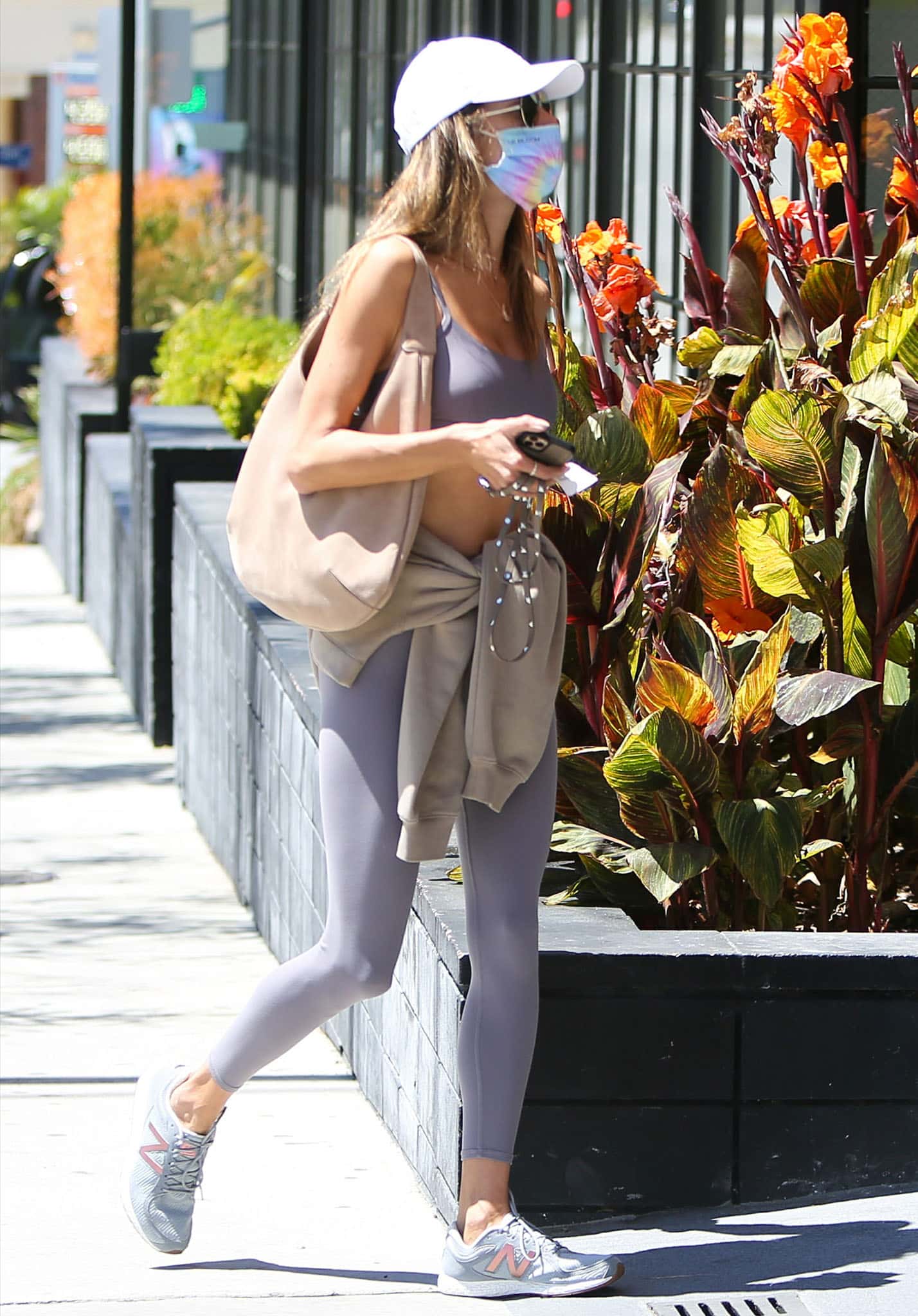 Wearing a purple dusk athleisure outfit from Alo Yoga, Alessandra Ambrosio heads to a Los Angeles gym on April 28, 2021 (Credit: Instar / WENN)
Known for her enviable model figure, the 40-year-old stunner showed off the results of her hard work in a matching athleisure outfit from Alo Yoga.
She put her toned arms and abs on display in a $54 purple dusk Airlift Intrigue bra top and coordinating high-waist Airlift skintight leggings that highlighted her long, slim pins.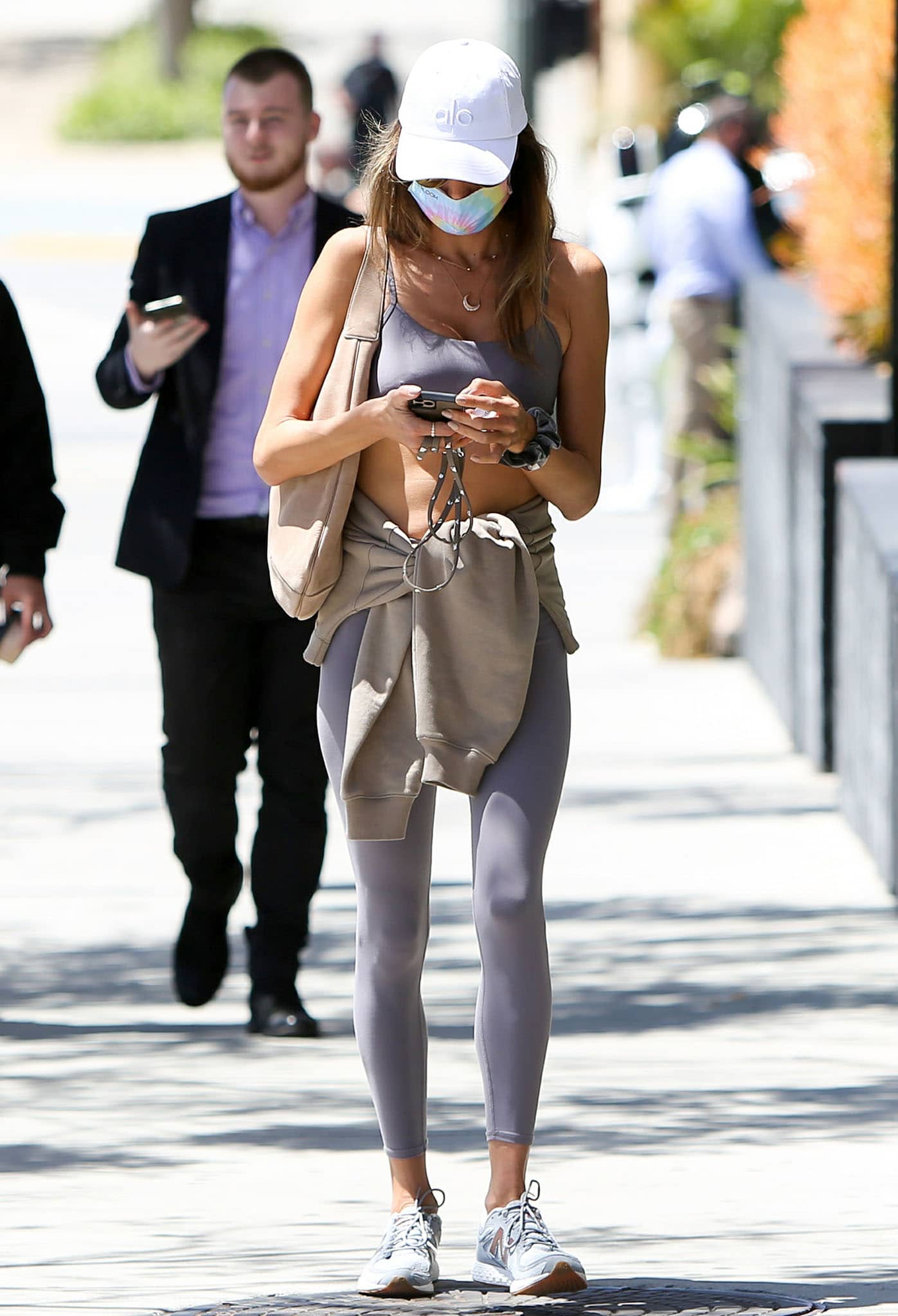 Alessandra Ambrosio shows off her abs in Alo Yoga Airlift purple dusk bra top and matching leggings (Credit: Instar / WENN)
The Alo Yoga fan was also seen wearing an $88 Alo Yoga Bae hoodie over her bra top earlier in the day.
Her gravel-colored hoodie features a trendy cropped silhouette and long sleeves that were scrunched up to her elbows.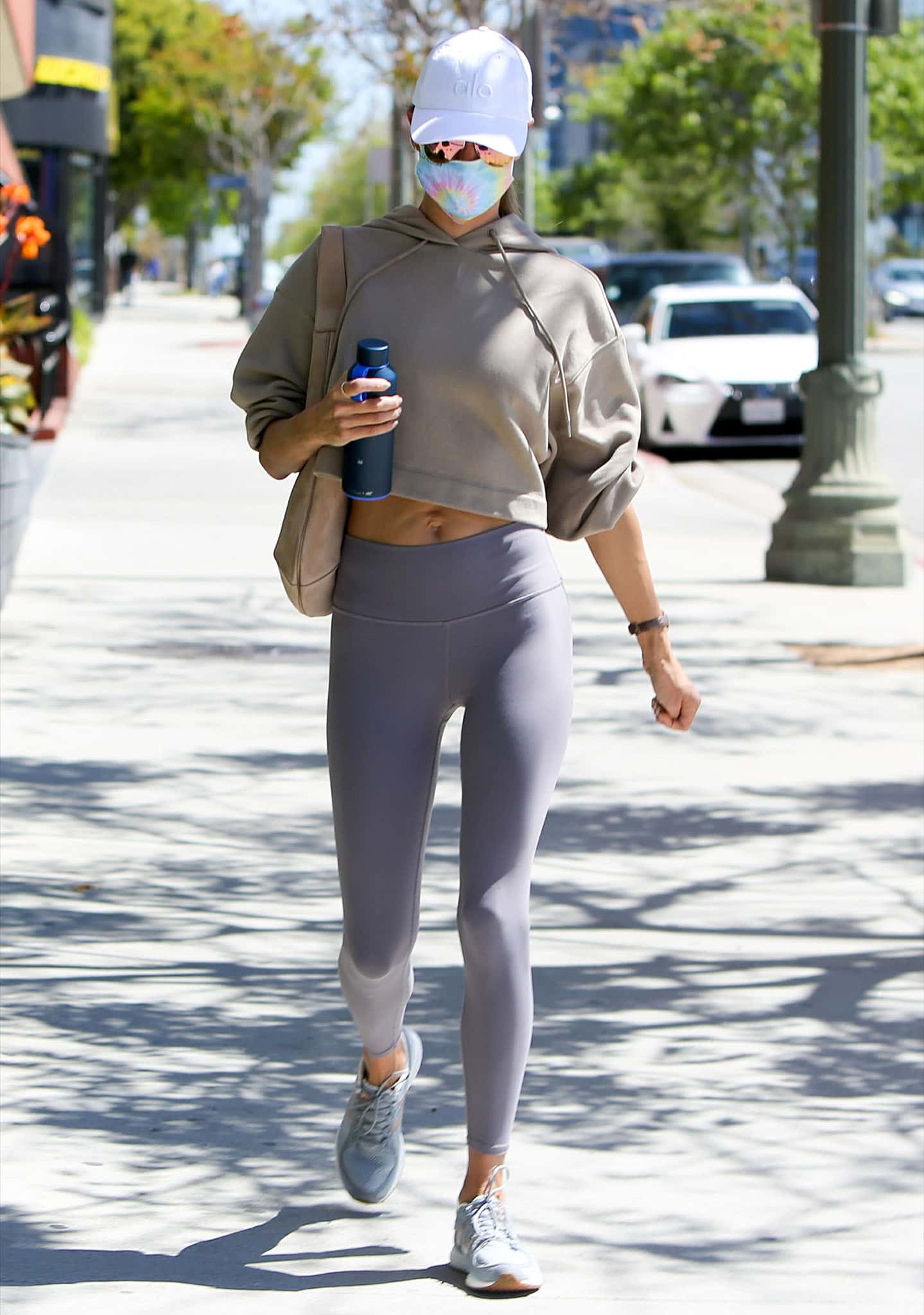 Alessandra Ambrosio covers up with a taupe-colored Alo Yoga Bae cropped hoodie (Credit: Instar / WENN)
In her attempt to keep a low profile, the Gal Floripa founder accessorized with a white Alo Yoga Off-Duty cap, a pair of tinted sunglasses, and a rainbow tie-dye face mask.
To elevate her casual look, she wore an Omega Terra Seamaster watch and layered gold necklaces. She held onto her iPhone in a Bandolier Sarah phone case in one hand and slung a beige hobo bag over her shoulder.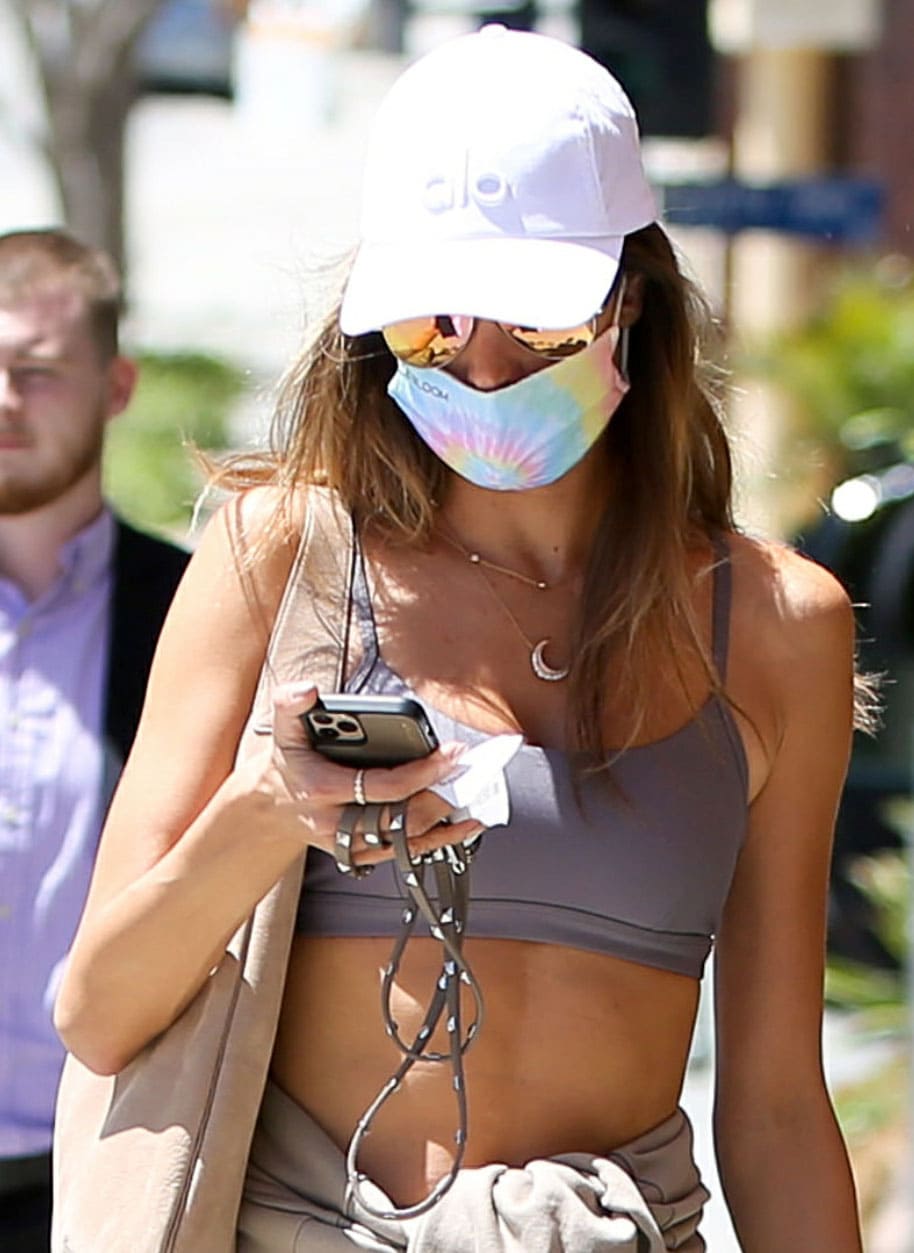 Alessandra Ambrosio keeps a low profile with a white Alo Yoga cap and a rainbow tie-dye face mask (Credit: Instar / WENN)
A pair of New Balance Fresh Foam Zante V2 shoes completed Alessandra's workout look.
Available on Amazon, these shoes feature a breathable fabric upper with suede trims and leather logos. They also have Fresh Foam midsoles and rubber outsoles.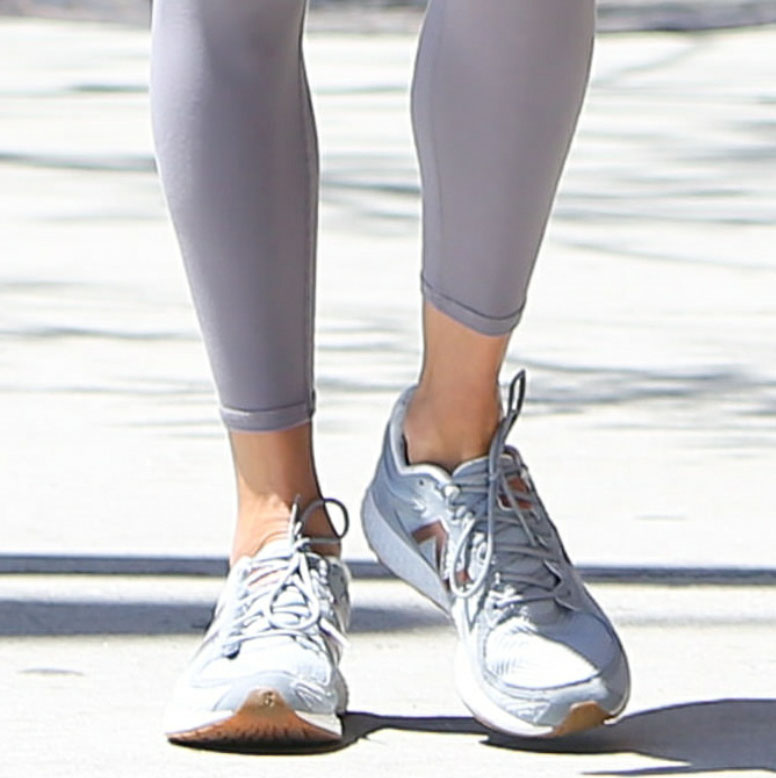 Alessandra Ambrosio slips into a pair of New Balance Fresh Foam V2 shoes (Credit: Instar / WENN)
Following her #quarentALEchella birthday party, the mom-of-two was seen leaving a Pilates session in Los Angeles with three oranges in her hand.
The former Victoria's Secret Angel model didn't just flash her pearly whites, but she also put her abs on display.
She teamed a white high-neck ribbed cropped sweater from Alo with a pair of Accolade taupe sweatpants also from the celebrity-favorite activewear label.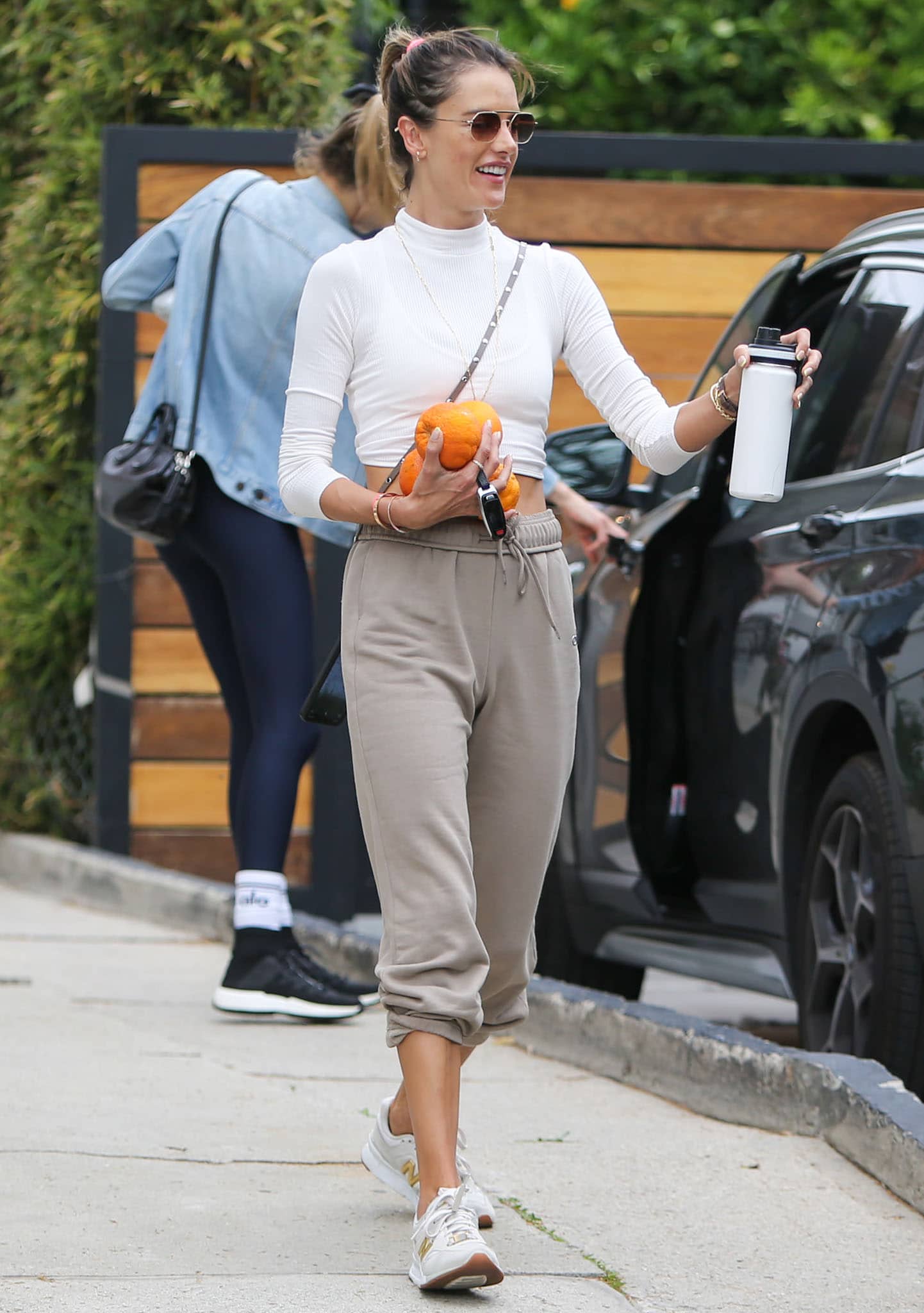 Alessandra Ambrosio leaves Pilates class in Alo Yoga white cropped sweater and Alo Yoga taupe sweatpants on April 22, 2021 (Credit: BauerGriffin / INSTARimages / WENN)
With her hair swept up in a high ponytail, Alessandra styled her Pilates look with tinted Vehla Artesia aviators, a long pendant necklace, an Omega watch, and several bracelets and rings.
Alessandra Ambrosio flashes her pearly whites and shields her eyes behind a pair of Vehla Artesia sunnies (Credit: BauerGriffin / INSTARimages / WENN)
She then carried her Bandolier Sarah phone case across her body and completed her look with New Balance 997H shoes.
These predominantly white leather sneakers feature gold silicone trims with C-Cap and ENCAP technologies for comfort.
Alessandra Ambrosio pairs her athleisure with New Balance 997H white/gold shoes (Credit: BauerGriffin / INSTARimages / WENN)