If you ask us, there weren't enough Cats-themed anything at the Cats premiere. We think Taylor Swift, whose love for cats is well known, really missed an opportunity here.
Thankfully, the guys were there to save the event. They served the much-needed feline fashion we craved.
Dancers Larry Nicolas and Laurent Bourgeois, also known as Les Twins, at the Cats world premiere held at Alice Tully Hall, Lincoln Center in NYC on December 16, 2019
For instance, French dancers and Men In Black: International scene-stealers Larry Nicolas and Laurent Bourgeois aka Les Twins arrived wearing fur sneakers and touches of fur on their jackets, shirts, and collars.
We think it's safe to say the 31-year-old identical twins don't like dressing the same any longer, but we glad they did this time in matching white-and-gray fur-covered sneakers with the laces left untied.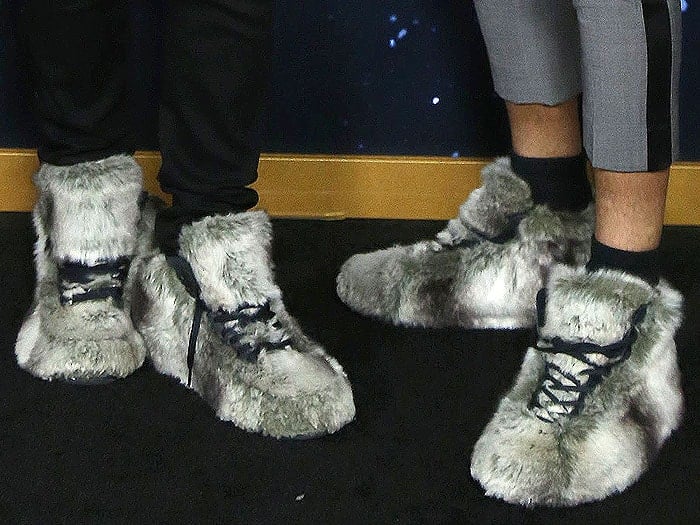 Details of the fur sneakers worn by Les Twins
So, we're cheating a little with theater devotee Jordan Roth. But if there's anyone we can count on to dress on-theme at premieres of musical movie adaptations, it's Broadway theater owner and producer Mr. Roth.
Jordan Roth wearing a Viktor & Rolf Fall 2019 Couture coat made of dense, felt wool in a black-to-multicolor gradient pattern
The Jujamcyn Theaters president brought life to the Cats premiere in a Viktor & Rolf Fall 2019 Couture coat. He looked like one of the Andrew Lloyd Webber musical's alley cats himself in the gradient-black matted-fur-like creation.
The eight-time Tony award winner even wore exaggerated cat-eye eyeliner (but of course) and wore his crimped hair teased into cat ears.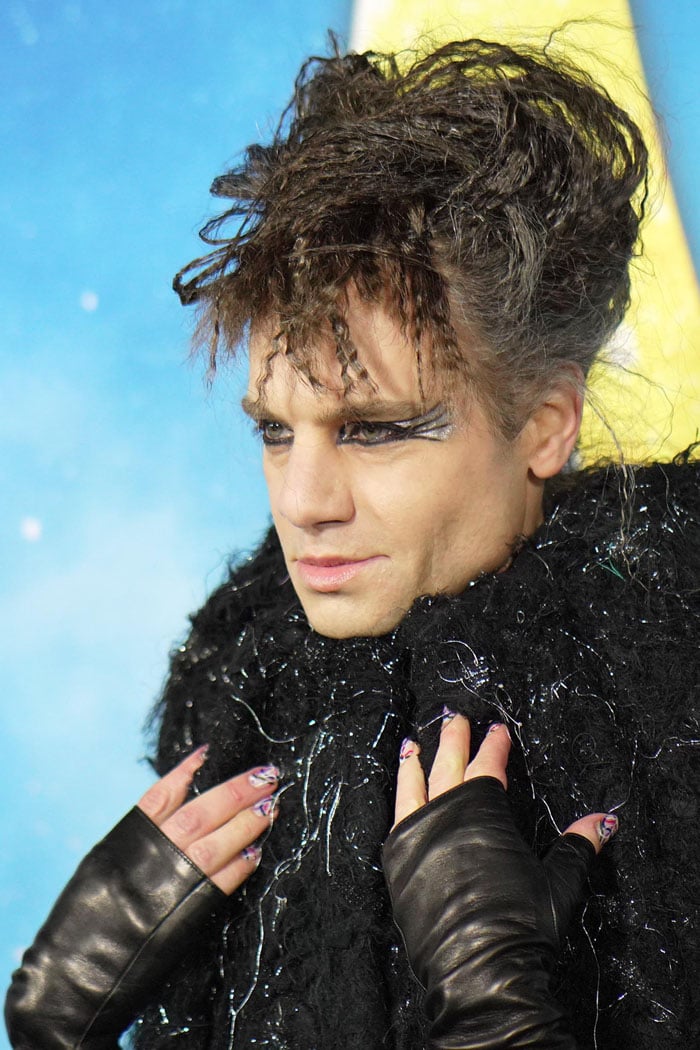 Jordan Roth rocking crimped cat-ear hair, extended cat-eye makeup, and abstract line nail art mimicking the colors on his Viktor & Rolf coat
Our only wish is that he toted his things in a fur purse instead of a feather-covered one. However, how can we complain, really, when he was practically the only one dressed on-brand at the Cats premiere.
Jordan Roth carrying a feather-covered purse to the Cats premiere after party
Credit: Instar / Joseph Marzullo / WENN