On Monday, Kim Kardashian competed with Jimmy Kimmel in a diaper-changing contest on Jimmy Kimmel Live!
The following day, the 33-year-old reality star was spotted shopping at Topanga Mall in Canoga Park. Earlier the same day, she tweeted, "Off to an intense workout. Can't seem to shake this last 15-20 lbs of baby weight. no more excuses. my baby is 1 years old! UGH."
In another tweet, she added, "I'm not gonna call it baby weight bc thats an excuse. i just gained weight & that's it. why is it so much harder to lose after baby though!!"
Kim Kardashian, in a glazed Blk Dnm leather jacket, shopping at Topanga Mall in Canoga Park, Los Angeles, on August 5, 2014 (Credit: WENN)
While shopping at Topanga Mall, she sported high-rise, ultra-skinny, destructed jeans by Paige Denim.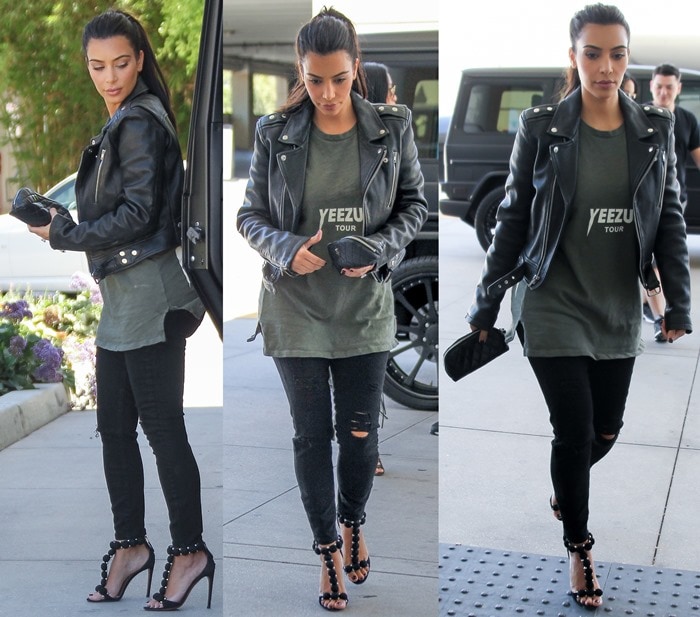 Kim Kardashian styled her glazed leather jacket with Paige Hoxton Jeans in Black Destructed (Credit: WENN)
She completed the outfit with an oversized Yeezus top, her favorite Alaia sandals, and a glazed leather jacket by BLK DNM.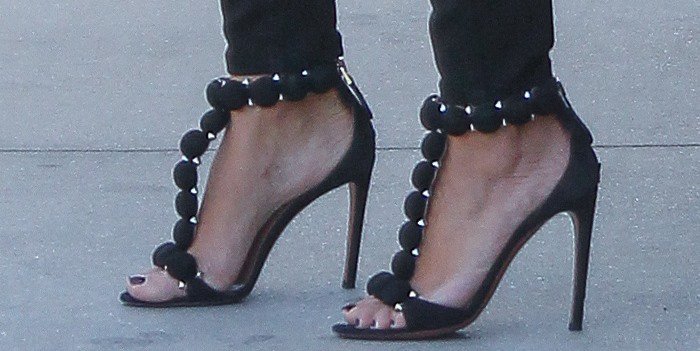 Kim Kardashian shows off her feet in Alaia black suede stud t-strap sandals (Credit: WENN)
Would you wear a black leather jacket like Kim Kardashian? It features a notched collar, an off-center zip closure, snap-tab epaulets, a zip bust pocket, and welt hip pockets.
BLK DNM Glazed Leather Jacket, $895