Gravity is a film that tells an incredible story of hope and teamwork in the midst of chaos. This 2013 classic features Sandra Bullock and George Clooney and resulted in a huge payday for both actors.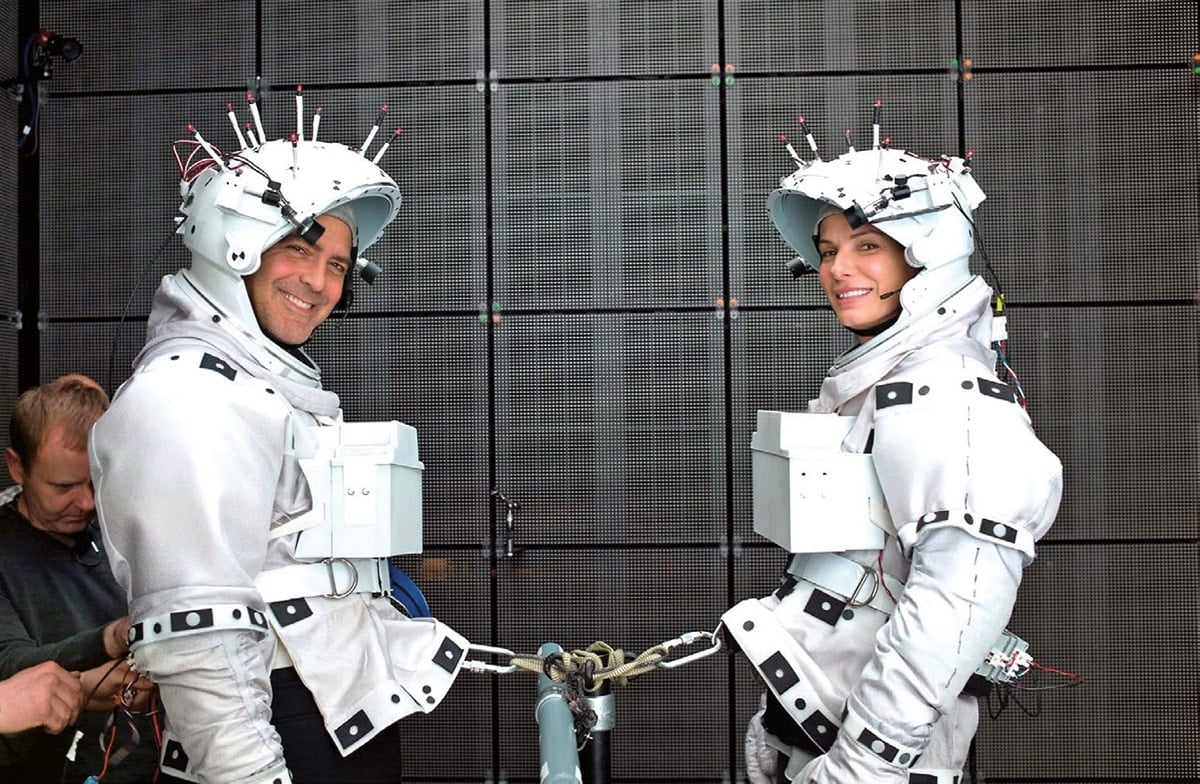 Sandra Bullock as Dr. Ryan Stone and George Clooney as Lieutenant Matt Kowalski on the set of Gravity, which was filmed between May 14, 2011, and July 6, 2011 (Credit: Warner Bros. Pictures)
The movie took an enormous amount of effort and energy from the actors and the crew.
Since they could not go to actual space to film, the crew was tasked with creating space on set and trying to portray every second of the film as accurately as possible. Because of all of the awards that this film has won, it is safe to say that they did a pretty good job!
How Much Did Sandra Bullock Make From Gravity?
To star in the movie Gravity, Sandra Bullock received a paycheck of $20 million upfront. The movie went on to make a worldwide gross of $723 million thanks to its success, and Bullock benefitted from this greatly.
Sandra Bullock, like many other rich actresses, put a clause in her contract negotiating a part of the overall profits. This led to Bullock getting another paycheck, this time for $50 million!
Actor George Clooney and actress Sandra Bullock, in a J. Mendel siren red strapless gown and Roger Vivier shoes, attend the "Gravity" Premiere and Opening Ceremony during the 70th Venice International Film Festival at the Palazzo del Cinema on August 28, 2013, in Venice, Italy (Credit: INFphoto)
As of today, Sandra Bullock has made $70 million on Gravity. Her costar George Clooney has not released how much he has profited from the film, and though it is suspected that his salary was less than Bullock's, there is no doubt that it was still a lot of money!
George Clooney is a Great Friend to Have
Thanks to George Clooney's success with Gravity, he went out on a mission to help out all of his friends and say thanks for all they've done for him.
Clooney rounded up 14 million dollars to share the wealth with his friends as a result of his success.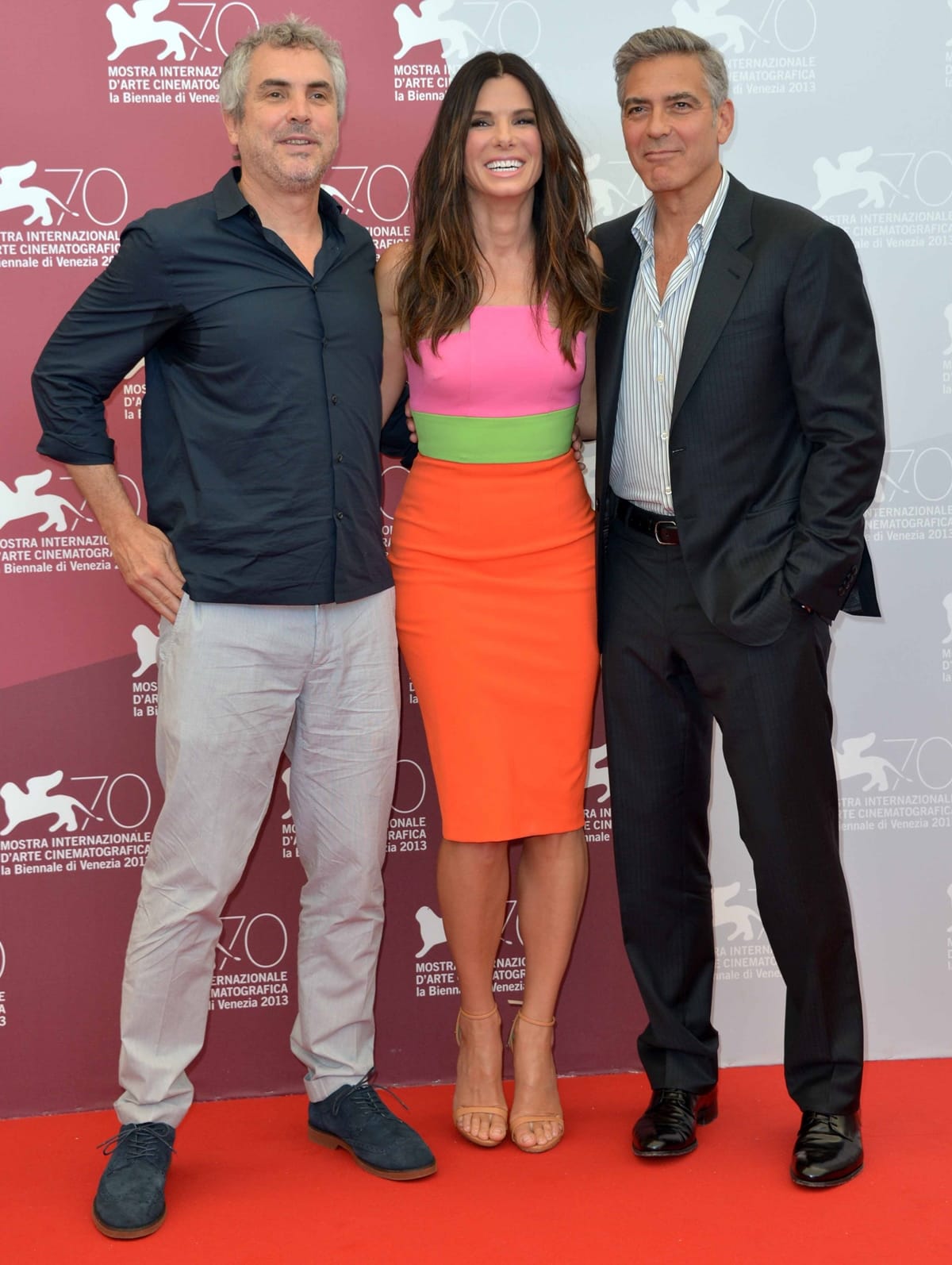 Actress Sandra Bullock in an Alex Perry dress with Giuseppe Zanotti shoes, director Alfonso Cuaron and actor George Clooney attend the "Gravity" Photocall during the 70th Venice International Film Festival at the Casino on August 28, 2013, in Venice, Italy (Credit: INFphoto)
Clooney told GQ, "And I thought, what I do have are these guys who've all, over a period of 35 years, helped me in one way or another. I've slept on their couches when I was broke. They loaned me money when I was broke. They helped me when I needed help over the years. And I've helped them over the years. We're all good friends. And I thought, you know, without them, I don't have any of this. And we're all really close, and I just thought basically if I get hit by a bus, they're all in the will. So why the f*** am I waiting to get hit by a bus?"
"Because they didn't want to pay us, they gave us percentages of the movie, 'cause they thought it was gonna be a flop, and that ended up being a very good deal," he said about his Gravity revenue share.
Clooney gave each of his closest friends one million dollars, distributing it while driving around in a florist van. He bought 14 Tumi suitcases and filled each one with $1 million in cash.
Was Gravity Filmed in Space?
Thanks to modern technology, no space trip was required for the making of this hit movie!
George Clooney and Sandra Bullock were filmed underwater as they were hooked up with 12 wire suspension systems, and they were filmed while set up on a turn table. A light box was utilized to match the lighting to all of the effects.
The editing team went as far as to make sure that the condensation on the actors' helmets was edited out as it would've been dry thanks to the technology of the real suits in space.
Sandra Bullock is believed to have made $70 million playing an astronaut stranded in space in the science fiction thriller Gravity (Credit: Warner Bros. Pictures)
They even consulted NASA astronauts to ensure everything was right and accurate.
"They were incredibly helpful," Bullock said about working with astronauts to prepare for her role. "They gave me an inside visual as to why they chose what they do for a living, their love for what is beyond our planet."
The Ending of Gravity
Alfonso Cuarón fought hard to keep the powerful ending to Gravity, even when the studio fought against it.
The studio wanted a more generic ending to this story of overcoming obstacles. They wanted helicopters in the distance and for someone to be on the way to rescue Sandra Bullock's character. Cuarón refused and stuck to his instincts, believing that the chosen ending was powerful in itself.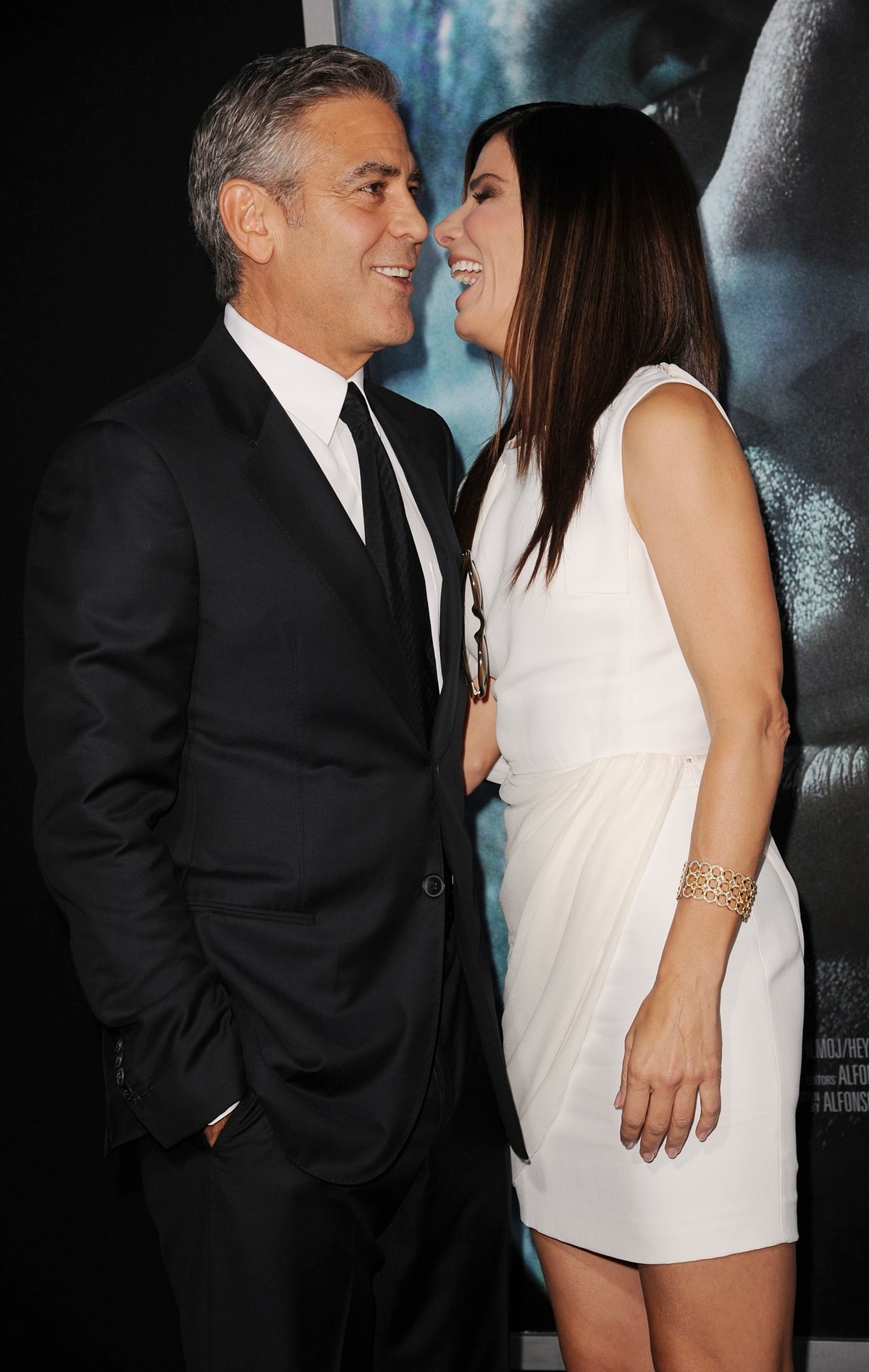 Actors Sandra Bullock, in a white Giambattista Valli dress with Martin Katz jewelry, and George Clooney seem to be having fun at the "Gravity" premiere at AMC Lincoln Square Theater on October 1, 2013, in New York City (Credit: ACE / INFphoto)
He must've been right because he won an Oscar for his directing of the movie!
This monumental scene was filmed in Lake Powell, Arizona, which is coincidentally the same place where the astronauts' landing scene in Planet of the Apes (1968) was filmed. If any astronauts ever go missing, I guess we all know to check Arizona first!
Fun Facts About Gravity
The director of Gravity thought that the film, though difficult, would take a year to produce. Due to all of the complexities and special effects, it actually ended up taking four and a half years!
Sandra Bullock is absolutely terrified of flying, so though there were ways to mimic zero gravity while on a plane, she refused. Bullock told the director that she didn't care how long or painful other methods were; she was willing to do whatever it took to avoid flying.
Sandra Bullock flaunts her legs in a Stella McCartney dress, Charlotte Olympia shoes, and Martin Katz jewelry at a screening of 'Gravity' during the 57th BFI London Film Festival at Odeon Leicester Square on October 10, 2013, in London, England (Credit: Featureflash Photo Agency / Shutterstock)
"I'm petrified of flying," she told Vogue in an interview. "Plummeting out of the sky was not my idea of how I wanted to work with Alfonso Cuaron. But at one point, I sat down and said, 'What is it about this movie that is telling me to get off my a** and get over something that has paralyzed me?'"
Luckily for her, due to logistical issues, Cuaron scrapped the use of a reduced-gravity aircraft, unofficially nicknamed "vomit comet," that provides brief near-weightless environments for training astronauts.
As a result, most of her days were spent inside of a giant mechanical rig. She was in this for up to ten hours a day and talked to the director and others through a headset, mainly because of how hard it was to get in and out of the rig.
Sandra Bullock had to overcome her fear of flying when she signed up to star in Gravity (Credit: Warner Bros. Pictures)
Though they tried to make the film as scientifically realistic as possible, there are many places where creative liberties had to take place for the sake of the story. In one scene, the astronauts dangled from a long rope even though in space, they would bounce back instead.
Avatar, which is a James Cameron film, aided in the production of this film because it finally produced the technology needed in order to get it done properly. The film was in development for four years as they waited for this technology. James Cameron and Alfonso Cuaron are best friends. Compared to Avatar, Gravity has 90% CG, while Avatar is only 60%.
The Indian Mars Orbiter Mission was actually cheaper than the filming of this movie, costing only 74 million as compared to the 100 million film budget.
Robert Downey Jr. was originally cast as Matt Kowalski but left the project.
David Heyman, Sandra Bullock, and Alfonso Cuaron attend a press conference for "Gravity" held on December 4, 2013, at the Grand Hyatt in Tokyo (Credit: Kento Nara / Future Image / WENN)
Oh, to have Sandra Bullock's shoe collection! Not only did we spot the actress in a gorgeous pair of Jimmy Choos at the 17th Annual Hollywood Film Awards, but in December 2013, we also caught her sporting beautiful designer shoes by both Casadei and Charlotte Olympia.
The then-49-year-old movie actress wore her Casadei heels while promoting "Gravity" alongside director Alfonso Cuaron and producer David Heyman.
She attended a press conference at the Tokyo Grand Hyatt in a Roland Mouret "Breccia" dress styled with a stack of six thin gold bangles.
The red cap-sleeved dress features a square neck, short sleeves, a knee-length skirt, and asymmetric paneling.
Sandra Bullock pairs a red Roland Mouret dress with black Casadei pumps (Credit: Kento Nara / Future Image / WENN)
The Casadei shoes Sandra picked to complete her ensemble are the designer's "Rodio Steelix" pumps from the Fall 2013 collection.
Nicole Richie wore the same style to the 2013 American Music Awards. You can purchase the Casadei "Rodio Steelix" pumps in a couple of different color variations at Farfetch.
Black Casadei Crystal-Embellished Pumps, $911.67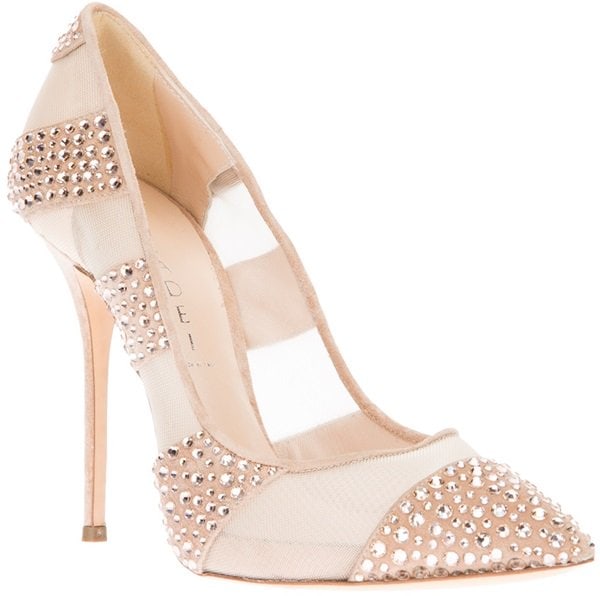 Casadei "Klio" Crystal-Embellished Pumps, $838.44
For the premiere of "Gravity" held the following day, Sandra donned a blue silk faille strapless dress by Carolina Herrera that featured a sculptural tiered skirt.
Sandra Bullock clips her hair back at the premiere of "Gravity" held on December 5, 2013, in Tokyo (Credit: Kento Nara / Future Image / WENN)
She completed the outfit with a few glittery pieces of jewelry and a pair of black satin Charlotte Olympia platform pumps.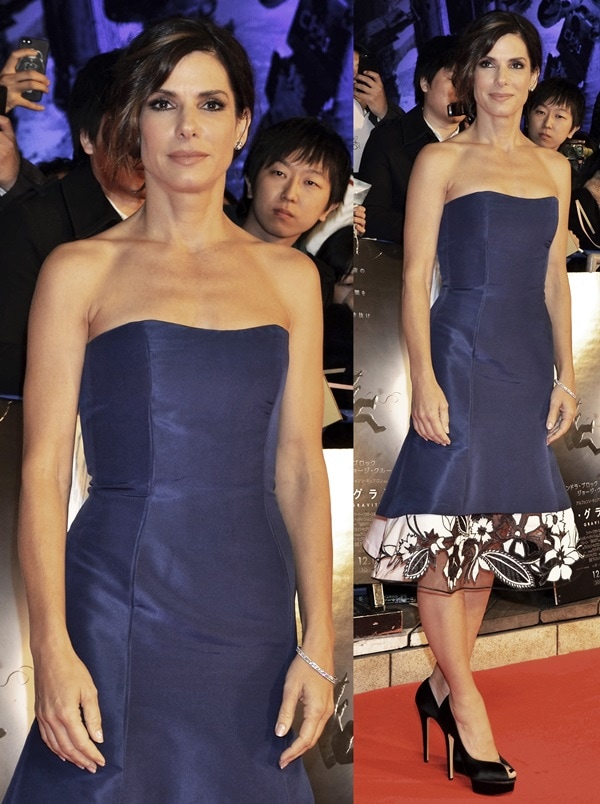 Sandra Bullock wears a silk Carolina Herrera dress to the Tokyo premiere of "Gravity" (Credit: Kento Nara / Future Image / WENN)
Her Charlotte Olympia shoes are, unfortunately, no longer available online.
Sandra Bullock's feet in black satin Charlotte Olympia pumps (Credit: Kento Nara / Future Image / WENN)