Sunday's 94th Annual Oscars ceremony was one for the record books, but it's not the actual awards that have people still talking days after the fact.
Instead, it's actor Will Smith slapping comedian Chris Rock during the ceremony that people, like actress Tiffany Haddish, can't stop talking about.
Tiffany Haddish in a lime green Dolce & Gabbana gown at the 2022 Vanity Fair Oscar Party Hosted By Radhika Jones at Wallis Annenberg Center for the Performing Arts on March 27, 2022, in Beverly Hills, California (Credit: PAPIXS / INSTARimages)
To recap, Rock was presenting the award for best documentary when he made a joke about the appearance of Smith's wife, actress Jada Pinkett-Smith.
Smith walked on stage and slapped Rock and then was shown visibly upset back in the audience yelling "keep my wife's name out of your f***ing mouth!" several times.
Haddish defended Smith, who went on to win Best Actor later in the evening. She told People that she thought what happened was "beautiful."
Tiffany Haddish flaunts her legs in a crystal-embroidered Alexandre Vauthier mini dress at the Los Angeles premiere of "The Harder They Fall" at Shrine Auditorium and Expo Hall on October 13, 2021, in Los Angeles, California (Credit: FayesVision / Cover Images / INSTARimages)
The Girls Trip actress told the publication at the Governor's Ball, "When I saw a Black man stand up for his wife. That meant so much to me."
Jada has openly talked about dealing with alopecia, an autoimmune disorder that attacks the hair follicles and can cause hair to fall out.
Haddish, who starred in the 2017 film Girl's Trip, told Entertainment Tonight that she would define the night as a success. "I have seen a man stand up for his wife, which we don't see that much anymore. That made me have hope," said Haddish.
She also noted during her interview with ET that her former co-star and fellow friend looked visibly upset following the joke that Rock made.
"They put her face clearly up on the screen, looked over at his wife. [Jada] was hurt," she said.
According to Haddish, she spoke with Will and Jada following the incident and made her feelings known about the incident. And in reference to Will's big win for the night, she said she felt "very proud."
She said, "I felt gratified, and I just hope more men are like that — care about their families. It's not just about you, right? It's not just about you, sir. What about your family? The people you create? The people that help you be who you are? That's important. That's what I think America forgot about."
The Academy of Motion Picture Arts and Science released a statement after the ceremony saying in part that they "don't condone violence in any form."
On Monday they announced they would launch a formal review following the slap. A spokesperson said in a statement, "The Academy condemns the actions of Mr. Smith at last night's show. We have officially started a formal review around the incident and will explore further action and consequences in accordance with our Bylaws, Standards of Conduct and California law."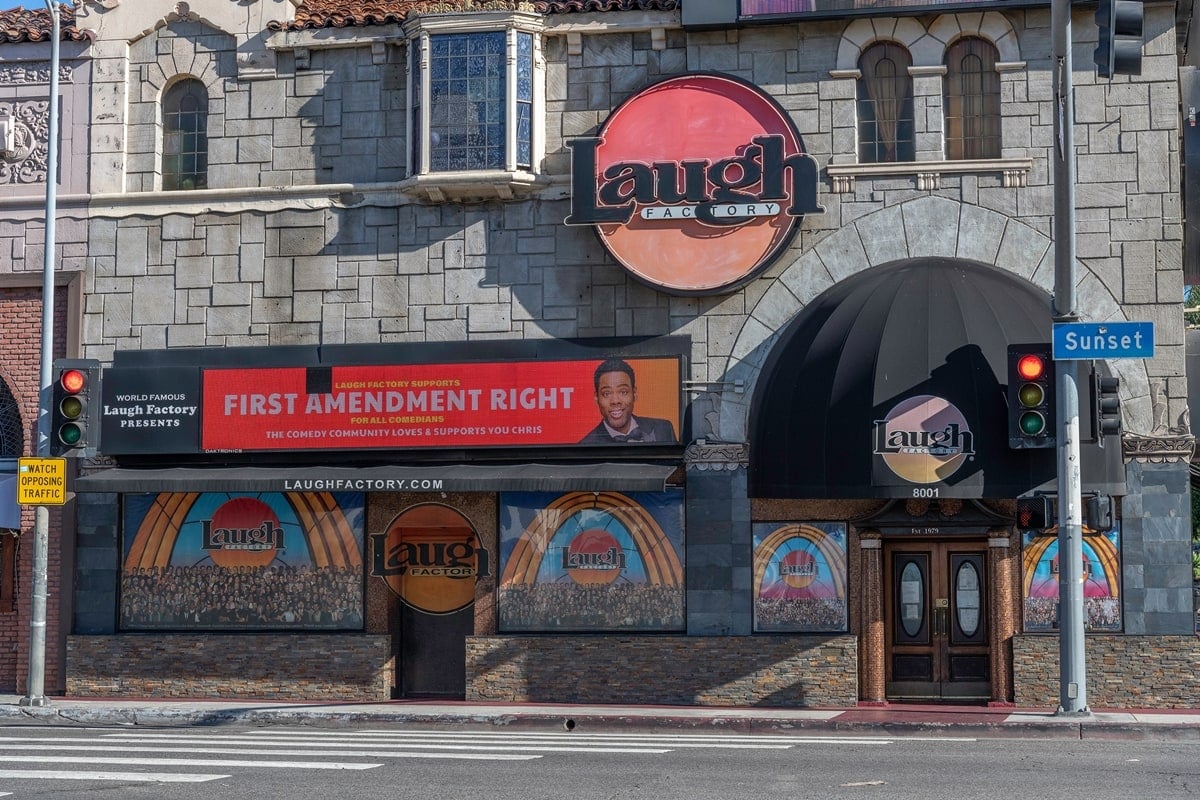 The exterior of the Laugh Factory comedy club in Los Angeles on March 29, 2022, with its sign showing support for comedian Chris Rock (Credit: Gerry Matthews / Shutterstock)
The Los Angeles Police Department released a statement following Sunday's ceremony saying they were aware of an "incident between two individuals during the Academy Awards program. The incident involved one individual slapping another." The statement also said Rock, the person who was slapped, declined to file a police report.
It's unclear what action the Academy will take against Smith for the slap. The Hollywood Reporter confirmed the Academy's Board of Governors will meet Wednesday night and is expected to discuss what happened.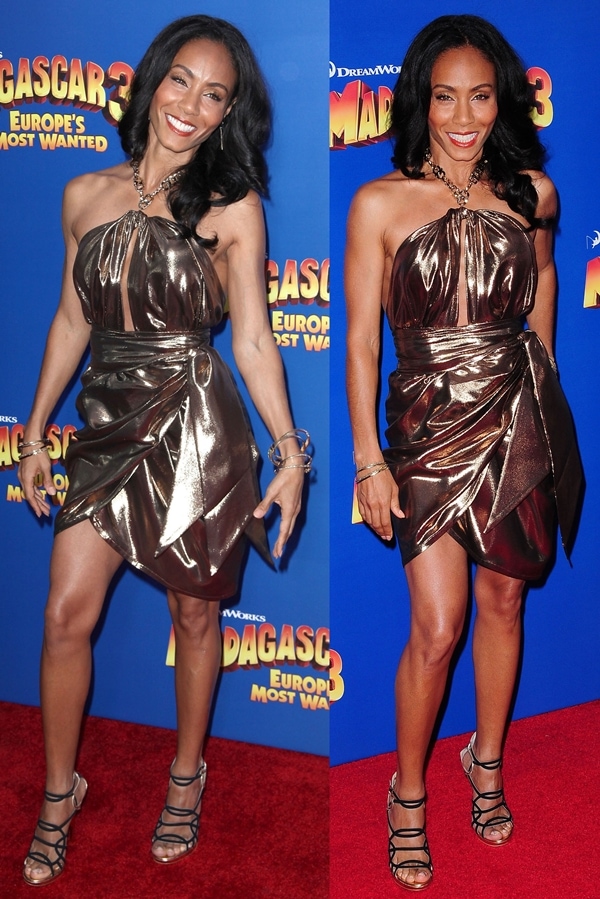 Jada Pinkett Smith flaunted her legs in a metallic halter Salvatore Ferragamo Spring 2012 dress featuring a gold chain link neckline (Credit: WENN)
In June 2012, Jada wore another hot pair of shoes from Jimmy Choo to the premiere of Madagascar 3: Europe's Most Wanted at NYC's Ziegfeld Theatre.
She was joined by her husband Will Smith and their then 11-year-old daughter Willow.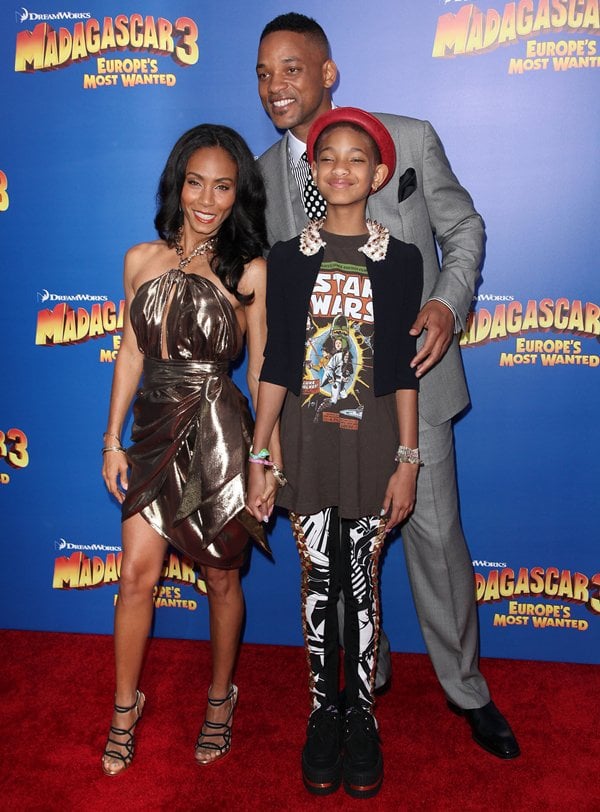 Jada Pinkett Smith, Willow Smith, and Will Smith at the New York Premiere of Dreamworks Animation's 'Madagascar 3: Europe's Most Wanted' at the Ziegfeld Theatre in New York, June 7, 2012 (Credit: WENN)
She donned a Salvatore Ferragamo Spring 2012 dress and accessorized with Jennifer Meyer earrings, Le Vian bangles, and black and gold Jimmy Choo 'Bunting' strappy metallic sandals.
Jada Pinkett Smith shows off her feet in Jimmy Choo sandals (Credit: WENN)
For another event the next day, she once again wore a pair of shoes from the same designer.
This time she opted for black Jimmy Choo 'Greta' platform sandals paired with a Pre-Fall 2012 strapless red playsuit by Valentino. Which of the outfits featured do you like best?
Jada Pinkett-Smith in a red playsuit by Valentino at the New York screening of Dreamworks Animation's 'Madagascar 3: Europe's Most Wanted' hosted by Capri Sun Super V and Moms at the Paramount Pictures Screening Room in New York, June 8, 2012 (Credit: PNP / WENN /Mr Blue)