On Monday night, the 2023 Met Gala in New York City was a magical affair, filled with breathtaking fashion moments from A-list stars such as Nicole Kidman, Jessica Chastain, Elle Fanning, and Amanda Seyfried.
One of the stars who stole the show was the soon-to-be Disney icon Halle Bailey, who channeled her inner princess with a stunning Gucci halter-neck dress in pearl white.
It was a nod to her upcoming role as Ariel in the live-action remake of Disney's The Little Mermaid, which opens in theaters on May 26.
The Little Mermaid star Halle Bailey turned heads at the 2023 Met Gala in a breathtaking white Gucci ensemble that featured a sparkling semi-sheer lace halter neck gown and a dramatic ruffled cape (Credit: Doug Peters / PA Images / INSTARimages)
The dress was a showstopper, featuring shimmering, semi-transparent underlay embroidered with delicate lace and sequins.
Her ensemble was further elevated by a ruffled coat draping Bailey's arms in a way that echoed Ariel's iconic scales.
Chloe Bailey's sister ditched her usual long locs and flaunted a short, bouncy, curly hairstyle parted on one side in a stunning Ariel-red shade.
To amp up her glamour, the singer accessorized with dazzling dangling diamond earrings. Her makeup consisted of sparkly eyeshadow and a subtle lip gloss, adding elegance to her overall look.
Though Bailey's dress hid her footwear, it's safe to assume that she chose a pair of sleek pumps, bejeweled heels, or strappy sandals that complemented her gorgeous gown.
It isn't the Grown-ish star's first time at the Met Gala. Her first appearance on the renowned carpeted stairs was in 2021 when she rocked a pink Rodarte bodysuit with a deep V-neck and plenty of fringes.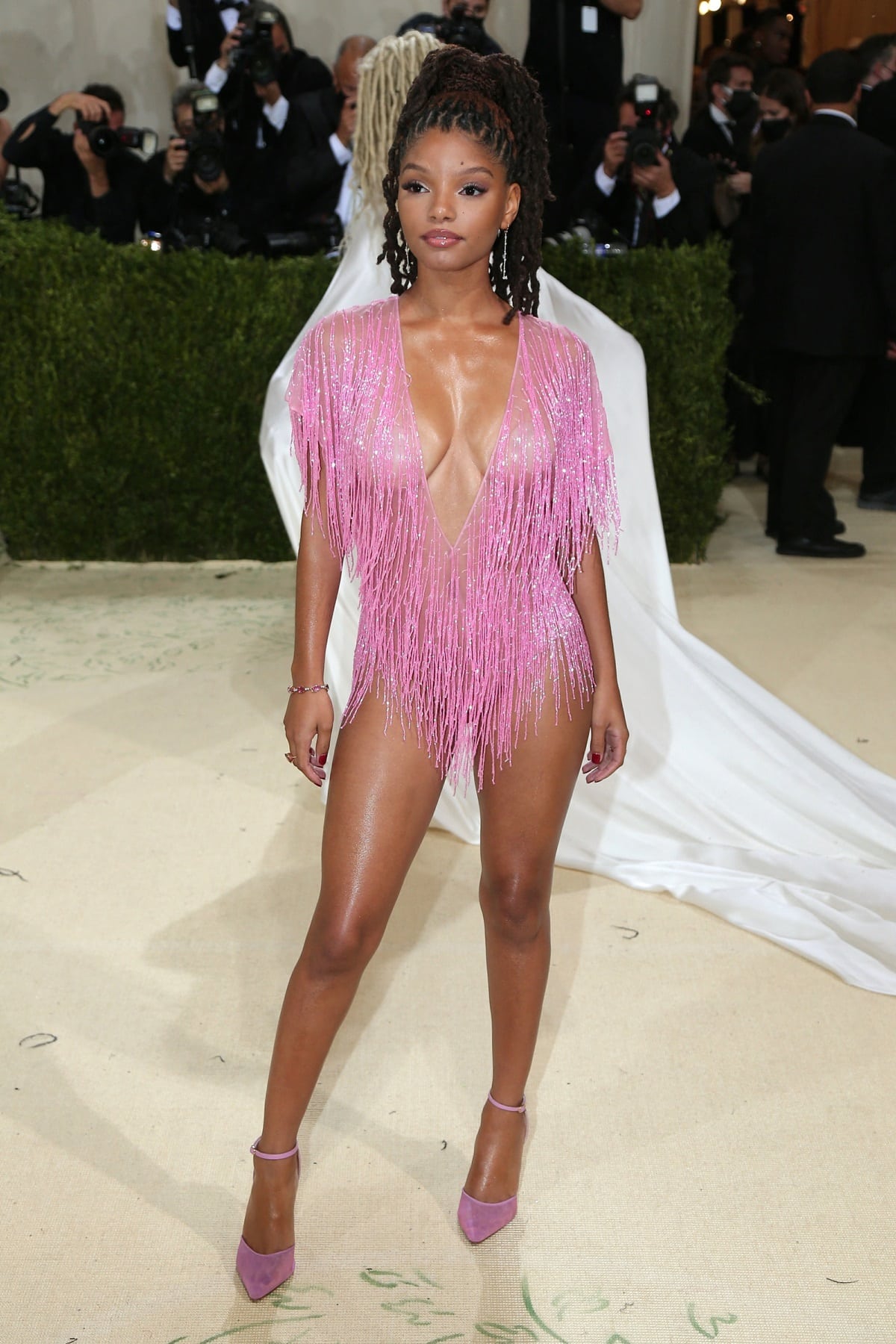 Halle Bailey's sheer Rodarte outfit at the 2021 Met Gala Celebrating In America: A Lexicon Of Fashion at the Metropolitan Museum of Art on September 13, 2021, in New York City, was inspired by Tina Turner's stage style with glittering pink fringe from every angle (Credit: Guerin Charles / ABACA USA / INSTARimages)
But her latest look stole the show, as she brought the character of Ariel to life with her ensemble. Bailey expressed her excitement for the Met Gala to ET's Rachel Smith, calling it fashion's biggest night.
Talking about the live-action remake of the beloved Disney classic, Bailey told the outlet, "I'm most excited for people's reactions to the film. It's been such a long wait, so it's coming this month now, so it's gonna be exciting."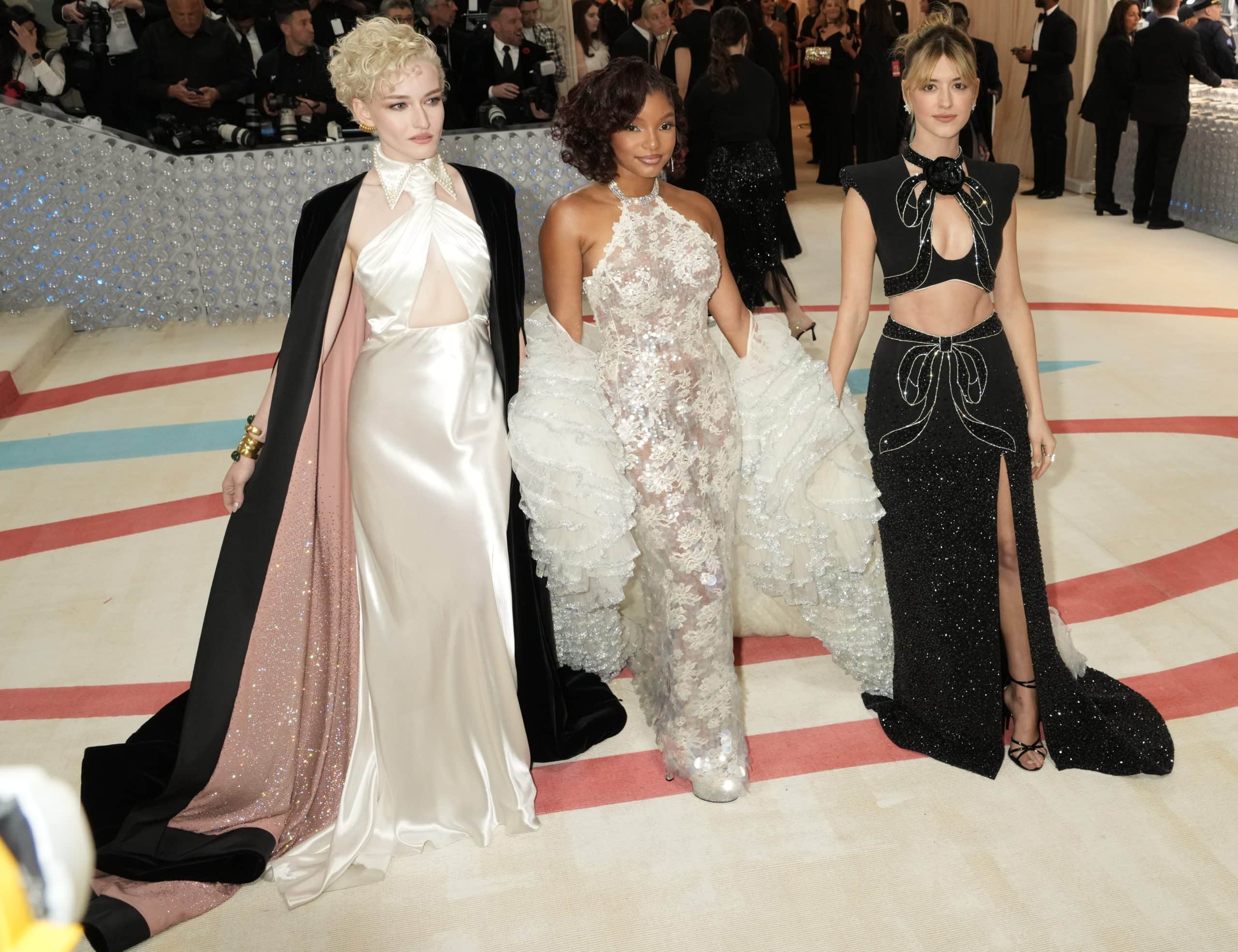 Julia Garner, Halle Bailey, and Daisy Edgar-Jones all wore Gucci outfits at the 2023 Met Gala Celebrating "Karl Lagerfeld: A Line Of Beauty" at The Metropolitan Museum of Art on May 1, 2023, in New York City (Credit: Jennifer Graylock / INSTARimages)
In an interview with British Vogue for the May 2023 issue, she shared that the version of Ariel in her head looked different from her appearance.
Bailey said, "The version of Ariel in my head was the one we all know and love: pale skin and bright red hair. She didn't look like me."
Despite initial backlash and the hashtag #NotMyAriel trending on Twitter after the announcement of her leading the role, she remains unfazed.
The intricate ruffles on Halle Bailey's cape resembled the tendrils of a frilly jellyfish, making the outfit even more captivating (Credit: Jennifer Graylock / INSTARimages)
She shared, "I don't really let that affect me. I mean, I grew up in Georgia. I'm from the Deep South. Being a black woman, in general, you just know the way things are and how people sometimes are just blatantly racist."
Bailey credited her grandparents for instilling a strong sense of resilience and perspective. She shared that her nana experienced segregation and the "brown paper bag test," where African Americans with darker skin were denied service.
The star said that hearing her grandparents' stories makes her feel grateful and lucky to be where she is today, saying, "When I hear my grandparents' stories, I feel like I'm the luckiest girl in the world. All of that hate I got is nothing compared to what my ancestors lived in their lifetime."