This past winter, while standing outside in the cold, I overheard an interesting conversation between friends.
One shivering member of the group shared, "It's SO cold. I wish there were jackets that were heated!". That's when one friend quickly replied, "there is!"
No one else in the group knew about heated jackets and promptly pulled out their phones, trying to confirm this mind-blowing piece of information they just received.
A surprising number of people don't realize there are, in fact, heated coats, and they are just as impressive as they sound.
In the days of modern technology, when you can charge your phone with your luggage tag or play music from your winter hat, it's no surprise there are battery-powered parkas that will keep you warm and cozy in the coldest of temperatures.
These incredible jackets are equipped with strategically placed heating panels. You won't have a cord attached to you and need to find an outlet to warm up.
They are battery-powered with enough juice to last several hours. In some cases, your jacket becomes a "smart coat" so you can control it with your phone or charge it from your pocket.
The first brands to release heated jackets were Ravean and Ororo in 2015, followed by Kelvin, Milwaukee Tool, DeWalt, Gerbing, Bosch, and Venture Gear. These brands have streamlined the technology and created stylish, flexible jackets that heat up.
If you spend an excessive amount of time outdoors in cold temperatures and looking for something that will keep you extra warm, you need one of these! We've compiled a list of the best heated jackets for men and women.
Most Popular Heated Jackets for Women
1. Ororo Thermolite Heated Parka, $290 at Amazon
For extreme temperatures, you need an extreme parka. This Ororo parka has everything you could want in a quality winter jacket.
It's got a hood with a detachable faux fur collar, it's treated with Durable Water Repellent (DWR), and is insulated with Thermolite. It's super warm and will protect you from the elements on its own.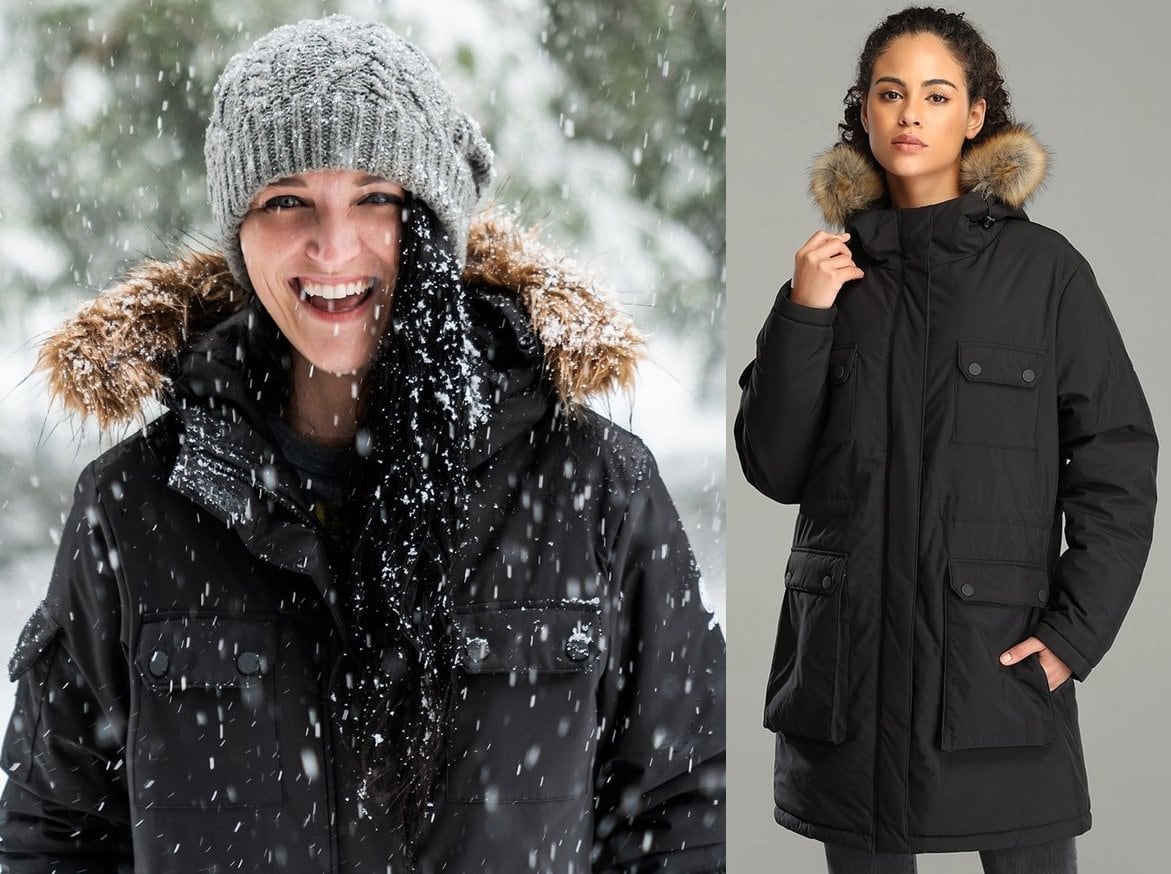 When extreme cold weather hits, get down with warmth in this insulated parka with extra coverage of a detachable hood with removable faux fur
Now for the best part, the heating system. There are 3 carbon fiber heating panels; two across the chest (left and right) and one on the upper back. These panels heat up in seconds, and it has up to 10 hours of heating power with three different heat settings.
It's super easy to work – you can change the settings with the press of the button. What's even more impressive is you can also use this battery to charge your phone and other mobile devices as it has a USB port right in the jacket! So, not only will you stay toasty warm, but your phone won't die either.
2. Milwaukee Tool M12 Heated AXIS, $199 at The Home Depot
Don't sleep on Milwaukee Tool. Although they may not be the first brand you think of when looking for a new jacket, they are very experienced and trusted when it comes to technology, performance, and safety.
Whether you are looking for a coat to keep you warm on a hike, while commuting to work, or on the job site, this jacket will do the job! It uses carbon fiber heating elements across the chest, shoulders, and back, providing insulated heat.
This heated jacket is designed to protect from cold and weather on the jobsite
What appears as a logo on your chest is actually a button. Press the logo, and you can turn on your heat and control the settings. There are three heat settings allowing you to control the temperature.
It also has a quick-heat function that will make it heat up three times faster than the previous design. This jacket is lightweight and will protect you from wind and water.
3. Ravean Down X Heated Jacket, $170 at Amazon
This is one of the most stylish heated jackets on the market. It is down-filled and has DWR water-resistant coating, making it perfect for snowstorms or cold rain.
It has a sleek herringbone puffer pattern and detachable fur hood that looks extra sleek. Even without the heating feature, this jacket would be one of the best!
This heated down jacket system is comfortable in temperatures between -10° F (-23° C) to 55° F (12° C)
There are 6 heating panels that will keep you warm in temperatures as low as -10 degrees Fahrenheit.
Although stylish and well-made, it's important to note that this jacket doesn't come with a battery pack. You will have to buy it separately from Amazon. It seems as this has not deterred those looking for a stylish heated jacket as it has plenty of rave reviews online.
4. Kelvin Aura Heated Jacket, $299 at Amazon
You can feel like your nestled up beside a heater or warm fire with Kelvin's Alura heated jacket.
It is lightweight, breathable, and will protect you from harsh weather and cold temperatures. Kelvin has not sacrificed style for warmth with this jacket. In a stunning graphite grey color, and the logo acts as a button to control heat.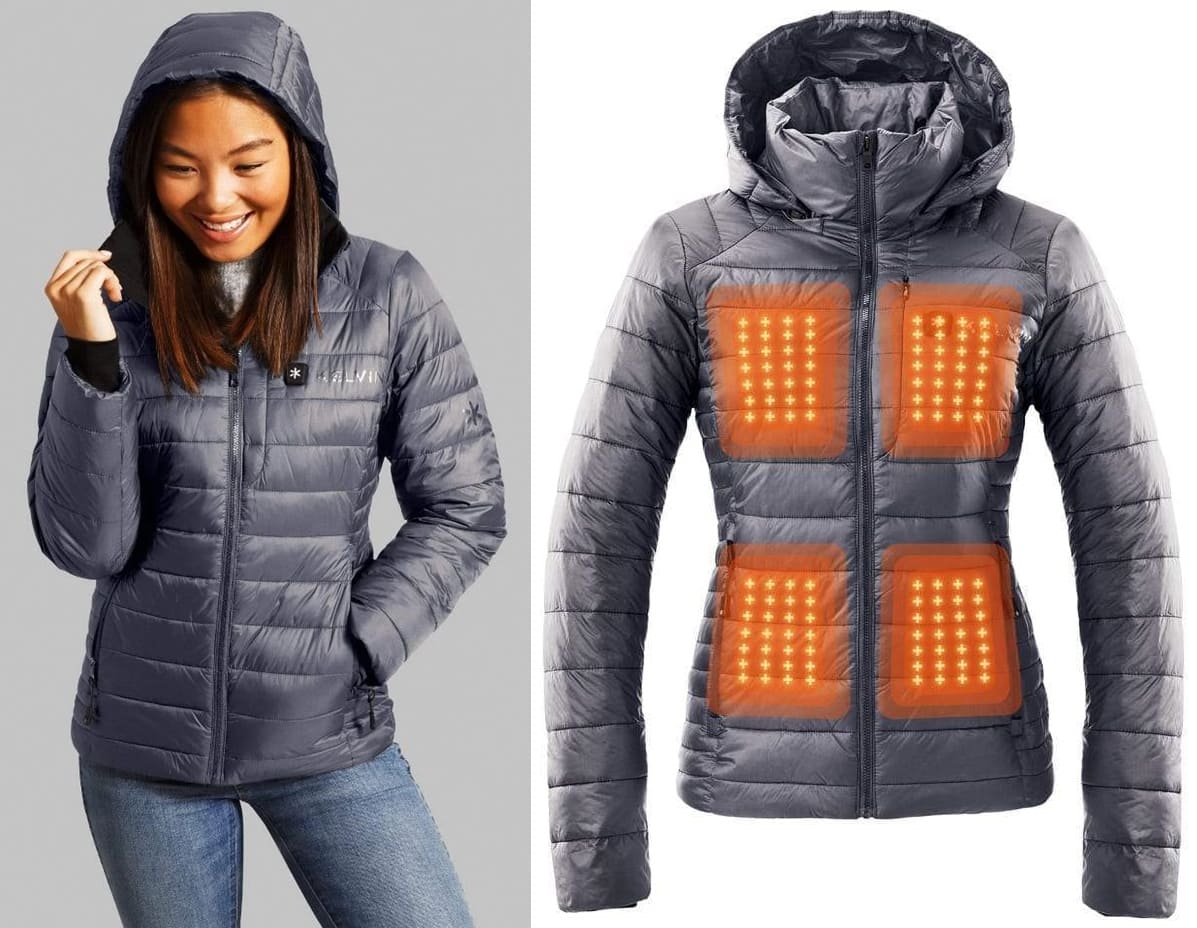 Packable and versatile for any occasion, this lightweight jacket is warm and comforting
Using carbon fiber heating technology, you can adjust the three temperature settings to give you the perfect amount of warmth and coziness. There are 5 warming zones; right chest, left chest, right pocket, left pocket, and mid-back.
The pocket warmers are one of my favorite things about this jacket and do a fantastic job of keeping hands warm!
5. Ororo Classic Heated Vest, $170 at Amazon
If you are looking for something a little lighter or with more versatility, the heated vest is a great option! It can be worn alone, under a parka, or paired with a lightweight jacket.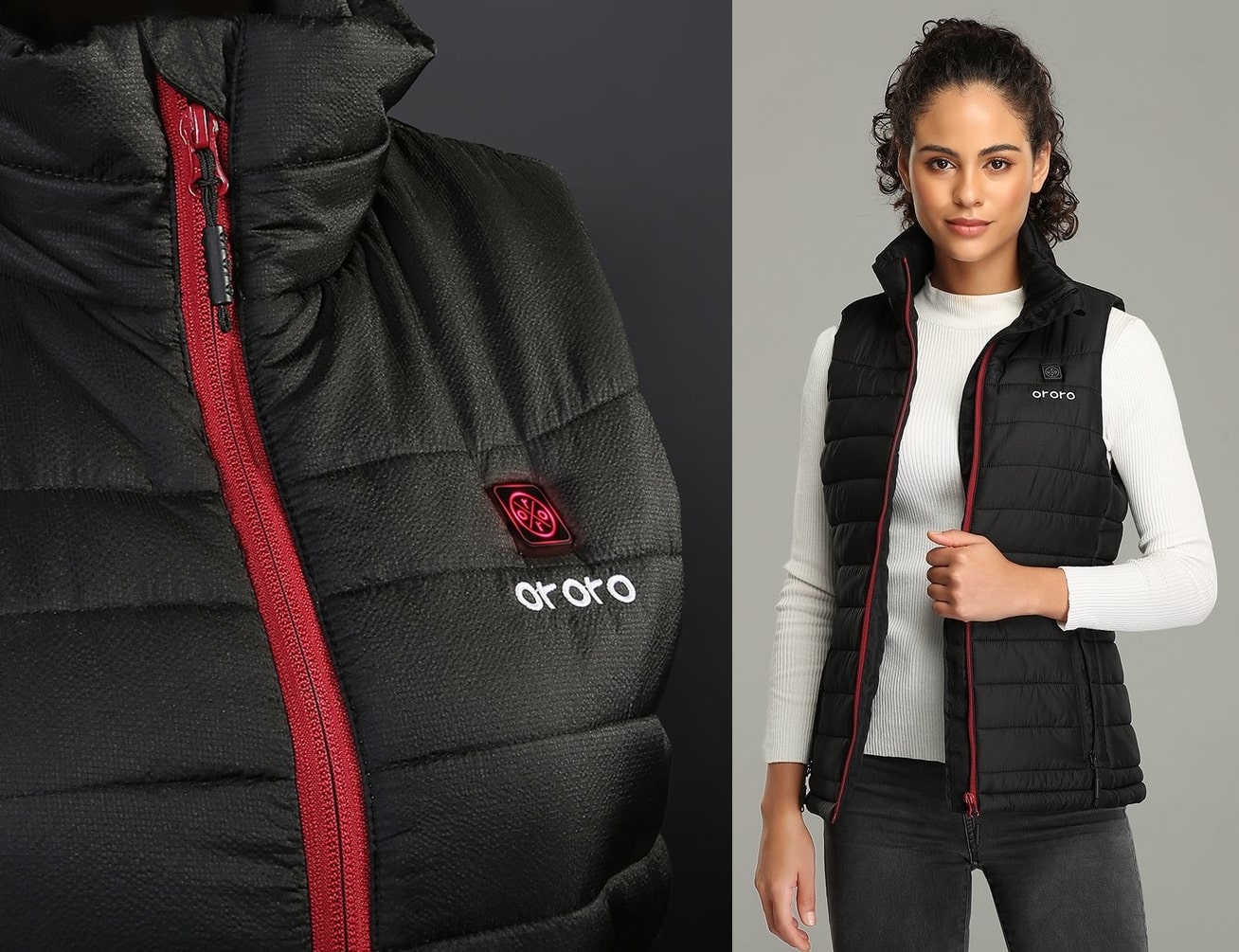 Enjoy up to 10 hours of long-lasting warmth with this lightweight heated vest featuring both a heated collar and upper body warmth
This vest has heating elements across the stomach, upper back and even has a heated collar. The battery pack will give you up to 10 hours of warmth and can also be used to charge devices. This battery is long-lasting! You can recharge it up to 800 times before needed to replace it.
Most Popular Men's Heated Jackets
6. Ororo Classic Heated Jacket, $200 at Amazon
This is the original heated jacket that really put Ororo on the map. Since it was first launched, it's been upgraded with a more tailored look and breathable fabric.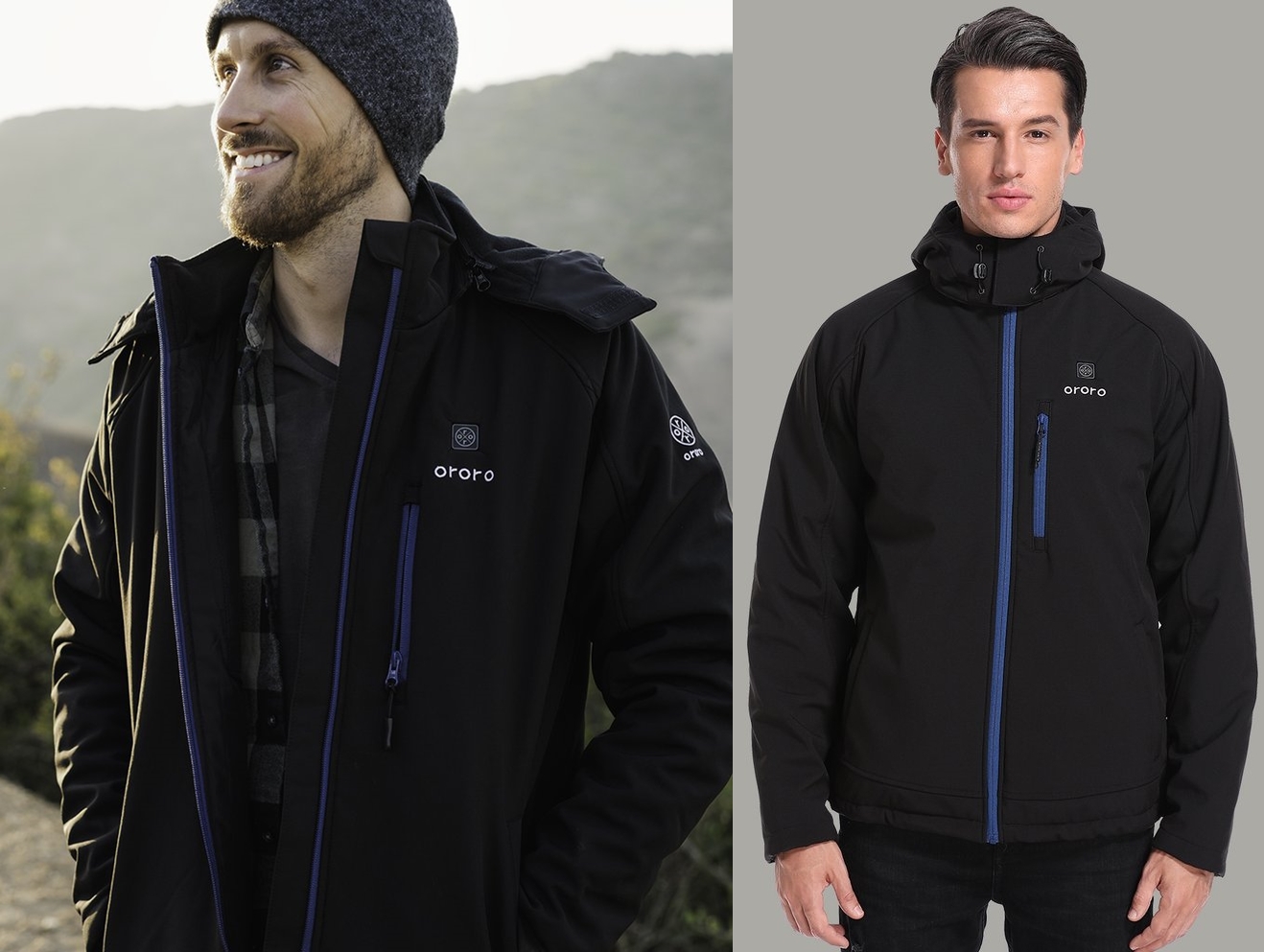 The classic jacket with water and wind-resistant exterior ensures you keep warm and dry in unpredicted weather conditions
In addition to keeping you warm, this jacket will protect you from rough weather as it is both water and wind-resistant. It has a detachable hood and soft lining for extra comfort.
The heating panels in this jacket are like other Ororo jackets – two on the front chest, one mid-back. There are three different heat settings so you can control your temperature.
When on high, you will get about three hours of battery life. On medium, it increases to six hours, and when on low, you will get up to 10 hours of heat! This jacket also has a USB port to charge your phone on the go or re-charge your jacket's batteries.
7. M12 Heated Toughshell Jacket, $169 at The Home Depot
This jacket will keep you comfortable, no matter the weather conditions. It is made from rugged shell stretch polyester treated with DWR, making it highly durable and wind and water-resistant.
The heating elements are across the chest, stomach, and back for plenty of coverage. There are also three settings that you can control with the touch of a button. On low, this jacket will stay powered for 8 hours of run-time.
This heated jacket uses carbon fiber heating elements to create and distribute heat to your chest, back, and front hand pockets
One of the biggest concerns many people have with heated jackets is washing them. This jacket is washer and dryer safe, making it easy to care for and great for messy, outdoor jobs.
Some additional features that make this jacket one of the best are the 3 outer zip pockets and 1 inner zip, as well as the mobility gussets – a warm jacket offering a lot of function!
8. DeWalt Heavy-Duty Black Heated Work Jacket, $230 at Amazon
DeWalt has a vast array of heated work gear and accessories. They know that those working outside for long periods need to stay warm while having clothes that allow for increased flexibility, durability, and storage.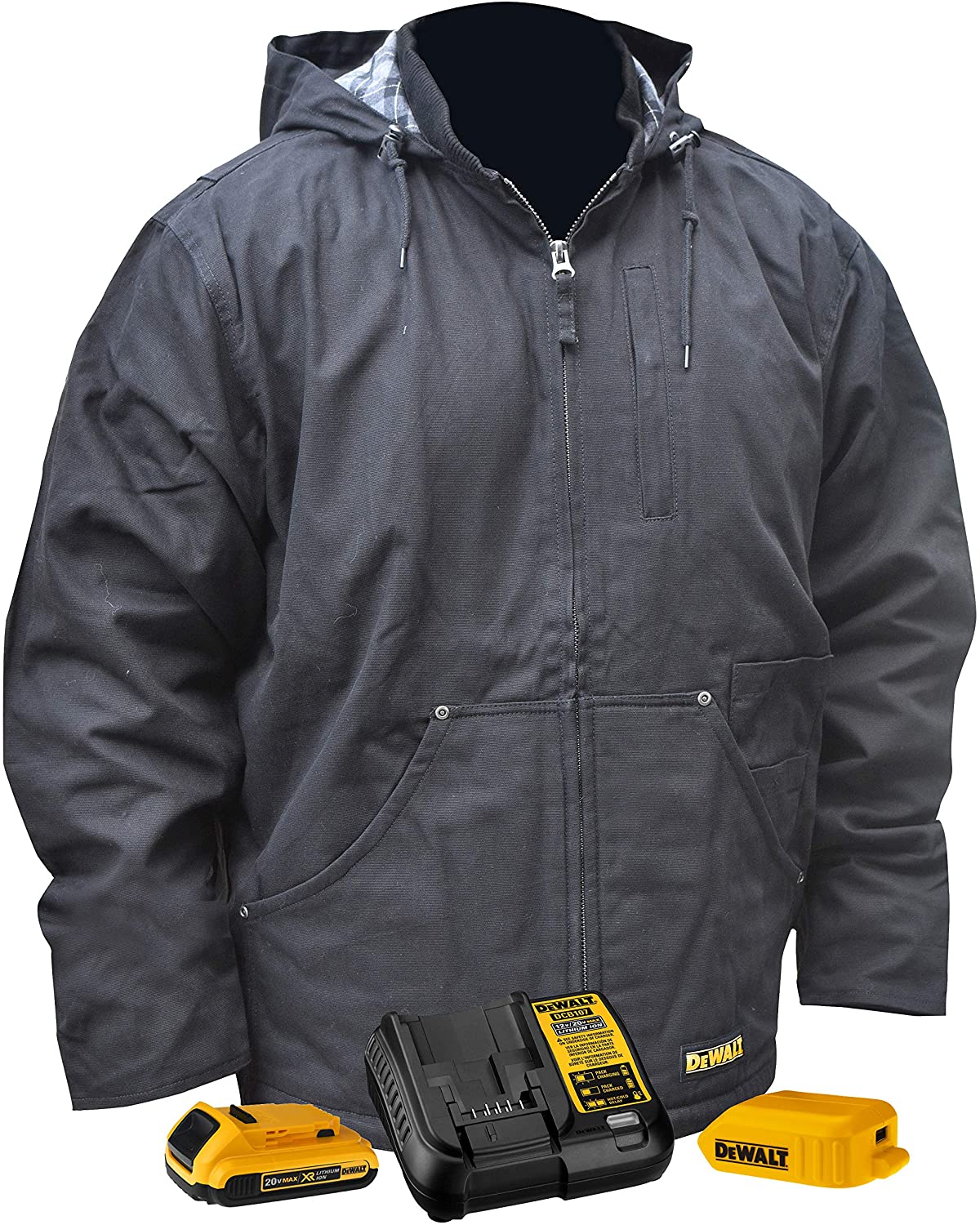 This heated work jacket has a durable water- and wind-resistant duck fabric outer shell and fleece polyester lining
This jacket in particular is one of their best. It is water and wind-resistant and has a soft fleece lining. There are also plenty of pockets for storing tools, keys, or gloves, including 2 pouch pockets, 2 stacked tool pockets, 1 internal pocket, and 2 additional zippered pockets.
There are 5 heat zones that include the arms, chest, and back. To control the heat settings, there is an LED controller that also has a preheat function. A great jacket on its own, DeWalt sells the battery separately (20V MAX battery).
9. Kelvin Phantom Heated Jacket
This is one of the lightest and most compactable of the heated jackets on this list, so it's easy to keep on you or in your truck.
It's also extremely versatile as you can wear it in more mild temperatures (very breathable!) or colder temperatures. With the 5V heating system, you can keep toasty warm as it has Kelvin's highest warmth rating.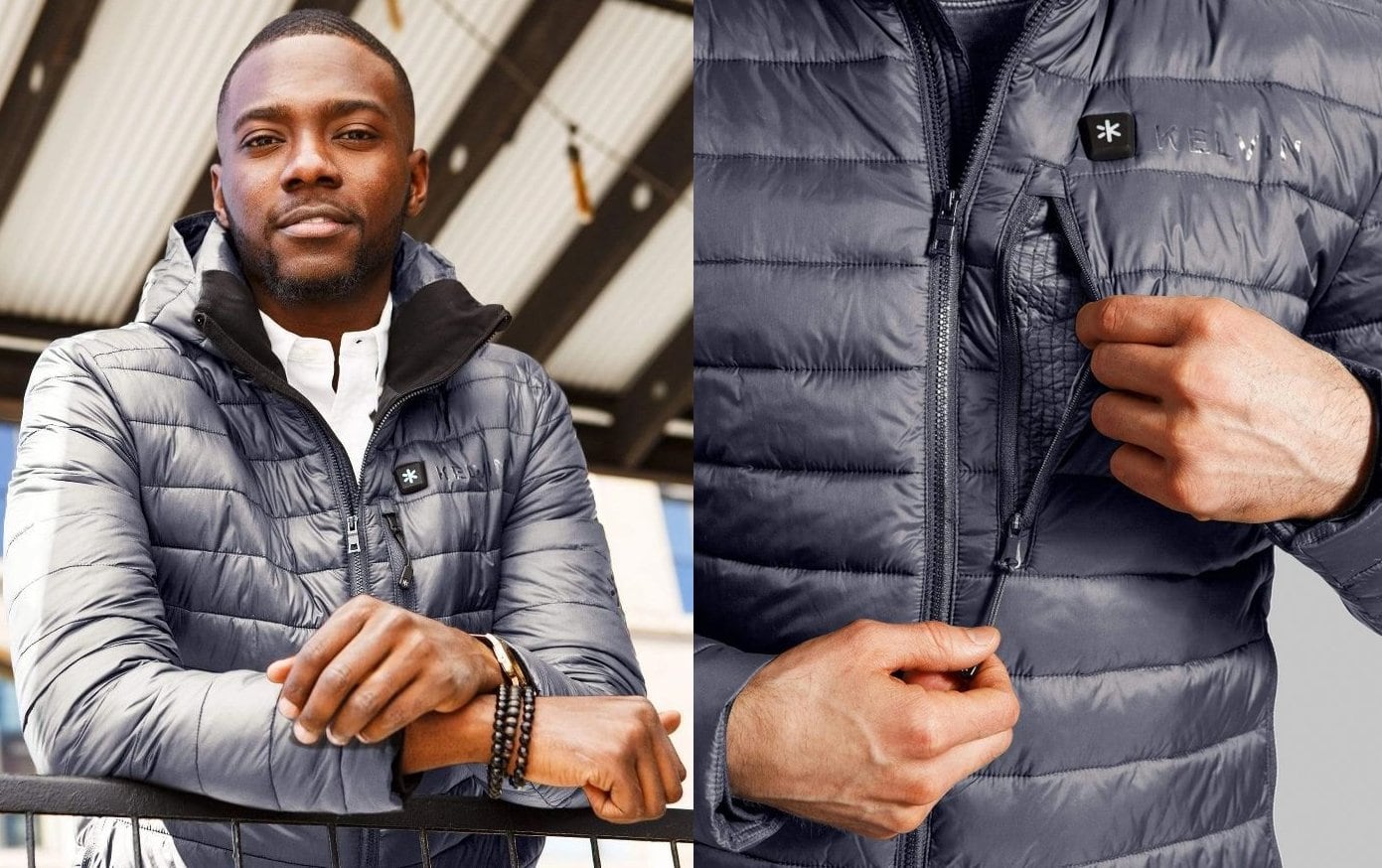 Lightweight and breathable, this technical jacket is perfect for a variety of climates and situations
This jacket features 5 core warming zones, including both sides of the chest, mid-back, and pockets, so you can keep your hands warm too. There are three temperature settings with solid battery life.
As a bonus, you can use the 5V USB output to charge your phone or portable device.
10. Ralph Lauren Glacier Heated Down Jacket, $898 at Ralph Lauren
This Ralph Lauren heated jacket is more suitable for city streets than a worksite. RL was one of the first major fashion brands to start using heated jacket technology.
It is loaded with tech, and you can control your jacket from your phone using the RL Heat app. You will get up to 11 hours of heat, and your battery life is easily visible from your app, so you know when it's time to charge.
The jacket's groundbreaking onboard heating system uses fully flexible, featherweight carbon and silver ink to provide the wearer with up to 11 hours of heat
In addition to being heated, it has 750 fill down for added comfort and warmth. It is also water-repellent and weather-resistant so that you can handle the heaviest city storms in style.