Hilary Duff set the internet ablaze with her nude cover shoot for the May/June issue of Women's Health.
The star, 34, knew she would be terrified of going nude for the cover of a national magazine, but that's also a significant part of why she did it.
Duff shared an Instagram post about her nude cover shoot experience with Women's Health.
"@womenshealthmag had the most lovely all-women shoot and I actually had the best time. I felt strong and beautiful and laughed a lot getting into some of these poses without my high-waisted mom jeans and oversized whatever I normally wear. Thank you to everyone who normalized this day for me and propped me up with compliments and love."
View this post on Instagram
The post thanks everyone who helped her through the shoot, including the photographer, makeup artist, and hairstylist. She also thanked her personal trainer, Dominic Leader, for "getting me motivated everyday and in this great shape!"
The Cover Article Dives Into Duff's Body Image
The cover story in Women's Health touches on Duff's challenges with her body image, the eating disorder she dealt with at the age of 17, and eventually accepting her body after having three children.
She talked about how she is amazed at how her body can grow and become stronger than before after three pregnancies.
Hilary Duff wears black Converse All Star Hi Top sneakers with oversized brown pants, a Bottega Veneta Jodie bag, and a Sacai Ma1 Melton jacket in Los Angeles on April 23, 2022 (Credit: MEGA / WENN)
The article in Women's Health states that her decision to do the cover herself nude was a conscious and deliberate decision.
"I'm proud of my body. I'm proud that it's produced three children for me. I've gotten to a place of being peaceful with the changes my body has gone through. I also want people to know a makeup artist was there putting glow all over my body."
The short actress is mom to Luca, 10, with ex-husband Mike Comrie. She shares two daughters with her husband, Matthew Koma, Banks, 3, and Mae, 1.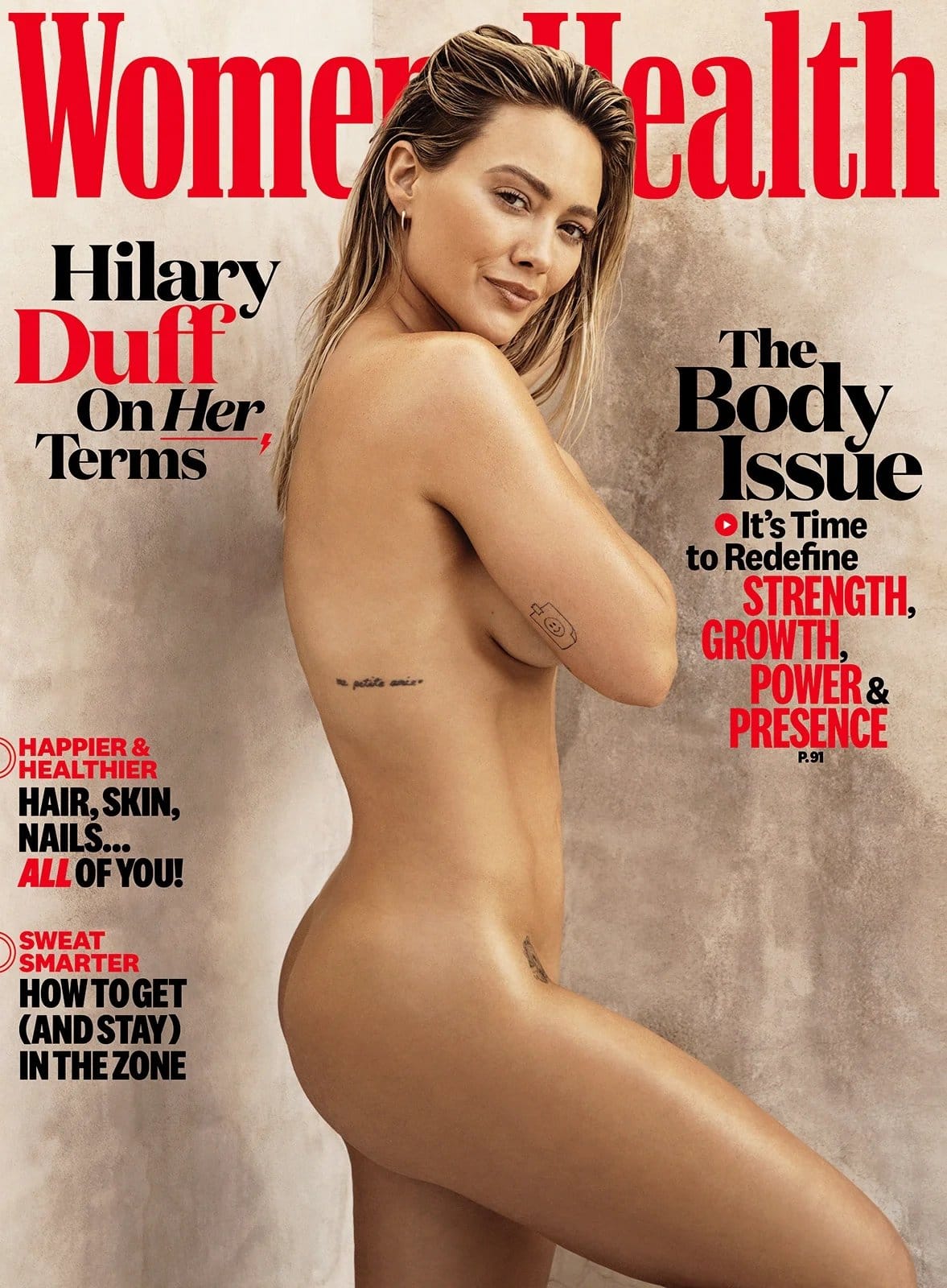 Hilary Duff poses nude for Women's Health magazine's May/June 2022 Body issue (Credit: Women's Health)
Duff went on to marvel at her body and all the changes that she had undergone throughout her life.
"I think that at 34 I have just gained a lot of respect for my body," she said. "It's taken me all of the places I need to go. It's helped me build a beautiful family. I feel like the older I get, the more confident I get in my own skin. And my body's been many different shapes and sizes and I'm really just fascinated by, one, being a woman. And two, all the changes that your body can go through throughout your lifetime."
Duff is Working On New Projects
Duff stars as Sophie in How I Met Your Father, a spin-off of How I Met Your Mother. Sophie is looking to find her soul mate in New York City, just like Ted from the original series hoped to do so too.
Hilary Duff in a Christopher Esber snap-front lycra shirt paired with a Stand Studio Malou faux leather trench coat and Re/Done 70s cropped faded high-rise straight-leg jeans at the "How I Met Your Father" fan experience in Los Angeles on March 10, 2022, in Los Angeles, California (Credit: WENN / MEGA)
In March, she attended the season 1 finale of How I Met Your Father hosted by Hulu in Los Angeles.
She rocked Jimmy Choo x Mugler mesh-paneled sock boots (available at Mytheresa) with a Christopher Esber snap-front lycra shirt, RE/DONE 70s Stovepipe faded high-rise straight-leg jeans, a Stand Studio Malou faux leather trench coat, a Rodo Venere clutch, and Misho textured hoops earrings.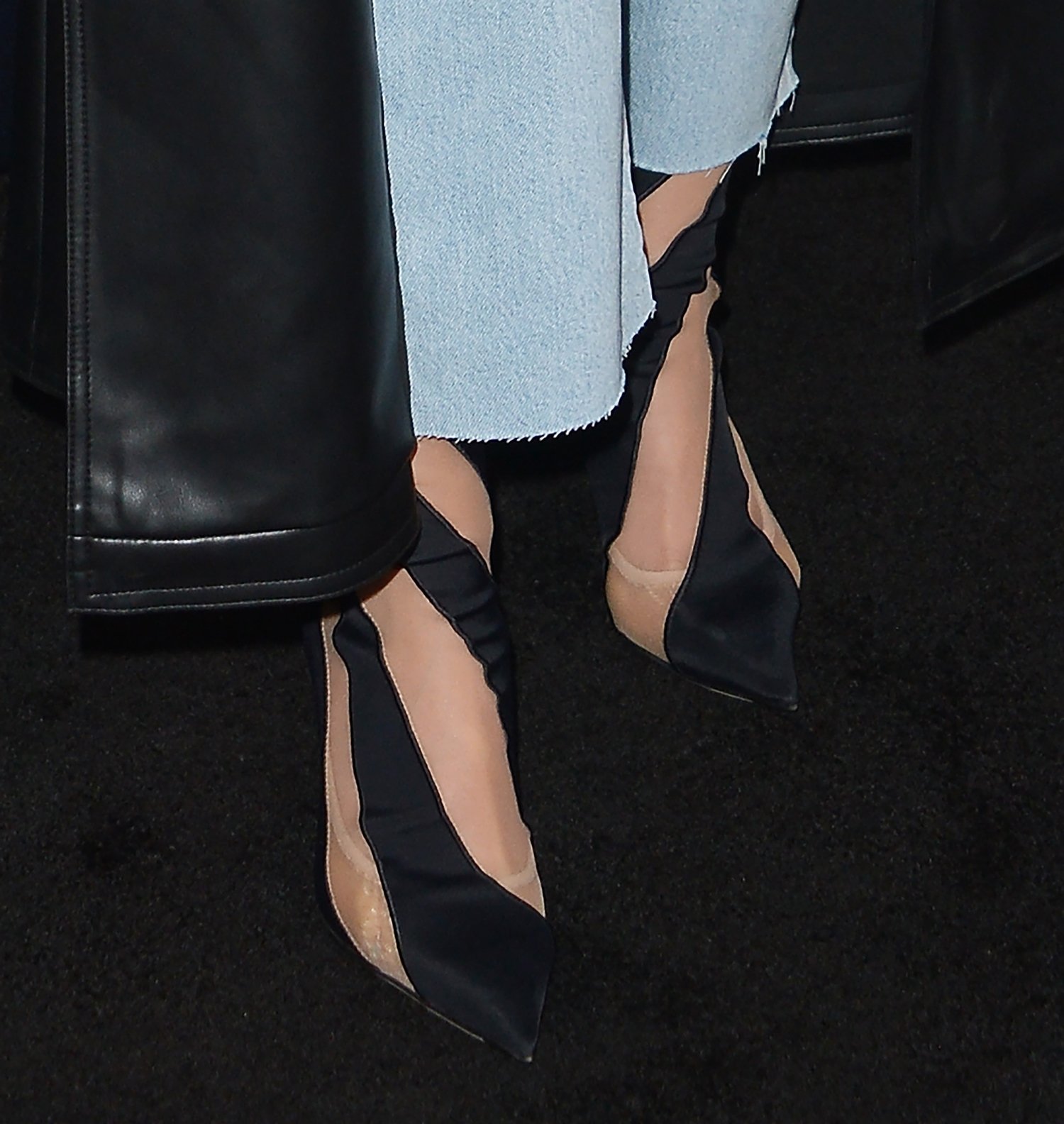 Hilary Duff pairs her jeans with Jimmy Choo Mugler mesh-paneled sock boots (Credit: MEGA / WENN)
The sitcom has been renewed for season 2 and takes place eight years after the events of the original series. Before How I Met Your Father, Duff was set to star in a reboot of the show that made her famous, Lizzie Maguire.
Jimmy Choo x Mugler Mesh Panelled Ankle Boots, $1,425 at Farfetch
Vibrant sock boots from Jimmy Choo x Mugler featuring pointed toes and black fabric uppers with semi-sheer mesh inserts
The show was going to center around a grown-up, 30-year-old Lizzie Maguire, but the project was ultimately scrapped. Ultimately, Disney scrapped the reboot because the storyline was too mature for the streaming platform.
Fans can look forward to seeing Duff in season two of How I Met Your Father.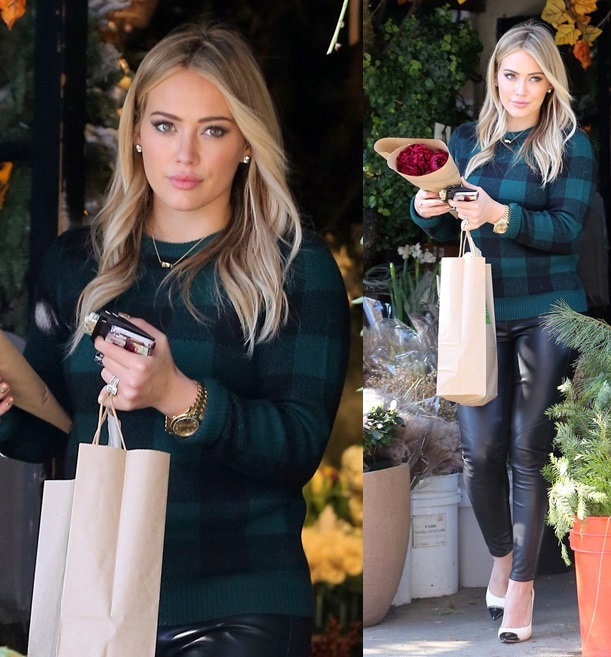 Hilary Duff buying some flowers in a simple but chic outfit punctuated with sky-high cap-toe pumps in Los Angeles on November 28, 2013 (Credit: WENN)
In late November 2013, former Lizzie Mcguire cutie Hilary Duff left her house to buy flowers. I'm guessing it was in preparation for Thanksgiving.
What struck me was how pretty and polished Hilary looked while doing the errand. She wore a dark green patterned Equipment Shane sweater with leather-paneled Paige Paloma leather leggings and paired the mix with sky-high (and I mean really high) black-and-white cap-toe pumps.
The combination was on-point, and she looked really chic.
Hilary Duff's tri-tone Jimmy Choo "Limit" pumps (Credit: WENN)
Hilary is often seen wearing casual and laid-back outfits paired with either sneakers or boots, so seeing her dolled up in stilettos was a breath of fresh air.
Hilary's beautiful shoes are Jimmy Choo's popular "Limit" pumps. The heels on these pumps are towering 5 inches tall. That basically means you'll be teetering in them, especially if you're not used to wearing heels.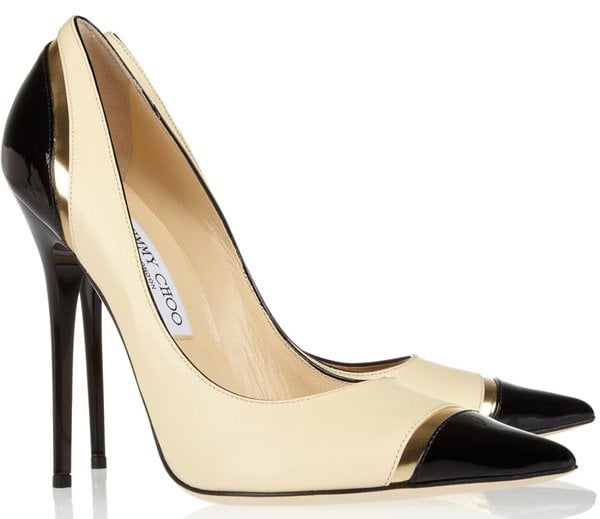 Jimmy Choo "Limit" Tri-Tone Cap-Toe Pumps, $795
Extreme heel height aside, what I like about this style is how classic and sophisticated it looks.
Gold trimmings on the toe caps and heel cups add glam appeal to keep the black-and-white palette from looking boring.
In case you can't handle 5 inches worth of heels, shorter versions of this style are available at Farfetch and Mytheresa. The "Leap" pumps feature 2-inch-tall heels that you can practically walk in all day, while the "Lilo" will give a very manageable 3.5 inches.
If you could pick only one from the three, which pair would you wear?
Jimmy Choo "Leap" Cap-Toe Pumps (2 inches), $750
Jimmy Choo "Lilo" Cap-Toe Pumps (3.5 inches), $750