Takeout food is usually reserved for sick days or the times when we're hungover. If we're too lazy to cook food, we're usually too lazy get dressed up! But, apparently Hilary Duff has a much different idea of takeout food than we do. The actress was spotted all dressed up on a recent outing to pick up her takeout.
Hilary was spotted heading to her favorite restaurant Joan's on Third for some iced coffee and food to go. She even got more dressed up than usual for the occasion. Hilary is usually spotted in gym clothes, which would have been perfectly acceptable for picking up takeout. However, the American actress, singer, songwriter, businesswoman, and author instead sported a feminine ensemble.
Hilary Duff picks up takeout wearing a little print dress by Veronica Beard in Los Angeles on February 1, 2017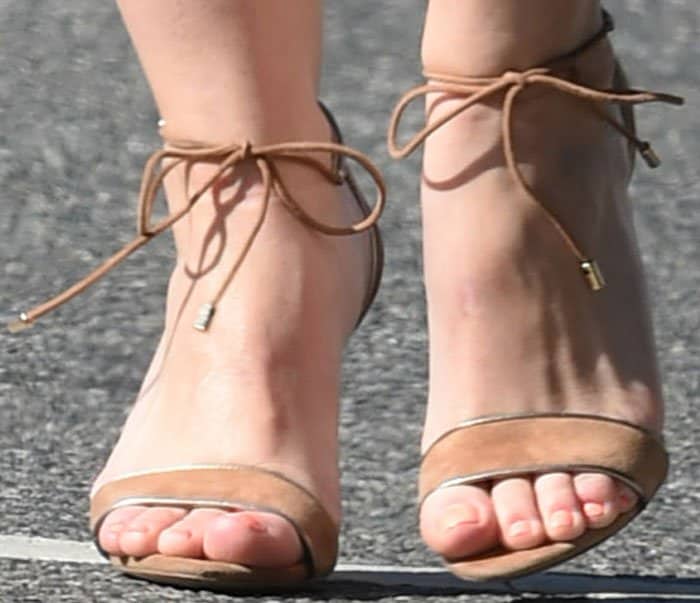 Running in high heels: Hilary picks up food in a pair of Aquazzura "Dasha" sandals
Hilary looked fresh in her little floral "Franklin" print dress by Veronica Beard that you can purchase at Nordstrom. The button-down piece had a low neckline and adorable little ruffles at the hem. The long sleeves featured a closed cuff for a bit of volume at the arms.
The "Younger" actress finished her look with pink lips, wavy hair, triangular earrings, and a pair of Aquazzura's "Dasha" sandals that you can buy at Farfetch, Shopbop and LuisaViaRoma.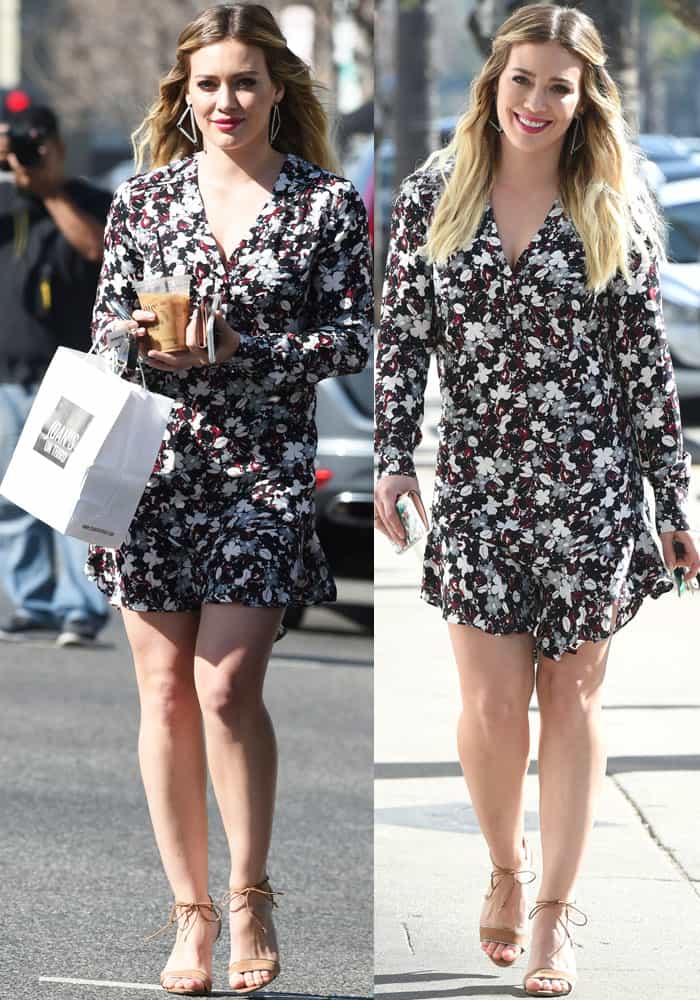 Hilary looked fresh in a print dress, pink lips and wavy hair
As it turns out, Hilary did get dressed up for work before she was spotted at Joan's. On the same day, Hilary was also seen on the set of CBS's "The Talk" to co-host with Sharon Osbourne and company. The actress shared snaps of herself backstage as well as on set right before the cameras started rolling.
Joan's on Third happened to be near the CBS set, which would explain Hilary's takeout outfit. Regardless, Hilary's photos still inspired us to look as radiant as her when running errands.
Credit: WENN